Abstract
Objectives
Suficiencia is a large database that encompasses information of 15.1 million enrollees at ten health maintenance organizations (HMOs) on each healthcare service provided to patients, being the main source of information for estimating cost at the individual level. It constitutes a reliable tool for measuring prevalence and costs of rheumatoid arthritis (RA) and systemic lupus erythematosus (SLE) in Colombia, where these data are scarce. The aim of this study is to describe and show the utility of the Suficiencia database for studies on RA and SLE in Colombia.
Methods
To estimate the RA and SLE cost, patients were identified according to ICD-10 codes in the Suficiencia dataset for year 2015. We calculated the number of RA/SLE patients and their individual cost as the sum of all claims in each type of facility (i.e., inpatient, outpatient, emergency, domiciliary). We then estimated the total cost of care and average cost per patient. We also report RA and SLE prevalence.
Results
The estimates of prevalence of RA and SLE were 737/100,000 and 117/100,000 respectively. Results show that the annual average healthcare cost of a person with RA is $1625, while the cost for a person with SLE is $1693. Women were more affected by these conditions, but men's care was more expensive.
Conclusion
The cost of RA and SLE care in the developing world may be relatively high. Total cost represents about 4% of total healthcare expenses in Colombia.
Access options
Buy single article
Instant access to the full article PDF.
USD 39.95
Price includes VAT (USA)
Tax calculation will be finalised during checkout.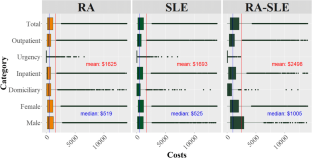 References
Aggarwal A, Srivastava P (2015) Childhood onset systemic lupus erythematosus: how is it different from adult SLE? Int J Rheum Dis 18:182–191. https://doi.org/10.1111/1756-185X.12419

Aguirre-Valencia D, Suárez-Avellaneda A, Ocampo-Piraquive V, et al (2019) Mortality in patients with systemic lupus erythematosus in Colombia: a case series. Clin Rheumatol 38:1865–1871. https://doi.org/10.1007/s10067-019-04546-w

Amaya Lara LJ, Villegas Beltrán A, Chavarro D, et al (2013) Estudio de disponibilidad y distribución de la oferta de médicos especialistas, en servicios de alta y mediana complejidad en Colombia. Pontif Univ Javeriana 2013:1–135

Andrade RM, Alarcón GS, Fernández M et al (2007) Accelerated damage accrual among men with systemic lupus erythematosus XLIV. Results from a multiethnic US cohort. Arthritis Rheum 56:622–630. https://doi.org/10.1002/art.22375

Barber MRW, Hanly JG, Su L et al (2018) Economic evaluation of lupus nephritis in the systemic lupus international collaborating clinics inception cohort using a multistate model approach. Arthritis Care Res 70:1294–1302. https://doi.org/10.1002/acr.23480

Bauhoff S, Rodríguez-Bernate I, Göpffarth D, et al (2018) Chapter 10 — Health Plan Payment in Colombia**The interpretations and conclusions expressed in this chapter are those of the authors. They do not necessarily represent the views of the Ministry of Health and Social Protection. In: McGuire TG, van Kleef RC (eds) Risk adjustment, risk Sharing and premium regulation in health insurance markets. Academic Press, Cambridge MA, pp 279–294

Díaz-Rojas JA, Dávila-Ramírez FA, Quintana-López G et al (2016) Prevalencia de artritis reumatoide en Colombia: una aproximación basada en la carga de la enfermedad durante el año 2005. Rev Colomb Reumatol 23:11–16. https://doi.org/10.1016/j.rcreu.2015.12.004

Enthoven A (1993) The history and principles of managed competition. Health Aff 12(Suppl):24–48

Hu H, Luan L, Yang K, Li SC (2018) Burden of rheumatoid arthritis from a societal perspective: a prevalence-based study on cost of this illness for patients in China. Int J Rheum Dis 21:1572–1580. https://doi.org/10.1111/1756-185X.13028

Jones AM, Rice N, Bago d'Uva T, Balia S (2013) Applied Health Economics. In: 2nd edn. Routledge, Abingdon UK

Khamashta MA, Bruce IN, Gordon C et al (2014) The cost of care of systemic lupus erythematosus (SLE) in the UK: annual direct costs for adult SLE patients with active autoantibody-positive disease. Lupus 23:273–283. https://doi.org/10.1177/0961203313517407

Leon L, Abasolo L, Fernandez-Gutierrez B et al (2016) Costes médicos directos y sus predictores en la cohorte "Variabilidad en el manejo de la artritis reumatoide y las espondiloartritis en España". Reumatol Clínica 14:4–8. https://doi.org/10.1016/j.reuma.2016.09.006

Londoño J, Peláez Ballestas I, Cuervo F et al (2018) Prevalencia de la enfermedad reumática en Colombia, según estrategia COPCORD-Asociación Colombiana de Reumatología. Estudio de prevalencia de enfermedad reumática en población colombiana mayor de 18 años. Rev Colomb Reumatol 25:245–256. https://doi.org/10.1016/j.rcreu.2018.08.003

McCormick N, Marra CA, Sadatsafavi M, Aviña-Zubieta JA (2018) Incremental direct medical costs of systemic lupus erythematosus patients in the years preceding diagnosis: a general population-based study. Lupus 27:1247–1258. https://doi.org/10.1177/0961203318768882

Pisetsky DS (2017) Advances in the treatment of rheumatoid arthritis: costs and challenges. N C Med J 78:337–340. https://doi.org/10.18043/ncm.78.5.337

Prada S, Perez A, Nieto I, Tobon G (2019) Direct cost of lupus care in the developing world: the case of Colombia. Lupus 28:970–976. https://doi.org/10.1177/0961203319856093

R Core Team (2016) R: A language and environment for statistical computing. R Foundation for Statistical Computing, Vienna, Austria

Rees F, Doherty M, Grainge MJ, et al (2017) The worldwide incidence and prevalence of systemic lupus erythematosus: a systematic review of epidemiological studies. Rheumatology 1–17. https://doi.org/10.1093/rheumatology/kex260

Rudan I, Sidhu S, Papana A et al (2015) Prevalence of rheumatoid arthritis in low and middle income countries: a systematic review and analysis. J Glob Health 1:246–247. https://doi.org/10.7189/jogh.05.010409

Smolen JS, Aletaja D, Iain M (2016) Rheumatoid arthritis. Lancet 388:2023–2038 https://doi.org/http://dx.doi.org/10.1016/S0140-6736(16)30173-8

Stojan G, Petri M (2018) Epidemiology of systemic lupus erythematosus: an update. Curr Opin Rheumatol 30:144–150. https://doi.org/10.1097/BOR.0000000000000480

Tamirou F, Arnaud L, Talarico R et al (2019) Systemic lupus erythematosus: state of the art on clinical practice guidelines. RMD Open 4(2):e000793. https://doi.org/10.1136/rmdopen-2018-000793

Uhlig T, Moe RH, Kvien TK (2014) The burden of disease in rheumatoid arthritis. Pharmacoeconomics 32:841–851. https://doi.org/10.1007/s40273-014-0174-6

Valencia O (2017) Situación de la artritis reumatoide en Colombia 2016. Cuenta de Alto Costo, Bogota, Colombia

van der Woude D, Van Der Helm-Van Mil AHM (2018) Update on the epidemiology, risk factors and disease outcomes of osteoarthritis. Best Pract Res Clin Rheumatol 32:174–187 https://doi.org/10.1016/j.berh.2018.10.005

Webb R, Kelly JA, Somers EC et al (2011) Early disease onset is predicted by a higher genetic risk for lupus and is associated with a more severe phenotype in lupus patients. Ann Rheum Dis 70:151–156. https://doi.org/10.1136/ard.2010.141697
Funding
The authors received no financial support for the research, authorship, and/or publication of this article.
Ethics declarations
The authors declare no financial support or other benefits from commercial sources for the work reported in the manuscript. The authors declare no other financial interests that could create a potential conflict of interest or the appearance of a conflict of interest with regard to the work.
Declaration of conflicting interests
The authors declare that there is no conflict of interest.
Ethical approval and informed consent
Not applicable.
Additional information
Publisher's note
Springer Nature remains neutral with regard to jurisdictional claims in published maps and institutional affiliations.
Key messages
1. We describe a unique dataset.
2. We report RA and SLE prevalence.
3. We estimate average cost and the total health system costs attributable to RA/SLE patients.
About this article
Cite this article
Prada, S.I., García, W.R., Nieto-Aristizábal, I. et al. Utility of the Suficiencia database in Colombia: an application to healthcare costs of rheumatoid arthritis and systemic lupus erythematosus. J Public Health (Berl.) (2020). https://doi.org/10.1007/s10389-020-01314-y
Received:

Accepted:

Published:
Keywords
Rheumatoid arthritis

Systemic lupus erythematosus

Big data

Healthcare cost

Prevalence