Abstract
Purpose
The current study aims to examine the use of preventive and other health services among adults aged 50+ in eleven European countries.
Methods
The data used were derived from 16,120 adults aged 50+ years participating in the Survey of Health, Ageing and Retirement in Europe (2004/05). Preventive Health Services Utilization score (PHSUs) and Health Care Services Utilization score (HCSUs) were assessed as a composite value from answers to 12 and 16 questions respectively, on a scale ranging from 0 to 100. Estimations were based on a complex study design.
Results
Participants from Central European countries were found to have significantly higher mean PHSU and HCSU scores than their counterparts in Northern and Southern regions, (p < 0.05) and also exhibited a greater gap between the two scores (29.3, 95% CI: 28.6–30.1). Overall mean PHSU score was 39.9 (95% CI: 39.4–40.4) and mean HCSU score 12.4 (95% CI: 12.2–12.7). Women have a higher mean PHSUs and HCSUs (p < 0.001); as age increases, PHSUs falls and HCSUs rises (p < 0.001). Better educated participants appear to have higher mean PHSUs and HCSUs (p < 0.001). In addition, both of the above scores increase in the presence of chronic diseases (p < 0.001).
Conclusion
Strong correlation is seen between comorbidity, increasing age, educational level, and retirement on the one hand, and increased use of health services on the other hand. The use of health services is a major issue with regard to public health policy formulation.
Access options
Buy single article
Instant access to the full article PDF.
US$ 39.95
Tax calculation will be finalised during checkout.
Subscribe to journal
Immediate online access to all issues from 2019. Subscription will auto renew annually.
US$ 79
Tax calculation will be finalised during checkout.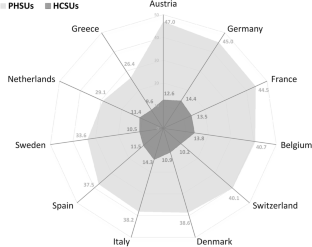 Abbreviations
SHARE:

Study of Health, Ageing and Retirement in Europe

PHSUs:

Preventive Health Services Utilization score

HCSUs:

Health Care Services Utilization score

NCDs :

Non-communicable diseases
References
AHRQ (2019) Agency for Healthcare Research and Quality — U.S. Department of Health & Human Services. Combining healthcare quality measures Into composites or summary scores. Content last reviewed September 2019. Agency for Healthcare Research and Quality, Rockville, MD. https://www.ahrq.gov/talkingquality/translate/scores/combine-measures.html. Accessed 15 Oct 2019

Avila JC, Kaul S, Wong R (2018) Health care expenditures and utilization among older Mexican adults. J Aging Health 2018:0898264318818901. https://doi.org/10.1177/0898264318818901

Babitsch B, Gohl D, von Lengerke T (2012) Re-revisiting Andersen's behavioral model of health services use: a systematic review of studies from 1998–2011. Psychosoc Med 9:Doc11–Doc11. https://doi.org/10.3205/psm000089

Bahler C, Huber CA, Brungger B, Reich O (2015) Multimorbidity, health care utilization and costs in an elderly community-dwelling population: a claims data based observational study. BMC Health Serv Res 15:23. https://doi.org/10.1186/s12913-015-0698-2

Borsch-Supan A, Brugiavini A (eds) (2005) The survey of health, aging, and retirement in Europe — methodology. Mannheim Research Institute for the Economics of Ageing, Mannheim

Borsch-Supan A, Brandt M, Hunkler C, Kneip T, Korbmacher J, Malter F, Schaan B, Stuck S, Zuber S (2013) Data resource profile: the survey of health, ageing and retirement in Europe (SHARE). Int J Epidemiol 42(4):992–1001

Caldwell J, Kirby J (2012) Preventive health care utilization by adult residents of MSAs and non-MSAs: differences by race/ethnicity, 2009. Statistical Brief #383. August 2012. Agency for Healthcare Research and Quality, Rockville,MDhttp://meps.ahrq.gov/mepsweb/data_files/publications/st383/stat383.pdf. Accessed 16 July 2019

Corallo AN, Croxford R, Goodman DC, Bryan EL, Srivastava D, Stukel TA (2014) A systematic review of medical practice variation in OECD countries. Health Policy 114(1):5–14. https://doi.org/10.1016/j.healthpol.2013.08.002

Crimmins EM, Kim JK, Sole-Auro A (2011) Gender differences in health: results from SHARE, ELSA and HRS. Eur J Pub Health 21(1):81–91

de Vries EF, Heijink R, Struijs JN, Baan CA (2018) Unraveling the drivers of regional variation in healthcare spending by analyzing prevalent chronic diseases. BMC Health Serv Res 18(1):323–323. https://doi.org/10.1186/s12913-018-3128-4

Deloitte (2019) Global health care outlook, shaping the future. Deloitte, New York. https://www2.deloitte.com/content/dam/Deloitte/global/Documents/Life-Sciences-Health-Care/gx-lshc-hc-outlook-2019.pdf. Accessed 27 Jan 2019

Devaux M (2015) Income-related inequalities and inequities in health care services utilisation in 18 selected OECD countries. Eur J Health Econ 16(1):21–33. https://doi.org/10.1007/s10198-013-0546-4

Devaux M, de Looper M (2012) Income-related inequalities in health service utilisation in 19 OECD countries, 2008–2009. OECD Health Working Papers, No. 58, OECD Publishing, Parishttps://doi.org/10.1787/5k95xd6stnxt-en

Dominguez LJ, Galioto A, Ferlisi A, Pineo A, Putignano E, Belvedere M, Costanza G, Barbagallo M (2006) Ageing, lifestyle modifications, and cardiovascular disease in developing countries. J Nutr Health Aging 10(2):143–149

EIU (2016) World industry outlook. Healthcare and pharmaceuticals. The Economist Intelligence Unit, London. http://ftp01.economist.com.hk/GroupIT/01_FULL_REPORT-World_healthcare_and. Accessed 16 July 2019

Fernandez de la Hoz K, Leon DA (1996) Self-perceived health status and inequalities in use of health services in Spain. Int J Epidemiol 25(3):593–603. https://doi.org/10.1093/ije/25.3.593

Fortin M, Bravo G, Hudon C, Lapointe L, Dubois MF, Almirall J (2006) Psychological distress and multimorbidity in primary care. Ann Fam Med 4(5):417–422. https://doi.org/10.1370/afm.528

Gomes M, Figueiredo D, Teixeira L, Poveda V, Paúl C, Santos-Silva A, Costa E (2017) Physical inactivity among older adults across Europe based on the SHARE database. Age Ageing 46(1):71–77. https://doi.org/10.1093/ageing/afw165

Görge M, Ziehm J, Farin E (2017) Health-care utilization of patients with chronic back pain before and after rehabilitation. BMC Health Serv Res 17(1):812–812. https://doi.org/10.1186/s12913-017-2757-3

Hallberg D (2006) Cross-national differences in income poverty among Europe's 50+. Working Paper 2006:14. Uppsala University, Uppsala Sweden

Harman D (2006) Free radical theory of aging: an update. Ann N Y Acad Sci 1067(1):10–21. https://doi.org/10.1196/annals.1354.003

Hopman P, Heins MJ, Korevaar JC, Rijken M, Schellevis FG (2016a) Health care utilization of patients with multiple chronic diseases in the Netherlands: differences and underlying factors. Eur J Intern Med 35:44–50. https://doi.org/10.1016/j.ejim.2016.08.025

Hopman P, Schellevis FG, Rijken M (2016b) Health-related needs of people with multiple chronic diseases: differences and underlying factors. Qual Life Res 25(3):651–660. https://doi.org/10.1007/s11136-015-1102-8

Kaplan R, Spittel M, David D (eds) (2015) Population health: behavioral and social science insights. AHRQ Publication No 15–0002. Agency for HealthcareResearch and Quality and Office of Behavioral and Social Sciences Research, NationalInstitutes of Health, Rockville, MD

Kruk ME, Gage AD, Arsenault C, Jordan K, Leslie HH, Roder-DeWan S, Adeyi O, Barker P, Daelmans B, Doubova SV, English M, Elorrio EG, Guanais F, Gureje O, Hirschhorn LR, Jiang L, Kelley E, Lemango ET, Liljestrand J, Malata A, Marchant T, Matsoso MP, Meara JG, Mohanan M, Ndiaye Y, Norheim OF, Reddy KS, Rowe AK, Salomon JA, Thapa G, Twum-Danso NAY, Pate M (2018) High-quality health systems in the sustainable development goals era: time for a revolution. Lancet Glob Health 6(11):e1196–e1252. https://doi.org/10.1016/S2214-109X(18)30386-3

Lee JT, Hamid F, Pati S, Atun R, Millett C (2015) Impact of noncommunicable disease multimorbidity on healthcare utilisation and out-of-pocket expenditures in middle-income countries: cross sectional analysis. PLoS One 10(7):e0127199–e0127199. https://doi.org/10.1371/journal.pone.0127199

Linardakis M, Papadaki A, Smpokos E, Micheli K, Vozikaki M, Philalithis A (2015) Relationship of behavioral risk factors for chronic diseases and preventive health services utilization among adults, aged 50+, from eleven European countries. J Public Health 23(5):257–265. https://doi.org/10.1007/s10389-015-0683-6

Lionis C, Symvoulakis EK, Markaki A, Vardavas C, Papadakaki M, Daniilidou N, Souliotis K, Kyriopoulos I (2009) Integrated primary health care in Greece, a missing issue in the current health policy agenda: a systematic review. Int J Integr Care 9:e88–e88. https://doi.org/10.5334/ijic.322

Malta DC, Bernal RTI, Lima MG, Araújo SSC, Silva MMA, Freitas MIF, Barros MBA (2017) Doenças crônicas não transmissíveis e a utilização de serviços de saúde: análise da Pesquisa Nacional de Saúde no Brasil [Noncommunicable diseases and the use of health services: analysis of the National Health Survey in Brazil]. Rev Saude Publica 51(Suppl. 1):4s

Manderbacka K, Arffman M, Leyland A, McCallum A, Keskimäki I (2009) Change and persistence in healthcare inequities: access to elective surgery in Finland in 1992–2003. Scand J Public Health 37(2):131–138. https://doi.org/10.1177/1403494808098505

Masseria C, Giannoni M (2010) Equity in access to health care in Italy: a disease-based approach. Eur J Pub Health 20(5):504–510. https://doi.org/10.1093/eurpub/ckq029

Menotti A, Mulder I, Nissinen A, Giampaoli S, Feskens EJM, Kromhout D (2001) Prevalence of morbidity and multimorbidity in elderly male populations and their impact on 10-year all-cause mortality: the FINE study (Finland, Italy, Netherlands, Elderly). J Clin Epidemiol 54(7):680–686. https://doi.org/10.1016/S0895-4356(00)00368-1

Meyerhoefer CD, Zuvekas SH, Manski R (2014) The demand for preventive and restorative dental services. Health Econ 23(1):14–32. https://doi.org/10.1002/hec.2899

OECD (2014) Geographic variations in health care: what do we know and what can be done to improve health system performance? OECD Health Policy Studies. OECD Publishing, Paris. https://doi.org/10.1787/9789264216594-en

OECD (2017) How's life? 2017: measuring well-being. OECD Publishing, Paris. https://doi.org/10.1787/how_life-2017-en

Palència L, Espelt A, Rodríguez-Sanz M, Rocha KB, Isabel Pasarín M, Borrell C (2013) Trends in social class inequalities in the use of health care services within the Spanish National Health System, 1993–2006. Eur J Health Econ 14(2):211–219. https://doi.org/10.1007/s10198-011-0362-7

Palladino R, Tayu Lee J, Ashworth M, Triassi M, Millett C (2016) Associations between multimorbidity, healthcare utilisation and health status: evidence from 16 European countries. Age Ageing 45(3):431–435. https://doi.org/10.1093/ageing/afw044

Permpongkosol S (2011) Iatrogenic disease in the elderly: risk factors, consequences, and prevention. Clin Interv Aging 6:77–82. https://doi.org/10.2147/cia.s10252

Prince MJ, Wu F, Guo Y, Gutierrez Robledo LM, O'Donnell M, Sullivan R, Yusuf S (2015) The burden of disease in older people and implications for health policy and practice. Lancet 385(9967):549–562. https://doi.org/10.1016/s0140-6736(14)61347-7

Rattay P, Butschalowsky H, Rommel A, Prütz F, Jordan S, Nowossadeck E, Domanska O, Kamtsiuris P (2013) Inanspruchnahme der ambulanten und stationären medizinischen Versorgung in Deutschland. Bundesgesundheitsbl Gesundheitsforsch Gesundheitsschutz 56(5):832–844. https://doi.org/10.1007/s00103-013-1665-x

Rijken M, Struckmann V, Dyakova M, Melchiorre M, Rissanen S, van Ginneken E (2013) ICARE4EU: improving care for people with multiple chronic conditions in Europe. Eurohealth 19(3):29–31

Shwartz M, Restuccia JD, Rosen AK (2015) Composite measures of health care provider performance: a description of approaches. Milbank Q 93(4):788–825. https://doi.org/10.1111/1468-0009.12165

Srakar A, Hren R, Prevolnik Rupel V (2016) Health services utilization in older Europeans: an empirical study. Organizacija 49(2):127–136

Stirbu I, Kunst AE, Mielck A, Mackenbach JP (2011) Inequalities in utilisation of general practitioner and specialist services in 9 European countries. BMC Health Serv Res 11(1):288. https://doi.org/10.1186/1472-6963-11-288

Tavares LP, Zantomio F (2017) Inequity in healthcare use among older people after 2008: the case of southern European countries. Health Policy 121(10):1063–1071. https://doi.org/10.1016/j.healthpol.2017.08.011

Terraneo M (2015) Inequities in health care utilization by people aged 50+: evidence from 12 European countries. Soc Sci Med 126:154–163. https://doi.org/10.1016/j.socscimed.2014.12.028

UNESCO (1997) International Standard Classification of Education —ISCED. http://www.uis.unesco.org/Education/Pages/international-standard-classification-of-education.aspx

Vaidya V, Partha G, Howe J (2011) Utilization of preventive care services and their effect on cardiovascular outcomes in the United States. Risk Manag Healthc Policy 4:1–7. https://doi.org/10.2147/rmhp.s15777

van Doorslaer E, Masseria C, Koolman X, Group OHER (2006) Inequalities in access to medical care by income in developed countries. CMAJ 174(2):177–183. https://doi.org/10.1503/cmaj.050584

van Oostrom SH, Picavet HSJ, de Bruin SR, Stirbu I, Korevaar JC, Schellevis FG, Baan CA (2014) Multimorbidity of chronic diseases and health care utilization in general practice. BMC Fam Pract 15:61–61. https://doi.org/10.1186/1471-2296-15-61

WHO (2016) Greece. Highlights on health and well-being (2016). WHO Regional Office for Europe, Copenhagen. http://www.euro.who.int/__data/assets/pdf_file/0009/308835/Highlights-Health-Well-being-Greece.pdf. Accessed 16 July 2019

Zhang X, Yu B, He T, Wang P (2018) Status and determinants of health services utilization among elderly migrants in China. Glob Health Res Policy 3:8–8. https://doi.org/10.1186/s41256-018-0064-0
Ethics declarations
Ethical approval
All procedures performed in studies involving human participants were in accordance with the ethical standards of the Ethics Committee of the University of Crete and with the 1964 Helsinki Declaration and its later amendments or comparable ethical standards.
Informed consent
Informed consent was obtained from all individual participants included in the study.
Conflict of interest
The authors declare that they have no conflict of interest.
Additional information
Publisher's note
Springer Nature remains neutral with regard to jurisdictional claims in published maps and institutional affiliations.
About this article
Cite this article
Borboudaki, L., Linardakis, M., Markaki, A.M. et al. Health service utilization among adults aged 50+ across eleven European countries (the SHARE study 2004/5). J Public Health (Berl.) (2020). https://doi.org/10.1007/s10389-019-01173-2
Received:

Accepted:

Published:
Keywords
Preventive health services

Health care services utilization

Chronic disease

SHARE study