Abstract
Aim
Workplace health promotion (WHP) is being increasingly employed as a corporate strategy, being at its most effective when it is implemented in a high-quality and sustainable way. Based on normative principles, a quality management system for WHP was introduced in Austria in 2004. This article examines the measurement quality to validate this quality assurance system.
Subjects and methods
From 2014 to 2017, WHP projects have been assessed rigorously by means of a standardized procedure using 15 quality criteria. The foundations for this are an application submitted by the company, and the decision as to whether a WHP quality certificate is awarded or not is based on the overall assessment. Data are available for the 1131 Austrian companies. Based on theoretical and methodological considerations, the measurement quality was investigated in relation to the overall quality of WHP projects with the help of structural equation models.
Results
The confirmatory one-factor analysis revealed satisfactory construct validity (λ ≥ 0.40) and high reliability for the overall scale (α = 0.87), although the fit was not acceptable. The bi-factor analysis with a general factor (GF) and three specific residual factors resulted in good model fit. The GF explained most of the common variance (ECV = 63.9%); the overall scale was also characterized by its high reliability (αGF = 0.90, ωHGF = 0.82).
Conclusion
The results justify the creation of an overall scale for assessing the quality of WHP. The mean varied by the year of submission, and there was a significant difference between both small/large enterprises and initial/renewal awards. The measurement tool can be considered a good screening instrument for awarding the WHP quality certificate.
This is a preview of subscription content, log in to check access.
Access options
Buy single article
Instant access to the full article PDF.
US$ 39.95
Price includes VAT for USA
Subscribe to journal
Immediate online access to all issues from 2019. Subscription will auto renew annually.
US$ 99
This is the net price. Taxes to be calculated in checkout.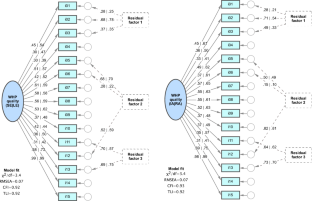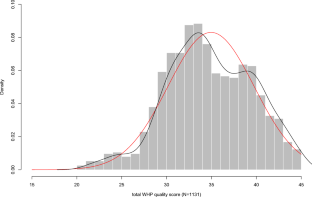 Notes
1.

A non-significant χ2 test is preferable; however, the test tends to incorrectly reject models based on a large sample (Bollen 1989).
Abbreviations
λ:

Factor loading

(∑ λ)2 :

Sum of loadings squared

(∑ λ2):

Sum of squared loadings

CBFA:

Confirmatory bi-factor analysis

CFA:

Confirmatory factor analysis

CFI:

Comparative fit index

CI:

Confidence interval

df:

Degrees of freedom

ECV:

Explained common variance

ENWHP:

European Network for Workplace Health Promotion

FGÖ:

Fonds Gesundes Österreich

GF:

General factor

IA:

Initial award

ICC:

Intra-class correlation

LE:

Large enterprise

m:

Arithmetic mean

MGCBFA:

Multi-group confirmatory bi-factor analysis

N:

Number of valid cases

ÖNBGF:

Österreichisches Netzwerk Betriebliche Gesundheitsförderung

p:

p value

QI:

Quality indicator

RA:

Renewal award

RF:

Residual factor

RMSEA:

Root mean standard error of approximation

s:

Standard deviation

s3 :

Skewness

s4 :

Kurtosis

SE:

Small enterprise

TLI:

Tucker-Lewis index

WHP:

Workplace health promotion

WLSMV:

Weighted least square means and variance adjusted

α:

Cronbach's alpha

χ2 :

Chi-square

ωH:

Omega hierarchical

ωS:

Omega specific
References
Ader M, Berensson K, Carlsson P, Granath M, Urwitz V (2001) Quality indicators for health promotion programs. Health Promot Int 16:187–195. https://doi.org/10.1093/heapro/16.2.187

BKK Dachverband (2018a) Deutscher Unternehmenspreis Gesundheit. www.deutscher-unternehmenspreis-gesundheit.de/. Accessed 17 July 2018

BKK Dachverband (2018b) Deutsches Siegel Unternehmensgesundheit. https://www.bkk-dachverband.de/gesundheit/gesundheitsfoerderung-selbsthilfe/betriebliche-gesundheitsfoerderung-bgf/deutsches-siegel-unternehmensgesundheit/. Accessed 15 Sept 2018

Bollen KA (1989) Structural equations with latent variables. Wiley, New York

Bortz J, Döring N (2016) Forschungsmethoden und evaluation für human- und sozialwissenschaftler, 5th edn. Springer, Berlin. https://doi.org/10.1007/978-3-642-41089-5

Bowling A (2017) Measuring health: a review of subjective health and quality of life measurement scales, 4th edn. McGraw Hill, London

Browne MW, Cudeck R (1993) Alternative ways of assessing model fit. In: Bollen KA, Long JS (eds) Testing structural equation models. Sage, Newbury Park, pp 136–162

Byrne BM (2012) Structural equation modeling with Mplus. Basic concepts, applications, and programming. Routledge, New York

Chen FF, West SG, Sousa KH (2006) A comparision of bifactor and second-order models of quality of life. Multivar Behav Res 41:189–225. https://doi.org/10.1207/s15327906mbr4102_5

Chen FF, Hayes A, Carver CS, Laurenceau J-P, Zhang Z (2012) Modeling general and specific variance in multifaceted constructs: a comparison of the bifactor model to other approaches. J Pers 80:219–251. https://doi.org/10.1111/j.1467-6494.2011.00739.x

Cheng-Hsien L (2016) Confirmatory factor analysis with ordinal data: comparing robust maximum likelihood and diagonally weighted least squares. Behav Res Methods 48:936–949. https://doi.org/10.3758/s13428-015-0619-7

Cicchetti DV (1994) Guidelines, criteria, and rules of thumb for evaluating normed and standardized assessment instruments in psychology. Psychol Assess 6:284–290. https://doi.org/10.1037/1040-3590.6.4.284

DeVellis RF (2017) Scale development: theory and applications, 4th edn. Sage, Thousand Oaks

Diamantopoulos A (2005) The C-OAR-SE procedure for scale development in marketing: a comment. Int J Res Mark 22:1–9. https://doi.org/10.1016/j.ijresmar.2003.08.002

Donabedian A (1980) Explorations in quality assessment and monitoring. Health Administration Press, Ann Arbor

Donabedian A (2005 [1966]) Evaluations in quality of medical care. Milbank Q 83:691–729. https://doi.org/10.1111/j.1468-0009.2005.00397.x

ENWHP (1997) Luxembourg declaration on workplace health promotion in the European union. European Network for Workplace Health Promotion

Evers A, Hagemeister C, Høstmælingen A, Lindley P, Muniz J, Sjöberg A (2013) EFPA review model for the description and evaluation of psychological and educational tests: test review form and notes for reviewers version 4.2.6. European Federation of Psychologists Associations (EFPA). http://www.efpa.eu/download/650d0d4ecd407a51139ca44ee704fda4. Accessed 28 Sept 2018

Gesundheitsförderung Schweiz (2018) Friendly work space. www.friendlyworkspace.ch. Accessed 17 July 2018

Heigl C (2014) Qualitätssicherung als laufende Entwicklung am Beispiel der Betrieblichen Gesundheitsförderung des Österreichischen Netzwerks für BGF (ÖNBGF). Wirtschaftspsy 16:35–43

Hu L-t, Bentler PM (1999) Cutoff criteria for fit indexes in covariance structure analysis. Struct Equ Model 6:1–55. https://doi.org/10.1080/10705519909540118

Jarvis CB, MacKenzie SB, Podsakoff PM (2003) A critical review of construct indicators and measurement model misspecification in marketing and consumer research. J Consum Res 30:199–218. https://doi.org/10.1086/376806

Jiménez P, Eibel K, Dunkl A, Ratswohl A (2014) Entwicklung von Qualitätskriterien für AnbieterInnen von Dienstleistungen im Bereich der Gesundheitsförderung. Wirtschaftspsy 2:27–34

Kliche T, Töppich J, Kawski S, Koch U, Lehmann H (2004) Die Beurteilung der Struktur-, Konzept- und Prozessqualität von Prävention und Gesundheitsförderung. Anforderungen und Lösungen. Bundesgesundheitsbla 47:125–132. https://doi.org/10.1007/s00103-003-0771-6

Kliche T, Töppich J, Kawski S, Brunecker L, Önel J, Ullrich A, Koch U (2007) Professional expectations about quality assurance: a review-based taxonomy of usability criteria in prevention, health promotion and education. J Public Health 15:11–19. https://doi.org/10.1007/s10389-006-0072-2

Kline RB (2011) Principles and practice of structural equation modeling, 3rd edn. Guilford Press, New York

Lohaus D, Rietz C (2015) Arbeitgeberattraktivität. Der Stellenwert von Bekanntheit und Labels in der frühen Rekrutierungsphase. Z Arb Organ 59:70–84. https://doi.org/10.1026/0932-4089/a000175

McDonald RP (1999) Test theory: a unified treatment. Erlbaum, Mahwah

McGraw KO, Wong SP (1996) Forming inferences about some intraclass correlation coefficients. Psychol Methods 1:30–46

Muthén LK, Muthén BO (2012) Mplus. Statistical analysis with latent variables. User's guide, 7th edn. Muthén & Muthén, Los Angeles

Nunnally JC, Bernstein IH (1994) Psychometric theory, 3rd edn. McGraw-Hill, New York

ÖNBGF (2018) Die 15 Qualitätskriterien. http://www.netzwerk-bgf.at/. Accessed 17 July 2018

Pieper C, Schöer S, Haupt J, Kramer I (2015) Wirksamkeit und Nutzen betrieblicher Gesundheitsförderung und Prävention - Zusammenstellung der wissenschaftlichen Evidenz 2006 bis 2012 (iga.Report 28). In: IGA (ed) Wirksamkeit und Nutzen betrieblicher Prävention, vol 28. Initiative Gesundheit & Arbeit, Berlin, pp 11–110

Podsakoff PM, MacKenzie SB, Lee J-Y, Podsakoff NP (2003) Common method biases in behavioral research: a critical review of the literature and recommended remedies. J Appl Psychol 88:879–903. https://doi.org/10.1037/0021-9010.88.5.879

Reise SP (2012) The rediscovery of bifactor measurement models. Multivar Behav Res 47:667–696. https://doi.org/10.1080/00273171.2012.715555

Reise SP, Moore TM, Haviland MG (2010) Bifactor models and rotations: exploring the extent to which multidimensional data yield univocal scale scores. J Pers Assess 92:544–559. https://doi.org/10.1080/00223891.2010.496477

Rhemtulla M, Bruosseau-Liard PÉ, Savalei V (2012) When can categorical variables be treated as continuous? A comparison of robust continuous and categorical SEM estimation methods under suboptimal conditions. Psychol Methods 17:354–373. https://doi.org/10.1037/a0029315

Rosian-Schikuta I, Horvath I, Juraszovich B, Renner A-T, Langmann H, Atzler B (2016) Institutionelle Betriebliche Gesundheitsförderung und Prävention. Internationale Evidenz. Bestandsaufnahme Österreich. Perspektiven (Wissenschaftlicher Ergebnisbericht). Gesundheit Österreich, Wien

Schnell R, Hill PB, Esser E (2013) Methoden der empirischen Sozialforschung, 10th edn. Oldenbourg Verlag, München

Spector PE (2006) Method variance in organisational research: truth or urban legend? Organ Res Methods 9:221–232. https://doi.org/10.1177/1094428105284955

Van de Vijver FJR (2013) Method bias. In: Keith K (ed) The encyclopedia of cross-cultural psychology. Wiley, Hoboken, pp 878–880. https://doi.org/10.1002/9781118339893

Weiber R, Mühlhaus D (2010) Strukturgleichungsmodellierung: Eine anwendungsorientierte Einführung in die Kausalanalyse mit Hilfe von AMOS, SmartPLS und SPSS. Springer, Berlin

Winter W, Grünewald C (2016) BGM als Stellschraube von Arbeitgeberattraktivität. In: Badura B, Ducki A, Schröder H, Klose J, Meyer M (eds) Fehlzeiten-Report 2016. Unternehmenskultur und Gesundheit-Herausforderungen und Chancen. Springer, Berlin, pp 225–235. https://doi.org/10.1007/978-3-662-49413-4

Zinbarg RE, Revelle W, Yovel I, Li W (2005) Cronbach's α, Revelle's β, and Mcdonald's ωH: their relations with each other and two alternative conceptualizations of reliability. Psychometrika 70:123–133. https://doi.org/10.1007/s11336-003-0974-7
Acknowledgements
We are grateful for the feedback from Anita Bregenzer, which helped us improve the manuscript.
Ethics declarations
Ethical approval
All procedures performed in studies involving human participants were in accordance with the ethical standards of the institutional and/or national research committee and with the 1964 Helsinki Declaration and its later amendments or comparable ethical standards. Informed consent was obtained from all individuals included in the study.
Conflict of interest
The authors declare that they have no conflict of interest.
Additional information
Publisher's Note
Springer Nature remains neutral with regard to jurisdictional claims in published maps and institutional affiliations.
Electronic supplementary material
About this article
Cite this article
Lang, G., Heigl, C. & Jiménez, P. Quality assurance for workplace health promotion. Validation of the quality criteria for WHP in the Austrian quality management system. J Public Health (Berl.) 27, 695–706 (2019). https://doi.org/10.1007/s10389-018-1005-6
Received:

Accepted:

Published:

Issue Date:
Keywords
Workplace health promotion

Quality assurance

Confirmatory factor analysis

Validity

Reliability