Abstract
Aim
This article aimed to study the burden, impact and coping mechanisms associated with out-of-pocket (OOP) health expenditure in rural and urban areas in India.
Methods
National Sample Survey Organisation (NSSO) data on 'Health and Morbidity' gathered in 2004 and 2014 were employed to measure the catastrophic burden, impoverishment impact and various coping strategies associated with out-of-pocket health in India.
Results
Results revealed that over the study period, considerable rural-urban differentials existed in the economic burden and impact of out-of-pocket health expenditure. As a coping strategy, borrowing and other distress sources were used in higher proportions by the rural population than their urban counterparts. Overall, our results demonstrated an alarming situation regarding health care financing in India.
Conclusion
Substantial investment in public health is needed, especially in rural areas as it is here that people are facing the real brunt of catastrophic OOP health expenditures in the form of impoverishment with more dependence on distress sources including borrowing and sale of assets as coping mechanisms.
Access options
Buy single article
Instant access to the full article PDF.
US$ 39.95
Tax calculation will be finalised during checkout.
Subscribe to journal
Immediate online access to all issues from 2019. Subscription will auto renew annually.
US$ 79
Tax calculation will be finalised during checkout.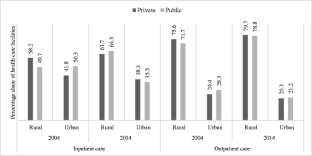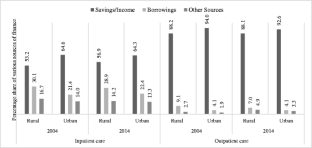 References
Baru RV (2013) Challenges for regulating the private health services in India for achieving universal health care. Indian J Public Health 57:208

Berman P, Ahuja R, Bhandari L (2010) The impoverishing effect of healthcare payments in India: new methodology and findings. Economic and Political Weekly:65–71

Bredenkamp C, Mendola M, Gragnolati M (2010) Catastrophic and impoverishing effects of health expenditure: new evidence from the western Balkans. Health Policy Plan 26:349–356

Dhanaraj S (2014) Health shocks and coping strategies. In: WIDER Working Paper 2014/003. World Institute for Development Economics Research, United Nations University, pp 1–28

Flores G, Krishnakumar J, O'donnell O, Van Doorslaer E (2008) Coping with health-care costs: implications for the measurement of catastrophic expenditures and poverty. Health Econ 17:1393–1412

Garg CC, Karan AK (2005) Health and Millennium Development Goal 1: Reducing Out-of-pocket Expenditures to Reduce Income Poverty: Evidence from India. Equity in Asia-Pacific Health Systems

Garg CC, Karan AK (2008) Reducing out-of-pocket expenditures to reduce poverty: a disaggregated analysis at rural-urban and state level in India. Health Policy Plan 24:116–128

Ghosh S (2010) Catastrophic payments and impoverishment due to out-of-pocket health spending: The effects of recent health sector reforms in India

Ghosh S (2011) Catastrophic payments and impoverishment due to out-of-pocket health spending. Economic and Political Weekly:63–70

Ghosh S (2014) Publicly-financed health insurance for the poor: understanding RSBY in Maharashtra. Econ Political Weekly 49:93–99

Habib SS, Perveen S, Khuwaja HMA (2016) The role of micro health insurance in providing financial risk protection in developing countries—a systematic review. BMC Public Health 16:281

Joe W (2014) Distressed financing of household out-of-pocket health care payments in India: incidence and correlates. Health Policy Plan 30:728–741

John TJ, Dandona L, Sharma VP, Kakkar M (2011) Continuing challenge of infectious diseases in India. Lancet 377:252–269

Kakwani N, Wagstaff A, Van Doorslaer E (1997) Socioeconomic inequalities in health: measurement, computation, and statistical inference. J Econ 77:87–103

Karan A, Selvaraj S, Mahal A (2014) Moving to universal coverage? Trends in the burden of out-of-pocket payments for health care across social groups in India, 1999–2000 to 2011–12. PLoS One 9:e105162

Karan A, Yip W, Mahal A (2017) Extending health insurance to the poor in India: an impact evaluation of Rashtriya Swasthya Bima Yojana on out of pocket spending for healthcare. Soc Sci Med 181:83–92

Kumar A, Jain N, Nandraj S, Furtado K (2015a) NSSO 71st round: same data, multiple interpretations

Kumar K et al (2015b) Socio-economic differentials in impoverishment effects of out-of-pocket health expenditure in China and India: evidence from WHO SAGE. PLoS One 10:e0135051

Ladusingh L, Pandey A (2013) Health expenditure and impoverishment in India. J Health Manag 15:57–74

Leive A, Xu K (2008) Coping with out-of-pocket health payments: empirical evidence from 15 African countries. Bull World Health Organ 86:849–856C

Maiti R, Bhatia V, Padhy BM, Hota D (2015) Essential Medicines: An Indian Perspective Indian journal of community medicine: official publication of Indian Association of Preventive & Social Medicine 40:223–232

Mondal S, Lucas H, Peters D, Kanjilal B (2014) Catastrophic out-of-pocket payment for healthcare and implications for household coping strategies: evidence from West Bengal. India Econ Bulletin 34:1303–1316

Nair H, Panda R (2011) Quality of maternal healthcare in India: has the National Rural Health Mission made a difference? J Global Health 1:79

NHA (2016) National Health Accounts 2013–14. Ministry of Health and Family Welfare. Govt. of India, New Delhi

NPPA (2014) National Pharmaceutical Pricing Authority. New Delhi

NSSO (2004) Health, Morbidity and Condition of Aged, NSSO 60th Round (January–June 2004). Ministry of Statistics and Programme Implementaion, Government of India New Delhi

NSSO (2014) Key indicators of Social Consumption in India: Health, 71st Round (January–June 2014). Ministry of Statistics and Programme Implementation, Government of India, New Delhi

Paul VK et al (2011) Reproductive health, and child health and nutrition in India: meeting the challenge. Lancet 377:332–349

Prinja S, Chauhan AS, Karan A, Kaur G, Kumar R (2017) Impact of publicly financed health insurance schemes on healthcare utilization and financial risk protection in India: a systematic review. PLoS One 12:e0170996

Quintussi M, Van de Poel E, Panda P, Rutten F (2015) Economic consequences of ill-health for households in northern rural India. BMC Health Serv Res 15:179

Raban MZ, Dandona R, Dandona L (2013) Variations in catastrophic health expenditure estimates from household surveys in India. Bull World Health Organ 91:726–735

Ramachandran A et al (2007) Increasing expenditure on health care incurred by diabetic subjects in a developing country. Diabetes Care 30:252–256

Rao KS (2017) Do We Care?: India's Health System. Oxford University Press

Reddy KS, Patel V, Jha P, Paul VK, Kumar AS, Dandona L, Healthcare LIGfU (2011) Towards achievement of universal health care in India by 2020: a call to action. Lancet 377:760–768

Selvaraj S, Nabar V (2010) Access to medicine in India: issues challenges and policy options India: health report

Singh S, Badaya S (2014) Health care in rural India: a lack between need and feed. South Asian J Cancer 3:143

Swarup A, Jain N (2011) Rashtriya Swasthya Bima Yojana Innovative:259

Tendulkar S, Radhakrishna R, Sengupta S (2009) Report of the expert group to review the methodology for estimation of poverty. Government of India, Planning Commission:32

Tolla MT, Norheim OF, Verguet S, Bekele A, Amenu K, Abdisa SG, Johansson KA (2017) Out-of-pocket expenditures for prevention and treatment of cardiovascular disease in general and specialised cardiac hospitals in Addis Ababa, Ethiopia: a cross-sectional cohort study. BMJ Global Health 2:e000280

Van Minh H, Phuong NTK, Saksena P, James CD, Xu K (2013) Financial burden of household out-of pocket health expenditure in Viet Nam: findings from the National Living Standard Survey 2002–2010. Soc Sci Med 96:258–263

Wagstaff A, Doorslaer EV (2003) Catastrophe and impoverishment in paying for health care: with applications to Vietnam 1993–1998. Health Econ 12:921–933

WHO (2015) World health statistics 2015. World Health Organisation
Funding
This research received no grant from any funding agency in the public, commercial or not-for-profit sectors.
Ethics declarations
Informed consent
The study used a data set that is available online in the public domain; hence, there was no need to seek ethical consent to publish this study.
Ethical treatment of experimental subjects (animal and human)
This article does not contain any studies with human or animal subjects performed by the author.
Conflict of interest
The authors declare that they have no conflict of interest.
About this article
Cite this article
Sangar, S., Dutt, V. & Thakur, R. Economic burden, impoverishment and coping mechanisms associated with out-of-pocket health expenditure: analysis of rural-urban differentials in India. J Public Health (Berl.) 26, 485–494 (2018). https://doi.org/10.1007/s10389-018-0904-x
Received:

Accepted:

Published:

Issue Date:
Keywords
Rural

Urban

Out of pocket

Burden

Coping