Abstract
Aim
Diabetes and hypertension, which share several common risk factors, are rising at an alarming rate in the population of Dhaka, the capital city of Bangladesh. A cross-sectional study was carried out to visualize the co-occurrences of these two chronic diseases in this particular region.
Subjects and methods
Parameters including complete blood count, serum lipid profile, blood pressure, serum glucose and serum creatinine level were measured to determine the prevalence of these diseases. Statistical analysis of 2000 participants aged 31–90 years was conducted, whereby 1000 participants were normal and 1000 participants had both diabetes and hypertension. Participants had attended the Bangladesh Institute of Research & Rehabilitation in Diabetes, Endocrine and Metabolic Disorders (BIRDEM) General Hospital and Labaid Hospital between June 2015 and February 2016.
Result
It was revealed that most parameter levels were markedly raised in the diseased participants (p < 0.01), but the mean hemoglobin (6.92 ± 0.05), red blood cell count (3.9 ± 0.02) and high-density lipoprotein level (0.76 ± 0.01) were found to be significantly lower (p < 0.01) in diseased participants compared to normal ones. Fasting blood glucose (10.2 ± 0.11), after-meal glucose (13.15 ± 0.10), systolic blood pressure (160.78 ± 0.69), diastolic blood pressure (90.36 ± 0.31), hemoglobin (7.4 ± 0.07), total cholesterol (5.13 ± 0.03), low density lipoprotein (3.63 ± 0.03) and triglycerides (2.55 ± 0.02) were found to be significantly higher in diseased females compared to diseased males (p < 0.01, for low density lipoprotein, p < 0.05). Age-wise distribution showed that approximately 5.80% of diseased males and females were in the range of 61–65 years and 56–60 years, respectively.
Conclusion
Elevated levels of the above parameters were associated with increased prevalence of both diabetes and hypertension. The results suggested that female participants were more greatly affected by these diseases. The reasons for this undesirable situation in diseased females should be inspected, and strategies should be improved to address the situation.
Access options
Buy single article
Instant access to the full article PDF.
US$ 39.95
Tax calculation will be finalised during checkout.
Subscribe to journal
Immediate online access to all issues from 2019. Subscription will auto renew annually.
US$ 79
Tax calculation will be finalised during checkout.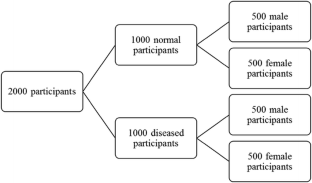 References
Aguiree F, Brown A, Cho NH, Dahlquist G, Dodd S, Dunning T, Hirst M, Hwang C, Magliano D, Patterson C, Scott C, Shaw J, Soltesz G, Usher-Smith J, Whiting D (2013) IDF Diabetes Atlas: sixth edition. International Diabetes Federation, Basel. http://www.idf.org/sites/default/files/EN_6E_Atlas_Exec_Sum_1.pdf. Accessed 25 April 2016

Bajaj S, Jawad F, Islam N, Mahtab H, Bhattarai J, Shrestha D, Wijeyaratne C, Muthukuda DT, Widanage NW, Aye TT, Aung MW, Kalra B, Anjana RM, Sreedevi A, Verma K (2013) South Asian women with diabetes: psychosocial challenges and management: consensus statement. Indian J Endocrinol Metab 17:548–562. doi:10.4103/2230-8210.113720

Barter P, Gotto AM, LaRosa JC, Maroni J, Szarek M, Grundy SM, Kastelein JJ, Bittner V, Fruchart JC (2007) HDL cholesterol, very low levels of LDL cholesterol, and cardiovascular events. N Engl J Med 357:1301–1310. doi:10.1056/NEJMoa064278

Biswas T, Islam A, Rawal LB, Islam SMS (2016) Increasing prevalence of diabetes in Bangladesh: a scoping review. Public Health. doi:10.1016/j.puhe.2016.03.025

Chen YD, Jeng CY, Reaven GM (1987) HDL metabolism in diabetes. Diabetes Metab Rev 3:653–668

Chobanian AV, Bakris GL, Black HR, Cushman WC, Green LA, Izzo JL Jr, Jones DW, Materson BJ, Oparil S, Wright JT Jr, Roccella EJ (2003) Seventh report of the joint National Committee on prevention, detection, evaluation, and treatment of high blood pressure. Hypertension 42:1206–1252. doi:10.1161/01.HYP.0000107251.49515.c2

Chowdhury MAB, Uddin MJ, Khan HMR, Haque MR (2015) Type 2 diabetes and its correlates among adults in Bangladesh: a population-based study. BMC Public Health 15:1070. doi:10.1186/s12889-015-2413-y

Chowdhury MAB, Uddin MJ, Haque MR, Ibrahimou B (2016) Hypertension among adults in Bangladesh: evidence from a national cross-sectional survey. BMC Cardiovasc Disord 16:22. doi:10.1186/s12872-016-0197-3

Elias AN, Domurat E (1989) Erythrocyte sedimentation rate in diabetic patients: relationship to glycosylated hemoglobin and serum proteins. J Med 20:297–302

Fossati P, Prencipe L (1982) Serum triglycerides determined colorimetrically with an enzyme that produces hydrogen peroxide. Clin Chem 28:2077–2080

Heinegård D, Tiderström G (1973) Determination of serum creatinine by a direct colorimetric method. Clin Chim Acta 43:305–310. doi:10.1016/0009-8981(73)90466-X

Hjelmesæth J, Røislien J, Nordstrand N, Hofsø D, Hager H, Hartmann A (2010) Low serum creatinine is associated with type 2 diabetes in morbidly obese women and men: a cross-sectional study. BMC Endocr Disord 10:6. doi:10.1186/1472-6823-10-6

Islam AKMM, Majumder AAS (2012) Hypertension in Bangladesh: a review. Indian Heart J 64:319–323. doi:10.1016/S0019-4832(12)60096-0

Jeppesen J, Hein HO, Suadicani P, Gyntelberg F (2000) High triglycerides and low HDL cholesterol and blood pressure and risk of ischemic heart disease. Hypertension 36:226–232

Khan MMH, Gruebner O, Kraemer A (2014) The geography of diabetes among general adults aged 35 years and older in Bangladesh: recent evidence from a cross-sectional survey. PLoS One 9:e110756. doi:10.1371/journal.pone.0110756

Khanam MA, Lindeboom W, Razzaque A, Niessen L, Milton AH (2015) Prevalence and determinants of pre-hypertension and hypertension among adults in rural Bangladesh: findings from a community-based study. BMC Public Health 15:203. doi:10.1186/s12889-015-1520-0

Marks V (1996) An improved glucose-oxidase method for determining blood, C.S.F. And urine glucose levels. Clin Chim Acta 251:19–24. doi:10.1016/0009-8981(96)83704-1

Mehdi U, Toto RD (2009) Anemia, diabetes, and chronic kidney disease. Diabetes Care 32:1320–1326. doi:10.2337/dc08-0779

Montenegro RM Jr, Montenegro AP, Fernandes MI, de Moraes RR, Elias J Jr, Gouveia LM, Muglia VF, Foss MC, Moreira AC, Martinelli CE Jr (2002) Triglyceride-induced diabetes mellitus in congenital generalized lipodystrophy. J Pediatr Endocrinol Metab 15:441–447

Mora S, Rifai N, Buring JE, Ridker PM (2009) Comparison of LDL cholesterol concentrations by Friedewald calculation and direct measurement in relation to cardiovascular events in 27,331 women. Clin Chem 55:888–894. doi:10.1373/clinchem.2008.117929

Neupane D, McLachlan CS, Sharma R, Gyawali B, Khanal V, Mishra SR, Christensen B, Kallestrup P (2014) Prevalence of hypertension in member countries of the South Asian Association for Regional Cooperation (SAARC): systematic review and meta-analysis. Medicine (Baltimore) 93:e74. doi:10.1097/MD.0000000000000074

Oda E, Kawai R (2009) LDL cholesterol is associated with blood pressure in Japanese women. Diabetes Care 24:2009. doi:10.2337/dc09-1025

Rahim MA, Vaaler S, Keramat Ali SM, Khan AK, Hussain A, Nahar Q (2004) Prevalence of type 2 diabetes in urban slums of Dhaka, Bangladesh. Bangladesh Med Res Counc Bull 30:60–70

Rahman MS, Akter S, Abe SK, Islam MR, Mondal MN, Rahman JA, Rahman MM (2015) Awareness, treatment, and control of diabetes in Bangladesh: a nationwide population-based study. PLoS One 10:e0118365. doi:10.1371/journal.pone.0118365

Razzaque A, Nahar L, Mustafa AHMG, Ahsan KZ, Islam MS, Yunus M (2011) Sociodemographic differentials of selected noncommunicable disease risk factors among adults in Matlab, Bangladesh: findings from a WHO STEPS survey. Asia Pac J Public Health 23:183–191. doi:10.1177/1010539510392743

Richmond W (1973) Preparation and properties of a cholesterol oxidase from Nocardia sp. and its application to the enzymatic assay of total cholesterol in serum. Clin Chem 19:1350–1356

Saquib N, Khanam MA, Saquib J, Anand S, Chertow GM, Barry M, Ahmed T, Cullen MR (2013) High prevalence of type 2 diabetes among the urban middle class in Bangladesh. BMC Public Health 13:1032. doi:10.1186/1471-2458-13-1032

Solano MP, Goldberg RB (2006) Lipid Management in type 2 diabetes. Clin Diabetes 24:27–32. doi:10.2337/diaclin.24.1.27

Tareque MI, Koshio A, Tiedt AD, Hasegawa T (2015) Are the rates of hypertension and diabetes higher in people from lower socioeconomic status in Bangladesh? Results from a nationally representative survey. PLoS One 10:e0127954. doi:10.1371/journal.pone.0127954

Thomas AM, LoPiccolo J (1994) Sexual functioning in persons with diabetes: issues in research, treatment, and education. Clin Psychol Rev 14:61–86. doi:10.1016/0272-7358(94)90048-5

Vozarova B, Stefan N, Lindsay RS, Saremi A, Pratley RE, Bogardus C, Tataranni PA (2002) High alanine aminotransferase is associated with decreased hepatic insulin sensitivity and predicts the development of type 2 diabetes. Diabetes 51:1889–1895

Warnick GR, Nauck M, Rifai N (2001) Evolution of methods for measurement of HDL cholesterol: from ultracentrifugation to homogeneous assays. Clin Chem 47:1579–1596

World Health Organization (2011) Non-communicable disease risk factor survey Bangladesh 2010. World Health Organization, Regional Office for South-East Asia, New Delhi http://www.who.int/chp/steps/2010_STEPS_Report_Bangladesh.pdf. Accessed 25 April 2016

World Health Organization (2013) A global brief on hypertension: silent killer, global public health crisis. World Health Organization, Geneva http://apps.who.int/iris/bitstream/10665/79059/1/WHO_DCO_WHD_2013.2_eng.pdf. Accessed 25 April 2016

World Health Organization (2016) Global report on diabetes. World Health Organization, Geneva http://apps.who.int/iris/bitstream/10665/204871/1/9789241565257_eng.pdf. Accessed 25 April 2016

Zander R, Lang W, Wolf HU (1984) Alkaline haematin D-575, a new tool for the determination of haemoglobin as an alternative to the cyanhaemiglobin method. I Description of the method Clin Chim Acta 136:83–93
Acknowledgments
The authors would like to thank all the participants of this study for their important contributions. The authors are also indebted to BIRDEM General Hospital and Labaid Hospital for providing great support for the study.
Ethics declarations
Conflicts of interest
The authors declare that they have no conflict of interest.
Funding
This study did not receive any funding.
Ethical approval
All procedures performed in studies involving human participants were in accordance with the ethical standards of the institutional and/or national research committee and with the 1964 Helsinki Declaration and its later amendments or comparable ethical standards.
Informed consent
Informed consent was obtained from all individual participants included in the study.
Electronic supplementary material
About this article
Cite this article
Ahmed, S., Ahmed, T., Sharmin, T. et al. Prevalence of diabetic-hypertensive patients in the current population of Dhaka City. J Public Health 25, 513–519 (2017). https://doi.org/10.1007/s10389-017-0804-5
Received:

Accepted:

Published:

Issue Date:
Keywords
Diabetes

Hypertension

Serum lipid profile

Blood pressure

Blood glucose

Female