Abstract
Aim
The association between female longevity and age at parity has been discussed in the literature for some time now without a consensual conclusion being reached. Most studies use individual data and aggregated data is still to be explored. This work presents a new perspective about the relation between women's life span and age at parity.
Subject and methods
Our study uses data at a country level to estimate a panel data linear regression for the EU countries in the period 2004-2013. The women's life span is measured by life expectancy at 65 years old and the age at parity is captured by three different indicators: mean age of women at birth of first child, mean age of women at childbirth and percentage of adolescent mothers.
Results
The most relevant result shows that women tend to live longer the older they are when they get pregnant (in particular, for the first child).
Conclusion
There are several determinant factors of women's life expectancy. The most surprising factor is the age of women at pregnancy, which may provide evidence to promote pregnancy in the early 30's.
This is a preview of subscription content, log in to check access.
Access options
Buy single article
Instant access to the full article PDF.
US$ 39.95
Price includes VAT for USA
Subscribe to journal
Immediate online access to all issues from 2019. Subscription will auto renew annually.
US$ 99
This is the net price. Taxes to be calculated in checkout.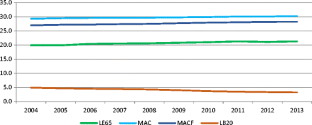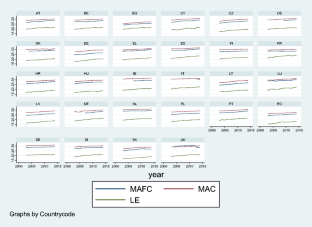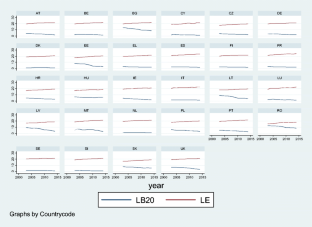 References
Babones SJ (2008) Income inequality and population health: correlation and causality. Soc Sci Med 66:1614–26

Barlow R, Vissandjée B (1999) Determinants of National Life Expectancy. Can J Dev Stud Can J DevStudies / Revue canadienne d'études du développement 20(1):9–29

Bergh A, Nilsson TH (2009) Good for living? On the relation between globalization and life expectancy. World Dev 38(9):1191–1203

Bilas V, Franc S, Bosnjak M (2014) Determinant factors of life expectancy at birth in the European Union Countries. Coll Antropol 38(1):1–9

Buck D, Maguire D (2015) Inequalities in life expectancy, changes over time and implications for policy. The Kings Fund. Ideas that change healthcare

Conti G, Heckman J, Urzua S (2010) The education-health gradient. Am Econ Rev 100(2):234–238

Dahlgren G, Whitehead M (1991) Policies and Strategies to Promote Social Equity in Health. Stockholm, Sweden: Institute for Futures Studies

Erlich S (2015) Effect of fertility and infertility on longevity. Fertil Steril 103(5):1129–35

Eurostat (2016) Eurostat database available at http://ec.europa.eu/eurostat

Gagnon A (2015) Natural fertility and longevity. Fertil Steril 103(5):1109–16

Grossman M (1972) On the concept of health capital and the demand for health. J Polit Econ 80(2):223–255

Grundy E, Tomassini C (2005) Fertility history and health in later life. A record linkage study in England and Wales. Soc Sci Med 61:217–228

Hank K (2010) Childbearing history, later-life health, and mortality in Germany. Popul Stud (Camb) 64:275–91

Hazan M (2012) Life expectancy and schooling: New insights from cross-country data. J Popul Econ 25(4):1237–1248

Hu Y, Lenthe FJ, Mackenback JP (2015) Income inequality, life expectancy and cause-specific mortality in 43 countries, 1987-2008: a fixed effects study. Eur J Epidemiol 30(8):615–625

Hurt LS, Ronsmans C, Thomas SL (2006) The effect of number of births on women's mortality: a systematic review of the evidence for women who have completed their childbearing. Popul Stud 60:55–71

Judge K (1995) Income distribution and life expectancy: a critical appraisal. BMJ 311:1282–5

Judge K, Mulligan JA, Benzeval M (1998) Income inequality and population health. Soc Sci Med 46(4-5):567–579

Lockhart PA, Martin P, Johnson MA, Shirtcliff E, Poon LW (2016) The relationship of fertility, lifestyle and longevity among women. J Gerontol A Biol Sci Med Sci (forthcoming)

Marmot M, Atkinson T, Bell J, et al (2010) Fair society, healthy lives. London: Institute for Health Equity, University College London. Available at: www.instituteofhealthequity.org/projects/fair-society-healthy-lives-themarmot-review

Marmot M (2012) WHO European review of social determinants of health and the health divide. Lancet 380:1011–29

Monsef A, Mehrjardi AS (2015) Determinants of life expectancy: a panel data approach. Asian Econ Financ Rev 5(11):1251–1257

Mueller U (2004) Does late reproduction extend the life span? Findings from European royalty. Popul Dev Rev 30:449–466

Müller HG, Chiou JM, Carey JR, Wang JL (2002) Fertility and life span: late children enhance female longevity. J Gerontol A Biol Sci Med Sci 57(5):B202–6

Perls TT, Sun F, Sebastiani P et al (2014) Extended maternal age at birth of last child and women's longevity in the long life family study. Menopause 22(1):26–31

Simons LA, Simons J, Friedlander Y, McCallum J (2012) Childbearing history and late-life mortality: the Dubbo study of Australian elderly. Age Ageing 41(4):523–528

Spence NJ, Eberstein IW (2009) Age at first birth, parity, and post-reproductive mortality among white and black women in the US, 1982–2002. Soc Sci Med 68:1625–32

Subramanian SV, Belli P, Kawachi I (2002) The macroeconomic determinants of health. Annu. Rev. Public Health 23:287–302

Sudha S, Mutran EJ, Williams IC, Suchindran C (2006) Childbearing history self-reported well-being in later life. Res Aging 28:599–621

WHO (2008) CSDH final report: Closing the gap in a generation: health equity through action on the social determinants of health. Commission on Social Determinants of Health. Geneva, Switzerland: WHO

WHO (2016) European Health for all database (HFA-DB) available at http://www.euro.who.int/en/data-and-evidence/databases/european-health-for-all-database-hfa-db

Wilkinson RG (1992) Income distribution and life expectancy. BMJ 304:165–168

Wilkinson RG, Pickett K (2006) Income inequality and population health: a review and explanation of the evidence. Soc Sci Med 62:1768–84

Zeng Y, Ni ZM, Liu SY, Gu X, Huang Q, Liu JA, Wang Q (2016) Parity and All-cause Mortality in Women and Men: A Dose-Response Meta-Analysis of Cohort Studies. Sci Rep 13(6):19351
Ethics declarations
Conflict of interests
There are no conflict of interests.
Grants
No grants were received.
No ethical approval
No ethical approval is needed; data is publicly available.
About this article
Cite this article
Tavares, A.I. Women's life span and age at parity. J Public Health 25, 351–356 (2017). https://doi.org/10.1007/s10389-017-0796-1
Received:

Accepted:

Published:

Issue Date:
Keywords
Life expectancy

Parity

Age

Panel data

EU