Abstract
Aims
The continuing growth of the population with end-stage renal disease (ESRD) in the past two decades has been recognized as a global health burden. In 2002, a definition of chronic kidney disease (CKD) was introduced and different categories of CKD have been reported in the general population. In this study, we examined the prevalence of CKD in primary health care in Germany.
Subjects and methods
From 2004 to 2007 the prevalence of CKD was estimated in the Diabetes Cardiovascular Risk-Evaluation Targets and Essential Data for Commitment of Treatment (DETECT) study using the Simplified Modification of Diet in Renal Disease (MDRD) and the CKD Epidemiology Collaboration (CKD-EPI) equations. A sample of 4,080 subjects were analysed with detailed laboratory and comorbidity assessment from 851 primary care centres across Germany.
Results
The prevalence of CKD (≤60 ml/min/1.73 m2) was 27.9 % estimated by CKD-EPI equation (MDRD eGFR 36.1 %) and the prevalence of CKD increased with age and during follow-up. The overall decline in eGFR per year was −1.83 ml/min/year (CKD-EPI). Women have shown a higher decline in eGFR than men. The prevalence of CKD was highest in coronary artery disease patients, followed by diabetes mellitus and arterial hypertension. Individuals with diabetes mellitus have shown the highest progress developing CKD.
Conclusion
In this representative sample of patients seeking medical advice in primary care, the prevalence of impaired kidney function was almost one third. Given the therapeutic implications, our results call for focused measures to increase the awareness of CKD in primary care.
Access options
Buy single article
Instant access to the full article PDF.
USD 39.95
Price excludes VAT (USA)
Tax calculation will be finalised during checkout.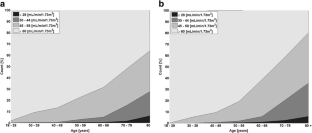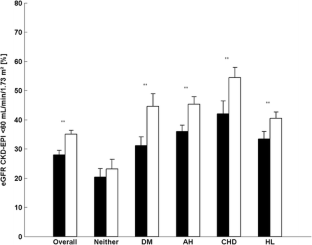 References
Baumeister SE, Boger CA, Kramer BK, Doring A, Eheberg D, Fischer B, John J, Koenig W, Meisinger C (2010) Effect of chronic kidney disease and comorbid conditions on health care costs: a 10-year observational study in a general population. Am J Nephrol 31:222–229. doi:10.1159/000272937

Chamberlain JJ, Rhinehart AS, Shaefer CF Jr, Neuman A (2016) Diagnosis and management of diabetes: synopsis of the 2016 American Diabetes Association Standards of Medical Care in Diabetes. Ann Intern Med 164:542–552. doi:10.7326/m15-3016

Clase CM, Garg AX, Kiberd BA (2002) Prevalence of low glomerular filtration rate in nondiabetic Americans: Third National Health and Nutrition Examination Survey (NHANES III). J Am Soc Nephrol 13:1338–1349

Collins AJ, Foley RN, Chavers B, Gilbertson D, Herzog C, Ishani A, Johansen K, Kasiske BL, Kutner N, Liu J, St. Peter W, Guo H, Hu Y, Kats A, Li S, Li S, Maloney J, Roberts T, Skeans M, Snyder J, Solid C, Thompson B, Weinhandl E, Xiong H, Yusuf A, Zaun D, Arko C, Chen S, Daniels F, Ebben J, Frazier E, Johnson R, Sheets D, Wang X, Forrest B, Berrini D, Constantini E, Everson S, Eggers P, Agodoa L (2013) US renal data system 2013 annual data report. Am J Kidney Dis 63:A7. doi:10.1053/j.ajkd.2013.11.001

Coresh J, Byrd-Holt D, Astor BC, Briggs JP, Eggers PW, Lacher DA, Hostetter TH (2005) Chronic kidney disease awareness, prevalence, and trends among U.S. adults, 1999 to 2000. J Am Soc Nephrol 16:180–188. doi:10.1681/asn.2004070539

Couser WG, Remuzzi G, Mendis S, Tonelli M (2011) The contribution of chronic kidney disease to the global burden of major noncommunicable diseases. Kidney Int 80:1258–1270. doi:10.1038/ki.2011.368

Eknoyan G (2007) Chronic kidney disease definition and classification: the quest for refinements. Kidney Int 72:1183–1185. doi:10.1038/sj.ki.5002576

Girndt M, Trocchi P, Scheidt-Nave C, Markau S, Stang A (2016) Prävalenz der eingeschränkten Nierenfunktion. Dtsch Arztebl Int 113:85–91. doi:10.3238/arztebl.2016.0085

Glassock RJ, Winearls C (2008) The global burden of chronic kidney disease: how valid are the estimates? Nephron Clin Pract 110:c39–c46. doi:10.1159/000151244. Discussion c47

Herget-Rosenthal S, Dehnen D, Kribben A, Quellmann T (2013) Progressive chronic kidney disease in primary care: modifiable risk factors and predictive model. Prev Med 57:357–362. doi:10.1016/j.ypmed.2013.06.010

Inker LA, Schmid CH, Tighiouart H, Eckfeldt JH, Feldman HI, Greene T, Kusek JW, Manzi J, Van Lente F, Zhang YL, Coresh J, Levey AS (2012) Estimating glomerular filtration rate from serum creatinine and cystatin C. N Engl J Med 367:20–29. doi:10.1056/NEJMoa1114248

Jha V, Garcia-Garcia G, Iseki K, Li Z, Naicker S, Plattner B, Saran R, Wang AY, Yang CW (2013) Chronic kidney disease: global dimension and perspectives. Lancet 382:260–272. doi:10.1016/s0140-6736(13)60687-x

Levey AS, Bosch JP, Lewis JB, Greene T, Rogers N, Roth D (1999) A more accurate method to estimate glomerular filtration rate from serum creatinine: a new prediction equation: modification of diet in renal disease study group. Ann Intern Med 130:461–470

Levey AS, Atkins R, Coresh J, Cohen EP, Collins AJ, Eckardt KU, Nahas ME, Jaber BL, Jadoul M, Levin A, Powe NR, Rossert J, Wheeler DC, Lameire N, Eknoyan G (2007) Chronic kidney disease as a global public health problem: approaches and initiative—a position statement from Kidney Disease Improving Global Outcomes. Kidney Int 72:247–259. doi:10.1038/sj.ki.5002343

Levey AS, Stevens LA, Schmid CH, Zhang YL, Castro AF 3rd, Feldman HI, Kusek JW, Eggers P, Van Lente F, Greene T, Coresh J (2009) A new equation to estimate glomerular filtration rate. Ann Intern Med 150:604–612

Levey AS, de Jong PE, Coresh J, El Nahas M, Astor BC, Matsushita K, Gansevoort RT, Kasiske BL, Eckardt KU (2011) The definition, classification, and prognosis of chronic kidney disease: a KDIGO Controversies Conference report. Kidney Int 80:17–28. doi:10.1038/ki.2010.483

Lozano R, Naghavi M, Foreman K, Lim S, Shibuya K, Aboyans V, Abraham J, Adair T, Aggarwal R, Ahn SY, Alvarado M, Anderson HR, Anderson LM, Andrews KG, Atkinson C, Baddour LM, Barker-Collo S, Bartels DH, Bell ML, Benjamin EJ, Bennett D, Bhalla K, Bikbov B, Bin Abdulhak A, Birbeck G, Blyth F, Bolliger I, Boufous S, Bucello C, Burch M, Burney P, Carapetis J, Chen H, Chou D, Chugh SS, Coffeng LE, Colan SD, Colquhoun S, Colson KE, Condon J, Connor MD, Cooper LT, Corriere M, Cortinovis M, de Vaccaro KC, Couser W, Cowie BC, Criqui MH, Cross M, Dabhadkar KC, Dahodwala N, De Leo D, Degenhardt L, Delossantos A, Denenberg J, Des Jarlais DC, Dharmaratne SD, Dorsey ER, Driscoll T, Duber H, Ebel B, Erwin PJ, Espindola P, Ezzati M, Feigin V, Flaxman AD, Forouzanfar MH, Fowkes FG, Franklin R, Fransen M, Freeman MK, Gabriel SE, Gakidou E, Gaspari F, Gillum RF, Gonzalez-Medina D, Halasa YA, Haring D, Harrison JE, Havmoeller R, Hay RJ, Hoen B, Hotez PJ, Hoy D, Jacobsen KH, James SL, Jasrasaria R, Jayaraman S, Johns N, Karthikeyan G, Kassebaum N, Keren A, Khoo JP, Knowlton LM, Kobusingye O, Koranteng A, Krishnamurthi R, Lipnick M, Lipshultz SE, Ohno SL, Mabweijano J, MacIntyre MF, Mallinger L, March L, Marks GB, Marks R, Matsumori A, Matzopoulos R, Mayosi BM, McAnulty JH, McDermott MM, McGrath J, Mensah GA, Merriman TR, Michaud C, Miller M, Miller TR, Mock C, Mocumbi AO, Mokdad AA, Moran A, Mulholland K, Nair MN, Naldi L, Narayan KM, Nasseri K, Norman P, O'Donnell M, Omer SB, Ortblad K, Osborne R, Ozgediz D, Pahari B, Pandian JD, Rivero AP, Padilla RP, Perez-Ruiz F, Perico N, Phillips D, Pierce K, Pope CA 3rd, Porrini E, Pourmalek F, Raju M, Ranganathan D, Rehm JT, Rein DB, Remuzzi G, Rivara FP, Roberts T, De Leon FR, Rosenfeld LC, Rushton L, Sacco RL, Salomon JA, Sampson U, Sanman E, Schwebel DC, Segui-Gomez M, Shepard DS, Singh D, Singleton J, Sliwa K, Smith E, Steer A, Taylor JA, Thomas B, Tleyjeh IM, Towbin JA, Truelsen T, Undurraga EA, Venketasubramanian N, Vijayakumar L, Vos T, Wagner GR, Wang M, Wang W, Watt K, Weinstock MA, Weintraub R, Wilkinson JD, Woolf AD, Wulf S, Yeh PH, Yip P, Zabetian A, Zheng ZJ, Lopez AD, Murray CJ, AlMazroa MA, Memish ZA (2012) Global and regional mortality from 235 causes of death for 20 age groups in 1990 and 2010: a systematic analysis for the Global Burden of Disease Study. Lancet 380:2095–2128. doi:10.1016/s0140-6736(12)61728-0

Mancia G, Fagard R, Narkiewicz K, Redon J, Zanchetti A, Bohm M, Christiaens T, Cifkova R, De Backer G, Dominiczak A, Galderisi M, Grobbee DE, Jaarsma T, Kirchhof P, Kjeldsen SE, Laurent S, Manolis AJ, Nilsson PM, Ruilope LM, Schmieder RE, Sirnes PA, Sleight P, Viigimaa M, Waeber B, Zannad F (2013) 2013 ESH/ESC guidelines for the management of arterial hypertension: the Task Force for the Management of Arterial Hypertension of the European Society of Hypertension (ESH) and of the European Society of Cardiology (ESC). J Hypertens 31:1281–1357. doi:10.1097/01.hjh.0000431740.32696.cc

McCullough K, Sharma P, Ali T, Khan I, Smith WC, MacLeod A, Black C (2012) Measuring the population burden of chronic kidney disease: a systematic literature review of the estimated prevalence of impaired kidney function. Nephrol Dial Transplant 27:1812–1821. doi:10.1093/ndt/gfr547

Pieper L, Wittchen HU, Glaesmer H, Klotsche J, Marz W, Stalla G, Lehnert H, Zeiher AM, Silber S, Koch U, Bohler S, Pittrow D, Ruf G (2005) Cardiovascular high-risk constellations in primary care: DETECT Study 2003. Bundesgesundheitsbl Gesundheitsforsch Gesundheitsschutz 48:1374–1382. doi:10.1007/s00103-005-1164-9

Radhakrishnan J, Remuzzi G, Saran R, Williams DE, Rios-Burrows N, Powe N, Bruck K, Wanner C, Stel VS, Venuthurupalli SK, Hoy WE, Healy HG, Salisbury A, Fassett RG, O'Donoghue D, Roderick P, Matsuo S, Hishida A, Imai E, Iimuro S (2014) Taming the chronic kidney disease epidemic: a global view of surveillance efforts. Kidney Int. doi:10.1038/ki.2014.190

Rothenbacher D, Klenk J, Denkinger M, Karakas M, Nikolaus T, Peter R, Koenig W (2012) Prevalence and determinants of chronic kidney disease in community-dwelling elderly by various estimating equations. BMC Public Health 12:343. doi:10.1186/1471-2458-12-343

Ryan TP, Sloand JA, Winters PC, Corsetti JP, Fisher SG (2007) Chronic kidney disease prevalence and rate of diagnosis. Am J Med 120:981–986. doi:10.1016/j.amjmed.2007.05.012

Scheidt-Nave C et al (2013) Prevalence of dyslipidemia among adults in Germany: results of the German Health Interview and Examination Survey for Adults (DEGS 1). Bundesgesundheitsbl Gesundheitsforsch Gesundheitsschutz 56:661–667. doi:10.1007/s00103-013-1670-0

Smith SC Jr, Anderson JL, Cannon RO 3rd, Fadl YY, Koenig W, Libby P, Lipshultz SE, Mensah GA, Ridker PM, Rosenson R (2004) CDC/AHA workshop on markers of inflammation and cardiovascular disease: application to clinical and public health practice: report from the clinical practice discussion group. Circulation 110:e550–e553. doi:10.1161/01.CIR.0000148981.71644.C7

Wittchen HU et al (2005) Cardiovascular risk factors in primary care: methods and baseline prevalence rates—the DETECT program. Curr Med Res Opin 21:619–630. doi:10.1185/030079905x38187

Zhang QL, Rothenbacher D (2008) Prevalence of chronic kidney disease in population-based studies: systematic review. BMC Public Health 8:117. doi:10.1186/1471-2458-8-117

Zhang QL, Koenig W, Raum E, Stegmaier C, Brenner H, Rothenbacher D (2009) Epidemiology of chronic kidney disease: results from a population of older adults in Germany. Prev Med 48:122–127. doi:10.1016/j.ypmed.2008.10.026
Acknowledgements
We extend our appreciation to the participants of the DETECT study. We thank the DETECT study team which was either temporarily or permanently involved in patient recruitment, sample and data handling. We also would like to thank and the laboratory staff at the Clinical Institute of Medical and Chemical Laboratory Diagnostics of the Medical University in Graz (Austria).
Ethics declarations
Ethical approval
All procedures performed in studies involving human participants were in accordance with the ethical standards of the institutional and/or national research committee and with the 1964 Helsinki declaration and its later amendments or comparable ethical standards.
Conflicts of interest
Ingrid Gergei declares that he has no conflict of interest. Dr. Jens Klotsche declares that he has no conflict of interest. Professor Dr. Rainer P. Woitas declares that he has no conflict of interest. Professor Dr. Lars Pieper declares that he has no conflict of interest. Professor Dr. Hans-Ulrich Wittchen has received research grants from Novartis, Lundbeck, Pfizer and Servier and serves on committees of Lundbeck. Professor Bernhard Krämer has received speaker honoraria or travel grants from Astellas, Bayer, Chiesi and Pfizer and is a member of advisory committees for Chiesi and Bayer. Professor Dr. Christoph Wanner has received research grants from Genzyme/Sanofi and has received a speaker honorarium from Boehringer-Ingelheim. Professor Dr. Johannes F.E. Mann declares that he has no conflict of interest. Dr. Hubert Scharnagl declares that he has no conflict of interest. Professor Dr. Winfried März reports that he has been employed with from Synlab Holding Deutschland GmbH, during the conduct of the study; received grants and personal fees from Siemens Diagnostics, grants and personal fees from Aegerion Pharmaceuticals, grants and personal fees from AMGEN, grants and personal fees from AstraZeneca, grants and personal fees from Danone Research, grants and personal fees from Sanofi, personal fees from Hoffmann LA Roche, personal fees from MSD, grants and personal fees from Pfizer, personal fees from Alexion, grants and personal fees from BASF, grants from Abbott Diagnostics, all outside the submitted work. Professor Dr. Ulrich Mondorf declares that he has no conflict of interest.
Informed consent
Informed consent was obtained from all individual participants included in the study.
Funding Sources
The DETECT (Diabetes Cardiovascular Risk evaluation: Targets and Essential Data for Commitment of Treatment) - study was supported by an unrestricted educational grant of Pfizer GmbH, Karlsruhe, Germany. The sponsors of the study had no influence on the design, analysis or interpretation of data.
Electronic supplementary material
Below is the link to the electronic supplementary material.
About this article
Cite this article
Gergei, I., Klotsche, J., Woitas, R.P. et al. Chronic kidney disease in primary care in Germany. J Public Health 25, 223–230 (2017). https://doi.org/10.1007/s10389-016-0773-0
Received:

Accepted:

Published:

Issue Date:

DOI: https://doi.org/10.1007/s10389-016-0773-0
Keywords