Abstract
Aim
Stressful life events and individual stress experience are important risk factors for the development of physical and mental disorders. One of the modulating factors determining interindividual differences in stress experience is the person's gender. In the current study, we investigated sex-related differences in the frequency and perception of stressful life events during adolescence, a period characterized by particularly high stress levels.
Subject and methods
We examined 1,657 14-year-old adolescents who were recruited as part of the IMAGEN study, a European multicenter research project on mental well-being of young people. For the detection of stressful life events, we used the Life Events Questionnaire, a highly valid instrument for testing common stressful events during adolescence.
Results
Although boys and girls did not differ significantly regarding the total amount of stressful life events, girls reported more stressful events in the familial and body-related areas, whereas boys experienced more conflicts with superiors and independence-marking events. As regards valence, girls reported greater psychological distress compared to boys; however, in all significant results, the effect sizes were only small to moderate.
Conclusion
While previous research highlighted severe stressors in adult samples, we investigated for the first time adolescents with a broader scope of stressful events. The observed differences in the stress experience may contribute to explain the sex-dependent variations in the incidence of stress-related disorders.
This is a preview of subscription content, log in to check access.
Access options
Buy single article
Instant access to the full article PDF.
US$ 39.95
Price includes VAT for USA
Subscribe to journal
Immediate online access to all issues from 2019. Subscription will auto renew annually.
US$ 99
This is the net price. Taxes to be calculated in checkout.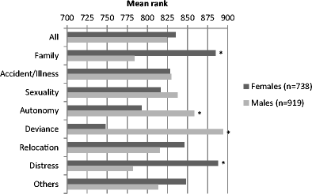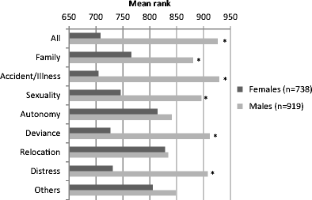 References
Brietzke E, Kauer Sant'Anna MK, Jackowski A, Grassi-Oliveira R, Bucker J, Zugman A, Mansur RB, Bressan RA (2012) Impact of childhood stress on psychopathology. Rev Bras Psiquiatr 34(4):480–8

Caspi A, Sugden K, Moffitt TE, Taylor A, Craig IW, Harrington H, McClay J, Mill J, Martin J, Braithwaite A, Poulton R (2003) Influence of life stress on depression: moderation by a polymorphism in the 5-HTT gene. Science 301(5631):386–9

Dube SR, Anda RF, Whitfield CL, Brown DW, Felitti VJ, Dong M, Giles WH (2005) Long-term consequences of childhood sexual abuse by gender of victim. Am J Prev Med 28(5):430–8

Dube SR, Miller JW, Brown DW, Giles WH, Felitti VJ, Dong M, Anda RF (2006) Adverse childhood experiences and the association with ever using alcohol and initiating alcohol use during adolescence. J Adolesc Health 38(4):444.e1–10

Felitti VJ, Anda RF, Nordenberg D, Williamson DF, Spitz AM, Edwards V, Koss MP, Marks JS (1998) Relationship of childhood abuse and household dysfunction to many of the leading causes of death in adults: the adverse childhood experiences (ACE) study. Am J Prev Med 14(4):245–58

Flouri E, Panourgia C (2011) Adverse life events and emotional and behavioral problems in adolescence: the role of non-verbal cognitive ability and negative cognitive errors. J Abnorm Child Psychol 39(5):695–709. doi:10.1007/s10802-011-9514-6

Flouri E, Panourgia C (2012) The role of nonverbal cognitive ability in the association of adverse life events with dysfunctional attitudes and hopelessness in adolescence. Arch Psychiatr Nurs 26(5):411–9. doi:10.1016/j.apnu.2012.02.004

Glasscock DJ, Andersen JH, Labriola M, Rasmussen K, Hansen CD (2013) Can negative life events and coping style help explain socioeconomic differences in perceived stress among adolescents? A cross-sectional study based on the west Jutland cohort study. BMC Public Health 13(1):532. doi:10.1186/1471-2458-13-532

Grant KE, Compas BE, Thurm AE, Mcmahon SD, Polly Y, Gipson PY (2004) Stressors and child and adolescent psychopathology: measurement issues and prospective effects. J Clin Child Adolesc Psychol 33(2):412–25

Grant KE, Compas BE, Thurm AE, McMahon SD, Gipson PY, Campbell AJ, Krochock K, Westerholm RI (2006) Stressors and child and adolescent psychopathology: evidence of moderating and mediating effects. Clin Psychol Rev 26(3):257–83

Grasso DJ, Ford JD, Briggs-Gowan MJ (2013) Early life trauma exposure and stress sensitivity in young children. J Pediatr Psychol 38(1):94–103. doi:10.1093/jpepsy/jss101

Haatainen KM, Tanskanen A, Kylmä J, Honkalampi K, Koivumaa-Honkanen H, Hintikka J, Antikainen R, Viinamäki H (2003) Gender differences in the association of adult hopelessness with adverse childhood experiences. Soc Psychiatry Psychiatr Epidemiol 38(1):12–7

Hanć T, Janicka K, Durda M, Cieślik J (2014) An association between adverse events, anxiety and body size of adolescents. J Biosoc Sci 46(1):122–38. doi:10.1017/S0021932013000242

Hatch SL, Dohrenwend BP (2007) Distribution of traumatic and other stressful life events by race/ethnicity, gender, SES and age: a review of the research. Am J Community Psychol 40(3–4):313–32

Kessler RC, Price RH, Wortman CB (1985) Social factors in psychopathology: stress, social support, and coping processes. Annu Rev Psychol 36:531–72

Korosi A, Naninck EF, Oomen CA, Schouten M, Krugers H, Fitzsimons C, Lucassen PJ (2012) Early-life stress mediated modulation of adult neurogenesis and behavior. Behav Brain Res 227(2):400–9. doi:10.1016/j.bbr.2011.07.037

Laceulle OM, O'Donnell K, Glover V, O'Connor TG, Ormel J, van Aken MA, Nederhof E (2014) Stressful events and psychological difficulties: testing alternative candidates for sensitivity. Eur Child Adolesc Psychiatry 23(2):103–13. doi:10.1007/s00787-013-0436-4

Low NC, Dugas E, O'Loughlin E, Rodriguez D, Contreras G, Chaiton M, O'Loughlin J (2012) Common stressful life events and difficulties are associated with mental health symptoms and substance use in young adolescents. BMC Psychiatry 12:116. doi:10.1186/1471-244X-12-116

Lupien SJ, McEwen BS, Gunnar MR, Heim C (2009) Effects of stress throughout the lifespan on the brain, behaviour and cognition. Nat Rev Neurosci 10(6):434–45. doi:10.1038/nrn2639

Maughan B, Rowe R, Messer J, Goodman R, Meltzer H (2004) Conduct disorder and oppositional defiant disorder in a national sample: developmental epidemiology. J Child Psychol Psychiatry 45(3):609–21

McLaughlin KA, Greif Green J, Gruber MJ, Sampson NA, Zaslavsky AM, Kessler RC (2012) Childhood adversities and first onset of psychiatric disorders in a national sample of US adolescents. Arch Gen Psychiatry 69(11):1151–60. doi:10.1001/archgenpsychiatry.2011.2277

Newcomb MD, Huba GJ, Bentler PM (1981) A multidimensional assessment of stressful life events among adolescents: derivation and correlates. J Health Soc Behav 22:400–15

Piccinelli M, Wilkinson G (2000) Gender differences in depression: critical review. Br J Psychiatry 177(6):486–92

Pirkola S, Isometsä E, Aro H, Kestilä L, Hämäläinen J, Veijola J, Kiviruusu O, Lönnqvist J (2005) Childhood adversities as risk factors for adult mental disorders: results from the Health 2000 study. Soc Psychiatry Psychiatr Epidemiol 40(10):769–77

Rudolph KD, Hammen C (1999) Age and gender as determinants of stress exposure, generation, and reactions in youngsters: a transactional perspective. Child Dev 70(3):660–77

Schilling EA, Aseltine RH, Gore S (2007) Adverse childhood experiences and mental health in young adults: a longitudinal survey. BMC Public Health 7:30

Schumann G, Loth E, Banaschewski T, Barbot A, Barker G, Büchel C, Conrod PJ, Dalley JW, Flor H, Gallinat J, Garavan H, Heinz A, Itterman B, Lathrop M, Mallik C, Mann K, Martinot JL, Paus T, Poline JB, Robbins TW, Rietschel M, Reed L, Smolka M, Spanagel R, Speiser C, Stephens DN, Ströhle A, Struve M (2010) The IMAGEN study: reinforcement-related behaviour in normal brain function and psychopathology. Mol Psychiatry 15(12):1128–39. doi:10.1038/mp.2010.4

Sowa CJ, Lustman PJ (1984) Gender differences in rating stressful events, depression, and depressive cognition. J Clin Psychol 40(6):1334–7

Springer KW, Sheridan J, Kuo D, Carnes M (2007) Long-term physical and mental health consequences of childhood physical abuse: results from a large population-based sample of men and women. Child Abuse Negl 31(5):517–30

Veijola J, Puukka P, Lehtinen V, Moring J, Lindholm T, Väisänen E (1998) Sex differences in the association between childhood experiences and adult depression. Psychol Med 28(1):21–7
Acknowledgements
This work received support from the following sources: the European Union-funded FP6 Integrated Project IMAGEN (Reinforcement-related behaviour in normal brain function and psychopathology) (LSHM-CT- 2007–037286), the FP7 projects IMAGEMEND (602450; IMAging GEnetics for MENtal Disorders) and MATRICS (603016), the Innovative Medicine Initiative Project EU-AIMS (115300–2), a Medical Research Council Programme Grant "Developmental pathways into adolescent substance abuse" (93558), the Swedish funding agency FORMAS, the Medical Research Council and the Wellcome Trust (Behavioural and Clinical Neuroscience Institute, University of Cambridge), the National Institute for Health Research (NIHR) Biomedical Research Centre at South London and Maudsley NHS Foundation Trust and King's College London, the Bundesministerium für Bildung und Forschung (BMBF grants 01GS08152; 01EV0711; eMED SysAlc01ZX1311A; Forschungsnetz AERIAL), the Deutsche Forschungsgemeinschaft (DFG grants SM 80/7-1, SM 80/7-2, SFB 940/1), the National Institutes of Health, U.S.A. (Axon, Testosterone and Mental Health during Adolescence; RO1 MH085772-01A1).
Ethics declarations
Conflict of interests
The authors declare no conflict of interest.
About this article
Cite this article
Raffaelli, B., Strache, N., Parchetka, C. et al. Sex-related differences in frequency and perception of stressful life events during adolescence. J Public Health 24, 365–374 (2016). https://doi.org/10.1007/s10389-016-0731-x
Received:

Accepted:

Published:

Issue Date:
Keywords
Adolescence

Sex differences

Stress experience

Stressful life events