Abstract
Aim
To estimate the potential for response bias in standard mailed questionnaires used in surveys of GI symptoms in a community.
Subjects and methods
Validated self-report tools have been developed to measure functional gastrointestinal (GI) disorders but response rates in community surveys have been rapidly declining in many parts of the world. Whether a lower community response rate introduces significant response bias in GI survey research is unknown. A questionnaire was mailed to a total of 5,069 randomly selected subjects. The overall response rate was 52 %. A random sample of 723 of these subjects (428 responders and 295 non-responders, stratified by age and gender) was selected for medical record abstraction (including both inpatient and outpatient history).
Results
The odds for response increased in those with a higher body mass index (odds ratio (OR):1.02 [95 % CI: 1.01, 1.03]), more health care seeking behavior for non-GI problems (OR: 1.97 [95 % CI: 1.43, 2.72]), and for those who had responded to a previous survey (OR: 4.84 [95 % CI: 2.84, 8.26]). Responder status was not significantly associated with any GI symptoms or a diagnosis of GI or non-GI disease (with two exceptions, diverticulosis and skin disease).
Conclusions
Despite a response rate of only 52 %, the results of a community-based GI survey do not appear to be impacted by non-response bias in a major way. A low survey response rate does not necessarily indicate non-response bias.
Access options
Buy single article
Instant access to the full article PDF.
US$ 39.95
Tax calculation will be finalised during checkout.
Subscribe to journal
Immediate online access to all issues from 2019. Subscription will auto renew annually.
US$ 79
Tax calculation will be finalised during checkout.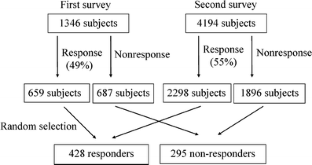 References
Atrostic BK, Bates N, Burt G, Silberstein A (2001) Nonresponse in US Government household surveys: consistent measures, recent trends, and new insights. J Off Stat 17(2):209–226

Bakke P, Gulsvik A, Lilleng P, Overa O, Hanoa R, Eide GE (1990) Postal survey on airborne occupational exposure and respiratory disorders in Norway: causes and consequences of non-response. J Epidemiol Community Health 44(4):316–320

Barton J, Bain C, Hennekens CH, Rosner B, Belanger C, Roth A et al (1980) Characteristics of respondents and non-respondents to a mailed questionnaire. Am J Public Health 70(8):823–825

Beard CM, Lane AW, O'Fallon WM, Riggs BL, Melton LJ 3rd (1994) Comparison of respondents and nonrespondents in an osteoporosis study. Ann Epidemiol 4(5):398–403

Beebe TJ, Talley NJ, Camilleri M, Jenkins SM, Anderson KJ, Locke GR 3rd (2007) The HIPAA authorization form and effects on survey response rates, nonresponse bias, and data quality: a randomized community study. Med Care 45(10):959–965

Brehm JO (1993) The phantom respondents: opinion surveys and political representation. University of Michigan Press, Ann Arbor, MI

Castillo EJ, Camilleri M, Locke GR, Burton DD, Stephens DA, Geno DM et al (2004) A community-based, controlled study of the epidemiology and pathophysiology of dyspepsia. Clin Gastroenterol Hepatol 2(11):985–996

Chou P, Kuo HS, Chen CH, Lin HC (1997) Characteristics of non-participants and reasons for non-participation in a population survey in Kin-Hu, Kinmen. Eur J Epidemiol 13(2):195–200

Choung RS, Locke GR, Schleck CD, Zinsmeister AR, Talley NJ (2007a) Do distinct dyspepsia subgroups exist in the community? A population-based study. Am J Gastroenterol 102(9):1983–1989

Choung RS, Locke GR 3rd, Zinsmeister AR, Schleck CD, Talley NJ (2007b) Epidemiology of slow and fast colonic transit using a scale of stool form in a community. Aliment Pharmacol Ther 26(7):1043–1050

Criqui MH, Barrett-Connor E, Austin M (1978) Differences between respondents and non-respondents in a population-based cardiovascular disease study. Am J Epidemiol 108(5):367–372

Dallosso HM, Matthews RJ, McGrother CW, Clarke M, Perry SI, Shaw C et al (2003) An investigation into nonresponse bias in a postal survey on urinary symptoms. BJU Int 91(7):631–636

de Leeuw E, de Heer W (2002) Trends in household survey nonresponse: a longitudinal and international comparison. In: Groves RM, Dillman DA, Eltinge JL, Little RJA (eds) survey nonresponse. Wiley, New York, pp 41–54

Dunn JP, Hawkes R (1966) Comparison of respondents and nonrespondents in a periodic health examination program to a mailed questionnaire. Am J Public Health Nations Health 56(2):230–236

Eagan TM, Eide GE, Gulsvik A, Bakke PS (2002) Nonresponse in a community cohort study: predictors and consequences for exposure-disease associations. J Clin Epidemiol 55(8):775–781

Elliott MN, Edwards C, Angeles J, Hambarsoomians K, Hays RD (2005) Patterns of unit and item nonresponse in the CAHPS® Hospital Survey. Health Serv Res 40(6 pt 2):2096–2119

Goldberg M, Chastang JF, Leclerc A, Zins M, Bonenfant S, Bugel I et al (2001) Socioeconomic, demographic, occupational, and health factors associated with participation in a long-term epidemiologic survey: a prospective study of the French GAZEL cohort and its target population. Am J Epidemiol 154(4):373–384

Groves RM (1989) Survey errors and survey costs. Wiley, New York

Groves RM (2006) Nonresponse rates and nonresponse bias in household surveys. Public Opin Q 70(5):646–675

Groves RM, Peytcheva E (2008) The impact of nonresponse rates on nonresponse bias: a meta-analysis. Public Opin Q 72(2):167–189

Hara M, Sasaki S, Sobue T, Yamamoto S, Tsugane S (2002) Comparison of cause-specific mortality between respondents and nonrespondents in a population-based prospective study: ten-year follow-up of JPHC Study Cohort I. Japan Public Health Center. J Clin Epidemiol 55(2):150–156

Harald K, Salomaa V, Jousilahti P, Koskinen S, Vartiainen E (2007) Non-participation and mortality in different socioeconomic groups: the FINRISK population surveys in 1972–92. J Epidemiol Community Health 61(5):449–454

Hardie JA, Bakke PS, Morkve O (2003) Non-response bias in a postal questionnaire survey on respiratory health in the old and very old. Scand J Public Health 31(6):411–417

Hartge P (1999) Raising response rates: getting to yes. Epidemiology 10(2):105–107

Heilbrun LK, Ross PD, Wasnich RD, Yano K, Vogel JM (1991) Characteristics of respondents and nonrespondents in a prospective study of osteoporosis. J Clin Epidemiol 44(3):233–239

Hoeymans N, Feskens EJ, Van Den Bos GA, Kromhout D (1998) Non-response bias in a study of cardiovascular diseases, functional status and self-rated health among elderly men. Age Ageing 27(1):35–40

Holle R, Hochadel M, Reitmeir P, Meisinger C, Wichmann HE (2006) Prolonged recruitment efforts in health surveys: effects on response, costs, and potential bias. Epidemiology 17(6):639–643

Hox JJ, de Leeuw ED (1994) A comparison of nonresponse in mail, telephone, and face-to-face surveys. Qual Quant 28(4):329–344

Jacobsen SJ, Xia Z, Campion ME, Darby CH, Plevak MF, Seltman KD et al (1999) Potential effect of authorization bias on medical record research. Mayo Clin Proc 74(4):330–338

Jooste PL, Yach D, Steenkamp HJ, Botha JL, Rossouw JE (1990) Drop-out and newcomer bias in a community cardiovascular follow-up study. Int J Epidemiol 19(2):284–289

Keeter S, Miller C, Kohut A, Groves RM, Presser S (2000) Consequences of reducing nonresponse in a national telephone survey. Public Opin Q 64(2):125–148

Kim J, Lonner JH, Nelson CL, Lotke PA (2004) Response bias: effect on outcomes evaluation by mail surveys after total knee arthroplasty. J Bone Joint Surg Am 86-A(1):15–21

Korkeila K, Suominen S, Ahvenainen J, Ojanlatva A, Rautava P, Helenius H et al (2001) Non-response and related factors in a nation-wide health survey. Eur J Epidemiol 17(11):991–999

Launer LJ, Wind AW, Deeg DJ (1994) Nonresponse pattern and bias in a community-based cross-sectional study of cognitive functioning among the elderly. Am J Epidemiol 139(8):803–812

Macera CA, Jackson KL, Davis DR, Kronenfeld JJ, Blair SN (1990) Patterns of non-response to a mail survey. J Clin Epidemiol 43(12):1427–1430

Melton LJ 3rd (1996) History of the Rochester Epidemiology Project. Mayo Clin Proc 71(3):266–274

Melton LJ 3rd (1997) The threat to medical-records research. N Engl J Med 337(20):1466–1470

Melton LJ 3rd, Dyck PJ, Karnes JL, O'Brien PC, Service FJ (1993) Non-response bias in studies of diabetic complications: the Rochester Diabetic Neuropathy Study. J Clin Epidemiol 46(4):341–348

Milne JS, Maule MM, Williamson J (1971) Method of sampling in a study of older people with a comparison of respondents and non-respondents. Br J Prev Soc Med 25(1):37–41

Morton LM, Cahill J, Hartge P (2006) Reporting participation in epidemiologic studies: a survey of practice. Am J Epidemiol 163(3):197–203

Nohr EA, Frydenberg M, Henriksen TB, Olsen J (2006) Does low participation in cohort studies induce bias? Epidemiology 17(4):413–418

Oremus M, Wolfson C (2004) Female specialists were more likely to respond to a postal questionnaire about drug treatments for Alzheimer disease. J Clin Epidemiol 57(6):620–623

Paganini-Hill A, Hsu G, Chao A, Ross RK (1993) Comparison of early and late respondents to a postal health survey questionnaire. Epidemiology 4(4):375–379

Richiardi L, Boffetta P, Merletti F (2002) Analysis of nonresponse bias in a population-based case:control study on lung cancer. J Clin Epidemiol 55(10):1033–1040

Sackett DL (1979) Bias in analytic research. J Chronic Dis 32(1–2):51–63

Shahar E, Folsom AR, Jackson R (1996) The effect of nonresponse on prevalence estimates for a referent population: insights from a population-based cohort study. Atherosclerosis Risk in Communities (ARIC) Study Investigators. Ann Epidemiol 6(6):498–506

Shen M, Cozen W, Huang L, Colt J, De Roos AJ, Severson RK et al (2008) Census and geographic differences between respondents and nonrespondents in a case-control study of non-Hodgkin lymphoma. Am J Epidemiol 167(3):350–361

Sonne-Holm S, Sorensen TI, Jensen G, Schnohr P (1989) Influence of fatness, intelligence, education and sociodemographic factors on response rate in a health survey. J Epidemiol Community Health 43(4):369–374

Steeh C, Kirgis N, Cannon B, DeWitt J (2001) Are they really as bad as they seem? Nonresponse rates at the end of the twentieth century. J Off Stat 17(2):227–247

Talley NJ, Phillips SF, Melton J 3rd, Wiltgen C, Zinsmeister AR (1989) A patient questionnaire to identify bowel disease. Ann Intern Med 111(8):671–674

Talley NJ, Zinsmeister AR, Van Dyke C, Melton LJ 3rd (1991) Epidemiology of colonic symptoms and the irritable bowel syndrome. Gastroenterology 101(4):927–934

Talley NJ, Weaver AL, Zinsmeister AR, Melton LJ 3rd (1992) Onset and disappearance of gastrointestinal symptoms and functional gastrointestinal disorders. Am J Epidemiol 136(2):165–177

Tickle M, Milsom KM, Blinkhorn AS, Worthington HV (2003) Comparing different methods to detect and correct nonresponse bias in postal questionnaire studies. J Public Health Dent 63(2):112–128

Van Loon AJ, Tijhuis M, Picavet HS, Surtees PG, Ormel J (2003) Survey non-response in the Netherlands: effects on prevalence estimates and associations. Ann Epidemiol 13(2):105–110

West R, McEwen A, Bolling K, Owen L (2001) Smoking cessation and smoking patterns in the general population: a 1-year follow-up. Addiction 96(6):891–902
Acknowledgements
The authors wish to thank Johannes von Blumenthal, who was a medical student of Paracelsus Medizinische Privatuniversitat, Austria, for his assistance with the chart reviews.
Financial Support
This study was made possible in part by the Rochester Epidemiology Project (Grant no. R01-AR30582 from the National Institute of Arthritis and Musculoskeletal and Skin Diseases).
Conflict of Interest
The authors declare they have no conflict of interest.
About this article
Cite this article
Choung, R.S., Locke, G.R., Schleck, C.D. et al. A low response rate does not necessarily indicate non-response bias in gastroenterology survey research: a population-based study. J Public Health 21, 87–95 (2013). https://doi.org/10.1007/s10389-012-0513-z
Received:

Accepted:

Published:

Issue Date:
Keywords
Response

Bias

Gastrointestinal surveys

Population