Abstract
Aims
Heart failure (HF) represents an increasing burden on health-care systems because of the aging population. The aim of this study was to explore its costs of care in Germany from the payer perspective and to identify the main drivers.
Subjects and methods
As part of a trial, primary care physicians (PCPs) enrolled eligible patients and documented actual clinical and 12-month retrospective ambulatory health-care utilisation data related to HF [PCP and cardiologist contacts, and cardiovascular (CV) medication] and provided the doctors' reports of hospitalisations during 2004 and 2005, enabling the collection and calculation of costs. Furthermore, each hospitalisation was classified according to the cause of admission into HF, CV or other hospitalisation.
Results
Thirty-seven physicians enrolled 168 patients with complete data of 159 patients (95 %). Patients (mean age 68 ± 10 years, 73 % male, 47 % ischaemic aetiology) had ascertained systolic HF (mean ejection fraction 33 ± 7 %) with NYHA class II/III in 53/45 %. Mean (SD; median) annual costs of 96 hospitalisations, CV medication, and 337 cardiologist and 3,037 PCP practice contacts were 3,545 (8,065; 0), 854 (835; 638), 117 (105; 106) and 269 (190; 233) euros, respectively, totalling 4,792 (8249;1341) euros. Fourteen per cent of all patients incurred 50 % of total costs. Twenty-five HF, 49 CV and 22 other hospitalisations incurred 13, 73 and 14 % of hospital care costs, respectively.
Conclusions
These secondary outcome data might indicate a trend that neither HF ambulatory care nor hospitalisation but rather interventional cardiology is the main cost driver. Planning interventions aimed at reduced hospitalisation and costs should include further clarification of the mechanisms of CV hospitalisation and reimbursement.
Access options
Buy single article
Instant access to the full article PDF.
USD 39.95
Price excludes VAT (USA)
Tax calculation will be finalised during checkout.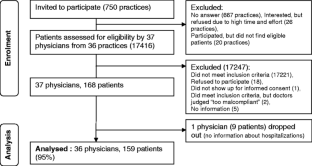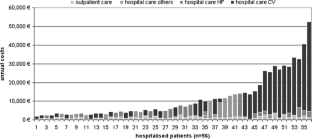 References
Al Khatib SM, Hellkamp A, Curtis J et al (2011) Non-evidence-based ICD implantations in the United States. JAMA 305:43–49

Clabaugh G, Ward MM (2008) Cost-of-illness studies in the United States: a systematic review of methodologies used for direct cost. Value Health 11:13–21

Dickstein K, Cohen-Solal A, Filippatos G et al (2008) ESC guidelines for the diagnosis and treatment of acute and chronic heart failure 2008: the Task Force for the diagnosis and treatment of acute and chronic heart failure 2008 of the European Society of Cardiology. Developed in collaboration with the Heart Failure Association of the ESC (HFA) and endorsed by the European Society of Intensive Care Medicine (ESICM). Eur J Heart Fail 10:933–989

Graf von der Schulenburg JM, Greiner W, Jost F et al (2008) German recommendations on health economic evaluation: third and updated version of the Hanover Consensus. Value Health 11:539–544

Jaarsma T, van der Wal MHL, Lesman-Leegte I et al (2008) Effect of moderate or intensive disease management program on outcome in patients with heart failure: coordinating study evaluating outcomes of advising and counseling in heart failure (COACH). Arch Intern Med 168:316–324

Krauth C, Hessel F, Hansmeier T, Wasem J, Seitz R, Schweikert B (2005) Empirical standard costs for health economic evaluation in Germany—a proposal by the working group methods in health economic evaluation. Gesundheitswesen 67:736–746

McMurray JJ, Stewart S (2000) Epidemiology, aetiology, and prognosis of heart failure. Heart 83:596–602

Mosterd A, Hoes AW (2002) Reducing hospitalizations for heart failure. Eur Heart J 23:842–845

Neumann T, Biermann J, Erbel R et al (2009) Heart failure: the commonest reason for hospital admission in Germany: medical and economic perspectives. Dtsch Arztebl Int 106:269–275

Peters-Klimm F, Muller-Tasch T, Remppis A et al (2008) Improved guideline adherence to pharmacotherapy of chronic systolic heart failure in general practice—results from a cluster-randomized controlled trial of implementation of a clinical practice guideline. J Eval Clin Pract 14:823–829

Peters-Klimm F, Campbell S, Müller-Tasch T et al (2009) Primary care-based multifaceted, interdisciplinary medical educational intervention for patients with systolic heart failure: lessons learned from a cluster randomised controlled trial. Trials 10:68

Peters-Klimm F, Laux G, Campbell S et al (2012) Physician and patient predictors of evidence-based prescribing in heart failure: a multilevel study. PLoS One 7:e31082

Rickham PP (1964) Human experimentation. Code of ethics of the World Medical Association. Declaration of Helsinki. Br Med J 2:177

Solomon SD, Dobson J, Pocock S et al (2007) Influence of nonfatal hospitalization for heart failure on subsequent mortality in patients with chronic heart failure. Circulation 116:1482–1487

Taylor S, Bestall J, Cotter S et al. (2005) Clinical service organisation for heart failure. Cochrane Database Syst Rev: CD002752

Young JB, Dunlap ME, Pfeffer MA et al (2004) Mortality and morbidity reduction with Candesartan in patients with chronic heart failure and left ventricular systolic dysfunction: results of the CHARM low-left ventricular ejection fraction trials. Circulation 110:2618–2626

Zugck C, Muller A, Helms TM et al (2010) Health economic impact of heart failure: An analysis of the nationwide German database. Dtsch Med Wochenschr 135:633–638
Acknowledgements
We thank all study participants and participating PCPs for their additional participation in the cost of care study.
Conflict of interest
The authors declare that they have no conflict of interest.
Funding
The parental trial was supported by the Competence Network Heart Failure, funded by the German Ministry of Education and Research (BMBF), grant no. 01GI0205.
Additional information
The study was supported by the Competence Network of Heart Failure, funded by the German Ministry of Education and Research (BMBF).
Electronic supplementary material
Below is the link to the electronic supplementary material.
About this article
Cite this article
Peters-Klimm, F., Halmer, A., Flessa, S. et al. What drives the costs of heart failure care in Germany? A health services cost analysis. J Public Health 20, 653–660 (2012). https://doi.org/10.1007/s10389-012-0501-3
Received:

Accepted:

Published:

Issue Date:

DOI: https://doi.org/10.1007/s10389-012-0501-3
Key words
Heart failure

Hospitalisation

Hospital admission

Cost of illness

Germany