Abstract
Aim
As known from meta-analyses, prevention programs for eating disorders yield significant effects under ideal conditions. However, it is still unclear how these programs can be more widely disseminated. Since 2004 in Thuringia, Germany, several programs for preadolescent girls and boys (aged 10 to 15 years) covering a wide geographical range have been developed in order to prevent eating-related problems.
Subjects and Methods
Over 3,500 pupils and more than 100 schools participated in the internal evaluation following the three-step standard of the Society of Prevention Research (SPR). To examine the program efficacy (step 1) and effectiveness (step 2), we conducted pre-post design studies with control groups. In order to describe the implementation process and the program dissemination (step 3), the Health Promoting School Approach (HEPS) was applied.
Results
Girls (6th grade) showed significant improvements in eating attitudes and self esteem about their bodies, whereas boys only improved their knowledge about eating and physical activity. The evaluations of the programs for 7th and 8th graders are still pending. On the HEPS checklist, our health promotion concept fulfilled 64 points out of a maximum of 74, which indicates a high intervention quality.
Conclusion
Broad dissemination of prevention programs requires methodological compromises and organizational flexibility. Quality assurance should be considered to be as important as the optimal level of evidence, which depends on the needs of all stakeholders and could not be derived from the standards for clinical studies. Furthermore, health promotion needs political support that is independent of legislative periods and the turnover of institutional staff.
Access options
Buy single article
Instant access to the full article PDF.
US$ 39.95
Tax calculation will be finalised during checkout.
Subscribe to journal
Immediate online access to all issues from 2019. Subscription will auto renew annually.
US$ 79
Tax calculation will be finalised during checkout.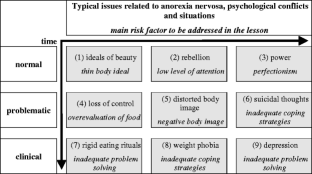 References
Berger U (2008) Essstörungen wirkungsvoll vorbeugen—Die Programme "PriMa", "TOPP" und "Torera" zur Prävention von Magersucht, Bulimie. Fressattacken und Adipositas, Kohlhammer, Stuttgart

Berger U, Sowa M, Bormann B, Brix C, Strauss B (2008) Primary prevention of eating disorders: Characteristics of effective programs and how to bring them to broader dissemination. Eur Eat Disord Rev 16:173–183. doi:10.1002/erv.861

Bulik CM, Sullivan PF, Tozzi F, Furberg H, Lichtenstein P, Pedersen NL (2006) Prevalence, heritability and prospective risk factors for anorexia nervosa. Arch Gen Psychiat 63:305–312

Brandt S, Moß A, Berg S, Wabitsch M (2010) Schulbasierte Prävention der Adipositas: Wie sollte sie aussehen? Bundesgesundheitsbl Gesundheitsforsch Gesundheitsschutz 53:207–220. doi:10.1007/s00103-009-1017-z

Caplan G (1964) Principles of preventive psychiatry. Basic Books, New York

Dadaczynski K, Paulus P, de Vries N, de Ruiter S, Buijs G (2010) HEPS inventory tool—An inventory tool including quality assessment of school interventions on healthy eating and physical activity. www.hepseurope.eu. Accessed 6 October2010

Daniels SR, Arnett DK, Eckel RH et al (2005) Overweight in children and adolescents: Pathophysiology, consequences, prevention, and treatment. Circulation 111:1999–2012. doi:10.1161/01.CIR.0000161369.71722.10

Flay BR, Biglan A, Boruch RF, Castro FG, Gottfredson D, Kellam S, Moscick EK, Schinke S, Valentine JC, Ji P (2005) Standards of Evidence: Criteria for Efficacy, Effectiveness and Dissemination. Prev Sci 6:151–175. doi:10.1007/s11121-005-5553-y

Frey KS, Hirschstein MK, Guzzo BA (2000) Second step: Preventing aggression by promoting social competence. J Emotional Behav Disord 8:102–112

Grilo MG (2006) Eating and Weight Disorders. Psychology Press Taylor and Francis Group, Hove

Gonzalez-Suarez C, Worley A, Grimmer-Somers K, Dones V (2009) School-Based Interventions on Childhood Obesity. A Meta-Analysis. Am J Prev Med 37:418–427. doi:10.1177/106342660000800206

Haug E, Rasmussen M, Samdal O et al (2009) Overweight in school-aged children and its relationship with demographic and lifestyle factors: results from the WHO-Collaborative Health Behaviour in School-aged Children (HBSC) Study. Int J Pub Health 54:167–179. doi:10.1007/s00038-009-5408-6

Hoek HW, van Hoeken D (2003) Review of the prevalence and incidence of eating disorders. Int J Eat Disorder 34:383–96. doi:10.1002/eat.10222

Kurth BM, Schaffrath Rosario A (2007). The prevalence of overweight and obese children and adolescents living in Germany. Results of the German health interview and examination survey for children and adolescents (KiGGS). Bundesgesundheitsblatt Gesundheitsforschung Gesundheitsschutz 50, 736–743. doi: 10.1007/s00103-007-0235-5

Jacobi C, Abascal L, Taylor CB (2004) Screening for eating disorders and high-risk behavior: Caution. Int J Eat Disorder 36:280–295. doi:10.1002/eat.20048

Levine MP, Smolak L (2006) The prevention of eating problems and eating disorders: Theory, research, and practice. Erlbaum, Mahwah, NJ

Puhl RM, Heuer CA (2010) Obesity Stigma: Important Considerations for Public Health. Am J Pub Health 100:1019–1028. doi:10.2105/AJPH.2009.159491

Ricciardelli LA, McCabe MP (2004) A biopsychosocial model of disordered eating and the pursuit of muscularity in adolescent boys. Psychol Bull 130:179–205

Roehrig M, Thompson JK, Brannick M, van den Berg P (2005) Dissonance-based eating disorder prevention program: A preliminary dismantling investigation. Int J Eat Disorder 39:1–10. doi:10.1002/eat.20217

Schaffrath Rosario A, Kurth BM, Stolzenberg H, Ellert U, Neuhauser H (2010) Body mass index percentiles for children and adolescents in Germany based on a nationally representative sample (KiGGS 2003–2006). Eu J Clin Nutr 64:341–349. doi:10.1038/ejcn.2010.8

Schulz KF, Altman DG, Moher D, for the CONSORT Group (2010) CONSORT 2010 Statement: Updated Guidelines for Reporting Parallel Group Randomised Trials. PLoS Med 7:e1000251. doi:10.1371/journal.pmed.1000251

Schwartze D, Sowa M, Bormann B, Brix C, Wick K, Strauss B, Berger U (2011) Efficacy of the 'Teenage Obesity Prevention Program' (TOPP) for the prevention of overweight and low physical activity in boys attending 6th grade. Bundesgesundheitsblatt Gesundheitsforschung Gesundheitsschutz 54:349–356. doi:10.1007/s00103-010-1233-6

Steinhausen HC (2002) The outcome of anorexia nervosa in the 20th century. Am J Psychiat 159:1284–1293

Stewart-Brown S (2006) What is the evidence on school health promotion in improving health or preventing disease and, specifically, what is the effectiveness of the health promoting schools approach? Copenhagen, WHO Regional Office for Europe. Health Evidence Network report. www.euro.who.int/document/e88185.pdf. Accessed 6 October 2010

Stice E, Shaw H, Marti CN (2007) A meta-analytic review of eating disorder prevention programs: encouraging findings. Annu Rev Clin Psycho 3:207–231

Stice E, Trost A, Chase A (2003) Healthy weight control and dissonance-based eating disorder prevention programs: Results from a controlled trial. Int J Eat Disorder 33:10–21. doi:10.1002/eat.10109

Swinburn B, Egger G (2004) The runaway weight gain train: too many accelerators, not enough brakes. BMJ 329:736–739. doi:10.1136/bmj.329.7468.736

Treasure J, Claudino AM, Zucker N (2010) Eating Disorders. Lancet 375:583–593. doi:10.1016/S0140-6736(09)61748-7

Wick K, Brix C, Bormann B, Sowa M, Strauß B, Berger U (2011) Real-world effectiveness of a German school-based intervention for primary prevention of anorexia nervosa in preadolescent girls. Prev Med 52:152–158. doi:10.1016/j.ypmed.2010.11.022

WHO (2000) Obesity. Preventing and managing a global epidemic. Report of a WHO Consultation. WHO Technical Report Series, Geneva

Zipfel S, Loewe B, Reas DL, Deter HC, Herzog W (2000) Long-term prognosis in anorexia nervosa: Lessons from a 21-year follow-up study. Lancet 355:721–722. doi:10.1016/S0140-6736(99)05363-5
Acknowledgements
We thank the Federal Ministry for Education and Research for financial support (BMBF: project no. 01EL0602, term 2006–2009).
Furthermore, we thank our practice partners, Thuringian Ministry TMBWK and ThILLM, especially Jutta Beinersdorf und Margrit Luedecke, for didactic counseling and competently providing teacher training sessions, and all girls, boys, parents and teachers for patiently filling out the questionnaires.
Conflict of interest
The authors declare that they have no conflicts of interest.
About this article
Cite this article
Berger, U., Wick, K., Brix, C. et al. Primary prevention of eating-related problems in the real world. J Public Health 19, 357–365 (2011). https://doi.org/10.1007/s10389-011-0402-x
Received:

Accepted:

Published:

Issue Date:
Keywords
Eating disorders

Prevention program

Health promotion