Abstract
Objective
In primary care, clinically recommended drug medication is often modified after hospitalization. The aim of the study was to examine the frequency and factors associated with GPs changing the hospital drug treatment in a sample of patients discharged from the hospital.
Methods
In a prospective study, the prehospital, hospital and posthospital diagnoses and drug treatment of 130 patients consecutively recruited from 15 general practices were recorded over a period of 12 months. The ICD-10 classification was used to compare the data from hospitals and general practices. GPs who changed the hospital drug treatment were interviewed in a semistructured way concerning their reasons for changing.
Results
The most frequent diagnoses during and after hospitalization were listed in the ICD-10 chapters 'Diseases of the cardiovascular system' (34.3%) and 'Endocrine, nutritional and metabolic diseases' (18%). Accordingly, the most frequently prescribed drug medication was related to these chapters (47.5% and 15.9%, respectively). Hospitalization led to a significant increase in the number of drugs per patient [prehospital 5.4; hospital 6.6; posthospital 6.7; (p < 0.001)]. GPs changed the hospital drug recommendations of the discharge letters in 60.7% of the cases. They omitted drugs in 27.6%, replaced prehospital drug medication in 26.3%, changed to other manufacturers in 9.3%, added new drugs in 13.1% and changed the dosage in 4.2% of the cases. Changes in drug medication correlated significantly with the number of drugs and number of diagnoses (p < 0.001). The most frequently mentioned reason for drug changing by GPs was cost savings (30.3%). But more often they changed drug medication for patient-related reasons (42.4%): 'better individual drug effect' in 18.5%, 'no reasonable indication' in 17.1% and 'not related to adequate diagnosis' in 6.8% of the cases.
Conclusion
After hospital discharge, GPs changed more than half of posthospital drug recommendations. Although they believed that economical aspects were the most important reason for their behavior, most drug changes were done for patient-related reasons.
This is a preview of subscription content, log in to check access.
Access options
Buy single article
Instant access to the full article PDF.
US$ 39.95
Price includes VAT for USA
Subscribe to journal
Immediate online access to all issues from 2019. Subscription will auto renew annually.
US$ 99
This is the net price. Taxes to be calculated in checkout.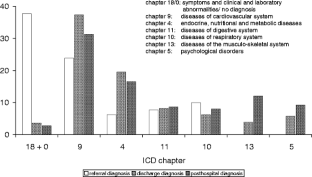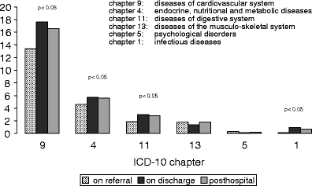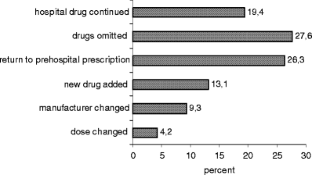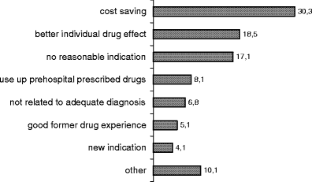 References
Al-Rashed SA, Wright DJ, Roebuck N, Sunter W, Chrystyn H (2002) The value of inpatient pharmaceutical counselling to elderly patients prior to discharge. Br J Clin Pharmacol 54:657–664

Armstrong D, Reyburn H, Jones R (1996) A study of general practitioners' reasons for changing their prescribing behavior. Br Med J 312:949–952

Bijl D, Van Sonderen E, Haaijer-Ruskamp FM (1998) Prescription changes and drug costs at the interface between primary and specialist care. Eur J Clin Pharmacol 54:333–336

Burns JM, Sneddon I, Lovell M, McLean A, Martin BJ (1992) Elderly patients and their medication: a post-discharge follow-up study. Age Ageing 21:178–81

Clintborg B, Andersen SE, Dalhoff K (2007) Insufficient communication about medication use at the interface between hospital and primary care. Qual Saf Health Care 16:34–39

Cochrane RA, Mandal AR, Ledger-Scott M, Walker R (1992) Changes in drug treatment after discharge from hospital in geriatric patients. Br Med J 305:694–696

Feely J, Chan R, McManus J, O'Shea B (1999) The influence of hospital-based prescribers on prescribing in general practice. Pharmacoeconomics 16:175–181

Gonski PN, Stathers GM, Freiman JS, Smith T (1993) A critical review of admission and discharge medications in an elderly Australian population. Drugs Aging 3:358–362

Hakansson A, Andersson H, Cars H, Melander A (2001) Prescribing, prescription costs and adherence to formulary committee recommendations: long-term differences between physicians in public and private care. Eur J Clin Phamacol 57:65–70

Harder S, Thürmann P, Thierolf C, Klepzig H (1998) Prescription of cardiovascular drugs in outpatient care: a survey of outpatients in a German university hospital. Int J Clin Pharm Ther 36:195–201

Harder S, Fischer P, Krause-Schäfer M, Ostermann K, Helms G, Prinz H, Hahmann M, Baas H (2005) Structure and markers of appropriateness, quality and performance of drug treatment over a 1-year period after hospital discharge in a cohort of elderly patients with cardiovascular disease from Germany. Eur J Clin Pharmacol 60:797–805

Himmel W, Tabache M, Kochen MM (1996) What happens to long-term medication when general practice patients are referred to hospital? Eur J Clin Pharmacol 50:253–257

Himmel W, Kochen MM, Sorns U, Hummers-Pradier E (2004) Drug changes at the interface between primary and secondary care. Int J Clin Pharm Ther 42:103–109

Katz E, Nicod P, Brunner HR, Waeber B (1996) Changes in treatment during and after hospitalization in patients taking drugs for cardiovascular diseases. Cardiovasc Drugs Ther 10:189–192

Lau SL, Florax C, Porsius AJ, de Boer A (1999) The completeness of medication histories in hospital medical records of patients admitted to general internal medicine wards. Br J Clin Pharmacol 49:597–603

Nardino RJ, Vender RJ, Herbert PN (2000) Overuse of acid-suppressive therapy in hospitalized patients. Am J Gastroenterol 95:3118–3122

Nikolaus T, Kruse W, Bach M, Specht-Leible N, Oster P, Schlierf G (1996) Elderly patients' problems with medication. An in-hospital and follow-up study. Eur J Clin Pharmacol 49:255–259

Omori DM, Potyk RP, Kroenke K (1991) The adverse effects of hospitalization on drug regimens. Arch Intern Med 151:1562–1564

Peters-Klimm F, Müller-Tasch T, Schellberg D, Remppis A, Barth A, Holzapfel N, Jünger J, Herzog W, Szecsenyi J (2008) Guideline adherence for pharmacotherapy of chronic systolic heart failure in general practice: a closer look on evidence-based therapy. Clin Res Cardiol, ahead of print

Rote Liste Win® 2004/I Version 3.3 ECV Editio Cantor Verlag

Roth-Isigkeit A, Harder S (2005) Reporting the discharge medication in the discharge letter. An explorative survey of family doctors. Med Klin 100:87–933

Saltman DC, Sayer GP Whicker SD (2005) Co-morbidity in general practice. Postgrad Med J 81:474–480

Scherer M, Sobek C, Wetzel D, Koschack J, Kochen MM (2006) Changes in heart failure medications in patients hospitalised and discharged. Fam Pract 23:69–74

Smith SM, Allwrights S, O'Dowd T (2007) Effectiveness of shared care across the interface between primary and specialty care in chronic disease management. Cochrane Database Syst Rev 18: CD004910

Sorensen J, Stokes JA, Purdie DM, Woodward M, Elliot R, Roberts MS (2004) Medication reviews in the community: results of a randomized, controlled effectiveness trial. Br J Clin Pharmacol 58:648–664

Zink DA, Pohlman M, Barnes M, Cannon ME (2005) Long-term use of acid suppression started inappropriately during hospitalization. Aliment Pharmacol Ther 21:1203–1209
Acknowledgement
We thank the general practitioners who participated in this study: A. Arends, MD; T. König, MD; B. Hoops, MD; U. Ritter, MD; U. Kneise, MD; R. Barabasch/G. Riedel, MD; R. Leutgeb, MD; P. Engeser, MD; D. Zeise-Süss, MD; A. Wiesemann/U. and T. Wiesemann, MD; B. Musselmann, MD; T. Polzer, MD; St. Bilger, MD; J. Barlet, MD; H.D. Klimm, MD.
Conflict of interest
The authors disclose any relevant associations that might pose a conflict of interest.
About this article
Cite this article
Müller-Bühl, U., Gerold, C., Engeser, P. et al. Changes in drug therapy following hospital discharge for patients in a general practice: a German incident study. J Public Health 17, 217 (2009). https://doi.org/10.1007/s10389-008-0241-6
Received:

Accepted:

Published:
Keywords
Hospital discharge

General practitioners

Drug utilization

Out-patient prescriptions