Abstract
Few long-term, autopsy-confirmed studies have been carried out to determine whether modern diagnostic techniques and clinical laboratory procedures have diminished the rate of misdiagnosis in recent years. We extended a previous investigation on the occurrence of misdiagnosis at a German University Hospital in 1959, 1969, 1979, and 1989 by a further decade to 1999/2000. Hospital charts and autopsy records of 100 randomly selected patients who died in hospital in 1999/2000 were reviewed retrospectively for clinical findings, diagnoses, and possible misdiagnoses, and compared with results from the previous four medical eras. If occurring, diagnostic errors were classified as misdiagnosis, false-positive, or false-negative diagnoses. The misdiagnosis rate of 11% in 1999/2000 was unchanged compared to the previous years studied. False-negative diagnoses rose from 22% in 1979 to 34% and 41% in 1989 and 1999/2000, respectively; false-positive diagnoses also increased from 7% in 1989 to 15% in 1999/2000. The most common diagnostic errors in 1999/2000 again involved pulmonary emboli, myocardial infarctions, neoplasms, and infections. New diagnostic procedures such as ultrasound, computed tomography, and magnetic resonance imaging did not reduce the rate of misdiagnosis. By contrast, the patient's medical history and physical examination continued to play an important diagnostic role, leading to an assumption of the correct final diagnosis in about 75% of cases. The reduction in the autopsy rate from 88% in 1959 to 20% in 1999/2000 was remarkable. Despite ever-improving diagnostic technology, we found no evidence that the rate of misdiagnosis is declining. False-negative and false-positive diagnoses may be on the increase. The precipitous decline in the autopsy rate bodes ill for errando discimus–the ability to learn from our errors.
This is a preview of subscription content, log in to check access.
Access options
Buy single article
Instant access to the full article PDF.
US$ 39.95
Price includes VAT for USA
Subscribe to journal
Immediate online access to all issues from 2019. Subscription will auto renew annually.
US$ 99
This is the net price. Taxes to be calculated in checkout.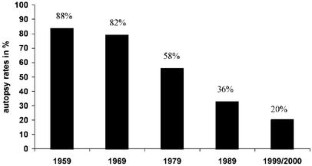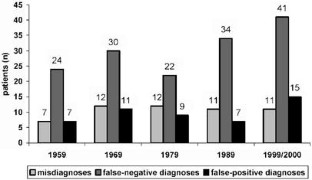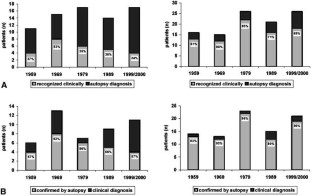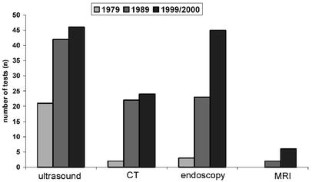 References
Alderson MR, Meade TW (1967) Accuracy of diagnosis on death certificates compared with that in hospital records. Br J Prev Soc Med 21:22–29

Baron JH (2000) Clinical diagnosis and the function of necropsy. J Roy Soc Med 93:463–466

Bauer FW, Robbins SL (1972) An autopsy study of cancer patients. 1. Accuracy of the clinical diagnoses (1955 to 1966) Boston City Hospital. JAMA 221:1471–174

Blendon RJ, DesRoches CM, Brodie M, Benson JM, Rosen AB, Schneider E et al (2002) Views of practicing physicians and the public on medical errors. N Engl J Med 347:1933–1940

Bolann BJ, Stelsnes B (1999) Analytical uncertainty—how wrong can a laboratory result be? Tidsskr Nor Laegeforen 119:4472–4475

Bossuyt PM, Reitsma JB, Bruns DE, Gatsonis CA, Glasziou PP, Irwig LM et al (2003a) Towards complete and accurate reporting of studies of diagnostic accuracy: the STARD initiative. Clin Chem 49:1–6

Bossuyt PM, Reitsma JB, Bruns DE, Gatsonis CA, Glasziou PP, Irwig LM et al (2003b) The STARD statement of reporting studies of diagnostic accuracy: explanation and elaboration. Clin Chem 49:7–18

Brinkmann R (2002) Aktuelle Daten zur Obduktionsfrequenz in Deutschland. Dtsch med Wochenschr 127:791–795

Cameron HM, McGoogan E, Watson H (1980) Necropsy: a yardstick for clinical diagnoses. Br Med J 281:985–988

Dörner K (1992) Fehldiagnosen bei Laboratoriumsbefunden. In: Kirch W (ed) Fehldiagnosen in der Inneren Medizin. Fischer, Stuttgart, pp 289–306

Ferrucci JT Jr (1979) Body ultrasonography. N Engl J Med 300:538–542

Fiorelli M, Toni D, Bastianello S, Sacchetti ML, Setle G, Falcon A et al (2000) Computed tomography in the first few hours of ischemic stroke: implications for the clinician. J Neurol Sci 173:10–17

Goldman L, Sayson R, Robbins S, Cohn LH, Bettmann M, Weisberg M (1983) The value of the autopsy in three different eras. N Engl J Med 308:1000–1005

Griner PF (1979) Use of laboratory tests in a teaching hospital. Long-term trends: reductions in use and relative cost. Ann Intern Med 90:243–248

Harveit F (1977) Clinical and post-mortem assessment of the cause of death. J Pathol 123:193–210

Hermann PG, Gerson DE, Hessel SJ, Mayer BS, Watnick M, Blesser B et al (1975) Disagreements in chest roentgen interpretation. Chest 68:278–282

Hollis RS (2000) Medical progress past, present, and future. South Med J 93:1173–1176

Kelley CR, Mamlin JJ (1974) Ambulatory medical care quality determination by diagnostic outcome. JAMA 227:1156–1167

Kirch W, Schafii C (1994) Reflections on misdiagnosis. J Intern Med 235:525–530

Kirch W, Schafii C (1996) Misdiagnosis at a university hospital in 4 medical eras. Medicine:75: 29–40

Kohn LT, Corrigan JM, Donaldson MS (2000) To err is human: building a safer health system. National Academy Press, Washington D.C.

Kroegel C, Reissig A, Hengst U (1999) Diagnostik parenchymatöser Lungenerkrankungen. Möglichkeiten und Grenzen der transthorakalen Sonographie. Dtsch Med Wochenschr 124:765–772

Middleton K, Clarke E, Homann S, Naughton B, Neely D, Repasy A et al (1989) An autopsy-based study of diagnostic errors in geriatric and nongeriatric adult patients. Arch Intern Med 149:1809–1812

Pelletier LL Jr, Klutzow F, Lancaster H (1989) The autopsy: its role in the evaluation of patient care. J Gen Intern Med 4:300–303

Schwartz WB, Wolfe HJ, Pauker SG (1981) Pathology and probabilities: a new approach to interpreting and reporting biopsies. N Engl J Med 305:917–923

Sheifer SE, Manolio TA, Gersh BJ (2001) Unrecognized myocardial infarction. Ann Intern Med 135:801–811

Showstack JA, Schroeder SA, Matsumoto MF (1982) Changes in the use of medical technologies, 1972–1977: a study of 10 inpatient diagnoses. N Engl J Med 306:706–712

Sonderegger-Iseli K, Burger S, Muntwyler J, Salomon F (2000) Diagnostic errors in three medical eras: a necropsy study. Lancet 355:2027–2031

Thomas C, Jungmann D (1985) Die klinische Obduktion. Med Welt 36:684–687
Acknowledgments
Supported by the German Research Ministry (BMBF) 01 EG694314. Results of this study are part of a thesis of Dr. Alexander Engwicht.
About this article
Cite this article
Kirch, W., Shapiro, F. & Fölsch, U.R. Health care quality: Misdiagnosis at a university hospital in five medical eras. J Public Health 12, 154–161 (2004). https://doi.org/10.1007/s10389-004-0038-1
Received:

Accepted:

Published:

Issue Date:
Keywords
Health care quality

Misdiagnosis

Autopsy-confirmed studies

Over 40 years