Abstract
Background
Recurrent laryngeal nerve paralysis (RLNP) after thoracoscopic esophagectomy for esophageal cancer (EC) is known to be a major complication leading to poor quality of life. RLNP is mainly associated with surgical procedures performed near the RLN. Therefore, with focus on the region of the RLN, we used preoperative computed tomography to investigate the risk factors of RLNP in patients with EC undergoing thoracoscopic esophagectomy.
Methods
We retrospectively examined 77 EC patients who underwent thoracoscopic esophagectomy in the prone position at our department between January 2010 and December 2018. Bilateral cross-sectional areas (mm2) of the fatty tissue around the RLN at the level of the lower pole of the thyroid gland were measured on preoperative axial computed tomography (CT) images. Univariate and multivariate logistic regression analysis was used to evaluate the association between the incidence of RLNP and patient clinical factors, including the cross-sectional areas.
Results
RLNP occurred in 24 of 77 patients (31.2%). The incidence of RLNP was significantly more frequent on the left side than on the right. (26% vs. 5.2%, respectively). Univariate analysis identified the following left RLNP risk factors: intrathoracic operative time (> 235 min), and area around the RLN (> 174.3 mm2). Multivariate analysis found that the area around the RLN was an independent risk factor of left RLNP.
Conclusion
An increased area around the RLN measured on an axial CT view at the level of the lower pole of the thyroid gland was a risk factor of RLNP in EC patients undergoing thoracoscopic esophagectomy in the prone position.
This is a preview of subscription content, log in to check access.
Access options
Buy single article
Instant access to the full article PDF.
US$ 39.95
Price includes VAT for USA
Subscribe to journal
Immediate online access to all issues from 2019. Subscription will auto renew annually.
US$ 99
This is the net price. Taxes to be calculated in checkout.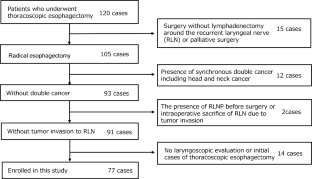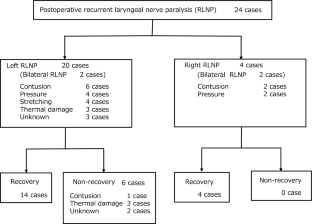 References
1.

Torre LA, Bray F, Siegel RL, Ferlay J, Lortet-Tieulent J, Jemal A. Global cancer statistics, 2012. CA Cancer J Clin. 2015;65(2):87–108.

2.

Nagpal K, Ahmed K, Vats A, Yakoub D, James D, Ashrafian H, et al. Is minimally invasive surgery beneficial in the management of esophageal cancer? A meta-analysis Surg Endosc. 2010;24(7):1621–9.

3.

Whooley BP, Law S, Murthy SC, Alexandrou A, Wong J. Analysis of reduced death and complication rates after esophageal resection. Ann Surg. 2001;233:338–44.

4.

Pertl L, Zacherl J, Mancusi G, Gächter JN, Asari R, Schoppmann S, et al. High risk of unilateral recurrent laryngeal nerve paralysis after esophagectomy using cervical anastomosis. Eur Arch Otorhinolaryngol. 2011;268(11):1605–10.

5.

Gockel I, Kneist W, Keilmann A, Junginger T. Recurrent laryngeal nerve paralysis (RLNP) following esophagectomy for carcinoma. Eur J Surg Oncol. 2005;31(3):277–81.

6.

Suda K, Ishida Y, Kawamura Y, Inaba K, Kanaya S, Teramukai S, et al. Robot-assisted thoracoscopic lymphadenectomy along the left recurrent laryngeal nerve for esophageal squamous cell carcinoma in the prone position: technical report and short-term outcomes. World J Surg. 2012;36(7):1608–16.

7.

Noshiro H, Iwasaki H, Kobayashi K, Uchiyama A, Miyasaka Y, Masatsugu T, et al. Lymphadenectomy along the left recurrent laryngeal nerve by a minimally invasive esophagectomy in the prone position for thoracic esophageal cancer. Surg Endosc. 2010;24(12):2965–73.

8.

Baba M, Aikou T, Yoshinaka H, Natsugoe S, Fukumoto T, Shimazu H, et al. Long-term results of subtotal esophagectomy with three-field lymphadenectomy for carcinoma of the thoracic esophagus. Ann Surg. 1994;219(3):310–6.

9.

Tachibana M, Kinugasa S, Yoshimura H, Shibakita M, Tonomoto Y, Dhar DK, et al. Clinical outcomes of extended esophagectomy with three-field lymph node dissection for esophageal squamous cell carcinoma. Am J Surg. 2005;189(1):98–109.

10.

Fujita H, Kakegawa T, Yamana H, Shima I, Toh Y, Tomita Y, et al. Mortality and morbidity rates, postoperative course, quality of life, and prognosis after extended radical lymphadenectomy for esophageal cancer. Comparison of three-field lymphadenectomy with two-field lymphadenectomy. Ann Surg. 1995;222(5):654–62.

11.

Yannopoulos P1, Theodoridis P, Manes K. Esophagectomy without thoracotomy: 25 years of experience over 750 patients. Langenbecks Arch Surg. 2009;394(4):611–6.

12.

Hulscher JB, van Sandick JW, Devriese PP, van Lanschot JJ, Obertop H. Vocal cord paralysis after subtotal oesophagectomy. Br J Surg. 1999;86(12):1583–7.

13.

Tachimori Y. Injection therapy using a bronchoscope for unilateral vocal cord paralysis after esophagectomy. J Jpn Bronchoesophagol Soc. 2002;53:102–6.

14.

Koyanagi K, Igaki H, Iwabu J, Ochiai H, Tachimori Y. Recurrent laryngeal nerve paralysis after esophagectomy: respiratory complications and role of nerve reconstruction. Tohoku J Exp Med. 2015;237(1):1–8.

15.

Gelpke H, Grieder F, Decurtins M, Cadosch D. Recurrent laryngeal nerve monitoring during esophagectomy and mediastinal lymph node dissection. World J Surg. 2010;34(10):2379–82.

16.

Japan Esophageal Society. Japanese classification of esophageal cancer, tenth edition: part I. Esophagus. 2009;6:1–25.

17.

Toiyama Y, Miki C, Inoue Y, Tanaka K, Mohri Y, Kusunoki M. Evaluation of an inflammation-based prognostic score for the identification of patients requiring postoperative adjuvant chemotherapy for stage II colorectal cancer. Exp Ther Med. 2011;2(1):95–101.

18.

Shibutani M, Maeda K, Nagahara H, Noda E, Ohtani H, Nishiguchi Y, et al. A high preoperative neutrophil-to-lymphocyte ratio is associated with poor survival in patients with colorectal cancer. Anticancer Res. 2013;33(8):3291–4.

19.

World health organization. BMI classification; 12 March 2014. Available from: https://apps.who.int/bmi/index.jsp? introPage=intro_3.html. Accessed January 1, 2015.

20.

Ando N, Kato H, Igaki H, Shinoda M, Ozawa S, Shimizu H, et al. A randomized trial comparing postoperative adjuvant chemotherapy with cisplatin and 5-fluorouracil versus preoperative chemotherapy for localized advanced squamous cell carcinoma of the thoracic esophagus (JCOG9907). Ann Surg Oncol. 2012;19(1):68–74.

21.

Dind D, Demartines N, Clavien PS. Classification of surgical complications: a new proposal with evaluation in a cohort of 6336 patients and results of a surgery. Ann Surg. 2004;240:205–13.

22.

American psychiatric association. Diagnostic and statistical manual of mental disorders. 4th ed. Washington, DC: American psychiatric association; 1994.

23.

Sato Y, Kosugi S, Aizawa N, Ishikawa T, Kano Y, Ichikawa H, et al. Risk factors and clinical outcomes of recurrent laryngeal nerve paralysis after esophagectomy for thoracic esophageal carcinoma. World J Surg. 2016;40(1):129–36.

24.

Saito Y, Takeuchi H, Fukuda K, Suda K, Nakamura R, Wada N, et al. Size of recurrent laryngeal nerve as a new risk factor for postoperative vocal cord paralysis. Dis Esophagus. 2018;1:31 (6).

25.

Akiyama H, Tsurumaru M, Udagawa H, Kajiyama Y. Radical lymph node dissection for cancer of the thoracic esophagus. Ann Surg. 1994;220(3):364–72.

26.

Udagawa H, Ueno M, Shinohara H, Haruta S, Kaida S, Nakagawa M, et al. The importance of grouping of lymph node stations and rationale of three-field lymphoadenectomy for thoracic esophageal cancer. J Surg Oncol. 2012;106(6):742–7.

27.

Okuyama M, Motoyama S, Suzuki H, Saito R, Maruyama K, Ogawa J. Hand-sewn cervical anastomosis versus stapled intrathoracic anastomosis after esophagectomy for middle or lower thoracic esophageal cancer: a prospective randomized controlled study. Surg Today. 2007;37(11):947–52.

28.

Scipione CN, Chang AC, Pickens A, Lau CL, Orringer MB. Transhiatal esophagectomy in the profoundly obese: implications and experience. Ann Thorac Surg. 2007;84(2):376–82.

29.

Hikage M, Kamei T, Nakano T, Abe S, Katsura K, Taniyama Y, et al. Impact of routine recurrent laryngeal nerve monitoring in prone esophagectomy with mediastinal lymph node dissection. Surg Endosc. 2017;31(7):2986–96.

30.

Kobayashi H, Kondo M, Mizumoto M, Hashida H, Kaihara S, Hosotani R. Technique and surgical outcomes of mesenterization and intra-operative neural monitoring to reduce recurrent laryngeal nerve paralysis after thoracoscopic esophagectomy: a cohort study. Int J Surg. 2018;56:301–6.
Ethics declarations
Ethical Statement
All procedures and subsequent analyses were performed with the approval of the Institutional Review Boards of Mie University Hospital in Japan (no. 2017-3203). The study was conducted in accordance with the guidelines of the 1975 Declaration of Helsinki. Written informed consent was obtained from all study participants.
Conflict of interest
The authors had no conflicts of interest and received no financial support for this study.
Additional information
Publisher's Note
Springer Nature remains neutral with regard to jurisdictional claims in published maps and institutional affiliations.
About this article
Cite this article
Ohi, M., Toiyama, Y., Yasuda, H. et al. Preoperative computed tomography predicts the risk of recurrent laryngeal nerve paralysis in patients with esophageal cancer undergoing thoracoscopic esophagectomy in the prone position. Esophagus (2020). https://doi.org/10.1007/s10388-020-00767-0
Received:

Accepted:

Published:
Keywords
Esophageal cancer

Thoracoscopic esophagectomy

Recurrent laryngeal nerve paralysis

Risk factor