Abstract
Although occurring infrequently, esophago-mediastinal fistula is potentially life-threatening. We report a rare case of intractable esophago-mediastinal fistula following thoracoabdominal aortic replacement. A 62-year-old male patient with aortic dissection underwent thoracoabdominal aortic replacement. He suddenly developed septic shock with esophageal perforation on the 6th postoperative day. Conservative therapy was employed, and he was discharged from the hospital. However, he suffered another attack of septic shock resulting from an esophago-mediastinal fistula. Gastrointestinal endoscopy revealed a suture thread beside an esophageal fistula. The patient consequently underwent esophagectomy. After removal of the esophagus, we found a suture thread with pledgets in the mediastinum and removed it. He recovered successfully thereafter. Esophago-mediastinal fistula associated with pledgets is a rare complication of thoracoabdominal aortic replacement. We believe that radical surgery can be an effective treatment. A review of the current literature did not reveal any similar cases. In this report, we discuss the clinical course of such a rare case.
This is a preview of subscription content, log in to check access.
Access options
Buy single article
Instant access to the full article PDF.
US$ 39.95
Price includes VAT for USA
Subscribe to journal
Immediate online access to all issues from 2019. Subscription will auto renew annually.
US$ 99
This is the net price. Taxes to be calculated in checkout.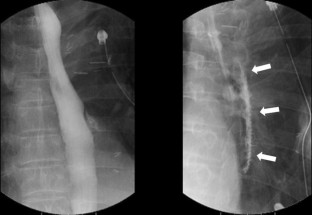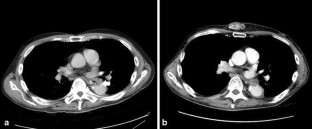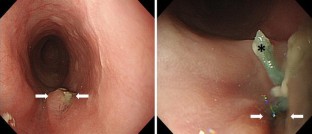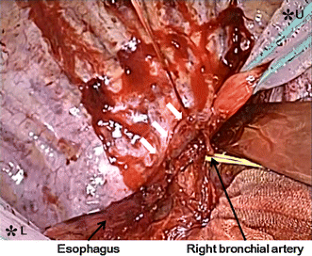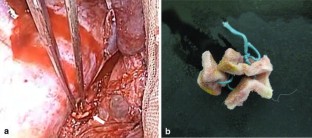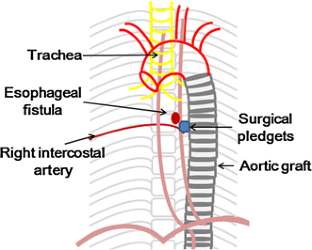 References
1.

Park NH, et al. Ischemic esophageal necrosis secondary to traumatic aortic transection. Ann Thorac Surg. 2004;78(6):2175–8.

2.

Kaneda T, et al. Delayed esophageal necrosis and perforation secondary to thoracic aortic rupture: a case report and review of the literature. Thorac Cardiovasc Surg. 2005;53(6):380–2.

3.

Cohen DL. Complications from surgical pledgets involving the esophagus. Dis Esophagus. 2011;24(3):E19–20.

4.

Baladas HG, et al. Esophagogastric fistula secondary to teflon pledget: a rare complication following laparoscopic fundoplication. Dis Esophagus. 2000;13(1):72–4.

5.

Dally E, Falk GL. Teflon pledget reinforced fundoplication causes symptomatic gastric and esophageal lumenal penetration. Am J Surg. 2004;187(2):226–9.

6.

Cohle SD, Delavan JW. Coronary artery compression by teflon pledget granuloma following aortic valve replacement. J Forensic Sci. 1997;42(5):945–6.

7.

Nabi G, Hemal AK, Khaitan A. Endoscopic management of an unusual foreign body in the urinary bladder leading to intractable symptoms. Int Urol Nephrol. 2001;33(2):351–2.

8.

Nakamura T, et al. New bioabsorbable pledgets and non-woven fabrics made from polyglycolide (PGA) for pulmonary surgery: clinical experience. Thorac Cardiovasc Surg. 1990;38(2):81–5.
About this article
Cite this article
Wada, T., Takeuchi, H., Fujimura, N. et al. Intractable esophago-mediastinal fistula as a rare complication following thoracoabdominal aortic replacement. Esophagus 8, 277–281 (2011). https://doi.org/10.1007/s10388-011-0287-3
Received:

Accepted:

Published:

Issue Date:
Keywords
Esophageal fistula

Aortic aneurysm

Esophagectomy