Abstract
Purpose
To investigate the treatment persistence of carteolol hydrochloride/latanoprost fixed-combination ophthalmic solution (CAR/LAT) and other β-blocker/prostanoid FP receptor agonist fixed-combination ophthalmic solutions (BB/FP) in the treatment of glaucoma.
Study design
Retrospective observational cohort study.
Methods
A retrospective observational cohort study using JMDC Claims Database. Patients aged 20 years or older diagnosed with glaucoma between February 1, 2017, and March 31, 2020, and prescribed CAR/LAT or another BB/FP were included.
Results
A total of 16,612 patients (7423 in the CAR/LAT group and 9189 in the other BB/FP group) were included. The cumulative treatment persistence rate at the end of follow-up was 42.0% (64.9% at 1 year, 53.4% at 2 years, 45.0% at 3 years, and 42.0% at 4 years) in the CAR/LAT group and 34.7% (54.8% at 1 year, 43.6% at 2 years, 37.1% at 3 years, and 34.7% at 4 years) in the other BB/FP group. Treatment persistence was significantly longer in the CAR/LAT group compared to that in the other BB/FP group (hazard ratio 0.747, p < 0.0001). Over the treatment period, the number of patients who discontinued treatment was 3281 (44.2%) in the CAR/LAT group and 4926 (53.6%) in the other BB/FP group; the median duration of treatment was 135 days and 97 days, respectively.
Conclusion
The study results suggest that persistence rates vary depending on the BB/FP and CAR/LAT appears to be more persistent than other BB/FP.
Access options
Buy single article
Instant access to the full article PDF.
USD 39.95
Price excludes VAT (USA)
Tax calculation will be finalised during checkout.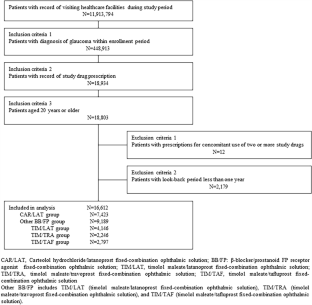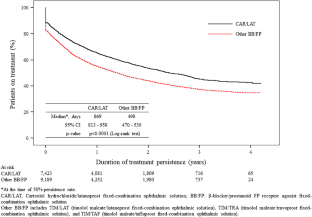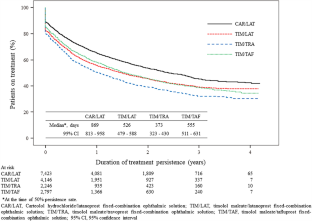 References
Morizane Y, Morimoto N, Fujiwara A, Kawasaki R, Yamashita H, Ogura Y, et al. Incidence and causes of visual impairment in Japan: the first nation-wide complete enumeration survey of newly certified visually impaired individuals. Jpn J Ophthalmol. 2019;63:26–33.

Weinreb RN, Aung T, Medeiros FA. The pathophysiology and treatment of glaucoma: a review. JAMA. 2014;311:1901–11.

Heijl A, Bengtsson B, Chauhan BC, Lieberman MF, Cunliffe I, Hyman L, et al. A comparison of visual field progression criteria of 3 major glaucoma trials in early manifest glaucoma trial patients. Ophthalmology. 2008;115:1557–65.

Kiuchi Y, Inoue T, Shoji N, Nakamura M, Tanito M, Glaucoma Guideline Preparation Committee, Japan Glaucoma Society. The Japan Glaucoma Society guidelines for glaucoma 5th edition. Jpn J Ophthalmol. 2023;67:189–254.

Kashiwagi K, Furuya T. Persistence with topical glaucoma therapy among newly diagnosed Japanese patients. Jpn J Ophthalmol. 2014;58:68–74.

Quigley HA, Friedman DS, Hahn SR. Evaluation of practice patterns for the care of open-angle glaucoma compared with claims data: the glaucoma adherence and persistency study. Ophthalmology. 2007;114:1599–606.

Robin AL, Covert D. Does adjunctive glaucoma therapy affect adherence to the initial primary therapy? Ophthalmology. 2005;112:863–8.

Robin AL, Novack GD, Covert DW, Crockett RS, Marcic TS. Adherence in glaucoma: objective measurements of once-daily and adjunctive medication use. Am J Ophthalmol. 2007;144:533–40.

Schwartz GF, Burk C, Bennett T, Patel VD. Adherence and persistence with glaucoma therapy: brimonidine/timolol versus dorzolamide/timolol and various two-bottle combinations. J Clin Exp Ophthalmol. 2012;3:1000248.

Hasebe Y, Kashiwagi K, Tsumura T, Suzuki Y, Yoshikawa K, Suzumura H, et al. Changes in adherence and associated factors among patients on newly introduced prostaglandin analog and timolol fixed-combination therapy. Patient Prefer Adherence. 2018;12:1567–77.

Tsumura T, Kashiwagi K, Suzuki Y, Yoshikawa K, Suzumura H, Maeda T, et al. A nationwide survey of factors influencing adherence to ocular hypotensive eyedrops in Japan. Int Ophthalmol. 2019;39:375–83.

Newman-Casey PA, Niziol LM, Gillespie BW, Janz NK, Lichter PR, Musch DC. The association between medication adherence and visual field progression in the collaborative initial glaucoma treatment study. Ophthalmology. 2020;127:477–83.

Takahashi M, Naitou T, Mizoue S, Kanno M, Suzumura H, Yoshikawa K. Questionnaire survey on use of glaucoma eyedrops: second report. J Eye. 2012;29:555–61 (in Japanese).

Kikuchi S, Ouchi K. Mikeluna® combination ophthalmic solution, carteolol hydrochloride 2% /latanoprost 0.005% fixed combination for glaucoma and ocular hypertension. Jpn J Ocul Pharmacol. 2017;31:28–33 (in Japanese).

Shirai C, Matsuoka N, Nakazawa T. Comparison of adherence between fixed and unfixed topical combination glaucoma therapies using Japanese healthcare/pharmacy claims database: a retrospective non-interventional cohort study. BMC Ophthalmol. 2021;21:52.

Zimmerman TJ. Topical ophthalmic beta blockers: a comparative review. J Cli Exp Ophthalmol. 1993;9:373–84.

Kido A, Miyake M, Akagi T, Ikeda HO, Kameda T, Suda K, et al. Association between topical β-blocker use and asthma attacks in glaucoma patients with asthma: a cohort study using a claims database. Graefes Arch Clin Exp Ophthalmol. 2022;260:271–80.

Ministry of Health, Labour and Welfare. Medical Facility Survey (as of June 2022). https://www.mhlw.go.jp/toukei/saikin/hw/iryosd/m22/dl/is2206_01.pdf. Accessed 1 September 2022 (in Japanese).

Nordstrom BL, Friedman DS, Mozaffari E, Quigley HA, Walker AM. Persistence and adherence with topical glaucoma therapy. Am J Ophthalmol. 2005;140:598–606.
Acknowledgements
This study was sponsored by Otsuka Pharmaceutical Co., Ltd. The study protocol was prepared by Miyuki Matsukawa of Otsuka Pharmaceutical Co., Ltd. Statistical analyses were performed by Takumi Tajima and Gen Terashima of JMDC Inc. Medical writing service was provided by Koki Yamashita, PhD. of Maxwell International, Inc., which was funded by Otsuka Pharmaceutical Co., Ltd.
Ethics declarations
Conflicts of interest
K. Kashiwagi, Consulting fees (Otsuka, Novartis, Santen, Senju, Kowa); K. Ouchi, Employee (Otsuka); Y. Shibasaki, Employee (Otsuka); M. Suginaka, Employee (Otsuka).
Additional information
Publisher's Note
Springer Nature remains neutral with regard to jurisdictional claims in published maps and institutional affiliations.
Corresponding Author: Kenji Kashiwagi
Supplementary Information
Below is the link to the electronic supplementary material.
About this article
Cite this article
Kashiwagi, K., Ouchi, K., Shibasaki, Y. et al. Persistence of the carteolol hydrochloride/latanoprost fixed-combination ophthalmic solution, compared with the other β-blocker/prostanoid FP receptor agonist fixed-combination ophthalmic solutions. Jpn J Ophthalmol 67, 658–667 (2023). https://doi.org/10.1007/s10384-023-01020-8
Received:

Accepted:

Published:

Issue Date:

DOI: https://doi.org/10.1007/s10384-023-01020-8
Keywords