Abstract
Purpose
To determine the incidence of rhegmatogenous retinal detachments (RRDs) and proliferative vitreoretinopathies (PVRs) and their distribution by age and sex in hospitalized patients in Japan.
Study design
Retrospective nationwide observational study.
Methods
Information on the number of inpatients primarily diagnosed with RRD or PVR and their age and sex were collected from the Diagnosis Procedure Combination (DPC) database for 2014 and 2015. The incidence was determined using the Japanese population report published by the Public Management Ministry's Statistics Bureau.
Results
The incidence of RRD in these hospitalized patients was 10.9/100,000, with 15.0/100,000 in men and 7.1/100,000 in women, and that of PVR was 2.1/100,000, with 2.9/100,000 in men and 1.3/100,000 in women. The incidence in men was twice that in women for both RRD and PVR. The distribution of RRD by age was monophasic, with a peak at 50 years for both sexes, and that of PVR was at peak in the 60 s for men and in the 70 s for women. PVR was more common than RRD in children aged younger than 10 years, but the incidence of RRD was higher in the other age groups.
Conclusion
A study of the DPC database can provide useful information on the incidences of RRD and PVR in hospitalized patients in Japan.
Access options
Buy single article
Instant access to the full article PDF.
US$ 39.95
Tax calculation will be finalised during checkout.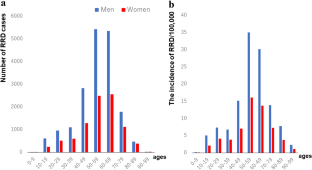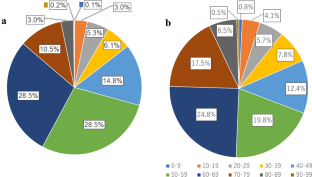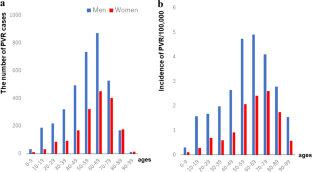 References
1.

Mitry D, Charteris DG, Fleck BW, Campbell H, Singh J. The epidemiology of rhegmatogenous retinal detachment: geographical variation and clinical associations. Br J Ophthalmol. 2010;94:678–84.

2.

Mowatt L, Shun-Shin G, Price N. Ethnic differences in the demand incidence of retinal detachments in two districts in the West Midlands. Eye (Lond). 2003;17:63–70.

3.

Sasaki K, Ideta H, Yonemoto J, Tanaka S, Hirose A, Oka C. Epidemiologic characteristics of rhegmatogenous retinal detachment in Kumamoto, Japan. Graefes Arch Clin Exp Ophthalmol. 1995;233:772–6.

4.

Sakamoto T, Kawano S, Kawasaki R, Hirakata A, Yamashita H, Yamamoto S, et al. Japan-Retinal Detachment Registry Report I: preoperative findings in eyes with primary retinal detachment. Jpn J Ophthalmol. 2020;64:1–12.

5.

Wong TY, Tielsch JM, Schein OD. Racial difference in the incidence of retinal detachment in Singapore. Arch Ophthalmol. 1999;117:379–83.

6.

Ouertani A, Zhioua R, el Euch M, Mili I. Retinal detachment in young patients. Article in French J Fr Ophtalmol. 1994;17:388–93.

7.

Read SP, Aziz HA, Kuriyan A, Kothari N, Davis JL, Smiddy WE, et al. Retinal detachment surgery in a pediatric population: visual and anatomic outcomes. Retina. 2018;38:1393–402.

8.

Soheilian M, Ramezani A, Malihi M, Yaseri M, Ahmadieh H, Dehghan MH, et al. Clinical features and surgical outcomes of pediatric rhegmatogenous retinal detachment. Retina. 2009;29:545–51.

9.

Okamura S, Kobayashi R, Sakamaki T. Case-mix payment in Japanese medical care. Health Policy. 2005;74:282–6.

10.

Hayashida K, Murakami G, Matsuda S, Fushimi K. History and profile of Diagnosis Procedure Combination (DPC): development of a real data collection system for acute inpatient care in Japan. J Epidemiol. 2021;31:1–11.

11.

Fukuhara T. Geographical analysis of aneurysmal subarachnoid hemorrhage in Japan utilizing publically-accessible DPC database. PLoS ONE. 2015;10:e0122467.

12.

Araki S, Tomioka S, Otani M, Suga S, Ichikawa S, Matsuda S, et al. Incidence and in-hospital mortality of neonatal disseminated intravascular coagulation in Japan: an observational study of a nationwide hospital claims database. J UOEH. 2019;41:295–302.

13.

Gonzales CR, Singh S, Yu F, Kreiger AE, Gupta A, Schwartz SD. Pediatric rhegmatogenous retinal detachment: clinical features and surgical outcomes. Retina. 2008;28:847–52.

14.

The classification of retinal detachment with proliferative vitreoretinopathy. Ophthalmology. 1983;90:121–5.

15.

Laatikainen L, Tolppanen EM. Characteristics of rhegmatogenous retinal detachment. Acta Ophthalmol (Copenh). 1985;63:146–54.

16.

Ueda E, Yasuda M, Fujiwara K, Hashimoto S, Ohno-Matsui K, Hata J, et al. Trends in the prevalence of myopia and myopic maculopathy in a Japanese population: the Hisayama Study. Invest Ophthalmol Vis Sci. 2019;60:2781–6.

17.

Yokoyama T, Kato T, Minamoto A, Sugihara A, Imada M, Kuwabara R, et al. Characteristics and surgical outcomes of paediatric retinal detachment. Eye (Lond). 2004;18:889–92.

18.

Akabane N, Yamamoto S, Tsukahara I, Ishida M, Mitamura Y, Yamamoto T, et al. Surgical outcomes in juvenile retinal detachment. Jpn J Ophthalmol. 2001;45:409–11.

19.

Scott IU, Flynn HW Jr, Azen SP, Lai MY, Schwartz S, Trese MT. Silicone oil in the repair of pediatric complex retinal detachments: a prospective, observational, multicenter study. Ophthalmology. 1999;106:1399–407 (Discussion 407–8).
Acknowledgements
We thank Drs Ken Hayashi (Hayashi Eye Hospital, Fukuoka, Japan), Takaaki Matsui (Ohshima Eye Hospital, Fukuoka, Japan), and Kazushi Fujimoto (Fujimoto Eye Clinic, Fukuoka, Japan) for providing medical practice data. We also thank Duco Hamasaki, Professor Emeritus, Bascom Palmer Eye Institute, University of Miami, for his critical comments and valuable assistance.
Ethics declarations
Conflicts of interest
K. Oku, None; K. Tokutsu, Consultant fee (ASTEM); S. Matsuda, Consultant fee (YAGAMI), Lecture fee (Chugai); H. Kondo, Lecture fee (Santen, Bayer, Kowa, Senju, Otsuka, RE Medical), Grant, Lecture fee (Alcon, AMO, Novartis,).
Additional information
Publisher's Note
Springer Nature remains neutral with regard to jurisdictional claims in published maps and institutional affiliations.
Corresponding Author: Hiroyuki Kondo
Supplementary Information
Below is the link to the electronic supplementary material.
About this article
Cite this article
Oku, K., Tokutsu, K., Matsuda, S. et al. Epidemiologic study of rhegmatogenous retinal detachment in Japan from the Diagnosis Procedure Combination database over a 2-year period (2014–2015). Jpn J Ophthalmol (2021). https://doi.org/10.1007/s10384-021-00867-z
Received:

Accepted:

Published:
Keywords
Epidemiologic studies

Rhegmatogenous retinal detachment

Proliferative vitreoretinopathy

Diagnosis Procedure Combination (DPC)

Japanese