Abstract
Purpose
To determine factors significantly correlated with the failure of macular reattachment by pars plana vitrectomy (PPV) without laser photocoagulation of the optic disc margin to treat optic disc pit (ODP) maculopathy.
Design
Retrospective, interventional case series.
Methods
We reviewed the medical records of 35 consecutive patients with ODP maculopathy who underwent PPV without laser photocoagulation. PPV with the creation of a posterior vitreous detachment (PVD) was performed in 34 eyes. An epiretinal membrane and internal limiting membrane present in the other eye with a PVD were removed. Patients were followed for 12–193 months (mean 58 months) after surgery. The main outcome measures were the postoperative rate of retinal reattachment and best-corrected visual acuity. The preoperative clinical characteristics of the successful cases were compared to those of the unsuccessful cases.
Results
A complete retinal reattachment was attained in 31 of 35 eyes and it required about one year. The 4 other eyes that did not achieve a macular reattachment after the primary PPV underwent additional therapies. The factors that were significantly associated with a failure of a retinal reattachment after primary PPV were the presence of a retinal detachment connected to the optic disc (P < 0.001) and the presence of preoperative headaches (P = 0.030).
Conclusions
Clinicians should be aware that the presence of a preoperative macular detachment connected to the optic disc margin and preoperative headaches are indicators for an unsuccessful outcome of PPV without laser photocoagulation in eyes with ODP maculopathy.
Access options
Buy single article
Instant access to the full article PDF.
US$ 39.95
Tax calculation will be finalised during checkout.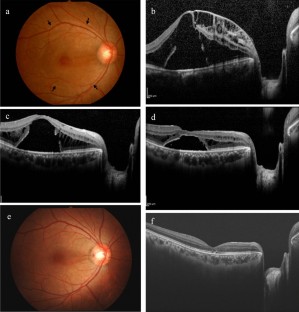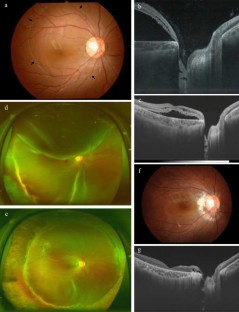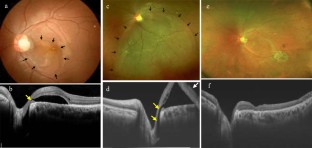 References
1.

Kranenburg EW. Crater-like holes in the optic disc and central serous retinopathy. Arch Ophthalmol. 1960;64:912–24.

2.

Brown GC, Shields JA, Goldberg RE. Congenital pits of the nerve head: II. Clin Stud Hum Ophthalmol. 1980;87:51–65.

3.

Sobol WM, Blodi CF, Folk JC, Weingeist TA. Long-term visual outcome in patients with optic nerve pit and serous retinal detachment of the macula. Ophthalmology. 1990;97:1539–42.

4.

Ferry AP. Macular detachment associated with congenital pit of the optic nerve head. Pathologic findings in two cases simulating malignant melanoma of the choroid. Arch Ophthalmol. 1963;70:346–57.

5.

Irvine AR, Crawford JB, Sullivan JH. The pathogenesis of retinal detachment with morning glory disc and optic pit. Retina. 1986;6:146–50.

6.

Lincoff H, Lopez R, Kreissig I, Yannuzzi L, Cox M, Burton T. Retinoschisis associated with optic nerve pits. Arch Ophthalmol. 1988;106:61–7.

7.

Rutledge BK, Puliafito CA, Duker JS, Hee MR, Cox MS. Optical coherence tomography of macular lesions associated with optic nerve head pits. Ophthalmology. 1996;103:1047–53.

8.

Imamura Y, Zweifel SA, Fujiwara T, Freund KB, Spaide RF. High-resolution optical coherence tomography findings in optic pit maculopathy. Retina. 2010;30:1104–12.

9.

Hirakata A, Hida T, Ogasawara A, Iizuka N. Multilayered retinoschisis associated with optic disc pit. Jpn J Ophthalmol. 2005;49:414–6.

10.

Bonnet M. Serous macular detachment associated with optic nerve pits. Graefes Arch Clin Exp Ophthalmol. 1991;229:526–32.

11.

Polunina AA, Todorova MG, Palmowski-Wolfe AM. Function and morphology in macular retinoschisis associated with optic disc pit in a child before and after its spontaneous resolution. Doc Ophthalmol. 2012;124:149–55.

12.

Tobe T, Nishimura T, Uyama M. Laser photocoagulation for pit-macular syndrome. Ganka-Rinshoiho. 1991;85:124–30 (in Japanese).

13.

Cox MS, Witherspoon CD, Morris RE, Flynn HW. Evolving techniques in the treatment of macular detachment caused by optic nerve pits. Ophthalmology. 1988;95:889–96.

14.

Jain N, Johnson MW. Pathogenesis and treatment of maculopathy associated with cavitary optic disc anomalies. Am J Ophthalmol. 2014;158:423–35.

15.

Lincoff H, Yannuzzi L, Singerman L, Kreissig I, Fisher Y. Improvement in visual function after displacement of the retinal elevations emanating from optic pits. Arch Ophthalmol. 1993;111:1071–9.

16.

Lincoff H, Kreissig I. Optical coherence tomography of pneumatic displacement of optic disc pit maculopathy. Br J Ophthalmol. 1998;82:367–72.

17.

Theodossiadis GP. Treatment of maculopathy associated with optic disk pit by sponge explant. Am J Ophthalmol. 1996;121:630–7.

18.

Postel EA, Pulido JS, McNamara JA, Johnson MW. The etiology and treatment of macular detachment associated with optic nerve pits and related anomalies. Trans Am Ophthalmol Soc. 1998;96:73–88.

19.

Hirakata A, Okada AA, Hida T. Long-term results of vitrectomy without laser treatment for macular detachment associated with an optic disc pit. Ophthalmology. 2005;112:1430–5.

20.

Spaide RF, Fisher Y, Ober M, Stoller G. Surgical hypothesis: inner retinal fenestration as a treatment for optic disc pit maculopathy. Retina. 2006;26:89–91.

21.

Hirakata A, Inoue M, Hiraoka T, McCuen BW 2nd. Vitrectomy without laser treatment or gas tamponade for macular detachment associated with an optic disc pit. Ophthalmology. 2012;119:810–8.

22.

Steel DHW, Suleman J, Murphy DC, Song A, Dodds S, Rees J. Optic disc pit maculopathy: A two-year nationwide prospective population-based study. Ophthalmology. 2018;125:1757–64.

23.

Abouammoh MA, Alsulaiman SM, Gupta VS, Mousa A, Hirakata A, Berrocal MH, et al. Pars plana vitrectomy with juxtapapillary laser photocoagulation versus vitrectomy without juxtapapillary laser photocoagulation for the treatment of optic disc pit maculopathy: the results of the KKESH International Collaborative Retina Study Group. Br J Ophthalmol. 2016;100:478–83.

24.

Ooto S, Mittra RA, Ridley ME, Spaide RF. Vitrectomy with inner retinal fenestration for optic disc pit maculopathy. Ophthalmology. 2014;121:1727–33.

25.

Bottoni F, Cereda M, Secondi R, Bochicchio S, Staurenghi G. Vitrectomy for optic disc pit maculopathy: a long-term follow-up study. Graefes Arch Clin Exp Ophthalmol. 2018;256:675–82.

26.

Theodossiadis G, Theodossiadis P, Chatziralli I. Thoughts and challenges for the current treatment of optic disc pit maculopathy. Semin Ophthalmol. 2020;35:232–6.

27.

Michalewska Z, Nawrocka Z, Nawrocki J. Swept-source OCT and swept-source OCT angiography before and after vitrectomy with stuffing of the optic pit. Ophthalmol Retina. 2020;4:927–37.

28.

Sakamoto T, Miyazaki M, Hisatomi T, Nakamura T, Ueno A, Itaya K, et al. Triamcinolone-assisted pars plana vitrectomy improves the surgical procedures and decreases the postoperative blood-ocular barrier breakdown. Graefes Arch Clin Exp Ophthalmol. 2002;240:423–9.

29.

Hisatomi T, Notomi S, Tachibana T, Oishi S, Asato R, Yamashita T, et al. Brilliant Blue G double staining enhances successful internal limiting membrane peeling with minimal adverse effect by low cellular permeability into live cells. Retina. 2015;35:310–8.

30.

Johnson TM, Johnson MW. Pathogenic implications of subretinal gas migration through pits and atypical colobomas of the optic nerve. Arch Ophthalmol. 2004;122:1793–800.

31.

Chang S, Haik BG, Ellsworth RM, St Louis L, Berrocal JA. Treatment of total retinal detachment in morning glory syndrome. Am J Ophthalmol. 1984;97:596–600.

32.

Strauss RW, Priglinger SG, Alge CS, Grueterich M, Haritoglou C. Persistent serous retinal detachment after radial optic neurotomy. Clin Exp Ophthalmol. 2006;34:718–20.

33.

Rayat JS, Rudnisky CJ, Waite C, Huang P, Sheidow TG, Kherani A, et al. Long-term outcomes for optic disk pit maculopathy after vitrectomy. Retina. 2015;35:2011–7.

34.

Mohammed OA, Pai A. Inverted autologous internal limiting membrane for management of optic disc pit with macular detachment. Middle East Afr J Ophthalmol. 2013;20:357–9.

35.

Travassos AS, Regadas I, Alfaiate M, Silva ED, Proença R, Travassos A. Optic pit: novel surgical management of complicated cases. Retina. 2013;33:1708–14.

36.

Nakashizuka H, Furuya K, Onoe H, Wakatsuki Y, Machida Y, Kitagawa Y, et al. Anterior lens capsule transplantation for acquired optic disc pit maculopathy. Ophthalmic Surg Lasers Imaging Retina. 2019;50:649–52.
Acknowledgements
The authors thank Professor Emeritus Duco Hamasaki of the Bascom Palmer Eye Institute, University of Miami, Miami, Florida, for discussions and thorough editing of the manuscript. Supported in part by Research Grant 17K11431 from the Japan Society for the Promotion of Science, Tokyo, Japan. Previous presentation Presented in part at the XXXIInd Meeting of the Club Jules Gonin, 2020.
Ethics declarations
Conflicts of interest
M. Sano, None; A. Hirakata, Grant, Lecture fee (Santen, Alcon, Novartis, Senju, Bayer), Grant (HOYA), Lecture fee (Nikon, Kowa, Nidek); Y. Kita, None; Y. Itoh, None; T. Koto, Lecture fee (Santen, Bayer, Novartis, HOYA, Ellex, Pfizer, Kowa, AMO); M. Inoue, Grant, Lecture fee (Alcon), Lecture fee (Novartis, Santen, Senju, Bayer, HOYA, ZEISS, Kowa).
Additional information
Publisher's Note
Springer Nature remains neutral with regard to jurisdictional claims in published maps and institutional affiliations.
Corresponding Author: Akito Hirakata
About this article
Cite this article
Sano, M., Hirakata, A., Kita, Y. et al. Risk factors for failure of resolving optic disc pit maculopathy after primary vitrectomy without laser photocoagulation. Jpn J Ophthalmol (2021). https://doi.org/10.1007/s10384-021-00866-0
Received:

Accepted:

Published:
Keywords
Optic disc pit

Vitrectomy

Retinoschisis

Retinal detachment

Headache