Abstract
Purpose
To study the effect of eye dominance on excyclotorsion in unilateral superior oblique palsy (USOP).
Study design
Retrospective clinical study
Methods
Objective excyclotorsion was measured as the disc-to-fovea angle by fundus photography OU. Subjective excyclotorsion was determined with a major amblyoscope based on the difference in the earth vertical and subjective visual vertical. Eye dominance was determined by the hole-in-the-card method. A p-value ≤ 0.05 was considered statistically significant.
Subjects
Data of 24 USOP patients were retrospectively collected. The diagnosis was mainly made by the Parks 3-step method, history and the presence of characteristic excyclotorsion. When possible, orbital magnetic resonance imaging findings were obtained.
Results
The median angle of objective excyclotorsion in the paretic eyes was significantly larger than in the nonparetic eyes. Both median angles of objective/subjective excyclotorsion in the dominant eye were significantly smaller than those of the non-dominant eye. Patients were subdivided into two groups: group A, those whose paretic eye was the dominant eye (n = 13); group B, those whose paretic eye was the non-dominant eye (n = 11). The objective/subjective excyclotorsional angles of the paretic eye were significantly larger than of the non-paretic eye only in group B.
Conclusion
In USOP the angle of excyclotorsion in the dominant eye is smaller than in the non-dominant eye. This may imply that the vertical sense of visual space is mainly adapted to the dominant eye, keeping the subjective vertical close to the earth vertical.
Access options
Buy single article
Instant access to the full article PDF.
US$ 39.95
Tax calculation will be finalised during checkout.
Subscribe to journal
Immediate online access to all issues from 2019. Subscription will auto renew annually.
US$ 79
Tax calculation will be finalised during checkout.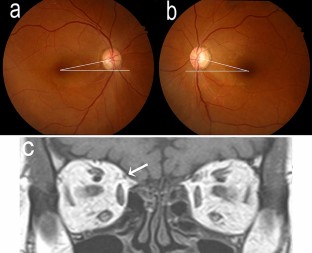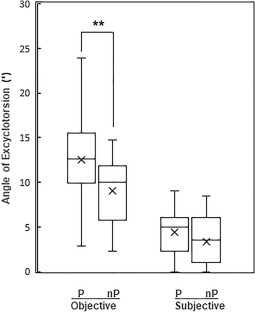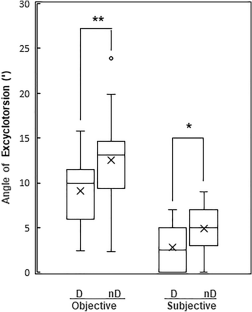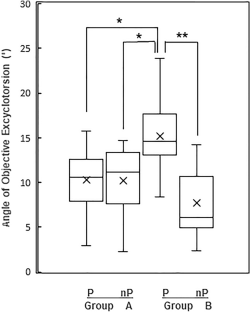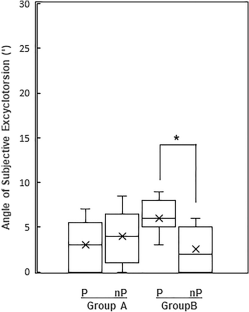 References
1.

Dieterich M, Brandt T. Ocular torsion and perceived vertical in oculomotor, trochlear and abducens nerve palsies. Brain. 1993;116:1095–104.

2.

Olivier P, von Noorden GK. Excyclotropia of the nonparetic eye in unilateral superior oblique muscle paralysis. Am J Ophthalmol. 1982;93:30–3.

3.

Kim DH, Kim H, Lim HT. The influence of ocular sighting dominance on fundus torsion in patients with unilateral congenital superior oblique palsy. Graefe's Arch Clin Exp Ophthalmol. 2017;255:2473–9.

4.

Bixenman WW, von Noorden GK. Apparent foveal displacement in normal subjects and in cyclotropia. Ophthalmology. 1982;89:58–62.

5.

Kanda Y. Investigation of the freely-available easy-to-use software 'EZR' (Easy R) for medical statics. Bone Marrow Transplant. 2013;48:452–8.

6.

Oohira A. Aging and objective physiologic excyclotorsion determined by fundus photography. Nippon Ganka Gakkai Zasshi. 2016;120:548–51 ((in Japanese)).

7.

Oohira A. Objective excyclotorsion in adults aged 76 years and older and its association with eye dominance. Nippon Ganka Gakkai Zasshi. 2018;122:499–502 ((in Japanese)).

8.

Akaza E, Fujita K, Shimada H, Yuzawa M. Sighting dominance in patients with macular disease. Nippon Ganka Gakkai Zasshi. 2007;111:322–5 ((in Japanese)).

9.

Pointer JS. Sighting dominance, handedness, and visual acuity preference, three mutually exclusive modalities? Ophthal Physiol Opt. 2001;21:117–26.

10.

Yang E, Blake R, McDonaldII JE. A new interocular suppression technique for measuring sensory eye dominance. Invest Ophthalmol Vis Sci. 2010;51:588–93.

11.

Dieterich M, Brandt T. Ocular torsion and tilt of subjective visual vertical are sensitive brainstem signs. Ann Neurol. 1993;33:292–9.

12.

Lee SH, Kim SY. Ocular torsion measured by fundus photograph and optical coherent tomography in normal Koreans. J Korean Ophthalmol Soc. 2013;54:1091–6.

13.

Piedrahita-Alonso E, Valverde-Megias A, Gomez-de-Liano R. Rotation of retinal vascular arcades and comparison with disc-fovea angle in the assessment of cycloposition. Br J Ophthalmol. 2014;98:115–9.

14.

Lefevre F, Leroy K, Delrieu B, Lassale D, Pechereau A. Study of the optic nerve head-fovea angle with retinophotography in healthy patients. J Fr Ophthalmol. 2007;30:598–606.

15.

Woillez JP, Honore J, Defoort S, Hache JC. Evaluating static monocular cyclotorsion with central visual field and scanning laser ophthalmoscope. J Fr Ophthalmol. 2007;30:593–7.

16.

Oohira A. Excyclotorsion and eye dominancy in age-related small-angle vertical strabismus. Nippon Ganka Gakkai Zasshi. 2019;123:161–6 ((in Japanese)).

17.

Kushner BJ, Hariharan L. Observations about objective and subjective ocular torsion. Ophthalmol. 2009;116:2001–10.

18.

Leigh RJ, Zee DS. Pathophysiology of some commonly encountered signs in strabismus. In: The Neurology of Eye Movements. 4th ed. Oxford: Oxford Univ Press; 2006. p. 409–14.

19.

Oohira A. Zee DS. Disconjugate ocular motor adaptation in rhesus monkey. Vision Res. 1992;32:489–97.
Acknowledgements
Professional medical English editing was provided by Brian Quinn, Editor-in-chief, Japan Medical Communication.
Ethics declarations
Conflicts of interest
A. Oohira, None.
Additional information
Publisher's Note
Springer Nature remains neutral with regard to jurisdictional claims in published maps and institutional affiliations.
Corresponding Author: Akihiko Oohira
About this article
Cite this article
Oohira, A. Influence of eye dominance on objective and subjective excyclotorsion in unilateral superior oblique muscle palsy: objective cyclotorsion measured by fundus photography. Jpn J Ophthalmol 65, 644–650 (2021). https://doi.org/10.1007/s10384-021-00853-5
Received:

Accepted:

Published:

Issue Date:
Keywords
Eye dominance

Excyclotorsion

Objective and subjective

Superior oblique palsy