Abstract
Purpose
To detect the characteristics of cystoid retina associated with central serous chorioretinopathy (CSC) using multimodal imaging and to evaluate anatomical and functional responses for treatment.
Study design
A retrospective case series
Method
This retrospective study included 21 eyes of 17 patients with the treatment for combined cystoid retinal changes and submacular fluid associated with CSC. Multimodal imaging analysis including cross-sectional OCT, en face OCT, fluorescein and indocyanine green angiography, and fundus autofluorescence were performed to assess the characteristics of cystoid changes. In 21 eyes of 17 patients, clinical courses after treatment were reviewed.
Results
Fourteen of 17 patients were men (82.4%), and the mean age was 63.2. Fluorescein angiography revealed one or more focal leakages in all eyes, and intense leakage, due to peripapillary atrophy and from areas showing retinal pigment epithelial atrophy, was observed in 11 eyes and 12 eyes respectively. En face OCT visualized cystoid retinal changes as honey-comb like areas, and this was observed in the papillomacular region in 16 eyes (76.2%). After reduced-fluence photodynamic therapy (PDT), combination of anti-VEGF and PDT, or photocoagulation, subretinal fluid resolved in 20 eyes (95.2%), and complete resolution of cystoid retinal changes was obtained in 13 eyes (61.9%).
Conclusion
Cystoid retinal changes can be associated with patchy retinal pigment epithelial atrophy and with peripapillary atrophy in CSC eyes. Laser treatment is beneficial for resolving cystoid retina as well as subretinal fluid.
Access options
Buy single article
Instant access to the full article PDF.
USD 39.95
Price includes VAT (USA)
Tax calculation will be finalised during checkout.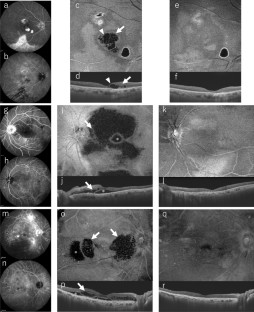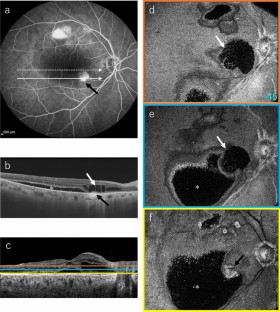 References
1.

Gass JD. Pathogenesis of disciform detachment of the neuroepithelium. Am J Ophthalmol. 1967;63(Suppl):1–139.

2.

Yannuzzi LA, Shakin JL, Fisher YL, Altomonte MA. Peripheral retinal detachments and retinal pigment epithelial atrophic tracts secondary to central serous pigment epitheliopathy. Ophthalmology. 1984;91:1554–72.

3.

Prunte C, Flammer J. Choroidal capillary and venous congestion in central serous chorioretinopathy. Am J Ophthalmol. 1996;121:26–34.

4.

Iida T, Kishi S, Hagimura N, Shimizu K. Persistent and bilateral choroidal vascular abnormalities in central serous chorioretinopathy. Retina. 1999;19:508–12.

5.

Levine R, Brucker AJ, Robinson F. Long-term follow-up of idiopathic central serous chorioretinopathy by fluorescein angiography. Ophthalmology. 1989;96:854–9.

6.

Iida T, Yannuzzi LA, Spaide RF, Borodoker N, Carvalho CA, Negrao S. Cystoid macular degeneration in chronic central serous chorioretinopathy. Retina. 2003;23:1–8.

7.

Piccolino FC, De La Longrais RR, Manea M, Cicinelli S. Posterior cystoid retinal degeneration in central serous chorioretinopathy. Retina. 2008;28:1008–12.

8.

Guyer DR, Yannuzzi LA, Slakter JS, Sorenson JA, Ho A, Orlock D. Digital indocyanine green videoangiography of central serous chorioretinopathy. Arch Ophthalmol. 1994;112:1057–62.

9.

Fujimoto H, Gomi F, Wakabayashi T, Sawa M, Tsujikawa M, Tano Y. Morphologic changes in acute central serous chorioretinopathy evaluated by fourier-domain optical coherence tomography. Ophthalmology. 2008;115:1494–1500, 1500.e1–2.

10.

Baran NV, Gurlu VP, Esgin H. Long-term macular function in eyes with central serous chorioretinopathy. Clin Exp Ophthalmol. 2005;33:369–72.

11.

Loo RH, Scott IU, Flynn HWJ, Gass JDM, Murray TG, Lou LM, et al. Factors associated with reduced visual acuity during long-term follow-up of patients with idiopathic central serous chorioretinopathy. Retina. 2002;22:19–24.

12.

Shin Y-I, Kim K-M, Lee M-W, Kim J-Y, Jo Y-J. Long-term results of focal laser photocoagulation and photodynamic therapy for the treatment of central serous chorioretinopathy. Jpn J Ophthalmol. 2020;64:28–36.

13.

Ooto S, Tsujikawa A, Mori S, Tamura H, Yamashiro K, Otani A, et al. Retinal microstructural abnormalities in central serous chorioretinopathy and polypoidal choroidal vasculopathy. Retina. 2011;31:527–34.

14.

Astroz P, Balaratnasingam C, Yannuzzi LA. Cystoid macular edema and cystoid macular degeneration as a result of mutiple pathogenic factors in the setting of central serous chorioretinopathy. Retin Cases Brief Rep. 2017;11(Suppl 1):S197–201.

15.

Mrejen S, Balaratnasingam C, Kaden TR, Bottini A, Dansingani K, Bhavsar KV, et al. Long-term visual outcomes and causes of vision loss in chronic central serous chorioretinopathy. Ophthalmology. 2019;126:576–88.

16.

Sato T, Kishi S, Watanabe G, Matsumoto H, Mukai R. Tomographic features of branching vascular networks in polypoidal choroidal vasculopathy. Retina. 2007;27:589–94.

17.

Inoue R, Sawa M, Tsujikawa M, Gomi F. Association between the efficacy of photodynamic therapy and indocyanine green angiography findings for central serous chorioretinopathy. Am J Ophthalmol. 2010;149:441–2.

18.

Lee JH, Park H-YL, Baek J, Lee WK. Alterations of the lamina cribrosa are associated with peripapillary retinoschisis in glaucoma and pachychoroid spectrum disease. Ophthalmology. 2016;123:2066–76.

19.

Phasukkijwatana N, Freund KB, Dolz-Marco R, Al-Sheikh M, Keane PA, Egan CA, et al. Peripapillary pachychoroid syndrome. Retina. 2018;38:1652–67.

20.

Araki T, Ishikawa H, Iwahashi C, Niki M, Mitamura Y, Sugimoto M, et al. Central serous chorioretinopathy with and without steroids: a multicenter survey. PLoS ONE. 2019;14:1–9.
Acknowledgments
This manuscript was partly supported by the Grants-in-Aids for Scientific Research. Fumi Gomi obtained a research grant from Novartis. We thank Jane Charbonneau, DVM, from Edanz Group (https://en-author-services.edanzgroup.com/ac) for editing a draft of this manuscript.
Ethics declarations
Conflicts of interest
H. Fukuyama, None; Y. Komuku, None; F. Gomi, Grant (Pfizer, Alcon, Novartis, Otsuka), Lecture fee (Santen, Senju, GlaxoSmithKline), Speaker fee (Bayer).
Additional information
Publisher's Note
Springer Nature remains neutral with regard to jurisdictional claims in published maps and institutional affiliations.
Corresponding Author: Fumi Gomi
About this article
Cite this article
Fukuyama, H., Komuku, Y. & Gomi, F. Characteristics and treatment responses of cystoid retina associated with central serous chorioretinopathy. Jpn J Ophthalmol 65, 372–379 (2021). https://doi.org/10.1007/s10384-021-00815-x
Received:

Accepted:

Published:

Issue Date:
Keywords
Photodynamic therapy

En face

Optical coherence tomography

Central serous chorioretinopathy

Cystoid retinal changes