Abstract
Purpose
Changes in optic disc and peripapillary structures associated with optic nerve edema in idiopathic intracranial hypertension (IIH), can be evaluated with spectral domain optical coherence tomography (SD-OCT). We aimed to evaluate the association between increased cerebrospinal fluid (CSF) opening pressure and changes in peripapillary structures detected by SD-OCT and to determine whether these changes can be used to assess the changes in CSF pressure without performing lumbar puncture (LP).
Study design
Retrospective study
Methods
We included 54 eyes of 28 patients with bilateral papilledema who had peripapillary SD-OCT imaging within 24 h before the LP. Correlation between CSF pressure and peripapillary OCT parameters including maximal retinal thickness, maximal anterior retinal projection, maximal retinal nerve fiber layer (RNFL) thickness and Bruch membrane opening (BMO) was evaluated.
Results
Bruch Membrane opening and maximal RNFL thickness were significantly higher in patients with increased CSF pressure. There exist correlations between CSF pressure and BMO, maximal RNFL thickness and maximal retinal thickness. (Spearman's Rho: 0.791, 0.482 and 0.297, p < 0.001, < 0.001 and 0.029, respectively) The cut off value of BMO for the prediction of increased CSF pressure was 1785 µm, with a sensitivity of 78.8% and a specificity of 81%. The cut off value for maximal RNFL thickness was 174 µm, with a sensitivity of 75.8% and a specificity of 61.9%.
Conclusion
Bruch membrane opening and maximal RNFL thickness can give an idea about increased CSF pressure values in IIH patients. Thus SD-OCT can be used to detect CSF pressure changes in these patients.
Access options
Buy single article
Instant access to the full article PDF.
US$ 39.95
Tax calculation will be finalised during checkout.
Subscribe to journal
Immediate online access to all issues from 2019. Subscription will auto renew annually.
US$ 79
Tax calculation will be finalised during checkout.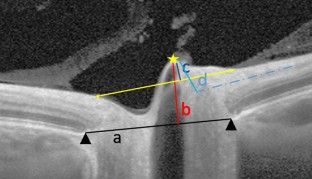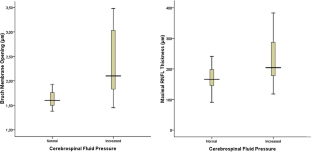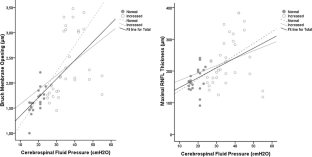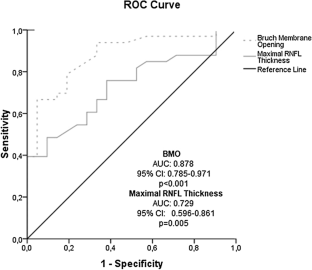 References
1.

Rigi M, Almarzouqi SJ, Morgan ML, Lee AG. Papilledema: epidemiology, etiology, and clinical management. Eye Brain. 2015;7:47–57.

2.

Trobe JD. Papilledema: the vexing issues. J Neuroophthalmol. 2011;31:175–86.

3.

Friedman DI. The pseudotumor cerebri syndrome. Neurol Clin. 2014;32:363–96.

4.

Doherty CM, Forbes RB. Diagnostic lumbar puncture. Ulster Med J. 2014;83:93–102.

5.

Lee SC, Lueck CJ. Cerebrospinal fluid pressure in adults. J Neuroophthalmol. 2014;34:278–83.

6.

SwansonJW, Tomas S Aleman TS, XuW, Gui-Shuang Ying GS, Wei Pan W, Liu GT, et al. Evaluation of Optical Coherence Tomography to Detect Elevated Intracranial Pressure in Children. JAMA Ophthalmol 2017; 135: 320–28.

7.

Frisen L. Swelling of the optic nerve head: a staging scheme. J Neurol Neurosurg Psychiatry. 1982;45:13–8.

8.

Scott CJ, Kardon RH, Lee AG, Frisen L, Wall M. Diagnosis and grading of papilledema in patients with raised intracranial pressure using optical coherence tomography vs clinical expert assessment using a clinical staging scale. Arch Ophthalmol. 2010;128:705–11.

9.

Rebolleda G, Munoz-Negrete FJ. Follow-up of mild papilledema in idiopathic intracranial hypertension with optical coherence tomography. Invest Ophthalmol Vis Sci. 2009;50:5197–200.

10.

Skau M, Yri H, Sander B, Gerds TA, Milea D, Jensen R. Diagnostic value of optical coherence tomography for intracranial pressure in idiopathic intracranial hypertension. Graefes Arch Clin Exp Ophthalmol. 2013;251:567–74.

11.

Kardon R. Optical coherence tomography in papilledema: what am I missing? J Neuroophthalmol. 2014;34(Suppl):S10–7.

12.

Kaufhold F, Kadas EM, Schmidt C, Kunte H, Hoffmann J, Zimmermann H, et al. Optic nerve head quantification in idiopathic intracranial hypertension by spectral domain OCT. PLoS ONE. 2012;7:e36965.

13.

Eren Y, Kabatas N, Guven H, Comoglu S, Gurdal C. Evaluation of optic nerve head changes with optic coherence tomography in patients with idiopathic intracranial hypertension. Acta Neurol Belg. 2019;119:351–7.

14.

Minckler DS, Tso MO, Zimmerman LE. A light microscopic, autoradiographic study of axoplasmic transport in the optic nerve head during ocular hypotony, increased intraocular pressure, and papilledema. Am J Ophthalmol. 1976;82:741–57.

15.

Tso MO, Hayreh SS. Optic disc edema in raised intracranial pressure. IV. Axoplasmic transport in experimental papilledema. Arch Ophthalmol. 1977;95:1458–62.

16.

Anand A, Pass A, Urfy MZ, Tang R, Cajavilca C, Calvillo E, et al. Optical coherence tomography of the optic nerve head detects acute changes in intracranial pressure. J Clin Neurosci. 2016;29:73–6.

17.

Sibony P, Kupersmith MJ, Rohlf FJ. Shape analysis of the peripapillary RPE layer in papilledema and ischemic optic neuropathy. Invest Ophthalmol Vis Sci. 2011;52:7987–95.

18.

Alperin N, Bagci AM, Lam BL, Sklar E. Automated quantitation of the posterior scleral flattening and optic nerve protrusion by MRI in idiopathic intracranial hypertension. AJNR Am J Neuroradiol. 2013;34:2354–9.

19.

Sibony P, Kupersmith MJ, Honkanen R, Rohlf FJ, Torab-Parhiz A. Effects of lowering cerebrospinal fluid pressure on the shape of the peripapillary retina in intracranial hypertension. Invest Ophthalmol Vis Sci. 2014;55:8223–31.

20.

Gampa A, Vangipuram G, Shirazi Z, Moss HE. Quantitative Association Between Peripapillary Bruch's Membrane Shape and Intracranial Pressure. Invest Ophthalmol Vis Sci. 2017;58:2739–45.

21.

Lee DS, Lee EJ, Kim TW, Park YH, Kim J, Lee JW, et al. Influence of translaminar pressure dynamics on the position of the anterior lamina cribrosa surface. Invest Ophthalmol Vis Sci. 2015;56:2833–41.
Ethics declarations
Conflicts of interest
P. Bingöl Kızıltunç, None; H. Atilla, None.
Additional information
Publisher's Note
Springer Nature remains neutral with regard to jurisdictional claims in published maps and institutional affiliations.
Corresponding Author: Pınar Bingöl Kızıltunç
About this article
Cite this article
Bingöl Kızıltunç, P., Atilla, H. A novel biomarker for increased intracranial pressure in idiopathic intracranial hypertension. Jpn J Ophthalmol 65, 416–422 (2021). https://doi.org/10.1007/s10384-020-00807-3
Received:

Accepted:

Published:

Issue Date:
Keywords
Bruch membrane opening

Cerebrospinal fluid

Optical coherence tomography

Idiopathic intracranial hypertension

Optic disc