Abstract
Purpose
The aim of the study was to compare the effect of viscotrabeculotomy and the effect of trabeculectomy on the intraocular pressure (IOP) in cases of open angle glaucoma (OAG).
Study design
Prospective comparative study.
Patients and methods
The study was conducted on 148 eyes of 148 patients (87 men) presenting with and operated upon for OAG at Mansoura Ophthalmic center of Mansoura University in Mansoura, Egypt from 2012 to 2016. Patients were randomized into viscotrabeculotomy and trabeculectomy groups. Postoperative follow up visits were scheduled at weeks 1 and 2 then months 1, 2, 3, 6, 9, 12, 15, 18, 21 and 24. Complications were noted and managed according to needs. The primary outcome measure was IOP.
Results
The study was conducted on 148 eyes (74 right) of 148 patients (87 men). The mean ± SD (range, median) age of the study patients was 50.1 ± 11.5 (20–67, 53) and 51.1 ± 10.0 (27–65, 54.5) years respectively. The mean ± SD (range, median) IOP of the study eyes on maximal tolerated IOP lowering therapy was 23.15 ± 2.31 (19–30, 23.0) and 23.64 ± 1.87 (20–28, 23.0) mmHg respectively and at the end of the 24 months of follow up was 14.91 ± 2.4 (12–23, 14) and 16.64 ± 2.8 (14–25, 16) mmHg respectively (p =  < 0.0005). Notable complications included a mild hyphema in the viscotrabeculotomy group and an IOP spike in the trabeculectomy group.
Conclusions
Viscotrabeculotomy and trabeculectomy showed efficacy and safety in OAG patients. The former resulted in better IOP reduction.
Access options
Buy single article
Instant access to the full article PDF.
US$ 39.95
Tax calculation will be finalised during checkout.
Subscribe to journal
Immediate online access to all issues from 2019. Subscription will auto renew annually.
US$ 79
Tax calculation will be finalised during checkout.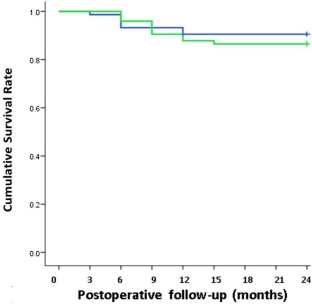 References
1.

Quigley HA. Glaucoma. Lancet. 2011;16(377):1367–77.

2.

Morrison JC, Pollack IP, editors. Glaucoma: science and practice. New York: Thieme; 2003. p. 154–5.

3.

Chan KKW, Tang F, Tham CCY, Young AL, Cheung CY. Retinal vasculature in glaucoma: a review. BMJ Open Ophthalmol. 2017;1:e000032.

4.

Lee SH, Kim T-W, Lee EJ, Girard MJA, Mari JM, Ritch R. Ocular and clinical characteristics associated with the extent of posterior lamina cribrosa curve in normal tension glaucoma. Sci Rep. 2018;8:961.

5.

Evangelho K, Mogilevskaya M, Losada-Barragan M, Vargas-Sanchez JK. Pathophysiology of primary open-angle glaucoma from a neuroinflammatory and neurotoxicity perspective: a review of the literature. Int Ophthalmol. 2019;39:259–71.

6.

Heijl A, Leske MC, Bengtsson B, Hyman L, Bengtsson B, Hussein M, Early Manifest Glaucoma Trial G. Reduction of intraocular pressure and glaucoma progression: results from the Early Manifest Glaucoma Trial. Arch Ophthalmol. 2002;120:1268–79.

7.

Rajurkar K, Dubey S, Gupta PP, John D, Chauhan L. Compliance to topical anti-glaucoma medications among patients at a tertiary hospital in North India. J Curr Ophthalmol. 2018;30:125–9.

8.

Tanna AP, Johnson M. Rho kinase inhibitors as a novel treatment for glaucoma and ocular hypertension. Ophthalmology. 2018;125:1741–56.

9.

Jacob TF, Singh V, Dixit M, Ginsburg-Shmuel T, Fonseca B, Pintor J, et al. A promising drug candidate for the treatment of glaucoma based on a P2Y6-receptor agonist. Purinergic Signal. 2018;14:271–84.

10.

Liang YB, Wu HX, Liao N, Li M, Zhang Q, Wang PJ, et al. Trends of application of topical anti-glaucoma topical drugs in the Eye Hospital of Wenzhou Medical University for ten years. Zhonghua Yan Ke Za Zhi. 2018;54:520–5 ((in Chinese)).

11.

Dietlein TS, Moalem Y, Lappas A, Rosentreter A. Glaucoma filtering surgery in the elderly over eighty years old: an analysis of postoperative risks. Klin Monbl Augenheilkd. 2014;231:1224–9 ((in German)).

12.

Leleu I, Penaud B, Blumen-Ohana E, Rodallec T, Adam R, Laplace O, et al. Central 10-degree visual field change following non-penetrating deep sclerectomy in severe and end-stage glaucoma: preliminary results. Graefes Arch Clin Exp Ophthalmol. 2018;256:1489–98.

13.

Hohberger B, Welge-Lüßen UC, Lämmer R. MIGS: therapeutic success of combined Xen Gel Stent implantation with cataract surgery. Graefes Arch Clin Exp Ophthalmol. 2018;256:621–5.

14.

Arish M, Khallaghi H, Soltani ER. A comparative study of sutureless scleral tunnel trabeculectomy versus conventional trabeculectomy in the management of primary open-angle glaucoma. Int Ophthalmol. 2014;34:1055–9.

15.

Kinoshita-Nakano E, Nakanishi H, Ohashi-Ikeda H, Morooka S, Akagi T. Comparative outcomes of trabeculotomy ab externo versus trabecular ablation ab interno for open angle glaucoma. Jpn J Ophthalmol. 2018;62:201–8.

16.

Dang Y-L, Wang X, Dai W-W, Huang P, Loewen NA, Zhang C, et al. Two-year outcomes of ab interno trabeculectomy with the Trabectome for Chinese primary open angle glaucoma: a retrospective multicenter study. Int J Ophthalmol. 2018;11:945–50.

17.

Otsu Y, Matsuoka M, Koshibu K, Miwa K, Kuro M, Minamino KT, et al. Reduction of intraocular pressure by additional trabeculotomy Ab Externo in eyes with primary open-angle glaucoma. J Glaucoma. 2018;27:914–9.

18.

ElSheikha OZ, Abdelhakim MA, Elhilali HM, Kassem RR. Is viscotrabeculotomy superior to conventional trabeculotomy in the management of Egyptian infants with congenital glaucoma? Acta Ophthalmol. 2015;93:e366–71.

19.

William A, Spitzer MS, Doycheva D, Dimopoulos S, Leitritz MA, Voykov B. Comparison of ab externo trabeculotomy in primary open-angle glaucoma and uveitic glaucoma: long-term outcomes. Clin Ophthalmol (Auckland, NZ). 2016;10:929–34.

20.

De Moraes CG, Mansouri K, Liebmann JM, Ritch R. Triggerfish Consortium. Association Between 24-Hour Intraocular Pressure Monitored With Contact Lens Sensor and Visual Field Progression in Older Adults With Glaucoma. JAMA Ophthalmol. 2018;136:779–85.

21.

Salcedo H, Arciniega D, Mayorga M, Wu L. Role of the water-drinking test in medically treated primary open angle glaucoma patients. J Fr Ophtalmol. 2018;41:421–4.

22.

Newman-Casey PA, Robin AL, Blachley T, Farris K, Heisler M, Resnicow K, et al. The most common barriers to glaucoma medication adherence: a cross-sectional survey. Ophthalmology. 2015;122:1308–16.

23.

Frech S, Kreft D, Guthoff RF, Doblhammer G. Pharmacoepidemiological assessment of adherence and influencing co-factors among primary open-angle glaucoma patients—an observational cohort study (Bhattacharya S, ed). PLoS ONE. 2018;13:e0191185.

24.

Sihota R, Angmo D, Ramaswamy D, Dada T. Simplifying, "target" intraocular pressure for different stages of primary open-angle glaucoma and primary angle-closure glaucoma. Indian J Ophthalmol. 2018;66:495–505.

25.

Kazemian P, Lavieri MS, Van Oyen MP, Andrews C, Stein JD. Personalized prediction of glaucoma progression under different target intraocular pressure levels using filtered forecasting methods. Ophthalmology. 2018;1254:569–77.

26.

Hoang TKH, Kim YK, Jeoung JW, Park KH. Relationship between age and surgical success after trabeculectomy with adjunctive mitomycin C. Eye. 2018;32:1321–8.

27.

Jiang L, Eaves S, Dhillon N, Ranjit P. Postoperative outcomes following trabeculectomy and nonpenetrating surgical procedures: a 5-year longitudinal study. Clin Ophthalmol (Auckland, NZ). 2018;12:995–1002.

28.

Gilmour DF, Manners TD, Devonport H, Varga Z, Solebo AL, Miles J. Viscocanalostomy versus trabeculectomy for primary open angle glaucoma: 4-year prospective randomized clinical trial. Eye (Lond). 2009;23:1802–7.

29.

Kumaran A, Husain R, Htoon HM, Aung T. Longitudinal changes in bleb height, vascularity, and conjunctival microcysts after trabeculectomy. J Glaucoma. 2018;27:578–84.

30.

Güven Yılmaz S, Değirmenci C, Palamar M, Yağcı A. Evaluation of filtering bleb function after trabeculectomy with mitomycin C using biomicroscopy, anterior segment optical coherence tomography and in vivo confocal microscopy. Turk J Ophthalmol. 2015;45:132–7.

31.

Daher F, Almeida I, Ushida M, Soares B, Dorairaj S, Kanadani FN, et al. Intraocular pressure spikes within first postoperative hours following standard trabeculectomy: incidence and associated factors. Ophthalmic Res. 2018;59:142–7.
Ethics declarations
Conflicts of interest
A. S. Elwehidy, None; T. H. Mokbel, None; N. H. L. Bayoumi, None; A. E. Badawi, None; S. M. Hagras, None.
Additional information
Publisher's Note
Springer Nature remains neutral with regard to jurisdictional claims in published maps and institutional affiliations.
Corresponding Author: Nader Bayoumi
About this article
Cite this article
Elwehidy, A.S., Mokbel, T.H., Bayoumi, N.H.L. et al. Viscotrabeculotomy versus trabeculectomy in the surgical treatment of open angle glaucoma: a single center, randomised controlled trial. Jpn J Ophthalmol 65, 395–401 (2021). https://doi.org/10.1007/s10384-020-00801-9
Received:

Accepted:

Published:

Issue Date:
Keywords
Primary open angle glaucoma

Viscotrabeculotomy

Trabeculectomy

Filtering surgery

Angle surgery