Abstract
Purpose
To investigate the visual impairment certification status in Japan.
Study design
Observational cross-sectional study.
Methods
We asked all welfare offices throughout Japan to submit data concerning age, sex, causative diseases, and visual impairment grades for newly certified visually impaired individuals aged ≥ 18 years in the fiscal year of 2015. The certification was based on criteria of the Act on Welfare of Physically Disabled Persons.
Results
In total, data were collected for 12,505 newly certified visually impaired individuals. The most common age group for these individuals was 80-89 years (29.6%), followed by 70-79 (26.3%) and 60-69 (17.3%) years. The most common causative disease was glaucoma (28.6%), followed by retinitis pigmentosa (14.0%), diabetic retinopathy (12.8%), and macular degeneration (8.0%). Glaucoma was the most common causative disease in both sexes (30.2% in men and 27.0% in women). The most common impairment grade was grade 2 (31.8%), followed by grades 5 (24.3%) and grade 1 (16.1%). The number of visually impaired individuals with underlying glaucoma had increased in comparison with the number in the most recent surveys (from fiscal years 2007 to 2009), whereas the number of individuals with underlying diabetic retinopathy and macular degeneration had decreased.
Conclusion
To our knowledge, this is the first nation-wide complete enumeration survey of newly certified visually impaired individuals in Japan. These findings may contribute to administrative activities concerning medical welfare as well as educational activities for preventing visual impairment.
This is a preview of subscription content, log in to check access.
Access options
Buy single article
Instant access to the full article PDF.
US$ 39.95
Price includes VAT for USA
Subscribe to journal
Immediate online access to all issues from 2019. Subscription will auto renew annually.
US$ 99
This is the net price. Taxes to be calculated in checkout.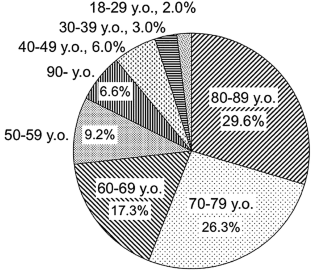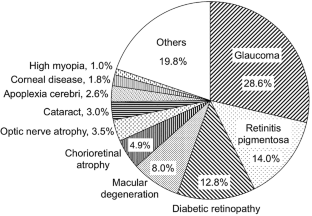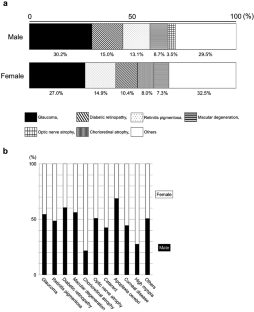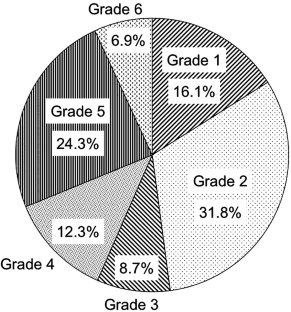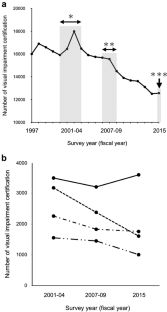 References
1.

Klein BE, Klein R, Lee KE, Cruickshanks KJ. Performance-based and self-assessed measures of visual function as related to history of falls, hip fractures, and measured gait time. The beaver dam eye study. Ophthalmology. 1998;105:160–4.

2.

Ivers RQ, Cumming RG, Mitchell P, Attebo K. Visual impairment and falls in older adults: the blue mountains eye study. J Am Geriatr Soc. 1998;46:58–64.

3.

Lord SR, Dayhew J. Visual risk factors for falls in older people. J Am Geriatr Soc. 2001;49:508–15.

4.

Coleman AL, Stone K, Ewing SK, Nevitt M, Cummings S, Cauley JA, et al. Higher risk of multiple falls among elderly women who lose visual acuity. Ophthalmology. 2004;111:857–62.

5.

Chia E-M, Mitchell P, Ojaimi E, Rochtchina E, Wang JJ. Assessment of vision-related quality of life in an older population subsample: the blue mountains eye study. Ophthalmic Epidemiol. 2006;13:371–7.

6.

Hayman KJ, Kerse NM, La Grow SJ, Wouldes T, Robertson MC, Campbell AJ. Depression in older people: visual impairment and subjective ratings of health. Optom Vis Sci. 2007;84:1024–30.

7.

Renaud J, Levasseur M, Gresset J, Overbury O, Wanet-Defalque M-C, Dubois M-F, et al. Health-related and subjective quality of life of older adults with visual impairment. Disabil Rehabil. 2010;32:899–907.

8.

McCarty CA, Nanjan MB, Taylor HR. Vision impairment predicts 5 year mortality. Br J Ophthalmol BMJ Publ Group. 2001;85:322–6.

9.

Ministry of Internal Affairs and Communications http://www.stat.go.jp/data/jinsui/ Accessed 15 Feb 2018.(in Japanese).

10.

Nakae K, Kogure F, Nagaya Y, Mishima S. Wagakuniniokeru shikakusyogai no genkyo. J Health Welf Stat (Kousei no Shihyo). 1991;38:13–22 (in Japanese).

11.

Nakae K, Masuda K, Ishibashi T. Recent causes of visual disturbances in Japan—comparison with causes 15 years ago. J Clin Exp Med (Igaku no Ayumi). 2008;225:691–3 (in Japanese).

12.

Wako R, Yasukawa T, Kato A, Omori T, Ishida S, Ishibashi T, et al. Causes and prevalence of visual impairment in Japan. Nippon Ganka Gakkai Zasshi. 2014;118:495–501 (in Japanese).

13.

Yamada M, Hiratsuka Y, Roberts CB, Pezzullo ML, Yates K, Takano S, et al. Prevalence of visual impairment in the adult Japanese population by cause and severity and future projections. Ophthalmic Epidemiol. 2010;17:50–7.

14.

Ministry of Health, Labour and Welfare. http://www.mhlw.go.jp/toukei_hakusho/ Accessed 15 Feb 2018. (in Japanese).

15.

Ikesugi K, Ichio T, Tsukitome H, Kondo M. Annual incidences of visual impairment during 10-year period in Mie prefecture. Japan. Jpn J Ophthalmol. 2017;61:293–8.

16.

Al-Haddad CE, Abdulaal M, Al-Moujahed A, Ervin A-M, Ismail K. Fornix-based versus limbal-based conjunctival trabeculectomy flaps for glaucoma: findings from a Cochrane systematic review. Am J Ophthalmol. 2017;174:33–41.

17.

Chen DZ, Sng CCA. Safety and efficacy of microinvasive glaucoma surgery. J Ophthalmol. 2017;2017:3182935.

18.

Tseng VL, Coleman AL, Chang MY, Caprioli J. Aqueous shunts for glaucoma. Cochrane Database Syst Rev. 2017;7:CD004918.

19.

Ministry of Health, Labour and Welfare. http://www.mhlw.go.jp/bunya/kenkou/kenkou_eiyou_chousa.html Accessed 15 Feb 2018. (in Japanese).

20.

Ministry of Health, Labour and Welfare. http://www.mhlw.go.jp/toukei/list/10-20.html Accessed 15 Feb 2018. (in Japanese).

21.

Neville SE, Boye KS, Montgomery WS, Iwamoto K, Okamura M, Hayes RP. Diabetes in Japan: a review of disease burden and approaches to treatment. Diabetes Metab Res Rev. 2009;25:705–16.

22.

Fonseca VA. New developments in diabetes management: medications of the 21st century. Clin Ther. 2014;36:477–84.

23.

Yasuda M, Kiyohara Y, Hata Y, Arakawa S, Yonemoto K, Doi Y, et al. Nine-year incidence and risk factors for age-related macular degeneration in a defined Japanese population the Hisayama study. Ophthalmology. 2009;116:2135–40.

24.

Mandai M, Watanabe A, Kurimoto Y, Hirami Y, Morinaga C, Daimon T, et al. Autologous induced stem-cell-derived retinal cells for macular degeneration. N Engl J Med. 2017;376:1038–46.

25.

Morimoto N, Ohtsuki H. Low-vision service in the department of ophthalmology, Okayama university medical school. Atarashii Ganka (J Eye). 1999;16:587–93 (in Japanese).

26.

Tanito M, Miyake T, Ohira A. The rate of official registration oflegally visually handicapped patients in the handbook of thephysically handicapped. Atarashii Ganka (J Eye). 2000;17:1315–8 (in Japanese).

27.

Fujita A, Saito K, Ando N, Ogawa I, Abe H. Current status of registration as visually handicapped by outpatients in Niigata Prefecture. Rinsho Ganka (Jpn J Clin Ophthalmol). 1999;53:725–8 (in Japanese).

28.

Ministry of Health, Labour and Welfare. http://www.mhlw.go.jp/shingi/2003/05/s0526-4c.html. Accessed 15 Feb 2018. (in Japanese).
Acknowledgements
We would like to thank Keisuke Kanenaga, Mio Sakate, Asuka Inagaki, Yasuhito Goto, Juri Akita, and other medical staff members at the Department of Ophthalmology in the Okayama University Graduate School of Medicine, Dentistry and Pharmaceutical Sciences for their contribution to the present survey. The survey was supported by Health and Labour Sciences Research Grants for Research on Rare and Intractable Diseases.
Ethics declarations
Conflicts of interest
Y. Morizane, None; N. Morimoto, None; A. Fujiwara, None; R. Kawasaki, None; H. Yamashita, None; Y. Ogura, None; F. Shiraga, None.
Additional information
Corresponding author: Yuki Morizane
Electronic supplementary material
Below is the link to the electronic supplementary material.
About this article
Cite this article
Morizane, Y., Morimoto, N., Fujiwara, A. et al. Incidence and causes of visual impairment in Japan: the first nation-wide complete enumeration survey of newly certified visually impaired individuals. Jpn J Ophthalmol 63, 26–33 (2019). https://doi.org/10.1007/s10384-018-0623-4
Received:

Accepted:

Published:

Issue Date:
Keywords
Visual impairment

Japan

Glaucoma

Diabetic retinopathy

Survey