Abstract
Purpose
Novel spectacle lenses (MyoVision, Carl Zeiss) designed to reduce relative peripheral hyperopia have been developed and reported to be effective for preventing myopia progression in a subgroup of Chinese children. In this study we examined the efficacy of MyoVision lenses in Japanese children.
Study design
This was a multicenter prospective randomized double-blind placebo-controlled trial.
Method
We enrolled 207 participants (aged 6–12 years) with spherical equivalent refractions (SERs) ranging from −1.5 to −4.5 diopters (D) and with at least 1 myopic parent. The participants were randomized to receive either single vision lenses (SVLs) or MyoVision lenses and were followed up every 6 months for 2 years. The primary outcome was myopia progression evaluated by cycloplegic autorefraction, and the secondary outcome was elongation of axial length.
Results
A total of 203 children (98.1%) completed the follow-up. The mean adjusted change in SER was −1.43 ± 0.10 D in the MyoVision group, which was not significantly different from that of the control group wearing SVLs (−1.39 ± 0.07 D) at the 24-month visit (P = .65). The adjusted axial length elongation was 0.73 ± 0.04 mm in the MyoVision group, which was not significantly different from that in the control group wearing SVLs (0.69 ± 0.03 mm) at the 24-month visit (P = .28).
Conclusion
The results of this clinical trial could not verify the therapeutic effect of MyoVision for slowing down myopia progression in Japanese children. Additional studies are needed to design lenses that can reduce peripheral hyperopic defocus individually and to examine the effectiveness of these lenses in preventing myopia progression.
Access options
Buy single article
Instant access to the full article PDF.
US$ 39.95
Tax calculation will be finalised during checkout.
Subscribe to journal
Immediate online access to all issues from 2019. Subscription will auto renew annually.
US$ 79
Tax calculation will be finalised during checkout.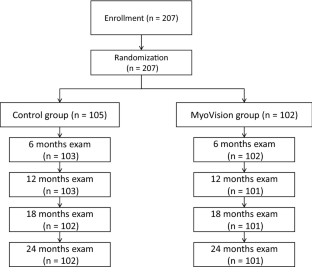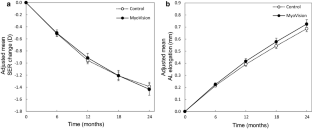 References
1.

Morgan IG, Ohno-Matsui K, Saw SM. Myopia. Lancet. 2012;379:1739–48.

2.

Holden BA, Fricke TR, Wilson DA, Jong M, Naidoo KS, Sankaridurg P, et al. Global prevalence of myopia and high myopia and temporal trends from 2000 through 2050. Ophthalmology. 2000. https://doi.org/10.1016/j.ophtha.2016.01.006.

3.

Flitcroft DI. The complex interactions of retinal, optical and environmental factors in myopia aetiology. Prog Retin Eye Res. 2012;31:622–60.

4.

Sheu SJ, Ger LP, Ho WL. Late increased risk of retinal detachment after cataract extraction. Am J Ophthalmol. 2010;149:113–9.

5.

Wong TY, Klein BE, Klein R, Knudtson M, Lee KE. Refractive errors, intraocular pressure, and glaucoma in a white population. Ophthalmology. 2003;110:211–7.

6.

Suzuki Y, Iwase A, Araie M, Yamamoto T, Abe H, Shirato S, et al. Risk factors for open-angle glaucoma in a Japanese population: the Tajimi study. Ophthalmology. 2006;113:1613–7.

7.

Lyu Y, Zhang H, Gong Y, Wang D, Chen T, Guo X, et al. Prevalence of and factors associated with myopia in primary school students in the Chaoyang district of Beijing, China. Jpn J Ophthalmol. 2015;59:421–9.

8.

French AN, Ashby RS, Morgan IG, Rose KA. Time outdoors and the prevention of myopia. Exp Eye Res. 2013;114:58–68.

9.

Rose KA, Morgan IG, Ip J, Kifley A, Huynh S, Smith W, et al. Outdoor activity reduces the prevalence of myopia in children. Ophthalmology. 2008;115:1279–85.

10.

Fujikado T, Kawasaki Y, Suzuki A, Ohmi G, Tano Y. Retinal function with lens-induced myopia compared with form-deprivation myopia in chicks. Graefes Arch Clin Exp Ophthalmol. 1997;235:320–4.

11.

Schmid GF. Association between retinal steepness and central myopic shift in children. Optom Vis Sci. 2011;88:684–90.

12.

Smith EL, Kee CS, Ramamirtham R, Qiao-Grider Y, Hung LF. Peripheral vision can influence eye growth and refractive development in infant monkeys. Invest Ophthalmol Vis Sci. 2005;46:3965–72.

13.

Smith EL 3rd, Ramamirtham R, Qiao-Grider Y, Hung LF, Huang J, Kee CS, et al. Effects of foveal ablation on emmetropization and form-deprivation myopia. Invest Ophthalmol Vis Sci. 2007;48:3914–22.

14.

Sankaridurg P, Donovan L, Varnas S, Ho A, Chen X, Martinez A, et al. Spectacle lenses designed to reduce progression of myopia: 12-month results. Optom Vis Sci. 2010;87:631–41.

15.

Fujikado T, Ninomiya S, Kobayashi T, Suzaki A, Nakada M, Nishida K. Effect of low-addition soft contact lenses with decentered optical design on myopia progression in children: a pilot study. Clin Ophthalmol. 2014;8:1947–56.

16.

Sankaridurg P, Holden B, Smith E 3rd, Naduvilath T, Chen X, de la Jara PL, et al. Decrease in rate of myopia progression with a contact lens designed to reduce relative peripheral hyperopia: one-year results. Invest Ophthalmol Vis Sci. 2011;52:9362–7.

17.

Tabernero J, Vazquez D, Seidemann A, Uttenweiler D, Schaeffel F. Effects of myopic spectacle correction and radial refractive gradient spectacles on peripheral refraction. Vision Res. 2009;49:2176–86.

18.

Charman WN, Radhakrishnan H. Peripheral refraction and the development of refractive error: a review. Ophthalmic Physiol Opt. 2010;30:321–38.

19.

Cho P, Cheung SW. Retardation of myopia in orthokeratology (ROMIO) study: a 2-year randomized clinical trial. Invest Ophthalmol Vis Sci. 2012;53:7077–85.

20.

Hiraoka T, Kakita T, Okamoto F, Takahashi H, Oshika T. Long-term effect of overnight orthokeratology on axial length elongation in childhood myopia: a 5-year follow-up study. Invest Ophthalmol Vis Sci. 2012;53:3913–9.

21.

Lam CS, Tang WC, Tse DY, Tang YY, To CH. Defocus incorporated soft contact (DISC) lens slows myopia progression in Hong Kong Chinese schoolchildren: a 2-year randomised clinical trial. Br J Ophthalmol. 2014;98:40–5.

22.

Chen X, Sankaridurg P, Donovan L, Lin Z, Li L, Martinez A, et al. Characteristics of peripheral refractive errors of myopic and non-myopic Chinese eyes. Vis Res. 2010;50:31–5.
Acknowledgements
We thank the participants and certified orthoptists involved in this clinical trial. We also thank Professor Ayumu Shintani for valuable advice in the statistical analyses. This study was supported by the Japan Ophthalmologists Association.
Conflicts of interest
H. Kanda, None; T. Oshika, None; T. Hiraoka, None; S. Hasebe, None; K. Ohno, None; S. Ishiko, None; O. Hieda, None; H. Torii, None; S. R. Varnas, Employee (Carl Zeiss Vision Australia); T. Fujikado, None.
Additional information
Corresponding author: Takashi Fujikado
About this article
Cite this article
Kanda, H., Oshika, T., Hiraoka, T. et al. Effect of spectacle lenses designed to reduce relative peripheral hyperopia on myopia progression in Japanese children: a 2-year multicenter randomized controlled trial. Jpn J Ophthalmol 62, 537–543 (2018). https://doi.org/10.1007/s10384-018-0616-3
Received:

Accepted:

Published:

Issue Date:
Keywords
Myopia

Myopia progression control

Peripheral hyperopic defocus