Abstract
Purpose
To evaluate the diagnostic ability of optic nerve head parameters, measured by Cirrus spectral domain optical coherence tomography (SD OCT) and Heidelberg retina tomograph II (HRT II) to detect concomitant glaucoma.
Methods
Cirrus OCT and HRT examinations of 62 eyes of 62 patients (32 with no perimetric glaucoma and 30 with concomitant perimetric glaucoma) evaluated between August 2010 and December 2010 were retrospectively analyzed and compared with regard to the optic disc morphometric parameter, disc area, rim area, cup-to-disc ratio (CDR), and cup volume. Receiver operating characteristic curves were constructed for the parameters and areas under the curves (AUCs) were compared.
Results
All parameters except disc area were significantly different between Cirrus OCT and HRT. Average cup-to-disc ratio (CDR), vertical CDR, and cup volume were greater when measured by OCT compared with HRT II (P = 0.002, P < 0.001, and P < 0.001, respectively). Rim area was smaller by OCT than by HRT II (P < 0.001). Of the parameters evaluated, rim area (0.938), average CDR (0.865), and vertical CDR (0.897) had higher AUCs with OCT than with HRT II. Glaucoma diagnostic capability using the AUC was greater for OCT than for the HRT.
Conclusions
Optic nerve head parameters measured by Cirrus OCT seem to be useful in differentiating glaucomatous optic nerve heads. The two types of instrument compared here should not be used interchangeably to obtain measurements of the optic disc for diagnosis of glaucoma.
Access options
Buy single article
Instant access to the full article PDF.
US$ 39.95
Tax calculation will be finalised during checkout.
Subscribe to journal
Immediate online access to all issues from 2019. Subscription will auto renew annually.
US$ 79
Tax calculation will be finalised during checkout.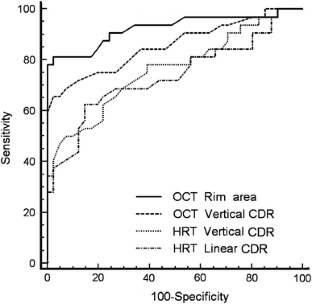 References
1.

Leung CK, Cheung CY, Weinreb RN, Qiu Q, Liu S, Li H, et al. Retinal nerve fiber layer imaging with spectral-domain optical coherence tomography: a variability and diagnostic performance study. Ophthalmology. 2009;116:1257–63.

2.

Quigley HA, Katz J, Derick RJ, Gilbert D, Sommer A. An evaluation of optic disc and nerve fiber layer examinations in monitoring progression of early glaucoma damage. Ophthalmology. 1992;99:19–28.

3.

Sommer A, Katz J, Quigley HA, Miller NR, Robin AL, Richter RC, et al. Clinically detectable nerve fiber atrophy precedes the onset of glaucomatous field loss. Arch Ophthalmol. 1991;109:77–83.

4.

Miglior S, Casula M, Guareschi M, Marchetti I, Iester M, Orzalesi N. Clinical ability of Heidelberg retinal tomograph examination to detect glaucomatous visual field changes. Ophthalmology. 2001;108:1621–7.

5.

Lee S, Sung KR, Cho JW, Cheon MH, Kang SY, Kook MS. Spectral-domain optical coherence tomography and scanning laser polarimetry in glaucoma diagnosis. Jpn J Ophthalmol. 2010;54:544–9.

6.

Sharma A, Oakley JD, Schiffman JC, Budenz DL, Anderson DR. Comparison of automated analysis of Cirrus HD OCT spectral-domain optical coherence tomography with stereo photographs of the optic disc. Ophthalmology. 2011;118:1348–57.

7.

Mwanza J-C, Oakley JD, Budenz DL, Anderson DR. Ability of Cirrus HD-OCT optic nerve head parameters to discriminate normal from glaucomatous eyes. Ophthalmology. 2011;118:241–8.

8.

Shpak AA, Sevostyanova MK, Ogorodnikova SN, Shormaz IN. Comparison of measurement error of Cirrus HD-OCT and Heidelberg retina tomograph 3 in patients with early glaucomatous visual field defect. Graefes Arch Clin Exp Ophthalmol. 2012;250:271–7.

9.

Weinreb RN. Laser scanning tomography to diagnose and monitor glaucoma. Curr Opin Ophthalmol. 1993;4:3–6.

10.

Shrout PE, Fleiss JL. Intraclass correlations: uses in assessing rater reliability. Psychol Bull. 1979;86:420–8.

11.

DeLong ER, DeLong DM, Clarke-Pearson DL. Comparing the areas under two or more correlated receiver operating characteristic curves: a nonparametric approach. Biometrics. 1988;44:837–45.

12.

Budenz DL, Fredette MJ, Feuer WJ, Anderson DR. Reproducibility of peripapillary retinal nerve fiber thickness measurements with stratus OCT in glaucomatous eyes. Ophthalmology. 2008;115:661–6.

13.

Knight OJ, Chang RT, Feuer WJ, Budenz DL. Comparison of retinal nerve fiber layer measurements using time domain and spectral domain optical coherent tomography. Ophthalmology. 2009;116:1271–7.

14.

Sehi M, Grewal DS, Sheets CW, Greenfield DS. Diagnostic ability of Fourier-domain vs time-domain optical coherence tomography for glaucoma detection. Am J Ophthalmol. 2009;148:597–605.

15.

Cense B, Chen TC, Nassif N, Pierce MC,Yun SH, Park BH, et al. Ultra-high speed and ultra-high resolution spectral-domain optical coherence tomography and optical Doppler tomography in ophthalmology. Bull Soc Belg Ophthalmol. 2006:123–32.

16.

Vihanninjoki K, Tuulonen A, Burk RO, Airaksinen PJ. Comparison of optic disc measurements by Heidelberg retina tomograph and manual planimetric techniques. Acta Ophthalmol Scand. 1997;75:512–5.

17.

Medeiros FA, Zangwill LM, Bowd C, Vessani RM, Susanna R Jr, Weinreb RN. Evaluation of retinal nerve fiber layer, optic nerve head, and macular thickness measurements for glaucoma detection using optical coherence tomography. Am J Ophthalmol. 2005;139:44–55.

18.

Shoji T, Sato H, Ishida M, Takeuchi M, Chihara E. Assessment of glaucomatous changes in subjects with high myopia using spectral domain optical coherence tomography. Invest Ophthalmol Vis Sci. 2010;52:1098–102.
About this article
Cite this article
Shin, H.Y., Park, HY.L., Jung, K.I. et al. Glaucoma diagnosis optic disc analysis comparing Cirrus spectral domain optical coherence tomography and Heidelberg retina tomograph II. Jpn J Ophthalmol 57, 41–46 (2013). https://doi.org/10.1007/s10384-012-0205-9
Received:

Accepted:

Published:

Issue Date:
Keywords
Cirrus spectral domain optical coherence tomography

Glaucoma

Optic nerve head analysis

Confocal scanning laser ophthalmoscopy imaging