Abstract
A decision support model (DSM) is presented and implemented in order to identify probable and realistic export opportunities for Greece. The aim of the model is to select those combinations of products and countries of destination (markets) that are attractive based on widely recognized criteria (such as country risk indicators, macroeconomic data, market shares, accessibility of destination country, degree of market concentration, etc.). The DSM consists of a filtering process during which the less attractive export opportunities are successively eliminated in order to focus on those markets that have the desired characteristics. International trade data at the HS six-digit level up to 2011 where used. The results indicate that there exist significant export opportunities for Greece. Export opportunities are listed and categorized according to criteria such as the market characteristics of the destination country and Greece's market share.
Access options
Buy single article
Instant access to the full article PDF.
US$ 39.95
Tax calculation will be finalised during checkout.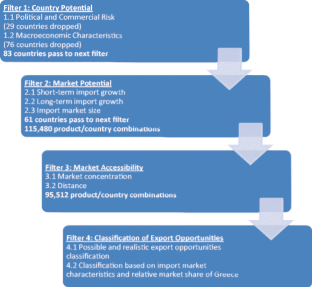 Notes
1.

In the Global Competitiveness Index Greece ranks 81st among 144 countries, ranked last among the advanced and the high-income economies. In the Transport Infrastructure Index Greece ranks 51st among 144 countries, 29th among the 34 advanced economies and 37th among the 47 high-income economies. The additional strain the financial crisis put on companies is depicted in the Ease of Access to Loans Index, Greece ranks 136th among 144 countries.

2.

In the Enabling Trade Index ranks Greece 67th, among the 138 countries listed. That is at the last place among the 34 advanced economies and 45th among the 47 high-income economies.

3.

ONDD is the Belgian public credit insurer with a mission to promote international economic relations.

4.

Each one of the 57 countries that were dropped due to lack of data were inspected, they are mainly small countries (as far as their population is concerned) like American Samoa and Andorra. The only large countries that were not taken under consideration due to lack of data were Argentina and Taiwan.

5.

For more details on this see Pearson et al., 2010.

6.

After revising this list carefully and with the exception of Croatia, all other Balkan countries are rejected. Some of Greece's traditional trade partners in Balkans like Albania (10.62% of imports comes from Greece), FYROM and Montenegro (8% of imports of both countries comes from Greece) and Bulgaria (5.6% of imports comes from Greece) are rejected. This seems potentially problematic. However, since the aim of the paper is to identify further export opportunities, the choices made by the DSM by no means imply that established trade partners should be put aside.

7.

The source of the data was the UN comtrade database.

8.

A table similar to Table 4 can also be created including all countries under consideration and all products in a 6-digit HS-2002 level. Such a table would be useful in order to track all attractive products in each country.

9.

The estimations have been made in a 6-digit product level but for the sake of readability they have aggregated in broad product categories.
References
Alvarez R (2004) Sources of export success in small- and medium-sized enterprises: the impact of public programs. Int Bus Rev 13:383–400

Athanassiou E, Kanellopoulos NC (2014) Comparative advantages of the Greek Economy: 2008–2012. Greek Econ 2:12–16

Balassa B (1965) Trade liberalization and "revealed" comparative advantage. Manch Sch 33:99–123

Böwer U, Michou V, Ungerer C (2014) The puzzle of the missing Greek exports. European Economy, Economic Papers 518

Cuyvers L (2004) Identifying export opportunities: the case of Thailand. Int Mark Rev 21:255–278

Cuyvers L, De Pelsmacker P, Rayp G, Roozen ITM (1995) A decision support model for the planning and assessment of export promotion activities by government export promotion institutions – the Belgian case. Int J Res Mark 12:173–186

De Wulf L (2001) Why have trade promotion organizations failed, and how can they be revitalized?. PREM notes #56, World Bank, Washington, DC

Hirschman AO (1964) The paternity of an index. Am Econ Rev 54:761

Konstantakopoulou I (2016) Analysis of Greek external trade: sectoral analysis, comparative advantages, exports and economic growth. Studies No 76, Athens, KEPE

Lederman D, Olarreaga M, Payton L (2006) Export promotion agencies: what works and what doesn't. CEPR Discussion Papers 5810

Pearson J, Viviers W, Cuyners L, Naude W (2010) Identifying export opportunities for South Africa in the southern engines: a DSM approach. Int Bus Rev 19:345–359

World Economic Forum (2014) The global competitiveness report 2014–2015. In: Drzeniek Hanouz M, Geiger T, Doherty S (eds) World Economic Forum, Geneva

World Economic Forum (2014) The global enabling trade report 2014. In: Schwab K (ed) World Economic Forum, Geneva
Acknowledgments
The authors would like to thank an anonymous referee for constructive comments that helped improve the paper. We wish to thank our colleague Ersi Athanassiou and the participants of the 2014 EEFS Conference for their helpful comments and recommendations.
Appendix
Appendix
About this article
Cite this article
Kanellopoulos, N.C., Skintzi, G.D. Identifying export opportunities for Greece. Int Econ Econ Policy 13, 369–386 (2016). https://doi.org/10.1007/s10368-016-0353-3
Keywords
International trade

Exports

Decision support model

Greece
JEL Classification