Abstract
This article aims to explain the increasing deficits in the trade and current account balances of three post-transition countries–Czech Republic, Hungary, and Poland–by testing two hypotheses: the twin deficit hypothesis and increasing import intensity of export production. The method uses co-integration and related techniques to test for a long-run causal relationship between the fiscal and external deficits of three post-transition countries in Central and Eastern Europe. In addition, an import intensity model is tested by applying OLS and GMM. All the results reject the Twin Deficits Hypothesis. Instead, the results demonstrate that specific transition factors such as net capital flows and, probably, a high import intensity of exports affect the trade balance.
Access options
Buy single article
Instant access to the full article PDF.
US$ 39.95
Tax calculation will be finalised during checkout.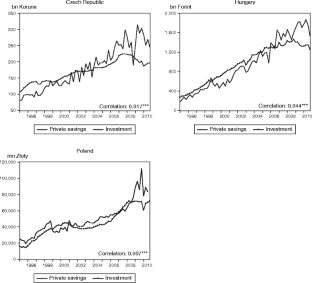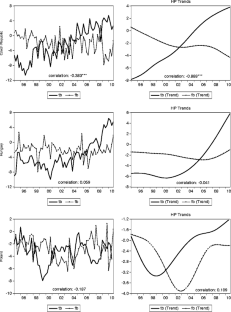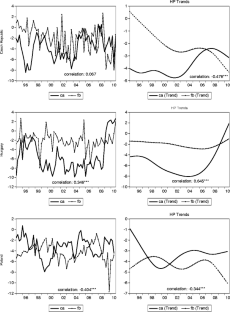 Notes
1.

Public investment could be part of the government financial deficit and, hence, would be added as a second independent public expenditure on the right side of Eq. (1). Such an addition would not change the conclusions of all considerations that follow.

2.

The tax rate, for example, has to be considered in the income creation process after a fiscal stimulus.

3.

Somewhat different, Aristovnik (2008) tested a short-term panel-model with variables in their first differences for 26 (and 14) transition countries, and found evidence for a 'short-term' TDH.

4.

5.

The critical reader will note that I did not calculate and use the primary fiscal balance. Excluding interest payments would bias regressions with the current account (which includes interest payments) and also the trade balance, since net interest payments affect the exchange rate.

6.

Granger causality tests confirm these results.

7.

No Chow test available for regressions with this estimation method.

8.

Results and the entire Eviews-workfile can be provided on request.
References
Ando M, Kimura F (2000) Fragmentation in Europe and East Asia: evidences from international trade and foreign direct investment data. In: Kim JK, Ruffini PB (eds) Corporate strategies in the age of regional integration. Edward Elgar, Cheltenham, pp 52–76

Aristovnik A (2008) Short-term determinants of current account deficits. Evidence from Eastern Europe and the Former Soviet Union. East Eur Econ 46(1):24–42

Aristovnik A (2013) Twin deficits and the Feldstein Horioka puzzle: a comparison of the EU member states and candidate countries. Actual Probl Econ 143:205–214

Baxter M (1995) International trade and business cycles. In: Grossmann G, Rogoff K (eds) Handbook of international economics, vol. 3. Elsevier, Amsterdam, pp 1801–1864

Bluedorn J, Leigh D (2011) Revisiting the twin deficits hypothesis: the effect of fiscal consolidation on the current account. IMF Econ Rev 59(4):582–602

Çelik S, Deniz P, (2009) An empirical investigation of twin deficits hypothesis for six emerging countries (April 17, 2009). Available at SSRN: http://ssrn.com/abstract=1389242. Accessed January 2012

Corsetti G, Müller GJ (2006) Twin deficits: squaring theory, evidence and common sense. Econ Policy 21:597–639

Devriz P, Guajardo J, Leigh D, Pescatori A (2011) An action-based analysis of fiscal consolidation in OECD countries. IMF Working Paper No. 11/128. International Monetary Fund, Washington

Engle RF, Granger CWJ (1987) Co-integration and error correction: representation, estimation and testing. Econometrica 55(2):251–276

Fidrmuc J (2003) The Feldstein-Horioka-puzzle and twin deficits in selected countries. Econ Plan 36:135–152

Gabrisch H (2009) Vertical intra-industry trade, technology and income distribution: a panel data analysis for EU trade with Central-East-European countries. Acta Oecon 59(1):1–22

Ganchev GT, Stavrova E, Tsenkov V (2012) Testing the twin deficit hypothesis: the case of central and eastern european countries. Int J Contemp Econ Adm Sci 2(1):1–21

Holland S, Oliveira TC (2013) Missing links: Hume, Smith, Kant and economic methodology. Econ Thought 2(2):46–72

Hume D (1739) A treatise on human nature: being an attempt to introduce the experimental method of reasoning into moral subjects. Dent, London (1911)

Ketenci N, Uz I (2010) Determinants of current account in the EU: the relation between internal and external balances in the new members. MPRA. http://mpra.ub.uni-muenchen.de/27466/. Accessed 17th December 2010

Łaski K (2009) Mity i rzeczywistość w polityce gospodarczej i w nauczaniu ekonomii. WSSE, Warsaw

Łaski K, Osiatynski J, Zieba J (2010) The government expenditure multiplier and its estimates for Poland in 2006–2009. WIIW Working Paper No 63. Vienna

Marinheiro CF (2006) Ricardian equivalence, twin deficits, and the Feldstein-Horioka puzzle in Egypt. GEFM, Faculty of Economics, University of Coimbra, Portugal. Estudios do GEMF No. 7

Summers LH (1988) Tax policy and international competitiveness. In: Frenkel JA (ed) International aspects of fiscal policies. NBER conference report. University of Chicago Press, Chicago, pp 349–375

Szakolczai G (2006) The triple deficit of Hungary. Hung Stat Rev, Special Number 10:40–62
Acknowledgments
I would like to thank two anonymous referees for helpful comments. Any remaining errors are my own.
Additional information
I dedicate this study to my friend and teacher Kazimierz Łaski, who celebrated his 92nd birthday in December 2013.
Appendix
Appendix
About this article
Cite this article
Gabrisch, H. On the twin deficits hypothesis and the import intensity in transition countries. Int Econ Econ Policy 12, 205–220 (2015). https://doi.org/10.1007/s10368-014-0272-0
Keywords
Twin deficits

Import intensity

Transition countries
JEL classification