Abstract
High innovation capability is indispensable for generating economic growth in developed economies. Cooperations in the innovation process are entered into by companies for reasons of risk diversification or costs and often considered to be an efficient strategy to increase a company's knowledge basis. Regional economic literature very often believes that regional agglomeration of companies, i.e. cluster formation, will also lead to increased local networking, i.e. also to cooperations between companies or between company and research institutes in the innovation process. A social network analysis of the two German ICT regions performed with patent data was able to show that cluster formation coincides with a dynamic increase of cooperations measured by joint patent applications. However, the cooperations are characterized by integration of extra-regional companies and research institutes rather than being intraregional.
Access options
Buy single article
Instant access to the full article PDF.
US$ 39.95
Tax calculation will be finalised during checkout.
Subscribe to journal
Immediate online access to all issues from 2019. Subscription will auto renew annually.
US$ 79
Tax calculation will be finalised during checkout.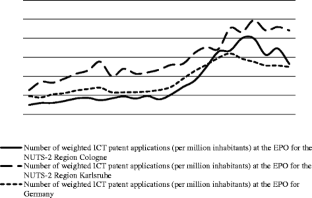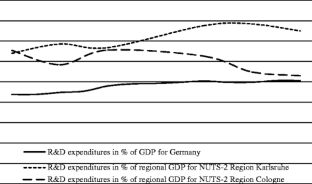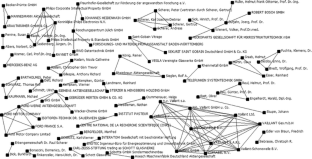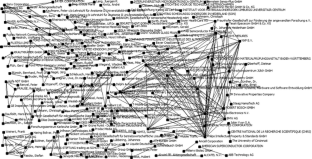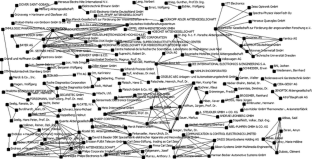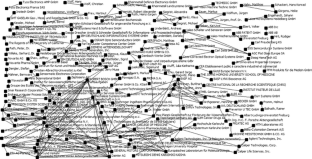 Notes
1.

Along with Döring and Schnellenbach (2006) this paper understands knowledge as comprising all cognitions and abilities that individuals use to solve problems, make decisions and understand incoming information.

2.

A minimum size of 10 actors is required and a corporate share of at least 50 %. In addition, the involvement of a research institution must be ensured. Among the parties involved there should also be service providers, in particular financial services providers and basic and further training facilities. The BMWi also requires that the network focuses on a specific field of innovation and that it has specific unique features setting it apart. The organizational degree of the network is also of great significance. Next to "branding," this is the focus of the second pillar of sponsoring. The organization unit of the network or the cluster management will receive specific support, for example, for conducting workshops and industrial fairs. Further assistance is provided by the publication of trend reports, network-specific short studies, online newsletters, joint internet presentations, exchange and development of cooperation projects, internationalisation, i.e. the development of strategies for corresponding activities and the organization of group study visits (BMWi 2010b).

3.

For the precise implementation process, see Mahmutovic (2011). Together with Oliver Emons, Zafir Mahmutovic implemented the patent database EIIW-Netpat in the scope of the research project EU structural change, regional innovation dynamics and cluster formation options in the knowledge societies for the European Institute for International Economic Relationships (EIIW) at the Bergische University of Wuppertal.

4.

Aachen is located in the NUTS-2 region of Cologne.

5.

It must be noted that natural persons with a professor's title very often can be assigned to research institutions. Until 2002, German patent law permitted university professors to register a patent in their name rather than the university's name.
References
Aghion P, Howitt P (1992) A model of growth through creative destruction. Econometrica 60:323–351

Aghion P, Howitt P (1997) A Schumpeterian perspective on growth and competition. In: Kreps D, Wallis KF (eds) Advances in economics and economietrics: theory and applications. Cambridge University Press, Cambridge, pp 279–317

Almeida P, Kogut B (1999) Localisation of knowledge and the mobility of engineers in regional networks. Manag Sci 45:905–917

Angel D (2002) Inter-firm collaboration and technology development partnerships with US manufacturing industries. Region Stud 34:333–344

Angel D, Engstrom J (1995) Manufacturing systems and technological change: the US personal computer industry. Econ Geogr 71:79–102

Arndt O, Sternberg R (2000) Do manufacturing firms profit from intraregional innovation linkages? An empirical answer. Eur Plann Stud 8:465–485

Audretsch D (1998) Agglomeration and the location of innovative activity. Oxf Rev Econ Policy 14:18–29

Baptista R, Swann P (1998) Do firms in clusters innovate more? Res Policy 27:525–540

Beaudry C, Breschi S (2003) Are firms in clusters really more innovative. Econ Innov New Technol 12:325–342

Breschi S, Lissoni F (2001) Knowledge spillovers and local innovation systems: a critical survey. Ind Corp Change 10:975–1005

Brown R (2000) Clusters, supply chains and local embeddedness in Fyrstad. Eur Urban Region Stud 7:291–305

Bundesministerium für Wirtschaft und Technologie (BMWi) (2010a) http://www.kompetenznetze.de/?set_language=en. Accessed 01 January 2012

Bundesministerium für Wirtschaft und Technologie (BMWi) (2010b) http://www.kompetenznetze.de/initiative/die-geschaftsstelle. Accessed 31 August 2010

Bundesministerium für Wirtschaft und Technologie (BMWi) (2010c) Aufnahmenkriterien Initiative Kompetenznetze Deutschland. http://www.kompetenznetze.de/initiative/die-aufnahme/aufnahmekriterien_initiativekompetenznetzedeutschland.pdf. Accessed 31 August 2010

Cantner U, Graf H, Meder A (2009) Urbane innovationssysteme: das innovationsnetzwerk in Jena. doi:10.1007/978-3-531-91349-0_10

Cohen W, Levinthal D (1990) Absorptive capacity: a new perspective on learning and innovation. administrative science quarterly 35 special issue: technology, organizations, and innovation: 128–152

Cooke P, De Laurentis C, Tödtling F, Trippl M (eds) (2007) Regional knowledge economics: markets, clusters and innovation. Oxford University Press, Cheltenham

Delgado M, Porter M, Stern S (2010) Cluster, convergence, and economic performance. US Census Bureau Center for Economic Studies Paper CES-WP-10-34

Döring T, Schnellenbach J (2006) What do we know about geographical knowledge spillovers and regional growth? theory and evidence. Region Stud 40:375–395

Emons O (2011) Innovations- and Spezialisierungsdynamik im Automotivesektor: Vergleichsanalyse von europäischen Kooperations- and innovatorennetzwerken. In: Welfens PJJ (ed) Cluster- und innovations dynamik in Europa: neue perspektiven der automobil- und IKT Wirtschaft. Lucius, Stuttgart, pp 323–479

Engelsoft S, Jensen-Butler C, Smith I, Winther L (2006) Industrial clusters in Denmark: theory and empirical evidence. Papers Region Sci 85:73–97

Falck O, Heblich S, Kipar S (2010) Industrial innovation: direct evidence from cluster-oriented policy. Region Sci Urban Econ 40:574–582

Feser E, Renski H, Goldstein H (2008) Clusters and economic development outcomes: an analysis of the link between clustering and industry growth. Econ Dev Quart 22:324–344

Fontagné L, Koenig P, Mayernis, F., Poncet, S. (2010) Clustering the winners: the French policy of competitiveness clusters, CEPII Working Paper 2010-18

Freeman L (1978) Centrality in social networks conceptual clarification. Soc Netw 1:215–239

Gertler M, Wolfe D, Garkut D (2000) No place like home? The embeddedness of innovation in a regional economy. Rev Int Political Econ 7:688–718

Giuliani E (2005) The structure of cluster knowledge networks: uneven and selective, not pervasive and collective. Eur Urban Reg Stud 12:269–288

Graf H, Henning T (2009) Public research in regional networks of innovators: a comparative study of four East German regions. Reg Stud 43:1349–1368

Griliches Z (1979) Issues in assessing the contribution of research and development to productivity growth. Bell J Econ 10:92–116

Griliches Z (1992) The search for R&D spillovers. Scand J Econ 94(Supplement):29–47

Hafner K (2008) Agglomeration economics and clustering - evidence from German firms, cege Discussion Papers 72

He J, Fallah M (2009) Is inventor network structure a predictor of cluster evolution? Technol Forecast Soc Change 76:91–106

Hendry C, Brown J, Defillippi R (2000) Regional clustering of high technology-based firms: opto-electronics in three countries. Reg Stud 34:129–144

Howitt P, Aghion P (1998) Capital accumulation and innovation as complementary factors in long-run growth. J Econ Growth 3:111–130

Jaffe A, Trajtenberg M, Henderson R (1993) Geographic localisation of knowledge spillovers as evidenced by patent citations. Quart J Econ 108:577–598

Kalasky R, MacPherson A (2003) Input/output ranges and performance: an examination of US machine tool producers. Entrep Reg Dev 15:69–82

Kearns A, Gorg H (2002) Linkages, agglomerations and knowledge spillovers in the Irish electronics industry: the regional dimension. Int J Technol Manag 24:743–763

Kim J, Marschke G (2005) Labor mobility of scientists, technological diffusion, and the firm's patenting decision. RAND J Econ 36:424–428

Lawson C, Lorenz E (1999) Collective learning, tacit knowledge and regional innovative capacity. Reg Stud 33:305–317

Lawton-Smith H (2003) Local innovation assemblages and institutional capacity in local high-tech economic development: the case of Oxfordshire. Urban Stud 40:1353–1369

Lucas R (1988) On the mechanics of economic development. J Monet Econ 22:3–42

Lyons D (2000) Embeddedness, milieu, and innovation among high-technology firms: a Richardson, Texas, case study. Environ Plann A 32:891–908

Mahmutovic Z (2011) Patentdatenbank – Implementierung and Nutzung. In: Welfens PJJ (ed) Cluster- and Innovationsdynamik in Europa: Neue Perspektiven der Automobil- und IKT Wirtschaft. Lucius, Stuttgart, pp 309–321

Maine E, Shapiro D, Vining A (2010) The role of clustering in the growth of new technology-based firms. Small Bus Econ 34:127–146

Malmberg A, Power D (2005) (How) do (firms in) clusters create knowledge? Ind Innov 12:409–431

Marshall A (1920) Principles of economics. Macmillan, London

McDonald F, Tsagdis D, Huang Q (2006) The development of industrial clusters and public policy. Entrep Reg Dev 18:525–542

Mota J, de Castro L (2004) Industrial agglomeration as localized networks: the case of the Portuguese injection mould industry. Environ Plann A 36:263–278

Nelson R (1990) What is public and what is private about technology? CCC Working Paper 90-9. University of California, Center for Research in Management

Peretto P (1998) Technological change, market rivalry, and the evolution of the capitalist engine of growth. J Econ Growth 3:53–80

Peretto P (1999a) Firm size, rivalry and the extent of the market in endogenous technological change. Eur Econ Rev 43:1747–1773

Peretto P (1999b) Industrial development, technological change, and long-run growth. J Dev Econ 59:389–417

Porter M (1990) The competitive advantage of nations. The Free Press, New York

Rodríguez-Pose A, Refolo M (2003) The link between local production systems and public and university research in Italy. Environ Plann A 35:1477–1492

Romer P (1986) Increasing returns and long-run growth. J Political Econ 94:1002–1037

Sakakibara M (2003) Knowledge sharing in cooperative research and development. Manag Decis Econ 24:117–132

Schmitz J (1989) Imitation, entrepreneurship, and long-run growth. J Political Econ 97:721–739

Schmitz H (1999) Collective efficiency and increasing returns. Camb J Econ 23:465–483

Schumpeter A (1911) The theory of economic development. Harvard University Press, Cambridge

Simmie J (2002) Knowledge spillovers and reasons for the concentration of innovative SMEs. Urban Stud 39:885–902

Tomokazu A, Fujita M, Kameyama Y (2006) Effects of regional cooperation among small and medium-sized firms on their growth in Japanese industrial clusters. Rev Urban Reg Dev Stud (RURDS) 18:209–228

Wasserman S, Faust K (1994) Social network analysis: methods and applications. Cambridge University Press, Cambridge

Waters R, Lawton-Smith H (2006) Social networks in high-technology local economies: the case of Oxfordshire and Cambridgeshire. Eur Urban Reg Stud 15:21–37

Welfens PJJ (2011) IKT expansion, strukturwandel and clusterdynamik in der EU, in: cluster- and innovationsdynamik in europa. In: Welfens PJJ (ed) Neue perspektiven der automobil- and IKT wirtschaft. Lucius, Stuttgart, pp 1–136
Appendix
Appendix
About this article
Cite this article
Schröder, C. Dynamics in ICT cooperation networks in selected German ICT clusters. Int Econ Econ Policy 11, 197–230 (2014). https://doi.org/10.1007/s10368-013-0253-8
Keywords
Regional science

Cluster

ICT

Knowledge spillover

Social network analysis

Innovation networks
JEL classification