Abstract
The Internet is central to the new media, but the Internet is itself a dynamic technology that is constantly evolving as users adopt and reject new features, devices and applications and use them in ways that are often unanticipated. This article is anchored in longitudinal survey data on how Britons use the Internet, which illuminates the emergence of new patterns of accessing the Internet over multiple devices—some of which are portable—in everyday life and work. We call those who adopt this new approach 'next generation users'. In contrast, first generation users remain anchored to one or more personal computers in the household or workplace for accessing the Internet. The analysis shows how this emerging pattern of access is reshaping the use and impact of the Internet, such as in supporting the production of user generated content. The analysis also shows how next generation access is socially distributed; creating a new digital divide that reinforces socioeconomic inequalities. Future research needs to move beyond the study of access to the Internet to track the diffusion of next generation access and its implications across a wider array of nations.
Access options
Buy single article
Instant access to the full article PDF.
USD 39.95
Price excludes VAT (USA)
Tax calculation will be finalised during checkout.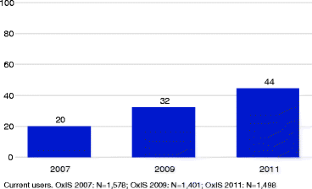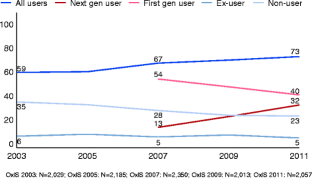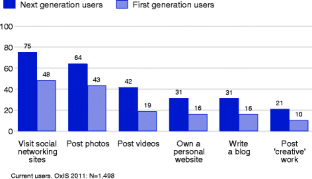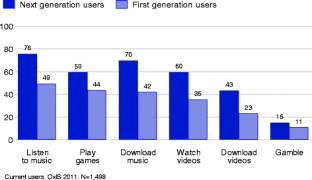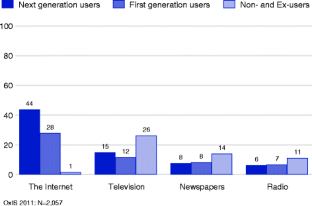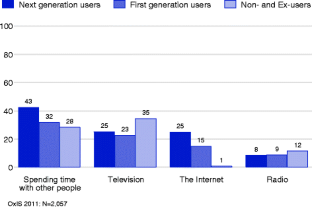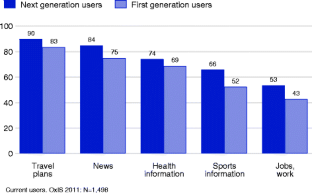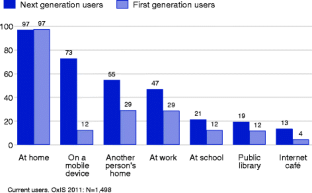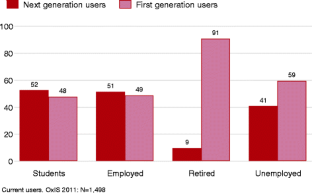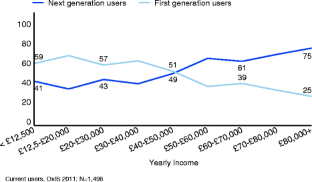 Notes
The case for viewing Lessig's argument as technologically determinist is developed by Mayer-Schönberger (2008).

These correspond to common stages in the adoption of an innovation, from adoption to implementation to routinization (Rogers 1962).

Using response rate formula RR1 defined by the American Association of Public Opinion Researchers (AAPOR) (2011:44).

For a more detailed description of the sample and methodology see Dutton and Blank (2011).

For example, Wei's (2001) study of mobile phones.

The four applications are: browsing the Internet, using email, updating a social networking site, or finding directions.

Interestingly, education does not have a zero-order effect on being a Next Generation User. See below for the effect in a multivariate model.

The variables are defined as age, a continuous variable ranging from 14–92 years; income, an 8 category variable; higher education degree, a dummy variable indicating whether or not a respondent has a higher education degree; gender, a dummy variable using males as the comparison group; retired, a dummy variable indicating retired people; use the Internet at work, a dummy variable indicating if the respondent uses the Internet in their job; and married, a dummy variable indicating the respondent is married. We also tried a variable measuring urban–rural residence but it was not statistically significant. For several variables in the model we tried numerous specifications. For marital status the full variable had five categories, but only the 'married' category was statistically significant. Similarly, for education only the higher education category was significant, and for 'life stage' only 'retired' was significant.

Strength is measured by the size of the odds ratio. With an odds ratio of only 0.33, retired respondents are the most important variable in the regression. Similarly, having a higher education degree and using the Internet at work both have odds ratios near 1.50, making them the second most important variables in the regression.

Note, however, that when we substituted a direct measure of occupation in this model it was not statistically significant.
References
American Association of Public Opinion Researchers (2011) Standard definitions: Final dispositions of case codes and outcome rates for surveys. 7th edition. http://www.aapor.org/Standard_Definitions/3049.htm. Accessed 2 September 2011

Blank G, Dutton WH (2011) Age and trust in the internet: The centrality of experience and attitudes toward technology in Britain, Social Science Computer Review: http://ssc.sagepub.com/content/early/2011/02/21/0894439310396186. Accessed 23 August 2013

Danziger JN et al (1982) Computers and politics: High technology in american local governments. Columbia University Press, New York

Dutton WH (1999) Society on the line: Information politics in the digital age. Oxford University Press, Oxford and New York

Dutton WH (2005) The internet and social transformation: Reconfiguring access. In: Dutton WH, Kahin B, O'Callaghan R, Wyckoff AW (eds) Transforming enterprise. MIT Press, Cambridge, pp 375–397

Dutton WH, Shepherd A (2006) Trust in the Internet as an experience technology. Information, Communication and Society 9(4):433–451

Dutton WH, Blank G (2011) Next generation users: The Internet in Britain. Oxford Internet Survey 2011. Oxford Internet Institute: University of Oxford

Haddon L (2006) The contribution of domestication research to in-home computing and media consumption. Inform Soc 22:195–205

Haddon L (2007) Roger Silverstone's legacies: domestication. New Media Soc 9:25–32

Haddon L (2011) Domestication analysis, objects of study, and the centrality of technologies in everyday life. Can J Comm 36:311–323

King R (2012) Great PC exodus on the Internet. ZDNet. Posted 29 October 2012. http://www.zdnet.com/idc-were-in-the-midst-of-the-great-pc-exodus-on-the-internet-7000006532/. Accessed 23 November 2012

Lessig L (1999) Code and other laws of cyberspace. Basic Books, New York

Livingstone S (1992) The meaning of domestic technologies: A personal construct analysis of familial gender relations. In: Silverstone R, Hirsch E (eds) Consuming technologies: Media and information in domestic spaces. Routledge, London, pp 113–130

Mayer-Schönberger V (2008) Demystifying Lessig. Wis Law Rev 4:713–746

Perlow J (2012) Post-PC means mass extinction for personal computer OEMs. ZDNet. Posted 31 May 2012. http://www.zdnet.com/blog/perlow/post-pc-era-means-mass-extinction-for-personal-computer-oems/20514. Accessed 23 November 2012

Punie Y (1997) Rejections of ICT in Flemish households. The why-not question. In: Silverstone R, Hartmann M (eds) EMTEL working paper no. 3. Media and Information technology: Regulating markets & everyday life. University of Sussex, Brighton, pp 46–72

Rogers EM (1962) Diffusion of innovations. The Free Press, New York

Silverstone R (1996) Future imperfect: Information and communication technologies in everyday life. In: Dutton WH (ed) Information and communication technologies – Visions and realities. Oxford University Press, Oxford, pp 217–231

Silverstone R (2005) Introduction. In: Silverstone R (ed) Media, technology and everyday life in Europe. Ashgate Press, Aldershot, pp 1–18

Silverstone R (2006) Domesticating domestication: Reflections on the life of a concept. In: Berker T, Hartmann M, Punie Y, Ward KJ (eds) Domestication of media and technology. Open University Press, Berkshire, pp 229–248

Silverstone R, Hirsch E, Morley D (1992) Information and communication technologies and the moral economy of the household. In: Silverstone R, Hirsch E (eds) Consuming technologies: Media and information in domestic spaces. Routledge, London, pp 15–31

Wei R (2001) From luxury to utility: a longitudinal analysis of cell phone laggards. Journalism Mass Comm Q 78:702–719

Poland WIP (2011) World Internet Project Poland 2011. Agora S.A. and TP Group, Warsaw

Zittrain J (2008) The future of the internet and how to stop it. Yale University Press, New Haven
About this article
Cite this article
Dutton, W.H., Blank, G. The emergence of next generation internet users. Int Econ Econ Policy 11, 29–47 (2014). https://doi.org/10.1007/s10368-013-0245-8
Published:

Issue Date:

DOI: https://doi.org/10.1007/s10368-013-0245-8
Keywords
Mobile Phone

Mobile Device

Social Networking Site

Internet User

Smart Phone