Abstract
Energy and climate policy drive large scale integration of distributed generation and demand side management, with massive consequences for distribution grids. New technologies and actors shape the transformation of electricity networks towards smart systems. We argue that future regulation of smart grids needs to allow more flexibility. Firstly, the core of network monopoly starts to weaken allowing for more third party involvement. Secondly, the increasing number and heterogeneity of stakeholders makes "one-size-fits-all" regulation simply less suitable, whilst regulation needs to take account of various interests. In this paper we discuss stakeholder involvement and make policy recommendations to render regulation of smart systems more flexible.
This is a preview of subscription content, log in to check access.
Access options
Buy single article
Instant access to the full article PDF.
US$ 39.95
Price includes VAT for USA
Subscribe to journal
Immediate online access to all issues from 2019. Subscription will auto renew annually.
US$ 99
This is the net price. Taxes to be calculated in checkout.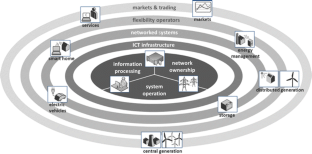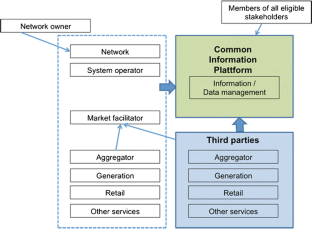 Notes
1.

It can be argued that duplication of electricity grids is not efficient and therefore not desired from a welfare perspective (even if economically feasible under a given regime). It seems though that many regulations theoretically allow for duplication and that hence the reason why we find so little duplication in practice is economic unviability.

2.

The term "unbundling" is used in telecommunications as well, but the meaning and implications are different form electricity markets. First, product bundling, possibly leading to price squeezes, has been widely discussed in telecommunications. Second, unbundling has been used to indicate that a third party would rent the entire line for a monthly fixed fee rather than pay a usage based fee. Thirdly, unbundling (or rather re-bundling) has been used to describe the development in the USA where the local intrastate telcos were allowed to integrate forward into the interstate markets. These are phenomena that are conceptually related to ownership unbundling as used in electricity but by no means equivalent.

3.

Cf. Meyer (2012) for an overview of vertical scope economies in unbundling of electricity systems.

4.

There seems to be a more general trend of decentralization and direct democracy elements also in politics e.g. the concept of liquid democracy where voters can participate in decision-making process beyond going to vote every several year. "The decision-making is based on the so-called intelligence of the network" (Litvinenko 2012, p. 406).

5.

This was triggered by a fierce debate under the "light-handed-regulation" regime in New Zealand on the role of "voluntary" access negotiation, which later came to be known as the Efficient Component Pricing Rule (ECPR), proposed in particular by Baumol et al. (1996). Later the analysis was critically formalized by Carter and Wright (1999).

6.

DCPR refers to distribution price control review which is the price control applicable to distribution network operators.

7.

Even though the control takes place ex post, an appeal right might still have certain ex ante effects in encouraging regulators to involve consumers.
References
Abdala MA (2008) Governance of competitive transmission investment in weak institutional systems. Energy Econ 30:1306–1320

Acatech (2012) Future energy grid - information and communication technology for the way towards a sustainable and economical energy system. Position Paper, München, February 2011

Arnstein SR (1969) A ladder of citizen participation. J Am Inst Plann 35:216–224, cited from Muzzini 2005, p. 2

Balmert D, Brunekreeft G (2010) Deep-ISOs and network investment. Competition and regulation in Network Industries, 11

Bauknecht D (2011) Incentive regulation and network innovations. EUI Working Paper, RSCAS, 2

Baumol W, Ordover J, Willig R (1996) Parity pricing and its critics: necessary condition for efficiency in provision of bottleneck services to competitors. Economic Research Reports, 96–33, C.V. Starr Center for Applied Economics New York University

Brandstätt C, Brunekreeft G, Friedrichsen N (2011) Locational signals to reduce network investments—what works and what not? Util Policy 19:244–254

Brandstätt C et al (2012) Roles and responsibilities in smart grids: a country comparison. Proc Int Conf Eur Energy Market 9:1–8

Briglauer W (2010) Preisregulierung auf Festnetzmärkten - Praxis und ökonomische Zusammenhänge im Liberalisierungsverlauf am Fallbeispiel Österreichs. Verlag Peter Lang, Frankfurt am Main

Brunekreeft G (2003) Regulation and competition policy in the electricity market - economic analysis and German experience. Nomos, Baden-Baden

Carter M, Wright J (1999) Interconnection in network industries. Rev Ind Org 14:1–25

CEPA (2011) Regulated monopoly service providers and customer views, preferences and willingness to pay—A report for ipart. June 2011

Clastres C (2011) Smart grids: another step towards competition, energy security and climate change objectives. Energy Policy 39:5399–5408

ComCom (Commerce Commission New Zealand) (2009) Treatment of consumer-owned electricity distribution businesses under the initial default price-quality path. 11 August 2009, updated: 16 October 2009

ComCom (Commerce Commission New Zealand) (2012) Electricity distribution services input methodologies determination 2012. 5 July 2012

Degenhart H (2010) Financing biomass heating cooperatives—an overview. Working Paper Ser Bus Law 6. ISSN:1866–8097

EC (European Commission) (2009) Directive 2009/72/EC of the European Parliament and of the council of 13 July 2009 concerning common rules for the internal market in electricity. Article 37, 17

EESC (European Economic and Social Committee) (2012) TEN/459: involving civil society in the establishment of a future European Energy Community. Own-initiative opinion, 18 January 2012

Energy UK (2012) Energy UK response to DECC's consultation on a proposed new power for Ofgem to compel regulated energy businesses to provide redress to consumers. 2 July 2012

EU SGTF (European Union Smart Grid Task Force) (2012) European Task Force for the implementation of smart grids into the European Internal Market – Mission and Work Programme. http://ec.europa.eu/energy/gas_electricity/smartgrids/doc/mission_and_workprogramme.pdf. Accessed 15 September 2012

Fox-Penner P (2010) Smart power – climate change, the smart grid, and the future of electricity utilities. Island Press, Washington

Giordano V et al (2011) Smart grid projects in Europe: lessons learned and current developments. JRC Reference Report. http://ses.jrc.ec.europa.eu/sites/ses/files/documents/smart_grid_projects_in_europe_lessons_learned_and_current_developments.pdf. Accessed 15 September 2012

Government of New Zealand (2011) Commerce Act 1986 as of 15 September 2011, section 54H. How exempt status can be lost and default/customised price-quality regulation can be applied to consumer-owned suppliers

Gunn C, Sharp B (1999) Electricity distribution as an unsustainable natural monopoly: a potential outcome of New Zealand's regulatory regime. Energy Econ 2:385–401

IEA (International Energy Agency) (2011) Technology roadmap: smart grids. http://www.iea.org/publications/freepublications/publication/smartgrids_roadmap.pdf. Accessed 15 September 2012

Joskow PL, Schmalensee R (1983) Markets for power: an analysis of electric utility deregulation. MIT Press, Boston

Khaparde SA (2004) Power sector reforms and restructuring in India. Presentation, IEEE PES General Meeting 2004, Denver

Knieps G (1997) Phasing out sector-specific regulation in competitive telecommunications. Kyklos 50:325–339

Knieps G, Weiß HJ (eds) (2009) Fallstudien zur Netzökonomie. Gabler, Wiesbaden

Kwoka J (1996) Power structure: ownership, integration, and competition in the US electricity industry. Kluwer, Norwell, cited from Pollitt 2010

Littlechild S (2008) Some alternative approaches to utility regulation. Econ Aff 28:32–37

Littlechild S (2009) Regulation, customer protection and customer engagement. EPRG Working Paper 1119

Littlechild S (2012) Australian airport regulation: exploring the frontier. J Air Transp Manag 21:50–62

Litvinenko A (2012) Social media and perspectives of liquid democracy: the example of political communication in the Pirate Party in Germany. In: Gascó M (ed) Proceedings of the 12th European Conference on e-Government, Barcelona, 14–15 June 2012

Lorenz G (2012) European distribution networks in transition to a low-carbon economy. Presentation, Smart regulation for smart grids, Brussels, 20 June 2012

Meyer R (2012) Vertical economies and the costs of separating electricity supply—a review of theoretical and empirical literature. Energy J 33

Muzzini E (2005) Consumer participation in infrastructure regulation evidence from the East Asia and Pacific Region. World Bank Working Paper No. 66

Ofgem (2005) Regulation of independent electricity distribution network operators. Decision 176/05, July 2005

Ofgem (2009) RPI-x@20 Consumer Working Group Paper. http://www.ofgem.gov.uk/Networks/rpix20/Stakeholder/Documents1/Consumer%20Working%20Group%20Paper_ FINAL.pdf. Accessed 15 September 2012

Ofgem (2010a) A guide to price control modification references to the competition commission - Licensee and third party triggered references. Guidance, 4 October 2010

Ofgem (2010b) Regulating energy networks for the future: RPI-X@20 emerging thinking - enhanced engagement. Supporting paper, 20 January 2010

Ofgem (2011) Gas and electricity connections industry review 2009–10. Report, Ref: 20/11, 28 March 2011

Ofwat (2011) Involving customers in price setting – Ofwat's customer engagement policy statement. August 2011

Pollitt MG (2010) Does electricity (and heat) network regulation have anything to learn from fixed line telecoms regulation? Energy Policy 38:1360–1371

Pollitt MG (2008) The future of electricity (and gas) regulation in a low-carbon policy world, The Energy Journal, Special Issue. The future of electricity: Papers in Honor of David Newbery

Talosaga T, Howell B (2012) New Zealand's electricity lines companies: an ownership analysis. New Zealand Institute for the study of competition and regulation, June 2012

Welfens PJJ, Graack C (1996) Telekommunikationswirtschaft: Deregulierung, Privatisierung und Internationalisierung. Springer, Berlin
Acknowledgments
The authors would like to thank participants of the Workshop on Digital EU-Integration and Globalisation, 12.11.2012, Essen for helpful comments. We gratefully acknowledge financial support by Next Generation Infrastructures within the research project "Triple-R – Roles, Responsibilities and Regulation in Smart Distribution Grids".
About this article
Cite this article
Friedrichsen, N., Brandstätt, C. & Brunekreeft, G. The need for more flexibility in the regulation of smart grids – stakeholder involvement. Int Econ Econ Policy 11, 261–275 (2014). https://doi.org/10.1007/s10368-013-0243-x
Keywords
Network Operator

Smart Grid

Electricity Supply

Stakeholder Involvement

Electricity Distribution