Summary
Background
Ovarian lymphoma is a rare neoplasm and most commonly represents secondary ovarian involvement in overt systemic disease, usually of the non-Hodgkin's type.
Aim
To report a case of acute abdomen caused by torquated large ovarian lymphoma.
Case report
We report the case of 65-year-old patient admitted to our hospital with signs and symptoms of acute abdomen. Findings were suggestive of left ovary torsion due to the neoplasm. After detorsion, mobilization, and adhesiolysis, a bilateral adnexectomy was performed. Histopathological and immunohistochemical analysis of the left ovarian tumor was performed and diagnosis of diffuse large B‑cell lymphoma (DLBCL) with a GCB (germinal center B‑cell-like) phenotype was made. Additional bone marrow biopsy and imaging techniques excluded other sites of involvement, confirming diagnosis of primary ovarian DLBCL.
Conclusion
The prognosis of ovarian lymphomas may be poorer than for other lymphomas because of late diagnosis. The best treatment option appears to be systemic chemotherapy.
Access options
Buy single article
Instant access to the full article PDF.
US$ 39.95
Tax calculation will be finalised during checkout.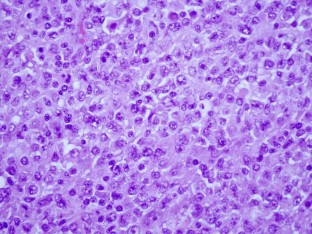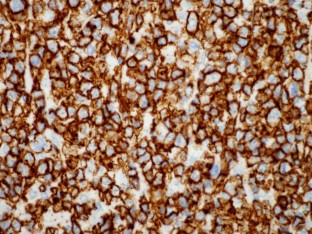 References
1.

Chorlton I, Norris HJ, King FM. Malignant reticuloendothelial disease involving the ovary as a primary manifestation: a series of 19 lymphomas and 1 granulocytic sarcoma. Cancer. 1974;34:397–407.

2.

Senol T, Doger E, Kahramanoglu I, Geduk A, Kole E, Yucesoy I, et al. Five cases of non-Hodgkin B‑cell lymphoma of the ovary. Case Rep Obstet Gynecol. 2014. https://doi.org/10.1155/2014/392758.

3.

Dimopoulos MA, Daliani D, Pugh W, Gershenson D, Cabanillas F, Sarris AH. Primary ovarian non-Hodgkin's lymphoma: Outcome after treatment with combination chemotherapy. Gynecol Oncol. 1997;64:446–50.

4.

Monterroso V, Jaffe ES, Merino MJ, Medeiros LJ. Malignant lymphomas involving the ovary: a clinicopathologic analysis of 39 cases. Am J Surg Path. 1993;17:154–70.

5.

Weingertner AS, Hamid D, Roedlich MN, Baldauf JJ. Non-Hodgkin malignant lymphoma revealed by an ovarian tumor case report and review of the literature. Gynecol Oncol. 2004;95:750–4.

6.

Vang R, Medeiros LJ, Fuller GN, Sarris AH, Deavers M. Non-Hodgkin's lymphoma involving the gynecologic tract. A review of 88 cases. Adv Anat Pathol. 2001;8:200–17.

7.

Elharroudi T, Ismaili N, Errihani H, Jalil A. Primary lymphoma of the ovary. J Cancer Res Ther. 2008;4:195–6.

8.

Crasta JA, Vallikad E. Ovarian lymphoma. Indian J Med Paediatr Oncol. 2009;30:28–30.

9.

Komoto D, Nishiyama Y, Yamamoto Y, Monden T, Sasakawa Y, Toyama Y, et al. A case of non-Hodgkin's lymphoma of the ovary: Usefulness of 18F-FDG PET for staging and assessment of the therapeutic response. Ann Nucl Med. 2006;20:157–60.

10.

Sakurai N, Tateoka K, Taguchi J, Terada T. Primary precursor B‑cell lymphoblastic lymphoma of the ovary: Case report and review of the literature. Int J Gynecol Pathol. 2008;27:412–7.

11.

Feugier P, Van Hoof A, Sebban C, Solal-Celigny P, Bouabdallah R, Fermé C, et al. Long-term results of the R‑CHOP study in the treatment of elderly patients with diffuse large B‑cell lymphoma: a study by the Groupe d'Etude des Lymphomes de l'Adulte. J Clin Oncol. 2005;23:4117–26.
Acknowledgements
We would like to thank the operating room staff and nurses for their generous assistance. We would also like to thank the patient.
Ethics declarations
Conflict of interest
K. Živković, I. Marton, A. Tikvica Luetić, S. Gašparov, K. Horvat Pavlov, L. Sović, A. Cerovac, and D. Habek declare that they have no competing interests.
Ethical standards
For this article no studies with human participants or animals were performed by any of the authors. All studies mentioned were in accordance with the ethical standards indicated in each case. For images or other information within the manuscript which identify patients, consent was obtained from them and/or their legal guardians.
Additional information
Publisher's Note
Springer Nature remains neutral with regard to jurisdictional claims in published maps and institutional affiliations.
About this article
Cite this article
Živković, K., Marton, I., Tikvica Luetić, A. et al. Torquated large ovarian lymphoma as a cause of acute abdomen: a case report of diffuse large B-cell ovarian lymphoma with a germinal center B-cell-like phenotype. Wien Med Wochenschr (2021). https://doi.org/10.1007/s10354-021-00823-z
Received:

Accepted:

Published:
Keywords
Chemotherapy

Hematologic Neoplasms

Immunohistochemistry

Surgery

Ultrasonography