Summary
Descriptions of endometriosis in 18th century monographs and manuscripts are rare and the recorded macroscopic features of endometriosis seldom support this attribution to the described cases. Recently, we became aware of an anonymous German autopsy report from the 18th century. After transcription, the manuscript was assessed by pathologists with historical expertise. This revealed that the patient died because of a malignant tumor, most probably of a gynecological origin. Furthermore, the described ovarian pathologic findings strongly support the diagnosis endometriotic ovarian cyst. Like Giovanni Battista Morgagni (1668–1772) in his landmark publication De Sedibus et Causis Morborum per Anatomen Indagatis (1761), the author correlated the pathological findings at autopsy with the symptoms of the patient. The identity of the patient could, with high probability, be established as being the Countess of Reitzenstein, the wife of a Prussian general major in the army of Friedrich the Great: Karl Erdmann von Reitzenstein (1722–1789).
Zusammenfassung
Beschreibungen einer Endometriose sind in Monografien und Manuskripten des 18. Jahrhunderts selten, wobei die makroskopischen Aufzeichnungen derartiger Fälle die Merkmale einer solchen kaum unterstützen. Kürzlich wurden die Autoren des vorliegenden Artikels auf einen anonymen Autopsiebericht des 18. Jahrhunderts aufmerksam. Nach der schriftlichen Transkription dessen haben 2 historisch versierte Pathologen den Bericht beurteilt. Das Ergebnis zeigte, dass die Patientin an einem malignen Tumor, am ehesten gynäkologischer Natur, starb. Ferner konnten in der Beschreibung pathologische Veränderungen des Ovars erkannt werden, die die Diagnose einer Endometriosezyste sehr wahrscheinlich erscheinen lassen. Wie Giovanni Battista Morgagni (1682–1772) in seiner Meilenstein-Publikation De Sedibus et Causis Morborum per Anatomen Indagatis (1761) korrelierte der Autor die pathologischen Veränderungen der Autopsie mit den Symptomen der Patientin. Zudem konnte mit hoher Sicherheit die Verstorbene als Gräfin von Reitzenstein identifiziert werden – die Gattin des preußischen Generalmajors der Armee von Friedrich dem Großen: Karl Erdmann von Reitzenstein (1722–1789).
This is a preview of subscription content, log in to check access.
Access options
Buy single article
Instant access to the full article PDF.
US$ 39.95
Price includes VAT for USA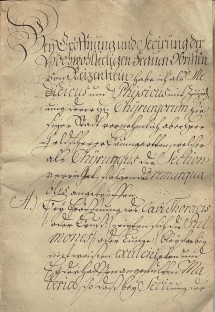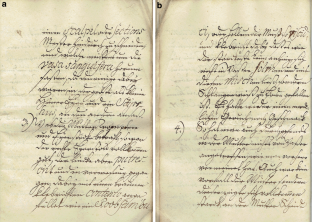 References
1.

Von Priesdorff WWK. Soldatisches Führertum. nr. 578, Vol. 2. Hamburg: Hanseatische Verlagsanstalt; 1937. pp. 50–1.

2.

König AB. Biographisches Lexikon aller Helden und Militärpersonen, welche sich in Preuβischen Diensten berühmt gemacht haben. Band 3. Berlin: Arnold Wever; 1790: pp. 276–277. Biographisches Lexikon aller Helden und Militärpersonen, welche …

3.

Deutsche Biographie. Allgemeine Deutsche Biographie. Leipzig: Duncker & Humbolt; 1889. p. 174.

4.

Reiter C. Der Vampyr-aberglaube und die Militärärzte. In: Augustynowicz C, Reber U, editors. Vampirglaube und magia posthuma im Diskurs der Habsburgermonarchie. Austria: Forschung und Wissenschaft–Geschichte, Vol. 6. Wien: LIT; 2011. p. 125. http://www.kakanien-revisited.at/beitr/vamp/CReiter1.pdf.

5.

Batt RE. A history of endometriosis. London: Springer; 2011.

6.

Knapp VJ. How old is endometriosis? Late 17th- and 18th-century European descriptions of the disease. Fertil Steril. 1999;72:10–4.

7.

Crell J. Tumorem fundo uteri externe adhaerentem describit. Wittenberg: Typis; 1739. pp. 5–8.

8.

Benagiano G, Brosens I, Lippi D. The history of endometriosis. Gynecol Obstet Invest. 2014;78:1–9.

9.

Morgagni GB. De Sedibus et Causis Morborum per Anatomen Indagatis. Venezia: Typographia Remondini; 1761.

10.

Van den Tweel JG, Taylor CR. The rise and fall of the autopsy. Virchows Arch. 2013;462:371–80.
Ethics declarations
Conflict of interest
R.M.F. van der Weiden, D. Haberland, R. Sedivy, and J.G. van den Tweel declare that they have no competing interests.
Additional information
Publisher's Note
Springer Nature remains neutral with regard to jurisdictional claims in published maps and institutional affiliations.
Caption Electronic Supplementary Material
About this article
Cite this article
van der Weiden, R.M.F., Haberland, D., Sedivy, R. et al. An 18th century description of endometriosis. Wien Med Wochenschr 170, 71–75 (2020). https://doi.org/10.1007/s10354-019-0693-z
Received:

Accepted:

Published:

Issue Date:
Keywords
Abdominal neoplasm

Gynecology

History of endometriosis

Giovanni Battista Morgagni

Reitzenstein
Schlüsselwörter
Abdominales Neoplasma

Gynäkologie

Geschichte der Endometriose

Giovanni Battista Morgagni

Reitzenstein