Zusammenfassung
Prüfungen steuern das Lernen. Sie müssen primär in die Einheit aus Lernzielen, Unterrichtsmethoden und Leistungsüberprüfungen integriert werden. Dabei sind verschiedene Prüfungsinstrumente für die Kompetenzmessung auf den aufeinander aufbauenden Kompetenzebenen erforderlich. Eine passende Mischung ist unabdingbar, um die Vielfalt der Lernergebnisse eines Curriculums abzubilden. Ferner erfüllen Prüfungen auch Evaluationseigenschaften: Sie spiegeln im Sinne einer Standortbestimmung das Wissen und die Fähigkeiten von Studierenden wider und überprüfen die Lehre.
Digitale Prüfungen im Format der Multiple Choice Questions(MCQ)-Tests ermöglichen ein höheres Maß an Automatisierung und beschleunigen die Abläufe bei der Erstellung, Durchführung und Auswertung der Prüfungsergebnisse. Somit erfreuen sie sich einer zunehmenden Beliebtheit, sofern die technischen Voraussetzungen für große Semesterkohorten gegeben sind. Die Verlagerung von Prüfungsprozessen an den Computer bzw. ans Tablet bringt eine Fülle an neuen Herausforderungen aber auch Möglichkeiten mit sich.
Summary
Assessment drives learning. Examinations need to be aligned primarily with learning objectives, as well as teaching and assessment methods of the courses on offer. In doing so, various examination instruments are required to measure on levels of competency that build on one another. An appropriate mix is essential to reflect the variety of learning outcomes of a chosen curriculum. Furthermore, examinations also possess the characteristics of evaluation: They reflect the knowledge and abilities of students and assess the teaching at a defined location. Digital examinations in the form of multiple-choice-question (MCQ) testing enable a higher degree of automation and accelerate the processes of creation, implementation, and evaluation of the examination results. Thus, they enjoy increasing popularity, provided that the technical requirements for large semester cohorts are met. Shifting examination processes to computers or tablets entails not only a wealth of new challenges but also opportunities.
This is a preview of subscription content, log in to check access.
Access options
Buy single article
Instant access to the full article PDF.
US$ 39.95
Price includes VAT for USA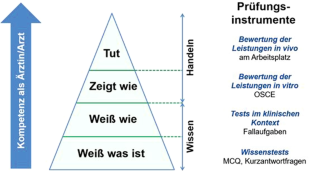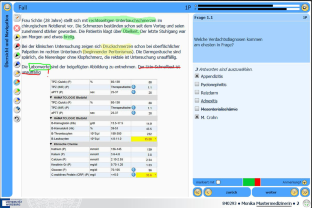 Literatur
1.

Ben-David MF. The role of assessment in expanding professional horizons. Med Teach. 2000;22(5):472–7.

2.

Newble DI. Assessing clinical competence at the undergraduate level. Med Educ. 1992;26(6):504–11.

3.

Wormald BW, Schoeman S, Somasunderam A, Penn M. Assessment drives learning: an unavoidable truth? Anat Sci Educ. 2009;2(5):199–204.

4.

Wass V, Van der Vleuten C, Shatzer J, Jones R. Assessment of clinical competence. Lancet. 2001;357(9260):945–9.

5.

Epstein RM. Assessment in medical education. N Engl J Med. 2007;356(4):387–96.

6.

Jünger J. Kompetenzorientiert prüfen im Staatsexamen Medizin. Bundesgesundheitsblatt Gesundheitsforschung Gesundheitsschutz. 2018;61(2):171–7.

7.

Norcini J, Anderson B, Bollela V, Burch V, Costa MJ, Duvivier R, et al. Criteria for good assessment: consensus statement and recommendations from the Ottawa 2010 Conference. Med Teach. 2011;33(3):206–14.

8.

Miller GE. The assessment of clinical skills/competence/performance. Acad Med. 1990;65(9 Suppl):S63–S7.

9.

Fitzgerald M. Multiple-choice questions. Adv Nurse Pract. 2006;14(3):25.

10.

McCoubrie P. Improving the fairness of multiple-choice questions: a literature review. Med Teach. 2004;26(8):709–12.

11.

Fischer MR, Holzer M, Junger J. Exams at medical faculties – quality, responsibility and perspectives. GMS Z Med Ausbild. 2010;27(5):Doc66.

12.

Kazubke E, Schuttpelz-Brauns K. Review of multiple-choice-questions and group performance – A comparison of face-to-face and virtual groups with and without facilitation. GMS Z Med Ausbild. 2010;27(5):Doc68.

13.

Chandratilake M, Davis M, Ponnamperuma G. Assessment of medical knowledge: the pros and cons of using true/false multiple choice questions. Natl Med J India. 2011;24(4):225–8.

14.

Rademakers J, Ten Cate TJ, Bar PR. Progress testing with short answer questions. Med Teach. 2005;27(7):578–82.

15.

Hrynchak P, Takahashi SG, Nayer M. Key-feature questions for assessment of clinical reasoning: a literature review. Med Educ. 2014;48(9):870–83.

16.

Fischer MR, Kopp V, Holzer M, Ruderich F, Junger J. A modified electronic key feature examination for undergraduate medical students: validation threats and opportunities. Med Teach. 2005;27(5):450–5.

17.

Anastakis DJ, Cohen R, Reznick RK. The structured oral examination as a method for assessing surgical residents. Am J Surg. 1991;162(1):67–70.

18.

Daniels VJ, Pugh D. Twelve tips for developing an OSCE that measures what you want. Med Teach. 2017; https://doi.org/10.1080/0142159X.2017.1390214.

19.

Schleicher I, Leitner K, Juenger J, Moeltner A, Ruesseler M, Bender B, et al. Does quantity ensure quality? Standardized OSCE-stations for outcome-oriented evaluation of practical skills at different medical faculties. Ann Anatom. 2017;212:55–60.

20.

Schleicher I, Leitner K, Juenger J, Moeltner A, Ruesseler M, Bender B, et al. Examiner effect on the objective structured clinical exam – a study at five medical schools. BMC Med Educ. 2017;17(1):71.

21.

Lorwald AC, Lahner FM, Greif R, Berendonk C, Norcini J, Huwendiek S. Factors influencing the educational impact of Mini-CEX and DOPS: A qualitative synthesis. Med Teach. 2017;40(4):414. https://doi.org/10.1080/0142159X.2017.1408901.

22.

Mortaz Hejri S, Jalili M, Shirazi M, Masoomi R, Nedjat S, Norcini J. The utility of mini-Clinical Evaluation Exercise (mini-CEX) in undergraduate and postgraduate medical education: protocol for a systematic review. Syst Rev. 2017;6(1):146.

23.

Bruce D. Workplace-based assessment as an educational tool: guide supplement 31.4 – review. Med Teach. 2010;32(6):524–5.

24.

Barrett A, Galvin R, Steinert Y, Scherpbier A, O'Shaughnessy A, Horgan M, et al. A BEME (Best Evidence in Medical Education) review of the use of workplace-based assessment in identifying and remediating underperformance among postgraduate medical trainees: BEME Guide No. 43. Med Teach. 2016;38(12):1188–98.

25.

Kogan JR, Hatala R, Hauer KE, Holmboe E. Guidelines: the do's, don'ts and don't knows of direct observation of clinical skills in medical education. Perspect Med Educ. 2017;6(5):286–305.

26.

Peters H, Holzhausen Y, Boscardin C, Ten Cate O, Chen HC. Twelve tips for the implementation of EPAs for assessment and entrustment decisions. Med Teach. 2017;39(8):802–7.

27.

Levine RB, Cayea D. Defining and assessing the 21st-century physician in training. J Gen Intern Med. 2015;30(9):1241–2.

28.

Epstein RM, Hundert EM. Defining and assessing professional competence. JAMA. 2002;287(2):226–35.

29.

Wolf KD. E‑Assessment an Hochschulen: Organisatorische und rechtliche Rahmenbedingungen. In: Ne (x) t Generation Learning: E‑Assessment und E‑Portfolio: halten sie, was sie versprechen. 2007. S. 27–40.

30.

Ehlers JP, Guetl C, Höntzsch S, Usener CA, Gruttmann S. Prüfen mit Computer und Internet-Didaktik, Methodik und Organisation von E‑Assessment. Lehrbuch für Lernen und Lehren mit Technologien. 2013.

31.

Wannemacher K. Computergestützte Prüfungsverfahren. In: Breitner MH, Bruns B, Lehner F, Hrsg. Neue Trends im E‑Learning: Aspekte der Betriebswirtschaftslehre und Informatik. Heidelberg: Physica-Verlag; 2007. S. 427–40.

32.

Hochlehnert A, Brass K, Moeltner A, Juenger J. Does medical students' preference of test format (computer-based vs. paper-based) have an influence on performance? BMC Med Educ. 2011;11:89.

33.

Eilers B, Gruttmann S, Kuchen H. Konzeption eines integrierbaren Systems zur computergestützten Lernfortschrittskontrolle. E‑learning-management. 2008. S. 213–32.

34.

Hols-Elders W, Bloemendaal P, Bos N, Quaak M, Sijstermans R, De Jong P. Twelve tips for computer-based assessment in medical education. Med Teach. 2008;30(7):673–8.

35.

Würzburg J‑M-U. CaseTrain / Fallbasiertes Training. 2018. https://casetrain.uni-wuerzburg.de/index.shtml. Zugegriffen: 20.07.2018

36.

Würzburg J‑M-U. Lehren will gelernt sein. Medizin‑/Hochschuldidaktik-Training für Lehrende in der Medizin und in der Pflege. 2018. https://www.med.uni-wuerzburg.de/medizinlehre/zertifikat-medizindidaktik-hochschuldidaktik/. Zugegriffen: 20.07.2018

37.

Boud D. Assessment and learning: contradictory or complementary. In: Knight P, Hrsg. Assessment for learning in higher education. 1995. S. 35–48.
Ethics declarations
Interessenkonflikt
S. König und A. Hörnlein geben an, dass kein Interessenkonflikt besteht.
About this article
Cite this article
König, S., Hörnlein, A. Prüfungen im Medizinstudium – mehr als nur Noten. Wien Med Wochenschr 169, 126–131 (2019). https://doi.org/10.1007/s10354-018-0650-2
Received:

Accepted:

Published:

Issue Date:
Schlüsselwörter
Prüfungen im Medizinstudium

MCQ-Tests

Tablet-Prüfungen

Miller-Pyramide der Kompetenzen
Keywords
Exams, medicine

MCQ

Tablet exam

Miller's pyramid of competencies