Summary
Vaginal dryness and associated symptoms may occur in women of any age and are a frequent burden after menopause. The North American Menopause Society recommends long-acting non-hormonal vaginal creams as first-line therapy. A new type of such creams was developed (Remifemin® FeuchtCreme in Austria and Germany). This hormone-free cream contains hamamelis virginiana distillate and well-established vaginal cream ingredients. We explored its physical function and tolerability in an open interventional clinical trial. 20 postmenopausal women (54 to 76 years, median 60) treated their vaginal dryness using this cream once daily for 7 days and reported about their symptoms before, 4 to 8 h after first and 14 to 22 h after last application. A physician assessed tolerability and local physical function. All patients completed the study. Local physical function significantly improved from dryness at baseline (mean 4.0 ± SD 1.8) to a normal moisture level, on average (6.3 ± 2.1 after first, 6.7 ± 2.1 after last application, p = 0.0001). Subjective assessment of a feeling vaginal dryness showed a significant improvement at both times (p = 0.0001). Onset and duration of feeling moisturized were reported to be 0 to 2 min and 11.3 ± 6.9 h after application. All women reported vaginal dryness at baseline. 55 and 80% of patients reported no dryness after first application and at the end of the investigation. The cream was seen at the application site for up to 21 h. Tolerability assessments did not reveal any relevant change over time. There were four adverse events in 4 patients, all not serious and of mild intensity: urinary urgency (2), diarrhoea (1) and mild spotting after first application (1). The latter was caused by the dry surface of the applicator and was avoided by moisturizing the surface of the applicator at subsequent applications. In conclusion, these study results indicate a well-tolerated and long-acting function of this new vaginal moisturizing cream. Further clinical research in more patients will follow.
Zusammenfassung
Scheidentrockenheit und damit assoziierte Symptome können bei Frauen jeden Alters vorkommen und sind für postmenopausale Frauen eine häufige Belastung. Die Nordamerikanische Menopause-Gesellschaft empfiehlt lang anhaltend wirkende hormonfreie Vaginalcremes als Therapie der ersten Wahl. Ein neuer Typ einer solchen hormonfreien Creme ist mit Remifemin® FeuchtCreme (Deutschland, Österreich) entwickelt worden. Sie enthält Hamamelis-virginiana-Wasserdampfdestillat und weitere für Vaginalcremes bewährte Bestandteile. Die Autoren haben ihre physikalische Funktion und Verträglichkeit in einer offenen interventionellen klinischen Prüfung untersucht. Mit dieser Creme behandelten 20 postmenopausale Frauen (54–76 Jahre, Median: 60) ihre Scheidentrockenheit einmal täglich für 7 Tage und berichteten über ihre Symptome vor, 4–8 h nach erster und 14–22 h nach letzter Anwendung. Ein Arzt beurteilte die Verträglichkeit und die lokale physikalische Funktion. Alle Patientinnen beendeten die Studie vollständig. Die lokale physikalische Funktion verbesserte sich signifikant von Trockenheit zu Beginn (Mittelwert 4,0 ± Standardabweichung 1,8) hin zu einem normalen Feuchtigkeitslevel (6,3 ± 2,1 nach erster; 6,7 ± 2,1 nach letzter Applikation; p = 0,0001). Auch das subjektive Scheidentrockenheitsgefühl besserte sich zu beiden Zeitpunkten (p = 0,0001). Der Wirkungseintritt wurde mit 0–2 min nach Applikation und die Wirkungsdauer (Dauer des Feuchtigkeitsgefühls) mit durchschnittlich 11,3 ± 6,9 h angegeben. Alle Teilnehmerinnen berichteten zu Beginn über Scheidentrockenheit. Dass keine Scheidentrockenheit mehr bestehe, gaben 55 % nach erstmaliger und 80 % nach letztmaliger Behandlung an. Die Creme war nach bis zu 21 h am Applikationsort noch zu sehen. Die Verträglichkeitsbeurteilungen ergaben keine relevante Änderung im Laufe der Zeit. Vier unerwünschte Ereignisse traten bei 4 Patientinnen auf, alle nicht schwerwiegend und von geringer Intensität: Harndrang (2), Diarrhö (1) und leichte Punktblutung nach erstmaliger Anwendung (1). Letzteres wurde durch die trockene Oberfläche des Applikators verursacht und bei nachfolgenden Applikationen verhindert, indem die Applikatoroberfläche zuvor mit etwas Creme befeuchtet wurde. Diese Studienergebnisse zeigen eine gut verträgliche, lang anhaltende Funktion dieser neuen Vaginalcreme. Weitere klinische Forschung mit mehr Patientinnen wird folgen.
This is a preview of subscription content, log in to check access.
Access options
Buy single article
Instant access to the full article PDF.
US$ 39.95
Price includes VAT for USA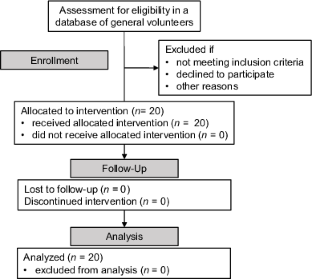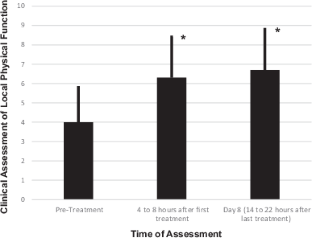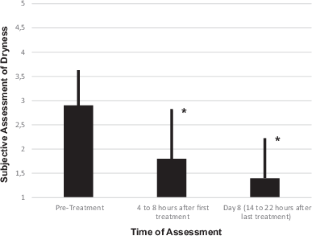 References
1.

Palma F, Volpe A, Villa P, Cagnacci A. Vaginal atrophy of women in postmenopause. Results from a multicentric observational study: The AGATA study. Maturitas. 2016;83:40–4.

2.

Nappi RE, Kokot-Kierepa M. Vaginal Health: Insights, Views & Attitudes (VIVA) – results from an international survey. Climacteric. 2012;15(1):36–44.

3.

Ye S, Yang J, Cao D, Lang J, Shen K. A systematic review of quality of life and sexual function of patients with cervical cancer after treatment. Int J Gynecol Cancer. 2014;24(7):1146–57.

4.

Mazzarello S, Hutton B, Ibrahim MF, Jacobs C, Shorr R, Smith S, et al. Management of urogenital atrophy in breast cancer patients: A systematic review of available evidence from randomized trials. Breast Cancer Res Treat. 2015;152(1):1–8.

5.

Carati D, Zizza A, Guido M, De DA, Stefanizzi R, Serra R, et al. Safety, efficacy, and tolerability of differential treatment to prevent and treat vaginal dryness and vulvovaginitis in diabetic women. Clin Exp Obstet Gynecol. 2016;43(2):198–202.

6.

Bachmann G, Balica A. Quantification of vaginal atrophy: Several decades of advances. Menopause. 2016;23(8):823–4.

7.

NAMS. Management of symptomatic vulvovaginal atrophy: 2013 position statement of The North American Menopause Society. Menopause. 2013;20(9):888–902.

8.

Williams R, Havemeister W, Wigger-Alberti W, Nolte KU, Henneicke-von Zepelin HH. Vaginale Trockenheit – neue Feuchtcreme zeigt nachhaltige Wirkung. GYNE. 2014;09:46–7.

9.

Proksch E, Lachapelle JM. The management of dry skin with topical emollients – recent perspectives. J Dtsch Dermatol Ges. 2005;3(10):768–74.

10.

Schunck M, Neumann C, Proksch E. Artificial barrier repair in wounds by semi-occlusive foils reduced wound contraction and enhanced cell migration and reepithelization in mouse skin. J Invest Dermatol. 2005;125(5):1063–71.

11.

DiBonaventura M, Luo X, Moffatt M, Bushmakin AG, Kumar M, Bobula J. The association between Vulvovaginal atrophy symptoms and quality of life among postmenopausal women in the United States and Western Europe. J Womens Health. 2015;24(9):713–22.

12.

Nisar N, Sikandar R, Sohoo NA. Menopausal symptoms: prevalence, severity and correlation with sociodemographic and reproductive characteristics. A cross sectional community based survey from rural Sindh Pakistan. J Pak Med Assoc. 2015;65(4):409–13.

13.

Malheiros ES, Chein MB, da Silva DS, Dias CL, Brito LG, Pinto-Neto AM, et al. Climacteric syndrome in a Northeastern Brazilian city: A household survey. Rev Bras Ginecol Obstet. 2014;36(4):163–9.

14.

Minkin MJ, Reiter S, Maamari R. Prevalence of postmenopausal symptoms in North America and Europe. Menopause. 2015;22(11):1231–8.

15.

Sturdee DW, Panay N. Recommendations for the management of postmenopausal vaginal atrophy. Climacteric. 2010;13(6):509–22.

16.

Stika CS. Atrophic vaginitis. Dermatol Ther. 2010;23(5):514–22.

17.

Sinha A, Ewies AA. Non-hormonal topical treatment of vulvovaginal atrophy: An up-to-date overview. Climacteric. 2013;16(3):305–12.
Funding
The study was sponsored by Schaper & Brümmer GmbH & Co. KG, Germany.
Ethics declarations
Conflict of interest
H.-H. Henneicke-von Zepelin, R. Williams, W. Havemeister, W. Wigger-Alberti, and K.-U. Nolte are employees of the study sponsor or of the institution which was contracted by the sponsor to perform the study. However, the authors declare that this employment has not influenced their contributions to the study and its publication.
About this article
Cite this article
Henneicke-von Zepelin, H., Williams, R., Havemeister, W. et al. Clinical trial shows lasting function of a new moisturizing cream against vaginal dryness. Wien Med Wochenschr 167, 189–195 (2017). https://doi.org/10.1007/s10354-016-0536-0
Received:

Accepted:

Published:

Issue Date:
Keywords
Vaginal dryness

Vulvovaginal atrophy (VVA)

Non-hormonal vaginal cream

Vaginal moisturizer

Hamamelis virginiana distillate
Schlüsselwörter
Scheidentrockenheit

Vulvovaginale Atrophie

Hormonfreie Vaginalcreme

Scheiden-Feuchtigkeitscreme

Hamamelis-virginiana-Wasserdampfdestillat