Zusammenfassung
Durch seine Zeiteffizienz, Individualisierbarkeit und Effektivität erfreut sich Ganzkörper-Elektromyostimulation (WB-EMS) zunehmender Beliebtheit. In jüngster Vergangenheit wurden nach Erstanwendung von WB-EMS hohe Kreatinkinase (CK)-Werte berichtet, die in einem gesundheitlich bedenklichen Bereich liegen. Ziel der Untersuchung war daher 1) die entsprechende Verifizierung hoher CK-Werte, 2) die Einschätzung der gesundheitlichen Relevanz dieser Werte und 3) deren trainingsbedingte Veränderung im Verlauf.
26 gesunde, sportliche Personen ohne WB-EMS Erfahrung nahmen an der Untersuchung teil. Eine ausbelastete Erstapplikation (bipolar, 85 Hz; 350 ms; intermittierend, 20 min) führte zu einem CK-Anstieg um das 117fache (28.545 ± 33.611 IE/l) mit Peak am 3.-4. Nachbelastungstag. Trotz dieser ausgeprägten Rhabdomyolyse, wurden keine gesundheitliche Komplikationen (Hyperkaliämie, Hypokalzämie, akutes Nierenversagen) erfasst. Ein 10wöchiges WB-EMS-Training mit einer Applikation/Woche führte zu einer signifikanten Reduktion des CK-Anstieges nach ausbelastetem WB-EMS auf Werte im Bereich konventioneller Kraftbelastungen (906 ± 500 IE/l).
Ausbelastende WB-EMS-Applikation muss zumindest zu Beginn des Trainingsprozesses vermieden werden, um gesundheitliche Risiken initial (zu) hoher Intensität auszuschließen.
Summary
Due to its individualization, time-efficiency and effectiveness Whole-body-Electromyo-stimulation (WB-EMS) becomes increasingly popular. However, recently (very) high Creatin-kinase concentration were reported, at least after initial WB-EMS-application. Thus, the aim of the study was to determine (1) WB-EMS induced increases of CK-concentration, (2) their impact on corresponding health parameters and (3) training-induced changes of CK-levels.
Twenty-six healthy, sportive volunteers without previous experience with WB-EMS were included. Initial high intense WB-EMS application (bipolar, 85 Hz; 350 ms; intermittent, 20 min) led to an increase of the CK-level by the 117fold (28.545 ± 33.611 IU/l) of baseline. CK-peaks were detected after 72–96 h. Despite this pronounced "exertional rhabdomyolysis", we did not determine rhabdomyolysis-induced complications (e.g. acute renal failure, hyperkalemia, hypocalcaemia). After 10 weeks of WB-EMS (1 session/week) CK–reaction to intensive WB-EMS-Application was significantly blunted (906 ± 500 IE/l) and averaged in the area of conventional resistance exercise.
In summary, intensity of WB-EMS should be carefully increased during the initial sessions.
Access options
Buy single article
Instant access to the full article PDF.
USD 39.95
Price includes VAT (USA)
Tax calculation will be finalised during checkout.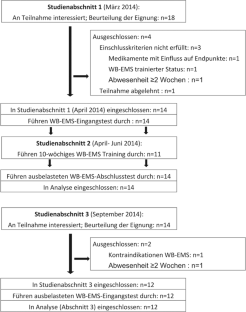 Literatur
1.

Boeckh-Behrens W, Treu S.. Vergleich der Trainingseffekte von konventionellem Krafttraining, maxxF und EMS-Training in den Bereichen Körperzusammensetzung, Körperformung, Kraftentwicklung, Psyche und Befindlichkeit. Bayreuth: Institut für Sportwissenschaften der Universität Bayreuth; 2002.

2.

Kemmler W, Birlauf A, von Stengel S. Einfluss von Ganzkörper-Elektromyostimulation auf das Metabolische Syndrom bei älteren Männern mit metabolischem Syndrom. Dtsch Z Sportmed. 2010;61:117–23.

3.

Kemmler W, von Stengel S. Whole-body electromyostimulation as a means to impact muscle mass and abdominal body fat in lean, sedentary, older female adults: subanalysis of the TEST-III trial. Clin Interv Aging. 2013;8:1353–64.

4.

Kemmler W, Teschler M, Bebenek M, et al. Selecting an efficient exercise method to improve strength and lean body mass – a comparison of High Intensity Resistance Exercise versus Whole-Body Electromyostimulation. A randomized controlled study. J Sports Sci. 2015 (submitted).

5.

Vatter J. Elektrische Muskelstimulation als Ganzkörpertraining – Multicenterstudie zum Einsatz von Ganzkörper-EMS im Fitness-Studio. AVM-Verlag München; 2010.

6.

Brancaccio P, Maffulli N, Limongelli FM. Creatine kinase monitoring in sport medicine. Br Med Bull. 2007;81–82:209–30.

7.

Kastner A, Braun M, Meyer T. Two cases of rhabdomyolysis after training with electromyostimulation by 2 young male professional soccer players. Clin J Sport Med. 2014.

8.

Patil R, Uusi-Rasi K, Pasanen M, et al. Sarcopenia and osteopenia among 70-80-year-old home-dwelling Finnish women: prevalence and association with functional performance. Osteoporos Int. 2013;24:787–96.

9.

Zutt R, van der Kooi AJ, Linthorst GE, et al. Rhabdomyolysis: review of the literature. Neuromuscul Disord. 2014;24:651–9.

10.

Vatter J, Authenrieth S, Müller S. Betreuungshandbuch EMS health and beuty. Karlsruhe: Health and Beauty; 2014.

11.

Borg E, Kaijser L. A comparison between three rating scales for perceived exertion and two different work tests. Scand J Med Sci Sports. 2006;16:57–69.

12.

Levey AS, Stevens LA, Schmid CH, et al. A new equation to estimate glomerular filtration rate. Ann Intern Med. 2009;150:604–12.

13.

Kobayashi Y, Takeuchi T, Hosoi T, et al. Effect of a marathon run on serum lipoproteins, creatine kinase, and lactate dehydrogenase in recreational runners. Res Q Exerc Sport. 2005;76:450–5.

14.

Kratz A, Lewandrowski KB, Siegel AJ, et al. Effect of marathon running on hematologic and biochemical laboratory parameters, including cardiac markers. Am J Clin Pathol. 2002;118:856–63.

15.

Cohen J. Statistical power analysis for the behavioral sciences. Hillsdale: Lawrence Earlbaum Associate; 1988.

16.

Chen TC. Variability in muscle damage after eccentric exercise and the repeated bout effect. Res Q Exerc Sport. 2006;77:362–71.

17.

Koch AJ, Pereira R, Machado M. The creatine kinase response to resistance exercise. J Musculoskelet Neuronal Interact. 2014;14:68–77.

18.

Hoffmann MD, Ingwerson JL, Rogers IR, et al. Increasing creatine kinase concentration at the 161 Western States Endurance Run. Wilderness Environ Med. 2012;23:56–60.

19.

Klapcinska B, Waskiewicz Z, Chrapusta SJ, et al. Metabolic responses to a 48-h ultra-marathon run in middle-aged male amateur runners. Eur J Appl Physiol. 2013;113:2781–93.

20.

Skenderi KP, Kavouras SA, Anastasiou CA, et al. Exertional Rhabdomyolysis during a 246-km continuous running race. Med Sci Sports Exerc. 2006;38:1054–7.

21.

Waskiewicz Z, Klapcinska B, Sadowska-Krepa E, et al. Acute metabolic responses to a 24-h ultra-marathon race in male amateur runners. Eur J Appl Physiol. 2012;112:1679–88.

22.

Chen TC, Lin KY, Chen HL, et al. Comparison in eccentric exercise-induced muscle damage among four limb muscles. Eur J Appl Physiol. 2011;111:211–23.

23.

Machado M, Willardson JM, Silva DR, et al. Creatine kinase activity weakly correlates to volume completed following upper body resistance exercise. Res Q Exerc Sport. 2012;83:276–81.

24.

Machado A, Garcia-Lopez D, Gonzalez-Gallego J, et al. Whole-body vibration training increases muscle strength and mass in older women: a randomized-controlled trial. Scand J Med Sci Sports. 2010;20:200–7.

25.

Chapman D, Newton M, Sacco P, et al. Greater muscle damage induced by fast versus slow velocity eccentric exercise. Int J Sports Med. 2006;27:591–8.

26.

Nosaka K, Newton M. Difference in the magnitude of muscle damage between maximal and submaximal eccentric loading. J Strength Cond Res. 2002;16:202–8.

27.

Baird MF, Graham SM, Baker JS, et al. Creatine-kinase- and exercise-related muscle damage implications for muscle performance and recovery. J Nutr Metab. 2012;2012:960363.

28.

Clarkson PM, Hubal MJ. Are women less susceptible to exercise-induced muscle damage? Curr Opin Clin Nutr Metab Care. 2001;4:527–31.

29.

Fernandez-Gonzalo R, Lundberg TR, Alvarez-Alvarez L, et al. Muscle damage responses and adaptations to eccentric-overload resistance exercise in men and women. Eur J Appl Physiol. 2014;114:1075–84.

30.

Maxwell JH, Bloor CM. Effects of conditioning on exertional rhabdomyolysis and serum creatine kinase after severe exercise. Enzyme. 1981;26:177–81.

31.

Bird SR, Linden M, Hawley JA. Acute changes to biomarkers as a consequence of prolonged strenuous running. Ann Clin Biochem. 2014;51:137–50.

32.

Jubeau M, Sartorio A, Marinone PG, et al. Comparison between voluntary and stimulated contractions of the quadriceps femoris for growth hormone response and muscle damage. J Appl Physiol (1985). 2008;104:75–81.

33.

Visweswaran P, Guntupalli J. Rhabdomyolysis. Crit Care Clin. 1999;15:415–28.

34.

Patel DR, Gyamfi R, Torres A. Exertional rhabdomyolysis and acute kidney injury. Phys Sportsmed. 2009;37:71–9.

35.

Bell M, Liljestam E, Granath F, et al. Optimal follow-up time after continuous renal replacement therapy in actual renal failure patients stratified with the RIFLE criteria. Nephrol Dial Transplant. 2005;20:354–60.

36.

Brown SJ, Child RB, Day SH, et al. Exercise-induced skeletal muscle damage and adaptation following repeated bouts of eccentric muscle contractions. J Sports Sci. 1997;15:215–22.

37.

McHugh MP, Connolly DA, Eston RG, et al. Exercise-induced muscle damage and potential mechanisms for the repeated bout effect. Sports Med. 1999;27:157–70.

38.

Nosaka K, Clarkson PM. Muscle damage following repeated bouts of high force eccentric exercise. Med Sci Sports Exerc. 1995;27:1263–9.

39.

Nosaka K, Sakamoto K, Newton M, et al. How long does the protective effect on eccentric exercise-induced muscle damage last? Med Sci Sports Exerc. 2001;33:1490–5.

40.

Noakes TD, Carter JW. The responses of plasma biochemical parameters to a 56-km race in novice and experienced ultra-marathon runners. Eur J Appl Physiol Occup Physiol. 1982;49:179–86.
Danksagung
Ganz besonderer Dank gilt Frau Dr. Anke Dahlmann (Medizinische Klinik 4, FAU) für die zeitaufwändige ärztliche Begleitung der Untersuchung(en). Frau Professor Dr. Zopf und ihrem Team (Medizinische Klinik 1, FAU) sei für die Mithilfe bei den Blutabnahmen und die laborärztliche Unterstützung ebenfalls herzlich gedankt. Herrn Dr. Bernd Langenstein (Klinikum Nürnberg Süd) möchten wir für die fachinhaltliche Unterstützung bei der Interpretation der erhobenen Laborparameter danken.
Interessenkonflikt
Für keinen der Autoren (Kemmler, Teschler, Bebenek, von Stengel) liegt ein Interessenkonflikt vor.
About this article
Cite this article
Kemmler, W., Teschler, M., Bebenek, M. et al. Hohe Kreatinkinase-Werte nach exzessiver Ganzkörper-Elektromyostimulation: gesundheitliche Relevanz und Entwicklung im Trainingsverlauf. Wien Med Wochenschr 165, 427–435 (2015). https://doi.org/10.1007/s10354-015-0394-1
Received:

Revised:

Accepted:

Published:

Issue Date:
Schlüsselwörter
Elektrostimulation

CK

Myoglobin

Rhabdomyolyse

Akutes Nierenversagen
Keywords
Electromyostimulation

CK

Myoglobin

Rhabdomyolysis

Acute renal failure