Summary
Background
The use of complementary and alternative medicine (CAM) is widespread in children with cancer and is poorly regulated.
Patients and methods
Case report.
Results
We describe a case of severe cyanide poisoning arising from CAM use. A severely agitated, encephalopathic, unresponsive 4-year-old boy (initial Glasgow Coma Scale of 3) with a history of metastatic ependymoma was brought to our emergency department by ambulance services. Initial blood gas analysis demonstrated severe metabolic/lactic acidosis. On detailed questioning of the parents, the use of CAM including intravenous and oral "vitamin B 17" (amygdalin) and oral apricot kernel was reported. After administering sodium thiosulfate, rapid improvement in his medical condition with complete recovery without need for further intensive care treatment was seen. Serum cyanide level was markedly elevated.
Conclusions
Cyanide poisoning can be the cause of severe encephalopathy in children receiving CAM treatment with substances containing cyanogenic glycosides.
Zusammenfassung
Hintergrund
Die Verwendung von Komplementär- und Alternativmedizin (CAM) findet bei pädiatrischen Patienten mit bösartigen Erkrankungen nicht selten statt.
Patienten und Methodik
Fallbericht.
Ergebnisse
Hier berichten wir über einen 4-jährigen Jungen mit einem metastasierten Ependymom, bei welchem es im Rahmen einer CAM-Behandlung zu einer schweren iatrogenen Zyanidvergiftung gekommen war. Klinisch imponierte ein enzephalopathisches Krankheitsbild mit Agitation und einer schweren initialen Bewusstseinsstörung (GCS: 3). Die bei Aufnahme durchgeführte Blutgasanalyse zeigte eine schwere metabolische Azidose mit ausgeprägter Laktaterhöhung. Nach intensiver Befragung der Eltern berichteten diese über die Inanspruchnahme von CAM-Therapien. Hierbei wurden über einen Zeitraum von rund einer Woche tägliche Infusionstherapien sowie orale Gaben mit sogenanntem "Vitamin B17" durchgeführt. Nach Gabe von Natriumthiosulphat kam es zu einer raschen Besserung der klinischen Symptomatik ohne Auftreten von Residuen. Die toxikologische Bestimmung der Serumzyanidkonzentration ergab einen hochpathologischen Befund.
Schlussfolgerung
Bei Kindern, bei denen es zum Auftreten eines akuten enzephalopatischen Krankheitsbildes kommt, sollte differenzialdiagnostisch an eine iatrogene Zyanidintoxikation gedacht werden. Diese kann im Rahmen einer CAM-Therapie mit Amydalin und Aprikosenkernen auftreten.
This is a preview of subscription content, log in to check access.
Access options
Buy single article
Instant access to the full article PDF.
US$ 39.95
Price includes VAT for USA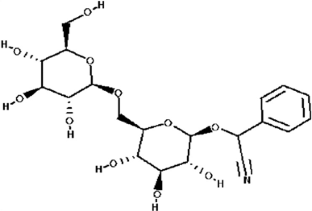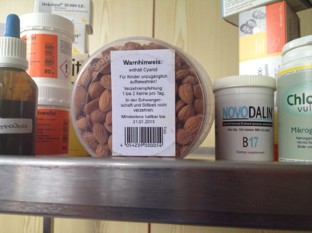 Abbreviations
CAM:

Complementary and alternative medicine

GCS:

Glasgow Coma Scale

MRI:

Magnetic resonance imaging

PICU:

Pediatric Intensive Care Unit
References
1

Meyer S, Gortner L, Larsen A, Kutschke G, Gottschling S, Gräber S, Schroeder N. Complementary and alternative medicine in paediatrics: a systematic overview/synthesis of Cochrane Collaboration reviews. Swiss Med Wkly. 2013 May 27;143:w13794. doi: 10.4414/smw.2013.13794

2

Gottschling S, Meyer S, Längler A, Scharifi G, Ebinger F, Gronwald B. Differences in use of complementary and alternative medicine between children and adolescents with cancer in Germany: a population based survey. Pediatr Blood Cancer 2014;61:488–92

3

Milazzo S, Ernst E, Lejeune S, Boehm K, Horneber M. Laetrile treatment for cancer. Cochrane Database Syst Rev. 2011 Nov 9;(11):CD005476. doi: 10.1002/14651858.CD005476.pub

4

Song Z, Xu X. Advanced research on anti-tumor effects of amygdalin. J Cancer Res Ther. 2014 Aug;10 Suppl:C3–7. doi: 10.4103/0973-1482.139743.

5

Beasley DM1, Glass WI. Cyanide poisoning: pathophysiology and treatment recommendations. Occup Med (Lond). 1998 Oct;48(7):427–31

6

O'Brien B, Quigg C, Leong T. Severe cyanide toxicity from 'vitamin supplements. Eur J Emerg Med 2005;12:257–8

7

Suchard JR, Wallace KL, Gerkin RD. Acute cyanide toxicity caused by apricot kernel ingestion. Ann Emerg Med 1998;32:742–4

8

Sidora-Arcoleo K, Yoos HL, Kitzman H, McMullen A, Anson E. Don't ask, don't tell: parental nondisclosure of complementary and alternative and over the counter medication use in children's) asthma management. J Pediatr Health Care 2008;22:221–229

9

Meyer S, Baghai A, Sailer NL, Gottschling S. Lactic acidosis caused by sodium nitroprusside in a newborn with congenital heart disease. Eur J Pediatr 2005;164:253–4
About this article
Cite this article
Sauer, H., Wollny, C., Oster, I. et al. Severe cyanide poisoning from an alternative medicine treatment with amygdalin and apricot kernels in a 4-year-old child. Wien Med Wochenschr 165, 185–188 (2015). https://doi.org/10.1007/s10354-014-0340-7
Received:

Accepted:

Published:

Issue Date:
Keywords
Complementary and alternative medicine

Vitamin B17—Apricot kernel intoxication

Cyanide

Lactic acidosis
Schlüsselwörter
Komplementär- und Alternativmedizin

Vitamin B17– Aprikosenkerne

Vergiftung

Zyanid

Laktatazidose