Zusammenfassung
Blähbauch, Bauchkrämpfe, Durchfälle, gelegentlich auch Obstipation, Flatulenz und Übelkeit sind typische Symptome der Fruktosemalabsorption (Intestinale Fruktoseintoleranz – FIT) und/oder der Laktoseintoleranz (LIT). Andererseits sind diese Symptome auch typisch für das häufig diagnostizierte, multifaktorielle Reizdarmsyndroms. Bei Verdauungsbeschwerden sollte primär an diese häufigen Störungen des Kohlehydratmetabolismus gedacht werden, die durch einen H2-Atemtest diagnostiziert werden können.
Bei 1935 Patienten (526 m, 1409 w) wurde eine Fruktosetestung und bei 1739 Patienten (518 m, 1221 w) eine Laktosetestung durchgeführt. FIT wird bei unseren Patienten im ostösterreichischen Raum häufiger als LIT gefunden (57 versus 52 % (p < 0,02) bei Erwachsenen, 90 versus 62 % (p < 0,001) bei Kindern und ist bei Mehrfachintoleranzen am häufigsten mit Histamin Intoleranz (HIT) korreliert.
Kopfschmerzen (ca. 10 %), Müdigkeit (ca. 5 %) und Schwindel (ca. 3 %) können nach der Testung auftreten, unabhängig davon ob der Test positiv oder negativ war.
In 2/3 der Fälle führt eine fruktose- beziehungsweise laktosereduzierte Diät als Therapie der beiden Stoffwechselstörungen zu einer Besserung oder Beschwerdefreiheit.
Das Reizdarmsyndrom, welches häufig mit FIT (183 von 221 Patienten = 83 %) vergesellschaftet ist, kann durch relevante und nicht relevante Diäten gebessert werden. Dies spricht dafür, dass primär psychologische Ursachen verantwortlich sind.
Summary
Meteorism, abdominal spasms, diarrhea, casually obstipation, flatulence and nausea are symptoms of fructose malabsorption (FIT) and/or lactose intolerance (LIT), but are also symptoms of irritable bowel syndrome (IBS). Therefore these diseases should be considered primarily in patients with digestive complaints. For diagnosis an H2-breath test is used.
In 1,935 patients (526 m, 1,409 f) a fructose intolerance test and in 1,739 patients (518 m,1,221 f) a lactose intolerance test was done.
FIT is found more frequently than LIT (57 versus 52 % in adults (p < 0,02) and in children 90 versus 62 % (p < 0,001)) and is in polyintolerances most frequently correlated to histamine intolerance (HIT). Headache (ca. 10 %), fatigue (ca. 5 %) and dizziness (ca. 3 %) may occur after the test, irrespective whether the test was positive or negative.
In more than 2/3 of patients a diet reduced in fructose or lactose may lead to improvement or remission of these metabolic disorders. IBS, which is often correlated with FIT (183/221 patients = 83 %), can be improved by relevant but also not relevant diets indicating that irritable bowel disease seems to be caused primarily by psychological disorders.
Access options
Buy single article
Instant access to the full article PDF.
USD 39.95
Price excludes VAT (USA)
Tax calculation will be finalised during checkout.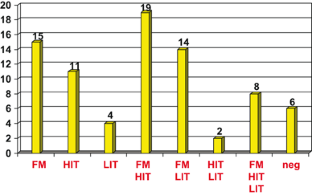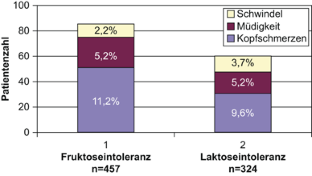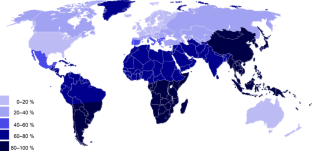 Literatur
Andreyev HJ, Davidson SE, Gillespie C, et al. Practice guidance on the management of acute and chronic gastrointestinal problems arising as a result of treatment for cancer. Gut. 2012;61:179–92.

Barrett JS, Gibson PR. Fructose and lactose testing. Aust Fam Physician. 2012;5:293–6.

Böhmer CJ, Tuynman HA. The clinical relevance of lactose malabsorption in irritable bowel syndrome. Eur J Gastroenterol Hepatol. 1996;8:1013–6.

Datta B, Ledochowski M. Fruktosemalabsorption (intestinale Fruktoseintoleranz). Klinische Ernährungsmedizin. Wien: Springer; 2010. S. 451–9.

Fernández-Bañares F, Rosinach M, Esteve M. Sugar malabsorption in functional abdominal bloating: a pilot study on the long-term effect of dietary treatment. Clin Nutr. 2006;25:824–31.

Gasbarrini A, Corazza GR, Gasbarrini G, et al. Methodology and indications of H2-breath testing in gastrointestinal diseases: the Rome Consensus Conference. Aliment Pharmacol Ther. 2009;29(Suppl. 1):1–49.

Gijsbers CFM, Kneepkens CMF, Büller HA. Lactose and fructose malabsorption in children with recurrent abdominal pain: results of double-blinded testing. Acta Paediatrica. 2012;101:411–5.

Gomara RE, Halata MS, Newman LJ. Fructose intolerance in children presenting with abdominal pain. J Pediatr Gastroenterol Nutr. 2008;47:303–8.

Jarisch R. Histamin Intoleranz. Akt Dermatol. 2012;38:159–66.

Kerber M, Oberkanins C, Ledochowski M. Laktoseintoleranz. Klinische Ernährungsmedizin. Wien: Springer; 2010. S. 441–50.

Litschauer – Poursadrollah M, El – Sayad S, Rücklinger S, et al. Dicker Bauch! Doch nicht schwanger? Hausarzt. 2010;4:27–30.

Lomer MCE, Parkes GC, Sanderson JD. Review article: lactose intolerance in clinical practice – myths and realities. Aliment Pharmacol Ther. 2008;27:93–103.

Mattar R, de Campos Mazo DF, Carrilho FJ. Lactose intolerance: diagnosis, genetic, and clinical factors. Clin Exp Gastroenterol. 2012;5:113–21.

Mearin F, Lacy BE. Diagnostic criteria in IBS: useful or not? Neurogastroenterol Motil. 2012;24:791–801.

Onwulata CI, Rao DR, Vankineni P. Relative efficiency of yoghurt, sweet acidophilus milk, hydrolyced-lactose milk, and a commercial lactase tablet in alleviating lactose maldigestion. Am J Clin Nutr. 1989;49:1233–7.

Rao SS, Attaluri A, Anderson L, et al. Ability of the normal human small intestine to absorb fructose: evaluation by breath testing. Clin Gastroenterol Hepatol. 2007;5:959–63.

Rosenkranz W, Hadorn B, Müller W, et al. Distribution of human adult lactase phenotypes in the population of Austria. Hum Genet. 1982;62:158–61.

Shaukat A, Levitt MD, Taylor BC, et al. Systematic review: effective management strategies for lactose intolerance. Ann Intern Med. 2010;152:797–803.

Swagerty DL, Walling AD, Klein RM. Lactose intolerance. Am Fam Physician. 2002;65:1845–50.

Vernia P, Camillo MD, Marinaro V, et al. Effect of predominant methanogenic flora on the outcome of lactose breath test in irritable bowel syndrome patients. Eur J Clin Nutr. 2003;57:1116–9.
Interessenkonflikt
M. L.-P., S. E.-S., F. W., C. F. und R. J. erklären, keinen Interessenkonflikt zu haben.
About this article
Cite this article
Litschauer-Poursadrollah, M., El-Sayad, S., Wantke, F. et al. Bauchschmerzen, Blähbauch, Diarrhoe: Fruktosemalabsorption, Laktoseintoleranz oder Reizdarmsyndrom?. Wien Med Wochenschr 162, 506–512 (2012). https://doi.org/10.1007/s10354-012-0158-0
Received:

Accepted:

Published:

Issue Date:

DOI: https://doi.org/10.1007/s10354-012-0158-0
Schlüsselwörter
Fruktosemalabsorption (Intestinale Fruktoseintoleranz)

Laktoseintoleranz

Reizdarmsyndrom

H2-Atemtest
Keywords
Fructose malabsorption (intestinal fructose intolerance)

Lactose intolerance

Irritable bowel disease

H2-breath test