Summary
Respiratory impairment is the most important prognostic factor in patients with adult-onset Pompe disease. The effect of long-term enzyme replacement therapy (ERT) on pulmonary function remains unclear.
Respiratory parameters (vital capacity (VCmax); forced expiratory volume (FEV1); peak expiratory flow (PEF); and blood gas analysis) were monitored every 6 months during a treatment period of 48–77 months of ERT in six patients with genetically and biochemically confirmed adult-onset Pompe disease. Postural drop of VCmax from sitting to supine position, maximal inspiratory muscle pressure (PImax), mouth occlusion pressure after 100 ms (P0.1), and peak cough flow (PCF) were measured over a period of 12 months. Mean change to baseline were + 8.8 % points for ΔVCmax, + 6.2 % points for ΔFEV1, and + 6.6 % points for ΔPEF after 48 months of ERT. In one patient, a decrease of respiratory parameters with later stabilization was observed under ERT until month 42, but noninvasive ventilation (NIV) had to be initiated due to nocturnal desaturation. In the final 12 months period, progressive diaphragm weakness was detected in 3/6 patients (median change in VC% drop + 8 %).
ERT seems to stabilize pulmonary function and may delay the requirement for ventilation in patients with late-onset Pompe disease.
Zusammenfassung
Die respiratorische Insuffizienz ist der wichtigste prognostische Faktor bei Patienten mit der adulten Form des M. Pompe. Der langfristige Erfolg einer Enzymersatztherapie auf die Atemmuskulatur ist noch nicht hinreichend belegt.
In unserer Studie wurden respiratorische Parameter (Vitalkapazität, VCmax; forcierte Einsekundenkapazität, FEV1; Peak flow, PEF) sowie die kapilläre Blutgasanalyse halbjährlich über einen Behandlungszeitraum von 48 bis 77 Monaten unter Enzymersatz bei sechs Patienten mit genetisch und biochemisch gesichertem late-onset M. Pompe erhoben. Außerdem untersuchten wir den Abfall der VCmax von aufrechter zu liegender Position, den maximalen Inspirationsdruck (PImax), den Mundverschlussdruck nach 100 ms (P0.1) und den Peak cough flow über 12 Monate. Nach 48 Monaten unter Enzymersatztherapie ergab sich dabei im Mittel eine Verbesserung um 8,8 % Punkte für ΔVCmax, + 6,2 % Punkte für ΔFEV1 und + 6,6 % Punkte für ΔPEF. Ein Patient zeigte nach initial rascher Verschlechterung der respiratorischen Parameter unter ERT eine Stabilisierung bis zum Monat 42 der Behandlung. Dennoch musste eine unterstützende Maskenbeatmung (NIV) aufgrund nächtlicher Sättigungsabfälle in der Polysomnographie initiiert werden. In den letzten 12 Monaten des Untersuchungszeitraums ließ sich eine wachsende Diaphragmaschwäche bei 3/6 Patienten nachweisen (Zunahme im Vergleich zum Ausgangswert im Median um 8 %).
Unsere Studie legt nahe, dass die Enzymersatztherapie in der Lage ist, die respiratorische Funktion bei erwachsenen Patienten mit M. Pompe zu stabilisieren und somit die Notwendigkeit einer Beatmung hinauszuzögern.
Access options
Buy single article
Instant access to the full article PDF.
USD 39.95
Price excludes VAT (USA)
Tax calculation will be finalised during checkout.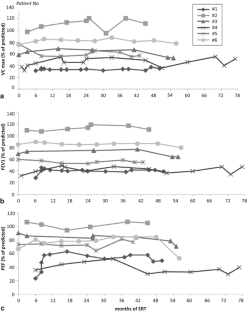 References
Engel AG, Gomez MR, Seybold ME, et al. The spectrum and diagnosis of acid maltase deficiency. Neurology. 1973;23:95–106.

Van Der Ploeg AT, Clemens PR, Corzo D, et al. A randomized study of alglucosidase alfa in late-onset Pompe's disease. N Engl J Med. 2010;362:1396–406.

Güngör D, de Vries JM, Hop WC, et al. Survival and associated factors in 268 adults with Pompe disease prior to treatment with enzyme replacement therapy. Orphanet J Rare Dis. 2011;6:34.

Pellegrini N, Laforet P, Orlikowski D, et al. Respiratory insufficiency and limb muscle weakness in adults with Pompe's disease. Eur Respir J. 2005;26:1024–31.

Saux A, Laforet P, Pages AM, et al. A retrospective study of six patients with late-onset Pompe disease. Rev Neurol (Paris). 2008;164:336–42.

Burghaus L, Liu W, Neuen-Jacob E, et al. Glycogenesis Type II (M. Pompe). Selective failure of the respiratory musculature—a rare first symptom. Nervenarzt. 2006;77:181–2, 185–6.

Van Der Beek NA, Hagemans ML, Reuser AJ, et al. Rate of disease progression during long-term follow-up of patients with late-onset Pompe disease. Neuromuscul Disord. 2009;19:113–7.

Wokke JH, Escolar DM, Pestronk A, et al. Clinical features of late-onset Pompe disease: a prospective cohort study. Muscle Nerve. 2008;38:1236–45.

Müller-Felber W, Horvath R, Gempel K, et al. Late onset Pompe disease: clinical and neurophysiological spectrum of 38 patients including long-term follow-up in 18 patients. Neuromuscul Disord. 2007;17:698–706.

Hagemans ML, Winkel LP, Van Doorn PA, et al. Clinical manifestation and natural course of late-onset Pompe's disease in 54 Dutch patients. Brain. 2005;128:671–7.

Joshi PR, Glaser D, Schmidt S, et al. Molecular diagnosis of German patients with late-onset glycogen storage disease type II. J Inherit Metab Dis. 2008;31 Suppl 2:S261–5.

Strothotte S, Strigl-Pill N, Grunert B, et al. Enzyme replacement therapy with alglucosidase alfa in 44 patients with late-onset glycogen storage disease type 2: 12-month results of an observational clinical trial. J Neurol. 2010;257:91–7.

Furusawa Y, Mori-Yoshimura M, Yamamoto T, et al. Effects of enzyme replacement therapy on five patients with advanced late-onset glycogen storage disease type II: a 2-year follow-up study. J Inherit Metab Dis. 2012;35:301–10.

Regnery C, Kornblum C, Hanisch F, et al. 36 months observational clinical study of 38 adult Pompe patients under alglucosidase alfa enzyme replacement therapy. J Inherit Metab Dis. 2012;35:837–45.

Angelini C, Semplicini C, Ravaglia S, et al. Observational clinical study in juvenile-adult glycogenosis type 2 patients undergoing enzyme replacement therapy for up to 4 years. J Neurol. 2012;259:952–8.

Van Der Beek NA, van Capelle CI, Van Der Velden-van Etten KI, et al. Rate of progression and predictive factors for pulmonary outcome in children and adults with Pompe disease. Mol Genet Metab. 2011;104:129–36.

Prigent H, Orlikowski D, Laforet P, et al. Supine volume drop and diaphragmatic function in adults with Pompe disease. Eur Respir J. 2012;39:1545–6.

Steier J, Kaul S, Seymour J, et al. The value of multiple tests of respiratory muscle strength. Thorax. 2007;62:975–80.

Martinez-Llorens J, Ausin P, Roig A, et al. Nasal inspiratory pressure: an alternative for the assessment of inspiratory muscle strength? Arch Bronconeumol. 2011;47:169–75.

Bianchi C, Baiardi P. Cough peak flows: standard values for children and adolescents. Am J Phys Med Rehabil. 2008;87:461–7.
Conflict of interest
Each author listed in this article has seen and approved the submission of this version of the article and takes full responsibility for this article. Drs. Schneider and Hanisch received reimbursement for attending a symposium. Dr. Hanisch and Prof. Zierz received fees for speaking and organizing education. None of the other authors listed in this article has any potential conflict of interest to declare.
About this article
Cite this article
Schneider, I., Hanisch, F., Müller, T. et al. Respiratory function in late-onset Pompe disease patients receiving long-term enzyme replacement therapy for more than 48 months. Wien Med Wochenschr 163, 40–44 (2013). https://doi.org/10.1007/s10354-012-0153-5
Received:

Accepted:

Published:

Issue Date:

DOI: https://doi.org/10.1007/s10354-012-0153-5
Keywords
Schlüsselwörter