Zusammenfassung
Im Jahr 1991 wurde auf dem Areal der Pfarrkirche von Altenberg/Linz (Oberösterreich) eine archäologische Grabung durchgeführt, bei der menschliche Skelettreste von 94 Individuen geborgen wurden. Die Belegungszeit des Friedhofs lässt sich anhand der Radiokarbondatierungen auf das letzte Drittel des 13. Jahrhunderts AD eingrenzen. In diesem Fallbericht soll das Skelett eines maturen Mannes, das durch zahlreiche Frakturen und Exostosenbildungen gekennzeichnet ist, beschrieben werden. Die auffälligsten Veränderungen betreffen den linken Arm: Die Ulna ist frakturiert, der Bruch in Fehlstellung und mit Verkürzung verheilt. Am korrespondierenden Radiuskopf liegen eine Luxation im Sinne einer Achsenknickung und eine Deformation durch eine massive Knochenneubildung vor (Monteggia-Fraktur, Bado Typ I). Der linke Humerus weist ventral über dem Capitulum eine mächtige, kelchförmige Knochenneubildung auf. Diese Struktur bildete eine Art "alternatives Gelenk", das funktionell eine gewisse Beweglichkeit des Unterarms – wenngleich hinsichtlich Flexion/Extension und insbesondere Supination/Pronation eingeschränkt – erlaubte. Da diese sowie die anderen traumatisch bedingte Läsionen an den männlichen Skelettresten (eine Hiebverletzung am Cranium und alle Brüche am Postcranium) ähnlichen Ausheilungszustand zeigen, ist ein Ereignis als Ursache wahrscheinlich. Um diese Hypothese zu verifizieren, wurden die betroffenen Skelettregionen nicht nur makroskopisch und konventionell radiologisch, sondern auch mikrocomputertomographisch und histologisch untersucht. Die Art der Frakturen und deren Verteilungsmuster deuten auf ein Nahkampfgeschehen (Hochgeschwindigkeitstrauma), das – wie die strukturellen Neubildungen zeigen – zwar längere Zeit überlebt wurde, aber eine partielle Invalidität zur Folge hatte.
Summary
During an archaeological excavation in Altenberg/Linz (Upper Austria), the well-preserved skeletal remains of a mature male dated the 13th century AD were recovered. Several elements of the skeleton yielded alterations caused by trauma: beside a malunion of the left ulna which was accompanied by shortening of the diaphysis, a luxation and deformation of the left radial head was observed (Monteggia-type lesion, Bado-type I). Moreover, at the anterior aspect of the corresponding humerus, a chalice-shaped, newly built bone structure that framed the displaced capitulum radii was visible. This structure formed a sort of "alternative joint" that functionally even allowed some movements, although considerably restricted in regard to flexion/extension and even more in pronation/supination.
To verify the assumption of a "single event", we not only investigated the concerned skeletal portions by gross-anatomical examination, but also by non-invasive conventional radiological, micro-computed tomographical, and histological techniques. Particular morphological features, injuries at the calvarium, and fractures of other postcranial elements imply the scenario of a close combat; although survived, the traumata obviously resulted in partial invalidity.
Access options
Buy single article
Instant access to the full article PDF.
US$ 39.95
Tax calculation will be finalised during checkout.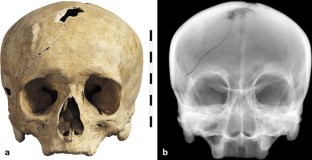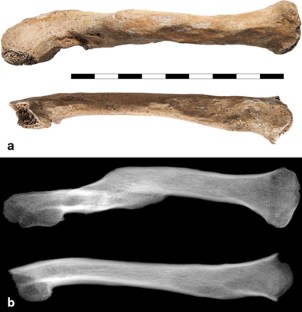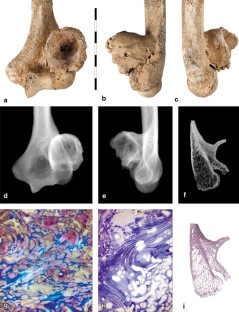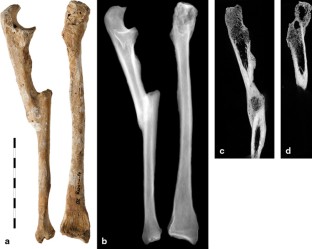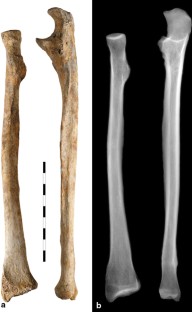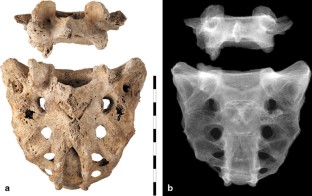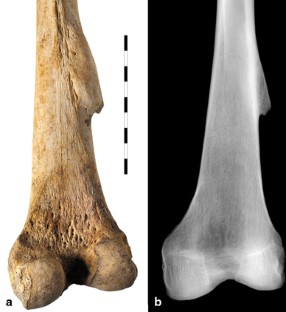 References
1.

Mouzka V. Altenberg bei Linz. In: Ein Heimatbuch. Herausgegeben anlässlich 750 Jahre Altenberg. Linz: Gemeindeamt bei Linz. 1995:165–72.

2.

Ferembach D, Schwidetzky I, Stloukal M. Empfehlungen für die Alters- und Ge-schlechtsdiagnose am Skelett. Homo. 1979;30:1–32.

3.

Bado JL. The monteggia lesion. Clin Orthop. 1967;50:71–86.

4.

Schamall D, Teschler-Nicola M, Kainberger F, Tangl St, Brandstätter F, Patzak B, et al. Changes in trabecular bone structure in rickets and osteomalacia: the potential of a medico-historical collection. Int J Osteoarchaeol. 2003;13:283–8.

5.

Diederichs G, Engelken F, Marshall LM, Peters K, Black DM, Issever AS, et al. Diffuse idiopathic skeletal hyperostosis (DISH): relation to vertebral fractures and bone density. Osteoporos Int. 2011:22(6):1789–97.

6.

Slaus M, Novak M, Cavka M. Four cases of ankylosing spondylitis in medieval skeletal series from Croatia. Rheumatol Int. 2011. Epub ahead of print.

7.

Aneiros-Fernandez J, Caba-Molina M, Arias-Santiago S, O'Valle F, Hernandez-Cortes P, Aneiros-Cachaza J. Myositis ossificans circumscripta without history of trauma. J Clin Med Res. 2010;2(3):142–4.

8.

Tyng YC, Tze PL, Hoi YL, Keat HL. Myositis ossificans. West J Emerg Med. 2011;12(4):371.

9.

Munoz-Mahamud E, Poggio D, Combalio A. Myositis ossificans mimicking parosteal osteosarcoma: a case report and literature review. Acta orthop Belg. 2011;77(2):274–9.

10.

Pietschmann P, Rauner M, Sipos W, Kerschan-Schindl K. Osteoporosis: an age-related and gender-specific disease—a mini-review. Gerontology. 2009;55(1):3–12.

11.

Patsch JM, Kiefer FW, Varga P, Pail P, Rauner M, Stupphan D, et al. Increased bone resorption and impaired bone microarchitecture in short-term and extended high-fat diet-induced obesity. Metabolism. 2011;60(2):243–9.

12.

Datta NS. Osteoporotic fracture and parathyroid hormone. World J Orthop. 2011;2(8):67–74.

13.

Osamura N, Ikeda K, Hagiwara N, Tomita K. Posterior interosseous nerve injury complicating ulnar osteotomy for a missed Monteggia fracture. Scand J Plast Reconstr Surg Hand Surg. 2004;38:376–8.

14.

Eglseder WA, Zadnik M. Monteggia fractures and variants: review of distribution and nine irreducible radial head dislocations. South Med J. 2006;99:723–7.

15.

Hirachi K, Kato H, Minami A, Kasashima T, Kaneda K. Clinical features and management of traumatic posterior interosseous nerve palsy. J Hand Surg Br. 1998;23:413–7.

16.

Ristic S, Strauch RJ, Rosenwasser MP. The assessment and treatment of nerve dysfunction after trauma around the elbow. Clin Orthop Relat Res. 2000;1:138–53.

17.

Lidder S, Heidari N, Amerstorfer F, Grechenig S, Weinberg AM. Median nerve palsy following elastic stable intramedullary nailing of a Monteggia fracture: an unusual case and review of the literature. Case Report Med. 2011;2011:682454. [Epub 2011 Apr 20]

18.

Schultz M, Teschler-Nicola M. Krankhafte Veränderungen an den Skeletten aus dem Karner der St. Martins-Kirche in Klosterneuburg. Ann Naturhist Mus Wien. 1987;89:225–311.

19.

Feldkamp LA, Goldstein SA, Parfitt AM, Jesion G, Kleerekoper M. The direct examination of three-dimensional bone architecture in vitro by computed tomography. J Bone Min Res. 1989;4(1):3–11.

20.

Rühli FJ, Kuhn G, Evison R, Müller R, Schultz M. Diagnostic value of micro-CT versus histology in the qualitative assessment of historic human skull bone pathologies. Am J Phys Anthropol. 2007;133:1099–1111.
Conflict of interest
The authors declare that there is no conflict of interest.
About this article
Cite this article
Schamall, D., Pietschmann, P., Moser, D. et al. Diagnosis of contact injuries in a mediaeval skeleton analysed by µCT and histology. Wien Med Wochenschr 162, 386–393 (2012). https://doi.org/10.1007/s10354-012-0122-z
Received:

Accepted:

Published:

Issue Date:
Schlüsselwörter
Monteggia-Fraktur

Mikrocomputertomographie

Paläopathologie

Paläoradiologie

Osteologie
Keywords
Monteggia fracture

Micro-computed tomography

Palaeopathology

Palaeoradiology

Bone histology