Summary
Background
To determine the predictive value of spirometry and cardiopulmonary exercise testing (CPET) preoperatively in patients scheduled to undergo elective colorectal surgery. We compared the preoperative results with the incidence of postoperative cardiopulmonary complications.
Methods
A total of 103 patients were scheduled to undergo preoperative CPET and spirometry; 14 patients did not attend their appointments and another 20 were unable to perform the test. In all, 69 patients (median age 60 years (range 25–85), 35 males) successfully completed cycle ergometry and lung function tests. Forced expiratory volume in 1 s (FEV1), percent forced expiratory volume in 1 s (FEV1/forced vital capacity (FVC)) and anaerobic threshold (AT) were measured. Patients were divided postoperatively according to whether cardiopulmonary complications were absent (group A) or present (group B).
Results
Postoperative cardiopulmonary complications developed in 8 of the 69 patients (12 %). Thirty day mortality was 3 %. AT was significantly higher in group A (mean AT = 13.8; SD ± 3.0; range = 8.1–20.8) than in group B (mean = 10.91; SD ± 3.0; Range = 7.9–12), (p = 0.0006). Spirometric pulmonary function tests (FEV1, p = 0.09) and (FEV1/FVC, p = 0.08) showed no intergroup differences. The median hospital length of stay (HLOS) was significantly higher in the group of patients that suffered cardiopulmonary complications (p = 0.0282).
Conclusions
CPET allows the prediction of postoperative cardiopulmonary complications which cannot be anticipated by spirometry. Early detection of high risk patients facilitates the planning of patient specific management strategies which are likely to improve outcome through invasive monitoring and optimisation of cardio-respiratory function.
Access options
Buy single article
Instant access to the full article PDF.
US$ 39.95
Tax calculation will be finalised during checkout.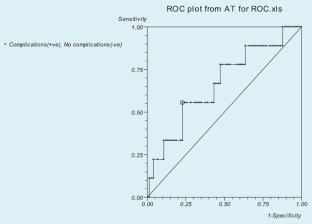 References
1.

Buck N, Devlin HB, Lunn JN. The report of a confidential enquiry into perioperative deaths. London: King's Fund Publishing Office; 1987.

2.

Tikkanen J, Hovi-Viander M. Death associated with anaesthesia and surgery in Finland in 1986 compared to 1975. Acta Anaesthiol Scand. 1995;39:262–7.

3.

Tekkis PP, Poloniecki JD, Thompson MR, Stamatakis JD. Operative mortality in colorectal cancer: prospective national study. BMJ. 2003;327:1196–201.

4.

Del Guerico LRM, Cohn JD. Monitoring operative risk in the elderly. JAMA. 1980;243:1350–55.

5.

Beattie WS. Evidence-based perioperative risk reduction. Can J Anesth 2005;52(6):R1–R11.

6.

Modernising care for patients undergoing major surgery. Improving patient outcomes and increasing clinical efficiency. A report by the Improving Surgical Outcomes Group. June 2005.

7.

Lawrence VA, Page CP, Harris GD. Preoperative spirometry before abdominal operations. Arch Intern Med. 1989;149:280–5.

8.

Older P, Hall A, Hader R. Cardiopulmonary exercise testing as a screening test for perioperative management of major surgery in the elderly. Chest. 1999;116:355–62.

9.

West M, Jack S, Groccott MP. Perioperative cardiopulmonary exercise testing in the elderly. Best Pract Res Clin Anaesthesiol. 2011;25:427–37.

10.

Smith TB, Stonell C, Purkayastha S, Paraskevas P. Cardiopulmonary exercise testing as a risk assessment method in non cardio-pulmonary surgery: a systematic review. Anaesthesia. 2009;64:883–93.

11.

Older P, Smith R. Experience with the preoperative invasive measurement of haemodynamic, respiratory and renal function in 100 elderly patients scheduled for major abdominal surgery. Anaesth Intensive Care. 1988;16:389–95.

12.

Shoemaker WC, Appel PL, Kram HB. Role of oxygen debt in the development of organ failure sepsis, and death in high-risk surgical patients. Chest. 1992;102:208–15.

13.

Older P, Smith RER, Courtney PG, et al. Preoperative evaluation of cardiac failure and ischemia in elderly patients by cardiopulmonary exercise testing. Chest. 1993;104:701–4.

14.

West MA, Parry MG, Lythgoe D, Barben CP, Kemp GJ, Grocott MPW, Jack S. Cardiopulmonary exercise testing for the prediction of morbidity risk after rectal cancer surgery. Brit J Surg. 2014;101(9):1166–72.

15.

Basse L, Raskov HH, Hjort Jakobsen D, Sonne E, Billesbolle P, Hendel HW, Rosenberg J, Kehlet H. Accelerated postoperative recovery programme after colonic resection improves physical performance, pulmonary function and body composition. Brit J Surg. 2002;89:446–53.

16.

Chassot PG, Delabays A, Spahn DR. Preoperative evaluation of patients with, or at risk of, coronary artery disease undergoing non-cardiac surgery. Br J Anaesth. 2002;89:747–59.

17.

Ashley EA, Myers J, Froelicher V. Exercise testing in clinical medicine. Lancet. 2000;356(9241):1592–7.

18.

Gauss A, Rohm HJ, Schaufelen A, et al. Electro-cardiographic exercise stress testing for cardiac risk assessment in patients undergoing noncardiac surgery. Anesthesiology. 2001;94:38–46.

19.

Giangos R, Detrain R, Mulvihill D, et al. Exercise-induced ST depression in the diagnosis of coronary artery disease: a meta-analysis. Circulation. 1989;80:87–98.

20.

Schlant RC, Friesinger GC, Leonard JJ, et al. Clinical competence in exercise testing: a statement for physicians from the ACP/ACC/AHA task force on clinical priviledges in cardiology. Circulation. 1990;82:1884–8.

21.

Philbin EF, Ries MD, French TS. Feasibility of maximal cardiopulmonary exercise testing in patients with end-stage arthritis of the hip and knee prior to total joint arthroplasty. Chest. 1995;108:174.

22.

Fletcher GF, Froelicher VF, Hartley LH, Haskell WL, Pollock ML. Exercise standards: A statement for health professionals from the American Heart Association. Circulation;82:2286–322.

23.

American Thoracic Society/American College of Chest Physicians. ATS/ACCP Statement on Cardiopulmonary Exercise Testing 2002.

24.

Lawrence VA, Page CP, Homs GD. Preoperative spirometry before abdominal operations. A critical appraisal of its predictive value. Arch Intern med. 1989;149(2):280–5.

25.

De Nino LA, Lawrence VA, Averyt EC, Hilsenbeck SG, Dhanda R, Page CP. Preoperative spirometry and laparotomy: blowing away dollars. Chest. 1997;111(6):1536–41.

26.

Morice RC, Peters EJ, Ryan MB, Putnam JB, Ali MK, Rith JA. Exercise testing in the evaluation of patients at high risk for complications from lung resection. Chest. 1992;101:353–61.

27.

Nagamatsu Y, Shima I, Hayashi A, Yamana H, Shirouzu K, Ishitake T. Preoperative spirometry versus expired gas analysis during exercise testing as predictors of cardiopulmonary complications after lung resection. Surg Today. 2004;34:107–110.
About this article
Cite this article
Nikolopoulos, I., Ellwood, M., George, M. et al. Cardiopulmonary exercise testing versus spirometry as predictors of cardiopulmonary complications after colorectal surgery. Eur Surg 47, 324–330 (2015). https://doi.org/10.1007/s10353-015-0359-z
Received:

Revised:

Accepted:

Published:

Issue Date:
Keywords
Cardiopulmonary exercise testing

Spirometry

Enhance recovery programme

Cardiopulmonary complications