Summary
Background
Puncture of the posterior venous wall during ultrasound-guided internal jugular vein cannulation seems to be common, making underlying artery at risk of injury.
Methods
Two cases of injury through the posterior wall of the internal jugular vein and an injury to the underlying artery are reported.
Results
In case number 1, a small injury of the carotid arterial wall resulted in a retrograde dissection of the common carotid artery and ascending part of the aorta, causing a fatal cardiac tamponade—a sequence of events never previously described. In case number 2, an unexpected injury to the thyrocervical trunk in a severely thrombocytopenic patient caused an extensive hematoma that compromised the upper airway, eventually leading to a fatal outcome.
Conclusion
These two reported fatal arterial complications during ultrasound-guided cannulation of the internal jugular vein add to other publications of complications after central vein catheterization. It is important to increase awareness of these avoidable serious complications.
This is a preview of subscription content,
to check access.
Access this article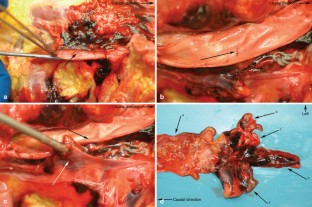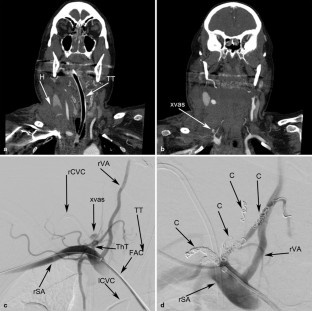 References
Arthur ME, Castresana MR, Paschal JW, et al. Acute cerebellar stroke after inadvertent cannulation and pulmonary artery catheter placement in the right vertebral artery. Anesth Analg. 2006;103(6):1625–6.

Wang RC, Katz SE, Lubow M. Visual loss and central venous catheterization: cortical blindness and hemianopsia after inadvertent subclavian artery entry. J Neuroophthalmol. 2000;20(1):32–4.

Parsons AJ, Alfa J. Carotid dissection: a complication of internal jugular vein cannulation with the use of ultrasound. Anesth Analg. 2009;109(1):135–6.

Inamasu J, Guiot BH. Iatrogenic vertebral artery injury. Acta Neurol Scand. 2005;112(6):349–57.

Polderman KH, Girbes AJ. Central venous catheter use. Part 1: mechanical complications. Intensive Care Med. 2002;28(1):1–17.

Rabindranath KS, Kumar E, Shail R, et al. Use of real-time ultrasound guidance for the placement of hemodialysis catheters: a systematic review and meta-analysis of randomized controlled trials. Am J Kidney Dis. 2011;58(6):964–70.

Moon CH, Blehar D, Shear MA, et al. Incidence of posterior vessel wall puncture during ultrasound-guided vessel cannulation in a simulated model. Acad Emerg Med. 2010;17(10):1138–41.

Hamilton DL, Jackson RM. Haemopericardium: a rare fatal complication of attempted subclavian vein cannulation. A report of two cases. Eur J Anaesthesiol. 1998;15(4):501–4.

Barton JJ, Vanecko R, Gross M. Perforation of right atrium and resultant cardiac tamponade: a complication of catheterization to measure central venous pressure. Obstet Gynecol. 1968;32(4):556–60.

Chabanier A, Dany F, Brutus P, et al. Iatrogenic cardiac tamponade after central venous catheter. Clin Cardiol. 1988;11(2):91–9.

Fangio P, Mourgeon E, Romelaer A, et al. Aortic injury and cardiac tamponade as a complication of subclavian venous catheterization. Anesthesiology. 2002;96(6):1520–2.

Shrikhande GV, Khan SZ, Meltzer AJ, et al. Endovascular management of type B aortic dissection after attempted central venous catheterization. Ann Vasc Surg. 2011;25(7):979, e13–5.
Conflict of interest
The authors declare that there is no conflict of interest.
About this article
Cite this article
Pikwer, A., Krantz, P., Resch, T. et al. Fatal arterial complications following ultrasound-guided attempt of internal jugular vein catheterization. Eur Surg 45, 179–183 (2013). https://doi.org/10.1007/s10353-013-0193-0
Received:

Accepted:

Published:

Issue Date:

DOI: https://doi.org/10.1007/s10353-013-0193-0
Keywords