Summary
Background:
Lymphadenectomy is an important part of surgical treatment of gastric cancer. Using immunohistochemistry or RT-PCR, small deposits of tumour cells, called micrometastases (MM) and isolated tumour cells (ITC) are found in some of the lymph nodes, which were found negative after a standard examination in haematoxylin eosin (H-E). The aim of this multicentre study was to assess their clinical and prognostic significance.
Methods:
Multicentre, prospective, nonrandomized clinical trial on-going in four Czech centres. The study enrolled patients after radical resection for gastric cancer. All lymph nodes were examined in standard H-E staining, lymph nodes producing negative results were then processed using detailed immunohistochemistry (IHC) with anti-cellular cytokeratin antibody (AE1/AE3, Immunotech).
Results:
A total of 93 patients following radical surgery for gastric cancer, across the four participating centres were included in the study between the 1st January 2009 and 31st December 2011. A total of 42 patients (representing 45.2 % of the cohort) underwent a resection, while the remaining 51 had a total gastrectomy (54.8 %). A total of 1,588 lymph nodes were found and examined, with the average number of nodes per patient being 17.1. Metastases by H-E stain were found in 441 nodes (27.8 %). The remaining lymph nodes which showed negative after processing in H-E were then examined with IHC. Nodular MM was found in 43 nodes (2.7 %), then the ITC in 74 nodes (4.7 %). No statistically significant difference was observed when comparing the length of survival among patients with negative node findings (H-E negative, IHC negative) and patients with minimal node affection (H-E negative, IHC positive), p = 0.494. Likewise there was no statistically significant difference within the sub-group of patients with minimal node affection between patients with micrometastases (MM) and patients with isolated tumour cells (ITC), p = 0.925.
Conclusions:
The results of this study indicate that the presence of nodal MM and ITC in gastric cancer is not linked to the worsening of the prognosis of patients. Financially, technically and the time-consuming method of processing nodes with IHC cannot yet be recommended as part of the routine histological examination.
Access options
Buy single article
Instant access to the full article PDF.
US$ 39.95
Tax calculation will be finalised during checkout.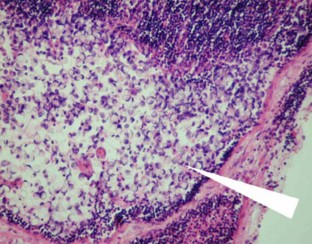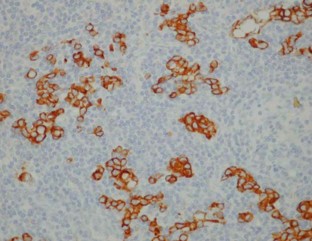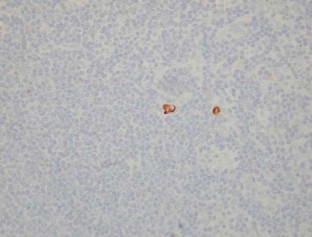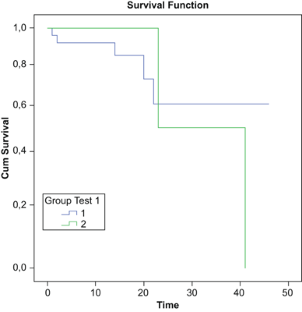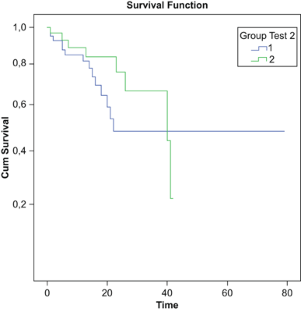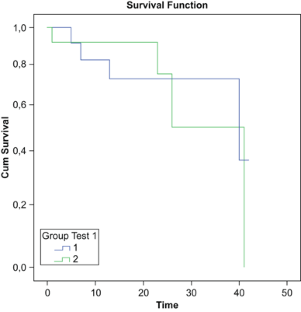 References
1.

Malignant tumours 2007. Czech National Oncological Register, ÚZIS, 2010.

2.

Bonenkamp JJ, Songun I, Hermans J, et al. Randomised comparison of morbidity after D1 and D2 dissection for gastric cancer in 996 Dutch patients. Lancet. 1995;345:745–8.

3.

Cuschieri A, Fayers P, Fielding J, et al. Postoperative morbidity and mortality after D1 and D2 resections for gastric cancer: preliminary results of the MRC randomised controlled surgical trial. Lancet. 1996;347:995–9.

4.

Zheng B, Ma B, Yang K, et al. Meta-analysis of randomized controlled trials comparing D2 and D4 lymphadenectomy for gastric cancer. Eur Surg. 2011;43(5):255–61.

5.

Gatěk J, Duben J, Bakala J, et al. Lymphadenectomy in early gastric cancer. Rozhl Chir. 2004;83(9):428–35.

6.

Maruyama K, Sasako M, Kinoshita T, et al. Effectiveness of systematic lymph node dissection in gastric cancer surgery. Eur Surg. 1995;27(1):23–7.

7.

Dostalík J, Martínek L, Satinský I, et al. Laparoscopic total gastrectomy—first experiences. Rozhl Chir. 2003;82(7):353–6.

8.

Sobin LH, Gospodarowicz MK, Wittekind C. TNM classification of malignant tumours, UICC. 7th edn. New York: Wiley; 2009.

9.

Kell MR, Winter DC, O'Sullivan GC, et al. Biological behaviour and clinical implications of micrometastases. Br J Surg. 2000;87:1629–39.

10.

Calaluce R, Miedema BW, Yesus YW. Micrometastasis in colorectal carcinoma: a review. J Surg Oncol. 1998;67(3):194–202.

11.

Lee E, Chae Y, Kim I, et al. Prognostic relevance of immunohistochemically detected lymph node micrometastasis in patients with gastric carcinoma. Cancer. 2002;94(11):2867–73.

12.

Yasuda K, Adachi Y, Shiraishi N, et al. Prognostic effect of lymph node micrometastasis in patients with histologically node-negative gastric cancer. Ann Surg Oncol. 2002;9(8):771–4.

13.

Harrison LE, Choe JK, Goldstein M, et al. Prognostic significance of immunohistochemical micrometastases in node negative gastric cancer patients. J Surg Oncol. 2000;73(3):153–7.

14.

Öberg A, Stenling R, Tavelin B, et al. Are lymph node micrometastases of any clinical significance in Dukes' stages A and B colorectal cancer? Dis Colon Rectum. 1998;41:1244–9.

15.

Isaka N, Nozue M, Doy M, et al. Prognostic significance of perirectal lymph node micrometastases in Dukes' B rectal carcinoma: an immunohistochemical study by CAM 5.2. Clin Cancer Res. 1999;5:2065–8.

16.

Yasuda K, Adachi Y, Shiraishi N, et al. Pattern of lymph node micrometastasis and prognosis of patients with colorectal cancer. Ann Surg Oncol. 2001;8(4):300–4.

17.

Čapov I. Bone marrow micrometastasis in a non-small cell lung cancer—initial results. Rozhl Chir. 2003;82(3):145–8.

18.

Hejna M, Raderer M, Zielinski CC. Multimodality treatment of gastric cancer. Eur Surg. 2002;34(1):29–31.

19.

Roder JD, Bottcher K, Etter M, et al. Chirurgische und multimodale Behandlung des pT4-Magenkarzinoms. Eur Surg. 1999;31(1):22–5.
Conflict of interest
All authors declare no conflict of interest, including the financial one.
Additional information
This publication was supported by grant IGA NS 10550-3/2009.
About this article
Cite this article
Šimša, J., Hoch, J., East, B. et al. Lymph node micrometastases in gastric cancer: final results of the Czech multicentre study. Eur Surg 44, 388–393 (2012). https://doi.org/10.1007/s10353-012-0178-4
Received:

Accepted:

Published:

Issue Date:
Keywords
Gastric cancer

Lymphadenectomy

Lymph node micrometastases

Isolated tumour cells