Abstract
Background
Topical metronidazole (10 percent) has been previously demonstrated to decrease postoperative pain after hemorrhoidectomy. The aim of this study was to evaluate the effect of topical metronidazole (10 percent) in reducing postoperative and after-defecation pain of hemorrhoidectomy.
Materials and Methods
A double-blind, randomized trial was conducted to compare posthemorrhoidectomy pain with use of topical metronidazole (10 percent) vs. placebo carrier, applied to surgical site. Forty-seven patients were randomly allocated to receive metronidazole (n = 25) or placebo (n = 22). Pain was assessed using a visual analog scale preoperatively and on postoperative hours 6 and 12 and at days 1, 2, 7, and 14. The use of narcotic, additional analgesics, and complications were recorded. (Pain scores were calculated and compared with baseline values and control group (t test, SPSS ver.10).
Results
Patients in the topical metronidazole group had significantly less postoperative pain than those in the placebo group up to day 14 (P ≤ 0.04). There was no significant difference in narcotic analgesic requirements between groups, except on hour 12 (P < 0.05). In the metronidazole group, after-defecation pain was ranked significantly lower at day 2 (P = 0.016) and patients required fewer additional analgesics postoperatively on days 2 and 7 (P ≤ 0.04).
Conclusion
These finding indicate that topical 10 percent metronidazole significantly reduce posthemorrhoidectomy discomfort, and postoperative defecation pain is reduced compared with that of the placebo control group.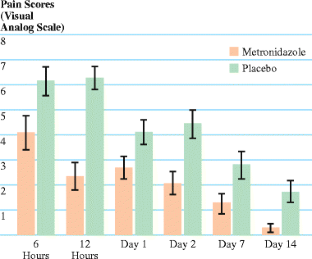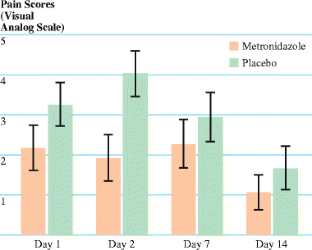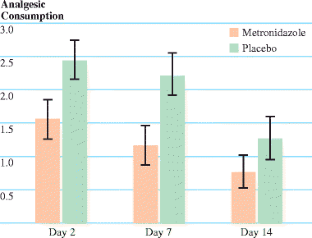 References
1.

Davis J, Duffy D, Boty N, Aghahosseini A, Alexander D, Leveson S. Botulinum toxin (Botox) reduces pain after hemorrhoidectomy: results of a double-blind randomized study. Dis Colon Rectum 2003;46:1097–102.

2.

Nicholson T, Armstrong D. Topical metronidazole (10%) decreases post-hemorrhoidectomy pain and improves healing. Dis Colon Rectum 2004;47:711–6.

3.

Armstrong DN, Frankum C, Schertzer ME, Ambroze WL, Orangio GR. Harmonic Scalpel® hemorrhoidectomy: five hundred consecutive cases. Dis Colon Rectum 2002;45:354–9.

4.

McCarus SD. Mechanism of the ultrasonically activated Harmonic Scalpel®. J Am Assoc Gynecol Laparosc 1996;3:601–8.

5.

Ho YH, Seow-Cheon F, Tan M, Leong AF. Randomized Controlled trial of open and closed hemorrhoidectomy. Br J Surg 1997;84:1729–30.

6.

Carapeti EA, Kamm MA, McDonald PJ, Chadwick SJ, Phillips RK. Randomized trial of open versus closed day-case haemorrhoidectomy. Br J Surg 1999;86:612–3.

7.

Pryn SJ, Cross MM, Murison MS, McGinn FP. Postoperative analgesia for hemorrhoidectomy: a comparison between caudal and local infiltration. Anaesthesia 1989;44:964–6.

8.

Khubchandani TT, Reed JF. Sequelae of internal sphincterotomy for chronic fissure in ano. Br J Surg 1989;76:431–4.

9.

Walker WA, Rothenberger DA, Goldberg SM. Morbidity of internal sphincterotomy for anal fissure and stenosis. Dis Colon Rectum 1985;28:832–5.

10.

Loder PB, Kamm MA, Nicolls RJ, Phillips RK. Reversible chemical sphincterotomy by local application of glyceryl trinitrate. Br J Surg 1994;81:1386–9.

11.

Belfour L, Stojkovic SG, Botterill ID, Burke DA, Finan P, Sagar PM. A randomized double-blind trial of the effect of metronidazole on pain after closed hemorrhoidectomy. Dis Colon Rectum 2002;45:1186–92.

12.

Carapeti EA, Kamm MA, Mc Donald PJ, Phillips RK. Double blind randomized controlled trial of the effects of metronidazole on pain after day case hemorrhoidectomy. Lancet 1998;351:169–72.

13.

Hosch SB, Knoefel WT, Pichlmeier U, et al. Surgical treatment of piles: prospective, randomized study of Parks vs. Milligan-Morgan hemorrhoidectomy. Dis Colon Rectum 1998;41:159–64.

14.

McEvoy GK. AHFS Drug Information. Bethesda, MD: American Society of Health System Pharmacists, 2004:712.
Acknowledgments
The authors thank Mohammad Soltany Rezaee Rad, for assistance in data analysis and Dr. Maasoomeh Abolghasemi Bizaki for assistance in ointment preparation.
Additional information
Support: A grant of vice-chancellor for research of Mazandaran University of Medical Sciences
About this article
Cite this article
Ala, S., Saeedi, M., Eshghi, F. et al. Topical Metronidazole can Reduce Pain after Surgery and Pain on Defecation in Postoperative Hemorrhoidectomy. Dis Colon Rectum 51, 235–238 (2008). https://doi.org/10.1007/s10350-007-9174-3
Received:

Revised:

Accepted:

Published:

Issue Date:
Key words
Metronidazole

Topical

Pain

Hemorrhoidectomy