Purpose
The incidence of anal squamous carcinoma in males who have sex with males is rising. We reported that infrared coagulation of high-grade squamous intraepithelial lesions in HIV-positive males who have sex with males yielded a recurrence rate after the first ablation of 65 percent and 58 percent after a second ablation. The cure rate of an individual lesion was 72 percent. We endeavored to determine whether this technique demonstrates improved results in HIV-negative males who have sex with males.
Methods
We performed a retrospective review of medical records on HIV-negative males who have sex with males who had infrared coagulation ablation of anal high-grade squamous intraepithelial lesions. Patients had at least six months' follow-up with cytology, high-resolution anoscopy, and biopsy. Recurrent high-grade squamous intraepithelial lesions were retreated.
Results
Seventy-five patients were enrolled, with a median age of 36 years, and 113 lesions were treated. Forty patients (53 percent) developed a recurrence in a median time of 238 days and 35 patients (47 percent) were disease free for a median of 516 days. When patients were treated a second or third time, recurrence rates dropped to 28 and 0 percent, respectively. The probability of successfully treating an individual lesion at first infrared coagulation was 81 percent and 93 percent when retreated. HIV-positive patients were twice as likely to have lesions persist and 1.7 times more likely to develop a recurrent high-grade squamous intraepithelial lesion. No patient developed squamous-cell carcinoma, anal stenosis, or had a serious complication.
Conclusions
Infrared coagulation is a safe and effective office-based procedure for treating anal high-grade squamous intraepithelial lesions. Although recurrence was high after the first infrared coagulation, repeated treatment led to resolution of high-grade squamous intraepithelial lesions. Treatment success with infrared coagulation is significantly superior in HIV-negative patients compared with HIV-positive patients.
Access options
Buy single article
Instant access to the full article PDF.
USD 39.95
Price excludes VAT (USA)
Tax calculation will be finalised during checkout.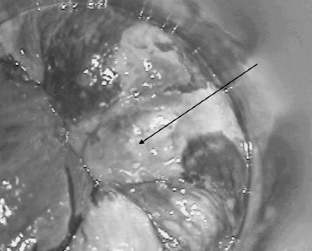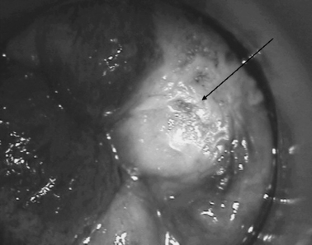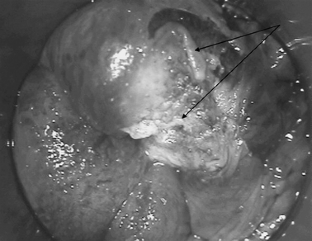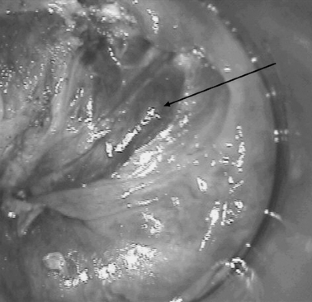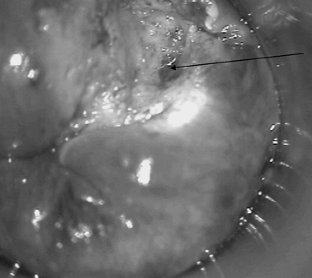 References
PV Chin-Hong JM Palefsky (2002) ArticleTitleNatural history and clinical management of anal human papillomavirus disease in men and women infected with human immunodeficiency virus Clin Infect Dis 35 1127–1134 Occurrence Handle12384848 Occurrence Handle10.1086/344057

M Melbye TR Cote L Kessler (1994) ArticleTitleHigh incidence of anal cancer among AIDS patients. The AIDS/Cancer Working Group Lancet 343 636–639 Occurrence Handle7906812 Occurrence Handle10.1016/S0140-6736(94)92636-0 Occurrence Handle1:STN:280:DyaK2c7lvVGhsw%3D%3D

JJ Goedert TR Cote P Virgo et al. (1998) ArticleTitleSpectrum of AIDS-associated malignant disorders Lancet 351 1833–1839 Occurrence Handle9652666 Occurrence Handle10.1016/S0140-6736(97)09028-4 Occurrence Handle1:STN:280:DyaK1czhsVOktg%3D%3D

RD Cress EA Holley (2003) ArticleTitleIncidence of anal cancer in California: increases incidence among men in San Francisco, 1973–1999 Prev Med 36 555–560 Occurrence Handle12689800 Occurrence Handle10.1016/S0091-7435(03)00013-6

C Diamond TH Taylor T Aboumrad et al. (2005) ArticleTitleIncreased incidence of squamous cell anal cancer among men with AIDS in the era of highly active antiretroviral therapy Sex Trans Dis 32 314–320 Occurrence Handle10.1097/01.olq.0000162366.60245.02

M Schiffman SK Kjaer (2003) ArticleTitleChapter 2: Natural history of anogenital human papillomavirus infection and neoplasia J NCI Monographs 31 14–19

DA Galloway (1999) Biology of human papillomaviruses K Holmes P Mardh P Sparling (Eds) Sexually transmitted diseases McGraw-Hill New York 335–346

AP Zbar C Fenger M Beer-Gabel et al. (2002) ArticleTitleThe pathology and molecular biology of anal intraepithelial neoplasia: comparisons with cervical and vulvar intraepithelial carcinoma Int J Colorectal Dis 17 203–215 Occurrence Handle12073068 Occurrence Handle10.1007/s00384-001-0369-0 Occurrence Handle1:STN:280:DC%2BD38zivFKgsA%3D%3D

P Gervaz D Hahnloser BG Wolff et al. (2004) ArticleTitleMolecular biology of squamous cell carcinoma of the anus: a comparison of HIV-positive and HIV-negative patients J Gastrointest Surg 8 1024–1031 Occurrence Handle15585390 Occurrence Handle10.1016/j.gassur.2004.08.013

MI Welton A Amerhauser V Litle et al. (2001) ArticleTitleAnal Bowen's disease and high-grade squamous intraepithelial lesions are histologically and immunohistochemically indistinguishable [meeting abstract] Dis Colon Rectum 44 A32

H Nelson RR Dozios (2001) Anus CM Townsend (Eds) Sabiston textbook of surgery WB Saunders Philadelphia 974–996

JM Palefsky EA Holly ML Ralston et al. (1998) ArticleTitleHigh incidence of anal high-grade squamous intra-epithelial lesions among HIV-positive and HIV-negative homosexual and bisexual men AIDS 12 495–503 Occurrence Handle9543448 Occurrence Handle10.1097/00002030-199805000-00011 Occurrence Handle1:STN:280:DyaK1c3gt1Cmsg%3D%3D

A Ruiter Particlede P Carter DR Katz et al. (1994) ArticleTitleA comparison between cytology and histology to detect anal intraepithelial neoplasia Genitourin Med 70 22–25 Occurrence Handle8300094

SE Goldstone B Winkler LJ Ufford et al. (2001) ArticleTitleHigh prevalence of anal squamous intraepithelial lesions and squamous-cell carcinoma in men who have sex with men as seen in a surgical practice Dis Colon Rectum 44 690–698 Occurrence Handle11357031 Occurrence Handle10.1007/BF02234568 Occurrence Handle1:STN:280:DC%2BD3M3ptFKlug%3D%3D

M Follen (2001) Preinvasive squamous lesions of the female lower genital tract DM Gershenson AH CeCherney SL Curry L Brubaker (Eds) Operative gynecology WB Saunders Philadelphia 273–279

VR Litle JD Leavenworth TM Darragh et al. (2000) ArticleTitleAngiogenesis, proliferation, and apoptosis in anal high-grade squamous intraepithelial lesions Dis Colon Rectum 43 346–352 Occurrence Handle10733116 Occurrence Handle10.1007/BF02258300 Occurrence Handle1:STN:280:DC%2BD3c7psFamtg%3D%3D

Scholefield JH, Ogunbiyi OA, Smith JH, et al. Treatment of anal intraepithelial neoplasia. Br J Surg 1994:1238–40

MB Lyons N Francis MR Path TG Allen-Mersh (1999) ArticleTitleTreatment of grade 3 anal intraepithelial neoplasia by complete anal mucosal excision without fecal diversion Dis Colon Rectum 42 1342–1344 Occurrence Handle10528776 Occurrence Handle10.1007/BF02234227 Occurrence Handle1:STN:280:DyaK1Mvls1Sntg%3D%3D

SR Brown P Skinner J Tidy et al. (1999) ArticleTitleOutcome after surgical resection for high-grade anal intraepithelial neoplasia (Bowen's disease) Br J Surg 86 1063–1066 Occurrence Handle10460644 Occurrence Handle10.1046/j.1365-2168.1999.01184.x Occurrence Handle1:STN:280:DyaK1MzptVagtw%3D%3D

J Pehoushek KJ Smith (2001) ArticleTitleImiquimod and 5% fluorouracil therapy for anal and perianal squamous cell carcinoma in situ in an HIV-1-postive man Arch Dermatol 137 14–16 Occurrence Handle11176654 Occurrence Handle1:STN:280:DC%2BD3M7nsleisA%3D%3D

KA Hamdan IS Tait V Nadeau et al. (2003) ArticleTitleTreatment of grade III anal intraepithelial neoplasia with photodynamic therapy Dis Colon Rectum 46 1555–1559 Occurrence Handle14605579 Occurrence Handle10.1007/s10350-004-6813-9

J Webber D Fromm (2004) ArticleTitlePhotodynamic therapy for carcinoma in situ of the anus Arch Surg 139 259–261 Occurrence Handle15006881 Occurrence Handle10.1001/archsurg.139.3.259 Occurrence Handle1:CAS:528:DC%2BD2cXis1Gqu7k%3D

DJ Browse RJ Baigrie PA Goldberg J Nevin (2000) ArticleTitleRadical excision of multifocal anal intraepithelial neoplasia Dis Colon Rectum 43 549–550 Occurrence Handle10.1007/BF02237204

CJ Lacey (2005) ArticleTitleTherapy for genital human papillomavirus-related disease J Clin Virol 32(Suppl 1) 582–590

GJ Chang JM Berry N Jay JM Palefsky ML Welton (2002) ArticleTitleSurgical treatment of high-grade anal squamous intraepithelial lesions: a prospective study Dis Colon Rectum 45 453–458 Occurrence Handle12006924 Occurrence Handle10.1007/s10350-004-6219-8

SE Goldstone AZ Kawalek JW Huyett (2005) ArticleTitleInfrared coagulator™: a useful tool for treating anal squamous intraepithelial lesions Dis Colon Rectum 48 1042–1054 Occurrence Handle15868241 Occurrence Handle10.1007/s10350-004-0889-0

N Jay JM Berry CJ Hogeboom et al. (1997) ArticleTitleColposcopic appearance of anal squamous intraepithelial lesions: relationship to histopathology Dis Colon Rectum 40 919–928 Occurrence Handle9269808 Occurrence Handle10.1007/BF02051199 Occurrence Handle1:STN:280:DyaK2svhtleqsQ%3D%3D

Solomon D, Nayar R, eds. The Bethesda system for reporting cervical cytology: definitions, criteria and explanatory notes. 2nd ed. New York: Springer-Verlag, 2004:169–74

Ries LA, Harkins D, Krapcho M, et al., eds. SEER cancer statistics review, 1975–2003. Bethesda, MD: National Cancer Institute. Available at: http://seer.cancer.gov/csr/1975_2003, Accessed 2006

PA Fox (2006) ArticleTitleHuman papillomavirus and anal intraepithelial neoplasia Curr Opinions Infect Dis 19 62–66 Occurrence Handle10.1097/01.qco.0000199019.50451.a8

PV Chin-Hong E Vittinghoff RD Cranston et al. (2005) ArticleTitleAge-related prevalence of anal cancer precursors in homosexual men: the explore study J Natl Cancer Inst 97 896–905 Occurrence Handle15956651 Occurrence Handle10.1093/jnci/dji163

SJ Goldie KM Kuntz MC Weinstein et al. (2000) ArticleTitleCost-effectiveness of screening for anal squamous intraepithelial lesions and anal cancer in HIV-negative homosexual and bisexual men Am J Med 108 631–641 Occurrence Handle10.1016/S0002-9343(00)00349-1

RM Rome PG England (2000) ArticleTitleManagement of vaginal intraepithelial neoplasia: a series of 132 cases with long-term follow-up Int J Gynecol Cancer 10 382–390 Occurrence Handle11240702 Occurrence Handle10.1046/j.1525-1438.2000.010005382.x

B Devaraj BC Cosman (2006) ArticleTitleExpectant management of anal squamous dysplasia in patients with HIV Dis Colon Rectum 49 36–40 Occurrence Handle16283561 Occurrence Handle10.1007/s10350-005-0229-z

C Ortholan A Ramaioli D Peiffert et al. (2005) ArticleTitleAnal canal carcinoma: early-stage tumors ≤10 mm (T1 or TIS). Therapeutic options and original pattern of local failure after radiotherapy Int J Radiat Oncol Biol Phys 62 479–485 Occurrence Handle15890590 Occurrence Handle10.1016/j.ijrobp.2004.09.060
Acknowledgments
The authors thank Dr. Barbara Winkler for her time and guidance with the pathology and cytology and Erin Moshier for her help with the statistical analysis.
Additional information
Supported in part by supplies for the Infrared Coagulator furnished by Redfield Corporation, Rochelle Park, New Jersey. Joshua Hundert's participation was partially funded through the Mount Sinai School of Medicine Alumni Summer Research Fellowship. The study was approved by the Mount Sinai School of Medicine Institutional Review Board.
About this article
Cite this article
Goldstone, S.E., Hundert, J.S. & Huyett, J.W. Infrared Coagulator Ablation of High-Grade Anal Squamous Intraepithelial Lesions in HIV-Negative Males Who Have Sex with Males. Dis Colon Rectum 50, 565–575 (2007). https://doi.org/10.1007/s10350-006-0874-x
Published:

Issue Date:

DOI: https://doi.org/10.1007/s10350-006-0874-x
Keywords