Purpose
Anal electric stimulation has been described as effective for fecal incontinence in several case series, but no study has addressed possible mechanism of benefit. We wished to examine whether anal electric stimulation, using an anal probe electrode, used on a daily basis at home for eight weeks, in the absence of any adjunctive exercises or advice, would improve symptoms of fecal incontinence and anal sphincter pressures when compared with "sham" electric stimulation.
Methods
Ninety patients (9 males, 81 females), with median age of 55 (range, 30–77) years were randomized, 47 to active anal stimulation at 35 Hz and 43 to "sham" stimulation at 1 Hz. Outcome measures included a one-week bowel diary, symptom questionnaire, manometry, and patients' evaluation of outcome.
Results
Seventy patients completed the study. On an intention-to-treat analysis, there was no difference between the two groups on any of the outcome measures after eight weeks. Of those who completed stimulation, 44 (63 percent) felt the stimulation had improved their continence. Those with intact anal sphincters were not likely to rate their change more positively than those with sphincter disruption (P = 0.71). Median patient rating of bowel control increased from 3 of 10 before stimulation to 5 of 10 after stimulation (P = 0.001).
Conclusions
Eight weeks of anal electric stimulation was rated by patients as having improved their bowel control to a modest extent. There was no statistically significant difference detected between the groups, suggesting that 1 Hz was as effective as 35 Hz. This raises the possibility that the main effect is not sphincter contraction but sensitization of the patient to the anal area, or simply the effect of intervening per se. Home electric stimulation is a relatively cheap and generally well-tolerated therapy in the conservative treatment of fecal incontinence.
Access options
Buy single article
Instant access to the full article PDF.
USD 39.95
Price excludes VAT (USA)
Tax calculation will be finalised during checkout.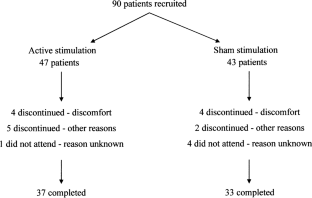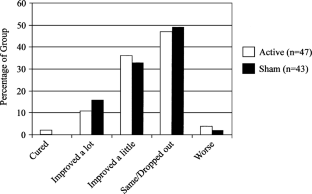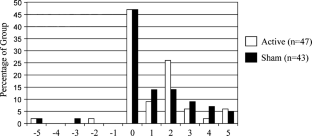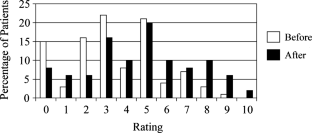 Similar content being viewed by others
References
S Perry C Shaw C McGrother et al. (2002) ArticleTitleThe prevalence of faecal incontinence in adults aged 40 years or more living in the community Gut 50 480–484 Occurrence Handle10.1136/gut.50.4.480 Occurrence Handle1:STN:280:DC%2BD387lslentQ%3D%3D Occurrence Handle11889066

KP Caldwell (1963) ArticleTitleThe electrical control of sphincter incompetence Lancet ii 174–175 Occurrence Handle10.1016/S0140-6736(63)92807-1

B Haskell H Rovner (1967) ArticleTitleElectromyography in the management of the incompetent anal sphincter Dis Colon Rectum 10 IssueID2 81–84 Occurrence Handle1:STN:280:DyaF2s7isFKruw%3D%3D Occurrence Handle6021068

K Rowedder (1984) ArticleTitleElectrostimulation therapy for anal incontinence Tech Coloproctology 6 IssueID3 178–179

BR Hopkinson (1975) ArticleTitleElectronic activation of the sphincters in the treatment of rectal prolapse Proc R Soc Med 68 21–22 Occurrence Handle1:STN:280:DyaE28%2Fltlaluw%3D%3D Occurrence Handle1081232

MR Keighley JWL Fielding (1983) ArticleTitleManagement of faecal incontinence and results of surgical treatment Br J Surg 70 463–468 Occurrence Handle1:STN:280:DyaL3s3lvValtw%3D%3D Occurrence Handle6871636

HG Knoch (1986) ArticleTitleConservative treatment of partial anal incontinence Tech Coloproctology 8 IssueID3 181–184

JL Larpent JC Cuer M Poigny ParticleDa (1987) ArticleTitleClinical and manometric results of electrical stimulation in patients with anal incontinence Tech Coloproctology 3 183–184

PM Mills M Deakin ES Kiff (1990) ArticleTitlePercutaneous electrical stimulation for ano-rectal incontinence Physiotherapy 76 433–438 Occurrence Handle10.1016/S0031-9406(10)62966-5

J Fox L Sylvestre JB Freeman (1991) ArticleTitleRectal incontinence: a team approach Physiotherapy 77 665–672 Occurrence Handle10.1016/S0031-9406(10)60417-8

M Pescatori R Pavesio G Anastasio S Daini (1991) ArticleTitleTransanal electrostimulation for faecal incontinence: clinical, psychologic and manometric prospective study Dis Colon Rectum 34 540–545 Occurrence Handle10.1007/BF02049891 Occurrence Handle1:STN:280:DyaK3M3nsFKktA%3D%3D Occurrence Handle2055139

A Osterberg W Graf K Eeg-Olofsson M Hallden L Pahlman (1999) ArticleTitleIs electrostimulation of the pelvic floor an effective treatment for neurogenic faecal incontinence? Scand J Gastroenterol 34 319–324 Occurrence Handle1:STN:280:DyaK1M3kslyltw%3D%3D Occurrence Handle10232880 Occurrence Handle10.1080/00365529950173762

M Scheuer HC Kuijpers G Bleijenberg (1994) ArticleTitleEffect of electrostimulation on sphincter function in neurogenic fecal continence Dis Colon Rectum 37 590–593 Occurrence Handle10.1007/BF02050995 Occurrence Handle1:STN:280:DyaK2c3lvV2gtQ%3D%3D Occurrence Handle8200239

P Kienle J Weitz M Koch A Benner C Herfath J Schmidt (2003) ArticleTitleBiofeedback versus electrostimulation in treatment of anal sphincter insufficiency Dig Dis Sci 48 1607–1613 Occurrence Handle10.1023/A:1024728210036 Occurrence Handle12924655

KL Sylvester SE Keilty (1987) ArticleTitleA pilot study to investigate the use of interferential in the treatment of ano-rectal incontinence Physiotherapy 73 207–208

MM Fynes K Marshall M Cassidy et al. (1999) ArticleTitleA prospective, randomized study comparing the effect of augmented biofeedback with sensory biofeedback alone on fecal incontinence after obstetric trauma Dis Colon Rectum 42 753–758 Occurrence Handle10.1007/BF02236930 Occurrence Handle1:STN:280:DyaK1MzgsV2ntg%3D%3D Occurrence Handle10378599

Hosker G, Norton C, Brazzelli M. Electrical stimulation for faecal incontinence in adults (Cochrane review). Cochrane Database Syst Rev 2000;2:UI:10796859.

J Laycock J Haslam (2002) Therapetic management of incontinence and pelvic pain Springer London

PD Wilson K Bo J Hay-Smith I Nygaard D Staskin JF Wyman (2002) Conservative treatment in women P Abrams L Cardozo S Khoury A Wein (Eds) Incontinence Health Books Plymouth 571–624

C Norton S Chelvanayagam J Wilson-Barnett S Redfern MA Kamm (2003) ArticleTitleRandomised controlled trial of biofeedback for fecal incontinence Gastroenterology 125 1320–1329 Occurrence Handle10.1016/j.gastro.2003.09.039 Occurrence Handle14598248

PK Sand DA Richardson DR Staskin et al. (1995) ArticleTitlePelvic floor electrical stimulation in the treatment of genuine stress incontinence: a multicenter, placebo-controlled trial Am J Obstet Gynecol 173 72–79 Occurrence Handle10.1016/0002-9378(95)90172-8 Occurrence Handle1:STN:280:DyaK2MzlvVantA%3D%3D Occurrence Handle7631730

KM Luber G Wolde-Tsadik (1997) ArticleTitleEfficacy of functional electrical stimulation in treating genuine stress incontinence: a randomised clinical trial Neurourol Urodyn 16 543–551 Occurrence Handle10.1002/(SICI)1520-6777(1997)16:6<543::AID-NAU4>3.0.CO;2-E Occurrence Handle1:STN:280:DyaK1c%2FhsFahsA%3D%3D Occurrence Handle9353803

C Norton S Chelvanayagam (2004) Conservative management of faecal incontinence in adults C Norton S Chelvanayagam (Eds) Bowel continence nursing Beaconsfield Publishers Beaconsfield 114–131
Additional information
Supported by Action Medical Research, a medical research charity. The charity had no role in design, data collection, analysis, or interpretation of data, nor in the decision to submit for publication.
Work was conducted at St Mark's Hospital, Harrow, United Kingdom.
Reprints are not available.
About this article
Cite this article
Norton, C., Gibbs, A. & Kamm, M.A. Randomized, Controlled Trial of Anal Electrical Stimulation for Fecal Incontinence. Dis Colon Rectum 49, 190–196 (2006). https://doi.org/10.1007/s10350-005-0251-1
Published:

Issue Date:

DOI: https://doi.org/10.1007/s10350-005-0251-1
Key words