Abstract
A remarkable diversity of bioerosion trace fossils is reflected by the plethora of ichnotaxa that has been proposed for these structures during the past two centuries. Bioerosion traces include microborings, macroborings, grazing traces, attachment etchings, and predation traces. They occur in calcareous, siliceous, osteic, and xylic substrates, and are known or interpreted to be produced by tracemakers as diverse as bacteria, fungi, algae, invertebrates, and vertebrates. This review presents the status quo of an inventory of all bioerosion ichnotaxa currently recognized as valid, comprising 123 ichnogenera and 339 ichnospecies, including 45 combinationes novae, the majority of which on account of fossil sponge bioerosion traces formerly grouped within the sponge biotaxon Cliona. In addition, the spelling of several ichnotaxa has to be corrected, leading to eight nomina corrigenda, and three cases of primary or secondary homonymy require establishing nomina nova, i.e., the new ichnogenus name Irhopalia replacing Rhopalia Radtke, 1991, as well as the new ichnospecies names Entobia morrisi replacing E. glomerata (Morris, 1851) and Entobia tuberculata replacing E. mammillata Bromley and D'Alessandro, 1984, respectively. Ichnotaxa of dubious or invalid nomenclatural status currently include an additional 76 ichnogenera and 157 ichnospecies. The invalid ichnogenus Ipites is herein reinstated as new ichnogenus. Considering that only four valid (and one invalid) ichnofamilies had previously been established for bioerosion ichnotaxa, we here introduce a suite of 14 additional ichnofamilies: Gastrochaenolitidae, Talpinidae, Entobiaidae, Planobulidae, Ichnoreticulinidae, Saccomorphidae, Centrichnidae, Renichnidae, Podichnidae, Gnathichnidae, Circolitidae, Oichnidae, Belichnidae, and Machichnidae. During the past five decades, the number of valid bioerosion ichnotaxa has more than quadrupled, reflecting a boost in bioerosion research, but also indicating the need for ichnotaxonomic consolidation in concert with a revision of key ichnogenera. In this context, the aim of this overview is to call for feedback from the research community in order to foster completeness of this list and to provide ichnotaxonomic stability. Furthermore, we want to raise awareness of the existence of the listed ichnotaxa, many of which obviously have remained unconsidered or forgotten for a long time.
This is a preview of subscription content, log in to check access.
Access options
Buy single article
Instant access to the full article PDF.
US$ 39.95
Price includes VAT for USA
Subscribe to journal
Immediate online access to all issues from 2019. Subscription will auto renew annually.
US$ 99
This is the net price. Taxes to be calculated in checkout.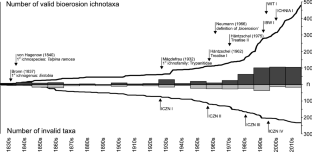 References
Alekseev A, Endelman L (1989) Association of ectoparasitic prosobranch gastropods with Upper Cretaceous echinoid Galerites. [Assotsiatsija ektoparaziticheskikh perednezhabernikh gastropod c pozdnemelovimi morskimi ezhami Galerites]. In: Kaljo DL (ed) Fossil and recent echinoderm researches. Akademia Nauk Estonoskoi SSR, Tallinn, pp 166–174

Andrew C, Howe P, Paul CR, Donovan SK (2010) Fatally bitten ammonites from the lower Lias Group (Lower Jurassic) of Lyme Regis, Dorset. Proc Yorkshire Geol Soc 58:81–94

Annandale N (1920) Observations on "Physia prinsepii," Sowerby and on a clionid sponge that burrowed in its shell. Rec Geol Surv India 51:50–64

Arendt YA (2012) Traces of Augoichnus dituberculatus gen. et sp. nov. on Hypermorphocrinus magnospinosus from the Lower Permian of Cisuralia. Paleontol J 46:886–893

Badve RM, Ghare MA (1984) Holocene trace fossils from beach rock of Velas coast, Raigad district, Maharashtra. Biovigyanam 10:165–172

Bałuk W, Radwański A (1991) A new occurrence of fossil acrothoracican cirripedes: Trypetesa polonica sp. n. in hermitted gastropod shells from the Korytnica Basin (Middle Miocene: Holy Cross Mountains, Central Poland), and its bearing on behavioral evolution of the genus Trypetesa. Acta Geol Polonica 41:1–36

Bassett MG, Popov LE, Holmer LE (2004) The oldest-known metazoan parasite? J Paleontol 78:1214–1216

Bassler RS (1952) Taxonomic notes on genera of fossil and recent Bryozoa. J Wash Acad Sci 42:381–385

Bengtson S, Conway Morris S, Cooper BJ, Jell PA, Runnegar BN (1990) Early Cambrian fossils from South Australia. Mem Ass Aust Palaeontols 9:1–264

Bertling M (1992) Arachnostega n. ichnog. – burrowing traces in internal moulds of boring bivalves (Late Jurassic, northern Germany). Pal Z 66:177–185

Bertling M (1995) Ropalonaria arachne (Fischer, 1866) eine Bryozoen–Bohrspur aus dem norddeutschen Malm. Münstersche Forsch Geol Pal 77:357–362

Bertling M (2007) What´s in a name? Nomenclature, systematics, ichnotaxonomy. In: Miller W III (ed) Trace fossils: concepts, problems, prospects. Elsevier, Amsterdam, pp 81–91

Bertling M, Rindsberg AK, Schlirf M, Nielsen JK, Mikuláš R, Genise J, Nielsen KSS, Uchman A, Bromley RG (2004) Comments on the draft proposal to emend the Code with respect to trace fossils (2). Bull Zool Nomencl 61:37–39

Bertling M, Braddy SJ, Bromley RG, Demathieu GR, Genise JF, Mikuláš R, Nielsen JK, Nielsen KSS, Rindsberg AK, Schlirf M, Uchman A (2006) Names for trace fossils: a uniform approach. Lethaia 39:265–286

Beuck L, López Correa M, Freiwald A (2008a) Biogeographical distribution of Hyrrokkin (Rosalinidae, Foraminifera) and its host-specific morphological and textural trace variability. In: Wisshak M, Tapanila L (eds) Current developments in bioerosion. Springer, Berlin, Heidelberg, pp 329–360

Beuck L, Wisshak M, Munnecke A, Freiwald A (2008b) A giant boring in a Silurian stromatoporoid analysed by computer tomography. Acta Palaeontol Polonica 53:149–160

Biernat G (1961) Diorygma atrypophilia n. gen., n. sp.—a parasitic organism of Atrypa zonata Schnur. Acta Palaeontol Polonica 6:17–28

Blissett DJ, Pickerill RK (2007) Systematic ichnology of microborings from the Cenozoic White Limestone Group, Jamaica, West Indies. Scripta Geol 134:77–108

Boekschoten GJ (1970) On bryozoan borings from the Danian at Fakse, Denmark. In: Crimes TP, Harper JC (eds) Trace fossils. Geol J, Spec Issue 3. Seel House Press, Liverpool, pp 43–48

Bohatý J, Ausich WI, Nardin E, Nyhuis C, Schröder S (2012) Coral-crinoid biocoenosis and resulting trace fossils from the Middle Devonian of the Eifel Synclines (Rhenish Massif, Germany). J Paleontol 86:282–301

Borkar VD, Kulkarni KG (1987) Cylindricavus perplexus ichnogen. et ichnosp. nov. from the Gulbarga District, Karnataka State. Biovigyanam 13:98–103

Botquelen A, Mayoral E (2005) Early Devonian bioerosion in the Rade de Brest, Armorican Massif, France. Palaeontology 48:1057–1064

Branson CC (1937) Stratigraphy and fauna of the Sacajawea Formation, Mississippian, of Wyoming. J Paleontol 11:650–660

Breton G (1992) Les Goniasteridae (Asteroidea, Echinodermata) Jurassiques et crétacés de France. Taphonomie, systématique, biostratigraphie, paléobiogéographie, évolution. Bulletin Trimesteriel de la Société Géologique de la Normandie, h.s. Supplement 78:1–590

Breton G (2011) Le Gault du Perthois: terriers, phosphates et petites crottes. Bull Ass Géol Auboise 31:1–66

Breton G (2015a) Unellichnus calciforans igen. nov., isp. nov., boring in a Maastrichtian lithified seafloor from the Cotentin (France). Annales de Paléontologie 101:143–151

Breton G (2015b) Le type de l'ichnotaxon Podichnus donovani Breton, 2011 est un bryozoaire cyclostome. Bull Ass Geol Auboise 35:7–8

Breton G (2017) Les sclérobiontes des huîtres du Cénomanien supérieur du Mans (Sarthe, France). Ann Paleontol 103:173–183

Breton G, Néraudeau D, Cuenca-Boulat C (1992) Gnathichnus stellarum ichnosp. nov., trace de broutage d'un echinide du Campanien des Charentes (France). Rev Paleobiol 11:219–229

Breton G, Wisshak M, Néraudeau D, Morel N (2017) Parasitic gastropod bioerosion trace fossil on Cenomanian oysters from Le Mans, France and its ichnologic and taphonomic context. Acta Palaeontol Polonica 62:45–57

Brett CE (1985) Tremichnus: a new ichnogenus of circular-parabolic pits in fossil echinoderms. J Paleontol 59:625–635

Bromley RG (1970a) Borings as trace fossils and Entobia cretacea Portlock, as an example. In: Crimes TP, Harper JC (eds) Trace fossils. Geol J, Spec Issue 3. Seel House Press, Liverpool, pp 49–90

Bromley RG (1970b) Predation and symbiosis in some Upper Cretaceous clionid sponges. Bull Geol Soc Denmark 19:398–405

Bromley RG (1972) On some ichnotaxa in hard substrates, with a redefinition of Trypanites Mägdefrau. Paläontol Z 46:93–98

Bromley RG (1975) Comparative analysis of fossil and recent echinoid bioerosion. Palaeontology 18:725–739

Bromley RG (1981) Concepts in ichnotaxonomy illustrated by small round holes in shells. Acta Geol Hispanica 16:55–64

Bromley RG (1993) Predation habits of octopus past and present and a new ichnospecies, Oichnus ovalis. Bull Geol Soc Den 40:167–173

Bromley RG (1994) The palaeoecology of bioerosion. In: Donovan SK (ed) The palaeobiology of trace fossils. Wiley, London, pp 134–154

Bromley RG (1996) Trace fossils: biology, taphonomy and application, 2nd edn. Chapman & Hall, London

Bromley RG (2004) A stratigraphy of marine bioerosion. Geol Soc Lond Spec Publ 228:455–479

Bromley RG, Asgaard U (1993) Endolithic community replacement on a Pliocene rocky coast. Ichnos 2:93–116

Bromley RG, D'Alessandro A (1983) Bioerosion in the Pleistocene of southern Italy: ichnogenera Caulostrepsis andMaeandropolydora. Riv Italiana Paleontol Stratigr 89:283–309

Bromley RG, D'Alessandro A (1984) The ichnogenus Entobia from the Miocene, Pliocene and Pleistocene of southern Italy. Riv Italiana Paleontol Stratigr 90:227–296

Bromley RG, D'Alessandro A (1987) Bioerosion of the Plio-Pleistocene transgression of southern Italy. Riv Italiana Paleontol Stratigr 93:379–442

Bromley RG, D'Alessandro A (1989) Ichnological study of shallow-marine endolithic sponges from the Italian coast. Riv Italiana Paleontol Stratigr 95:279–314

Bromley RG, Martinell J (1991) Centrichnus, new ichnogenus for centrically patterned attachment scars on skeletal substrates. Bull Geol Soc Denmark 38:243–252

Bromley RG, Surlyk F (1973) Borings produced by brachiopod pedicles, fossil and recent. Lethaia 6:349–365

Bromley RG, Wisshak M, Glaub I, Botquelen A (2007) Ichnotaxonomic review of dendriniform borings attributed to foraminiferans: Semidendrina igen. nov. In: Miller W III (ed) Trace fossils: concepts, problems, prospects. Elsevier, Amsterdam, pp 518–530

Bromley RG, Uchman A, Kolodziej B, Kedzierski M (2009) Large chambered sponge borings on a Late Cretaceous abrasion platform at Cracow, Poland. Cretac Res 30:149–160

Bronn HG (1837) Lethaea Geognostica, Abbildungen und Beschreibungen der für die Gebirgs-Formationen bezeichnendsten Versteinerungen, Erster Band. Schweizerbart, Stuttgart

Bronn HG (1848) Index Palaeontologicus, 1. Abtheilung, 1. Hälfte. Schweizerbart, Stuttgart

Buatois LA, Wisshak M, Wilson MA, Mángano MG (2017) Categories of architectural designs in trace fossils: a measure of ichnodisparity. Earth Sci Rev 164:102–181

Buchholz H (1986) Die Höhle eines Spechtvogels aus dem Eozän von Arizona, USA (Aves, Piciformes). Verhandlungen des Naturwissenschaftlichen Vereins in Hamburg, N F 28:5–25

Bundschuh M, Balog SJ (2000) Fasciculus rogus nov. isp., an endolithic trace fossil. Ichnos 7:149–152

Bystrov AP (1956) On the damage caused by fungi in the skeletal elements of fossil animals. Vestnik Leningradskogo Universiteta, Seria Geologii i Geografii 18:30–46 [in Russian]

Bystrow AP (1959) The microstructure of skeleton elements in some vertebrates from lower Devonian deposits of the USSR. Acta Zool 40:59–83

Cadée GC, de Wolf P (2013) Belichnus traces produced on shells of the bivalve Lutraria lutraria by gulls. Ichnos 20:15–18

Calvin S (1888) On a new genus and new species of tubicolar Annelida. Am Geol 1:24–28

Cameron B (1969a) New name for Palaeosabella prisca (McCoy), a Devonian worm-boring, and its preserved probable borer. J Paleontol 43:189–192

Cameron B (1969b) Paleozoic shell-boring annelids and their trace fossils. Am Zool 9:689–703

Campbell SE, Kazmierczak J, Golubić S (1979) Palaeoconchocelis starmachii n. gen., n. sp., a Silurian endolithic rhodophyte (Bangiaceae). Acta Palaeontol Polonica 24:405–408

Casadío S, Marenssi S, Santillana S (2001) Endolithic bioerosion traces attributed to boring bryozoans in the Eocene of Antarctica. Ameghiniana 38:321–329

Casey R (1961) The stratigraphical paleontology of the Lower Greensand. Palaeontology 3:487–621

Chapman F (1907) New or little known Victorian fossils in the National Museum. Part IX - Some Tertiary species. Proc R Soc Vic 20:208–221

Chatterton BDE (1975) A commensal relationship between a small filter feeding organism and Australian Devonian spiriferid brachiopods. Paleobiology 1:371–378

Chiplonkar G, Ghare M (1976) Paleolithophaga, a new ichnogenus from south Indian Cretaceous rocks of Trichinopoly district. Biovigyanam 2:161–164

Chiplonkar G, Ghare M (1977) Serpulid and barnacle borings on South Indian Cretaceous fossils from Trichinopoly District, Tamil Nadu. Biovigyanam 3:193–204

Chow MM (1957) A new Cliona-like boring sponge from the Devonian of Hunan [in Chinese]. Acta Palaeontol Sinica 5:63–68

Chumakov NM, Dronov AV, Mikuláš R (2013) New ichnospecies of scratching traces from phosphatic nodules (Cenomanian, England). Stratigr Geol Correl 21:291–299

Clarke JM (1908) The beginnings of dependent life. N Y State Mus Bull 121:146–169

Clarke JM (1921) Organic dependence and disease, their origin and significance. N Y State Mus Bull 221–222:1–113

Cleevely RJ (1983) World palaeontological collections. Mansell Publishing, London

Codez J, de Saint-Seine R (1958) Révision des Cirripèdes acrothoraciques fossiles. Bull Soc Géol France (série 6) 7:699–719

Cole AR, Palmer TJ (1999) Middle Jurassic worm borings, and a new giant ichnospecies of Trypanites from the Bajocian/Dinantian unconformity, southern England. Proc Geol Ass 110:203–209

Collinson ME, Hooker JJ (2000) Gnaw marks on Eocene seeds: evidence for early rodent behaviour. Palaeogeogr Palaeoclimatol Palaeoecol 157:127–149

Condra GE, Elias MK (1944) Carboniferous and Permian ctenostomatous bryozoa. Bull Geol Soc Am 55:517–568

Cruickshank A (1986) Archosaur predation on an east African Middle Triassic dicynodont. Palaeontology 29:415–422

d'Archiac A, Fischer P, de Verneuil E (1866) Asie Mineure. Description physique de cette contrée—Paléontologie. Librairie Théodore Morgand, Paris

d'Orbigny A (1847) Voyage dans l'Amérique Méridionale. 5 [Zoophytes]:7–28

d'Orbigny A (1850) Prodrome de Paléontologie stratigraphique universelle des animaux mollusques et rayonnés, vol 2. V. Masson, Paris

de Araújo-Júnior HI, de Souza Barbosa FH, da Silva LHM (2017) Overlapping paleoichnology, paleoecology and taphonomy: analysis of tooth traces in a Late Pleistocene–early Holocene megafaunal assemblage of Brazil and description of a new ichnotaxon in hard substrate. Palaeogeogr Palaeoclimatol Palaeoecol 468:122–128

de Laubenfels MW (1955) Porifera. In: Moore RC (ed) Treatise on invertebrate paleontology, Part E—Porifera. University of Kansas Press, Lawrence, pp E21–E112

de Saint-Seine R (1951) Un Cirripèdes acrothoraciques du Crétacé:Rogerella lecointrei nov. gen., nov. sp. Comptes Rendus de l'Académie des Sciences 233:1051–1054

de Saint-Seine R (1954) Existence de Cirripèdes acrothoraciques dès de Lias: Zapfella pattei nov. gen., nov. sp. Bull Soc Géol France 6(série 4):447–451

de Saint-Seine R (1955) Les Cirripèdes acrothoraciques échinicoles. Bull Soc Géol France 6(série 5):299–303

de Serres M (1840) Description de quelques mollusques fossiles nouveaux des terrains infra-liassiques et de la craie compacte inferieure du Midi de la France. Ann Sci Nat (Zoologie) 14:5–25

Dogiel V (1908) Entobius loimiae n. g. n. sp., eine endoparasitische Copepode. Zool Anz 33:561–567

Dong Y, Ji Q, Wang S (1984) The discovery of microscopic trace fossils in the Sinian Doushantuo Formation in southwestern China [in Chinese]. Scientia Geol Sinica 1984:346–347

Donovan SK (2002) A new ichnospecies of Gastrochaenolites Leymerie from the Pleistocene Port Morant Formation of southeast Jamaica and the taphonomy of calcareous linings in clavate borings. Ichnos 9:61–66

Donovan SK (2018) A new ichnogenus for Teredolites longissimus Kelly and Bromley. Swiss J Palaeontol 137:95–98

Donovan SK, Jagt JWM (2002) Oichnus Bromley borings in the irregular echinoid Hemipneustes Agassiz from the type Maastrichtian (Upper Cretaceous, The Netherlands and Belgium). Ichnos 9:67–74

Donovan SK, Jagt JWM (2005) Flosculichnus tectus, an etched attachment scar from the Upper Cretaceous (Maastrichtian) of The Netherlands. Bulletin de l'Institut Royal des Sciences Naturelles de Belgique, Sciences de la Terre 75:207–210

Duchassaing P (1850) Animaux radiaires des Antilles. Plon Frères, Paris

Duchassaing de Fonbressin P, Michelotti GJ (1864) Spongiaires de la Mer Caraibe. De Erver Loosjes, Haarlem

Duncan PM (1876) On some unicellular algae parasitic within Silurian and Tertiary corals, with a notice of their presence in Calceola sandalina and other fossils. Q J Geol Soc 32:205–211

Edinger EN, Risk MJ (1994) Oligocene-Miocene extinction and geographic restriction of Caribbean corals: roles of turbidity, temperature, and nutrients. Palaios 9:576–598

Ekdale AA, Bromley RG (2001) Bioerosional innovation for living in carbonate hardgrounds in the Early Ordovician of Sweden. Lethaia 34:1–12

Ekdale AA, Brown FH, Feibel CS (1989) Nonmarine macroborings in early Pleistocene algal biolithites (stromatolites) of the Turkana Basin, northern Kenya. Palaios 4:389–396

Elias M (1957) Late Mississippian fauna from the Redoak Hollow formation of southern Oklahoma, part 1. J Paleontol 31:370–427

Elias M (1958) Late Mississippian fauna from the Redoak Hollow formation of southern Oklahoma, part 4. J Paleontol 32:1–57

Elias RJ (1980) Borings in solitary rugose corals of the Selkirk Member, Red River formation (late Middle or Upper Ordovician), southern Manitoba. Can J Earth Sci 17:272–277

Elliott GF (1962) More microproblematica from the Middle East. Micropaleontology 8:29–44

Erickson JM, Bouchard TD (2003) Description and interpretation ofSanctum laurentiensis, new ichnogenus and ichnospecies, a domichnium mined into Late Ordovician (Cincinnatian) ramose bryozoan colonies. J Paleontol 77:1002–1010

Étallon A (1859) Sur la classification des Spongiaires du Haut-Jura et leur distribution dans les étages. Actes de la Société Jurassienne d'Émulation 9:129–160

Étallon A (1864) Etudes paleontologiques sur le Jura graylois, terrains jurassiques moyen et supérieur. Mémoires de la Societé d'Émulation du Département de Doubs, 3. Série 8:221–506

Etheridge R (1891) On the occurrence of microscopic fungi, allied to the genus Palæachlya, Duncan, in the Permo-Carboniferous rocks of N. S. Wales and Queensland. Rec Geol Surv N S W 2:95–99

Etheridge R (1899) On two additional perforating bodies, believed to be thallophytic cryptograms, from the Lower Palaeocoic rocks of N. S. Wales. Rec Aust Mus 3:121–127

Etheridge R (1904) An endophyte (Stichus mermisoides) occurring in the test of a Cretaceous bivalve. Rec Aust Mus 5:255–257

Fenton CL, Fenton MA (1932) Boring sponges in the Devonian of Iowa. Am Midl Nat 13:42–54

Fischer MP (1866) Étude sur les Bryozoaires perforants de la famille des Térébriporides. Nouvelles Archives du Museum d'Histoire Naturelle de Paris 2:293–313

Fischer MP (1868) Recherches sur les Eponges perforantes fossiles. Nouvelles Archives du Museum d'Histoire Naturelle de Paris 4:16–170

Fischer MP (1875) D´un type de sarcodaires. J de Zoologie 4:530–533

Fraas O (1867) Aus dem Orient. Geologische Beobachtungen am Nil, auf der Sinai-Halbinsel und in Syrien. Ebner & Seubert, Stuttgart

Fraas O (1869) Begleitworte zur geognostischen Specialkarte von Württemberg - Atlasblatt Giengen mit den Umgebungen von Dischingen, Nattheim und Niederstotzingen. Königlich statistisch-topographisches Büro, Stuttgart

Francischini H, Paes Neto VD, Martinelli AG, Pereira VP, Marinho TS, Teixeira VPA, Ferraz MLF, Soares MB, Schultz CL (2016) Invertebrate traces in pseudo-coprolites from the Upper Cretaceous Marilia formation (Bauru Group), Minas Gerais State, Brazil. Cretac Res 57:29–39

Frest TJ, Strimple HL, Paul CRC (2011) The North American Holocystites fauna (Echinodermata, Blastozoa: Diploporita): paleobiology and systematics. Bull Am Paleontol 380:1–133

Frič A (1883) Studien im Gebiete der böhmischen Kreideformation. III. Die Iser-Schichten. Archiv für die naturwissenschaftlichen Landesdurchforschung von Böhmen 5:1–140

Fritsch A (1908) Problematica Silurica. Gerhard, Prag

Furlong CM, McRoberts CA (2014) Commensal borings from the Middle Devonian of central New York, ecologic and taxonomic review of Clionoides, Clionolithes, and Canaliparva n. ichnogen. J Paleontol 88:130–144

Fürsich FT, Palmer TJ, Goodyear KL (1994) Growth and disintegration of bivalve-dominated patch reefs in the Upper Jurassic of southern England. Palaeontology 37:131–171

Genise JF (1995) Upper Cretaceous trace fossils in permineralized plant remains from Patagonia, Argentina. Ichnos 3:287–299

Genise JF (2017) Ichnoentomology—insect traces in soils and Paleosols. Topics in Geobiology 37. Springer, Heidelberg Berlin

Genise JF, Hazeldine PL (1995) A new insect trace fossil in Jurassic wood from Patagonia, Argentina. Ichnos 4:1–5

Genise JF, Garrouste R, Nel P, Grandcolas P, Maurizot P, Cluzel D, Cornette R, Fabre A-C, Nel A (2012) Asthenopodichnium in fossil wood: different trace makers as indicators of different terrestrial palaeoenvironments. Palaeogeogr Palaeoclimatol Palaeoecol 365:184–191

Ghare MA (1982) Borings on belemnoid rostra from Utatur Group of Upper Cretaceous rocks of Trichinopoly district, Tamil Nadu. Geol Soc India 23:129–135

Ghare MA (1985) Clionid sponge borings from South Indian Cretaceous rocks, Tiruchirapally District, Tamil Nadu. Biovigyanam 112:177–182

Glaub I (1994) Mikrobohrspuren in ausgewählten Ablagerungsräumen des europäischen Jura und der Unterkreide (Klassifikation und Palökologie). Courier Forschungsinstitut Senckenberg 174:1–324

Głazek J, Marcinowski R, Wierzbowski A (1971) Lower Cenomanian trace fossils and transgressive deposits in the Cracow Upland. Acta Geol Polonica 21:433–448

Golubić S, Radtke G (2008) The trace Rhopalia clavigera isp. n. reflects the development of its makerEugomontia sacculata Kornmann, 1960. In: Wisshak M, Tapanila L (eds) Current developments in bioerosion. Springer, Berlin, Heidelberg, pp 95–108

Golubić S, Brent G, Le Campion T (1970) Scanning electron microscopy of endolithic algae and fungi using a multipurpose casting-embedding technique. Lethaia 3:203–209

Golubić S, Radtke G, Campbell SE, Lee S-J, Vogel K, Wisshak M (2014) The complex fungal microboring trace Saccomorpha stereodiktyon isp. nov. reveals the growth strategy of its maker. Ichnos 21:100–110

Goujet D, Locquin MV (1979) Découverte de spores fongiques dans les écailles de Poissons et d'Agnathes Paléozoïques: Mycobystrovia lepidophaga gen. et sp. nov. In: Proceedings of the 104e Congrès national des Sociétés savantes, Bordeaux, pp 87–99

Gradstein FM, Ogg JG, Schmitz M, Ogg G (2012) The Geologic Time Scale. Elsevier, Amsterdam

Grant RE (1826) Notice of a new zoophyte (Cliona celata, Gr.) from the Firth of Forth. Edinburgh New Philosoph J 1:78–81

Green JW, Knoll AH, Swett K (1988) Microfossils from Oolites and Pisolites of the Upper Proterozoic Eleonore Bay Group, Central East Greenland. J Paleontol 62:835–852

Gripp K (1967) Polydora biforans n. sp., ein in Belemniten-Rostren bohrender Wurm der Kreidezeit. Meyniana 17:9–10

Gruber A (1933) Bohrorganismen im oberen Muschelkalk. Geol Rundsch, Leipzig Festschrift 23a:263–266

Guo S (1991) A Miocene trace fossil of insect from Shanwang Formation in Linqu, Shandong. Acta Palaeontol Sinica 30:739–742

Haga T, Kurihara Y, Kase T (2010) Reinterpretation of the Miocene sea-snake egg Moniopterus japonicus as a boring of rock-boring bivalve Lithophaga (Mytilidae: Mollusca). J Paleontol 84:848–857

Hancock A (1849) On the excavating powers of certain sponges belonging to the genus Cliona; with descriptions of several new species, and an allied generic form. Ann Mag Nat Hist (2nd series) 3:321–348

Häntzschel W (1962) Trace fossils and problematica. In: Moore RC (ed) Treatise on Invertebrate Paleontology, Part W—Miscellanea. University of Kansas Press, Lawrence, pp W177–W245

Häntzschel W (1975) Trace fossils and problematica. In: Moore RC (ed) Treatise on invertebrate paleontology, Part W—Supplement I, trace fossils. University of Kansas Press, Lawrence, pp W1–W269

Hary A (1975) Inventaire des traces d'activité animale dans les sediments Mésozoiques du territoire Luxembourgeois. Publications du Service Géologique du Luxembourg 23:91–175

Hatai K, Masuda K, Noda H (1974) Marine fossils from the Moniwa Formation along the Natori River, Sendai, northeast Honshu, Japan, part 2. Problematica from the Moniwa Formation. Trans Proc Palaeontol Soc Jpn New Ser 95:364–371

Hillmer G, Schulz M (1973) Ableitung der Biologie und Ökologie eines Polychaeten der Oberkreide durch Analyse des Bohrganges Ramosulcichnus biforans (Gripp) nov. ichnogen. Mitt Geol-Paläontol Inst Univ Hamburg 42:5–24

Ho J-S (1984) New family of poecilostomatoid copepods (Spiophanicolidae) parasitic on polychaetes from southern California, with a phylogenetic analysis of nereicoliform families. J Crustacean Biol 4:134–146

Hofmann K (1996) Die mikro-endolithischen Spurenfossilien der borealen Oberkreide Nordwest-Europas und ihre Faziesbeziehungen. Geol Jb, A 136:1–151

Höpner S, Bertling M (2017) Holes in bones: ichnotaxonomy of bone borings. Ichnos 24:259–282

Hunt AP, Lucas SG, Klein K (2018) Late Triassic nonmarine vertebrate and invertebrate trace fossils and the pattern of the Phanerozoic record of vertebrate trace fossils. In: Tanner LA (ed) The Late Triassic World. Topics in Geobiology 46. Springer, Berlin, Heidelberg, pp 447–544

Hyde JE (1953) Mississippian formations of central and southern Ohio. Ohio Geol Surv, Bull 51:214–221

ICZN [International Commission for Zoological Nomenclature] (1999) International Code of Zoological Nomenclature, adopted by the International Union of Biological Sciences, 4th edn. International Trust for Zoological Nomenclature, London

Ishikawa M, Kase T (2007) Spionid bore hole Polydorichnus subapicalis new ichnogenus and ichnospecies: a new behavioral trace in gastropod shells. J Paleontol 81:1466–1475

Jacobsen AR, Bromley RG (2009) New ichnotaxa based on tooth impressions on dinosaur and whale bones. Geol Q 53:373–382

Jagt JWM, Neumann C, Donovan SK (2009) Petroxestes altera, a new bioerosional trace fossil from the upper Maastrichtian (Cretaceous) of northeast Belgium. Bulletin de l'Institut royal des Sciences naturelles de Belgique Sciences de la Terre 79:137–145

Jarzembowski EA (1990) A boring beetle from the Wealden of the Weald. In: Boucot A (ed) Evolutionary paleobiology of behaviour and coevolution. Elsevier, Amsterdam, pp 373–376

Karl H-V, Nyhuis CJ (2012) Ctenochelys stenopurus (Hay, 1905) (Testudines: Toxochelyidae) and Clidastes sp. (Squamata: Mosasauridae) from the upper Cretaceous of NW-Germany. Studia Palaeocheloniologica 4 (Studia Geologica Salamanticensia, volumen especial 9):129–142

Karl H-V, Gröning E, Brauckmann C (2012) Revision of Tropidemys seebachi Portis, 1878 (Testudines: Eucryptodira) from the Kimmeridgian (Late Jurassic) of Hanover (Northwestern Germany). Studia Palaeocheloniologica 4 (Studia Geologica Salamanticensia, volumen especial 9):11–24

Karpiński JJ (1962) Cast of the brood galleries of fossil beetle of the Scolytidae family from Oligocene/Miocene Sandstone at Osieczów (Lower Silesia). Pr Inst Geol 30:237–239

Kelly SR, Bromley RG (1984) Ichnological nomenclature of clavate borings. Palaeontology 27:793–807

Kennedy W (1970) Trace fossils in the Chalk environment. In: Crimes TP, Harper JC (eds) Trace fossils. Geol J, Spec Issue 3. Seel House Press, Liverpool, pp 263–282

Kern JP, Grimmer JC, Lister KH (1974) A new fossil spionid tube, Pliocene and Pleistocene of California and Baja California. J Paleontol 48:978–982

Kleemann K (2009) Gastrochaenolites hospitium isp. nov., trace fossil by a coral-associated boring bivalve from the Eocene and Miocene of Austria. Geol Carpath 60:339–342

Klompmaker AA, Artal P, van Bakel BWM, Fraaije RHB, Jagt JWM (2014) Parasites in the fossil record: a Cretaceous fauna with isopod-infested decapod crustaceans, infestation patterns through time, and a new ichnotaxon. PLoS ONE 9:e92551

Klompmaker AA, Portell RW, van der Meij ET (2016) Trace Fossil evidence of coral-inhabiting crabs (Cryptochiridae) and its implications for growth and paleobiogeography. Sci Rep 6:23443

Knaust D (2012) Trace fossil systematics. In: Knaust D, Bromley RG (eds) Trace fossils as indicators of sedimentary environments. Developments in Sedimentology 64. Elsevier, Amsterdam, pp 9–102

Knaust D (2019) The enigmatic trace fossil Tissoa de Serres, 1840. Earth Sci Rev 188:123–147

Lamouroux JVF (1816) Histoire des Polypiers Coralligènes Flexibles, Vulgairement Nommés Zoophytes. F. Poisson, Caen

Lees JH, Thomas A (1918) The Ste. Genevieve Marls near Fort Dodge and their fauna. Proc Iowa Acad Sci 25:599–616

Lehner L (1937) Fauna und Flora der frankischen albüberdeckenden Kreide. Palaeontographica 87A:159–165

Leymerie A (1842) Suite de mémoire sur le terrain Crétacé du département de l'Albe. Mem Soc Géol France 1(série 4):1–34

Li G (1997) Early Cambrian phosphate-replicated endolithic algae from Emei, Sichuan, SW China. Bull Nat Mus Nat Sci 10:193–216

Linck O (1949) Fossile Bohrgänge (Anobichnium simile n.g. n.sp.) an einem Keuperholz. N Jb Mineral Geol Paläontol, B 4–6:180–185

Loeblich AR, Tappan H (1964) Sarcodina, chiefly "Thecamoebians", Foraminiferida. In: Moore RC (ed) Treatise on Invertebrate Paleontology, Part C - Protista/Protoctista 2. University of Kansas Press, Lawrence, pp C1–C900

Lopes RP, Pereira JC (2018) Molluscan grazing traces (ichnogenusRadulichnus Voigt, 1977) on a Pleistocene bivalve from southern Brazil, with the proposal of a new ichnospecies. Ichnos. https://doi.org/10.1080/10420940.2018.1532898

Low ME, Guinot D (2010) Feldmannius nom. nov. for Feldmannia Casadío, Marenssi & Santillana, "30-09-2001", preoccupied by Feldmannia Guinot & Tavares, "28 septembre 2001": a case of 48-hour precedence. Zootaxa 2568:67–68

Macquart PJM (1838) Diptères Exotiques Nouveaux ou Peu Connus, Tome prémier, 2eme partie. Roret, Paris

Mägdefrau K (1932) Über einige Bohrgänge aus dem Unteren Muschelkalk von Jena. Paläontol Z 14:150–160

Mägdefrau K (1937) Lebensspuren fossiler "Bohr" = Organismen. Beiträge zur naturkundlichen Forschung in Südwestdeutschland 2:54–67

Magwood JPA (1992) Ichnotaxonomy: a burrow by any other name…? In: Maples CG, West RR (eds) Trace Fossils. Palaeontological Society of America, Knoxville, pp 15–33

Malkowski K (1975) Attachment scars of the brachiopod Coenothyris vulgaris (Schlotheim, 1820) from the Muschelkalk of Upper Silesia. Acta Geol Polonica 25:277–283

Mantell GA (1850) A Pictorial Atlas of Fossil Remains, Consisting of Coloured Illustrations Selected from Parkinson's "Organic Remains of a Former World" and Artis's "Antediluvian Phytology". H. G. Bohn, London

Marek J (1982) Runia runica ichnogen. et ichnosp. nov., a new sponge boring from the Silurian of Bohemia. Acta Universitatis Carolinae, Geologica 4:401–408

Martinell J, Domènech R (2009) Commensalism in the fossil record: Eunicid polychaete bioerosion on Pliocene solitary corals. Acta Palaeontol Polonica 54:143–154

Martinell J, Domènech R, Bromley RG (1999) Mysterious boring hidden within the hinge plates of heterodont bivalves. Bull Geol Soc Denmark 45:161–163

Mayer G (1952) Lebensspuren von Bohrorganismen aus dem Unteren Hauptmuschelkalk (Trochitenkalk) des Kraichgaus. N Jb Geol Paläontol, Mh 1952:450–456

Mayer K (1872) Systematisches Verzeichnis der Versteinerungen des Helvetian der Schweiz und Schwabens. Schabelitz'sche Buchhandlung, Zürich

Mayoral E (1987a) Acción bioerosiva de Mollusca (Gastropoda, Bivalvia) en el Plioceno inferior de la Cuenca del Bajo Guadalquivir. Rev Española Paleontol 2:49–58

Mayoral E (1987b) Stellichnus nov. icnogen., huellas de incrustación atribuidas a Paravinella nov. gen. (Bryozoa, Ctenostomata) de la Formación Arenas de Huelva (Plioceno inferior) en la Cuenca del Bajo Guadalquivir (Espana). Rev Española Paleontol 2:33–40

Mayoral E (1988) Microperforaciones (Tallophyta) sobre bivalvia del Plioceno del Bajo Guadalquivir. Importancia paleoecologica. Estudios Geologicos 44:301–316

Mayoral E (1991) Actividad bioerosiva de Briozoos Ctenostomados en el Ordovícico Superior de la zona cantábrica del Macizo Hespérico (Cabo Vidrias, Oviedo). Rev Española Paleontol 6:27–36

Mayoral E, Gutiérrez Marco JC, Martinell J (1994) Primas evidencas de briozoos perforantes (Ctenostomata) en braquiópodos Ordovícicos de los Montes de Toledo (Zona centroibérica Meridional, España). Rev Española Paleontol 9:185–194

McCoy F (1850) On some new genera and species of Silurian Radiata in the collection of the University of Cambridge. Ann Mag Nat Hist (2nd series) 6:270–290

McCoy F (1855) Description of the British Palæozoic Fossils in the Geological Museum of the University of Cambridge. Cambridge University Press, Cambridge

McKinney FK (2009) Bryozoan-hydroid symbiosis and a new ichnogenus,Caupokeras. Ichnos 16:193–201

McLoughlin N, Furnes H, Banerjee NR, Muehlenbachs K, Staudigel H (2009) Ichnotaxonomy of microbial trace fossils in volcanic glass. J Geol Soc London 166:1–11

Mercier J (1936) Zoothylacies d'Echinide fossile provoquées par un Crustacé: Castexia duvillei nov. gen., nov. sp. Bull Soc Géol France (série 5) 6:149–154

Michalík J (1977) Systematics and ecology of Zeilleria Bayle and other brachiopods in the uppermost Triassic of the West Carpathians. Geol Carpath 28:323–346

Michalík J (1980) A palaeoenvironmental and palaeoecological analysis of the West Carpathian part of the northern Tethyan nearshore region in the latest Triassic times. Riv Italiana Paleontol Stratigr 85:1047–1064

Michelin H (1846) Note sur différentes espèces du genre Vioa (famille des Spongiaires). In: Guérin-Méneville MD (ed) Zoologique, par la Société Cuvierienne. Au Bureau de la Revue Zoologique, Paris, pp 56–60

Michelin H (1847) Iconographie Zoophytologique. Bertrand, Paris [1840–1847; text + atlas]

Michelotti G (1861) Études sur le Miocène Inférieur de l'Italie septentrionale. Société Hollandaise des Sciences à Harlem, Les Héritiers Loosjes, Harlem

Mikuláš R (1992) Early Cretaceous borings from Štramberk (Czechoslovakia). Časopis pro Mineralogii a Geologii 37:297–312

Mikuláš R, Cílek V (1998) Terrestrial insect bioerosion and the possibilities of its fossilization (Holocene to Recent, Czech Republic). Ichnos 5:325–333

Mikuláš R, Dvořák Z (2002) Vrtby v drevitych tkanich stromovych kapradin rodu Tempskya v ceske kridove panvi [Borings in xylic tissues of the tree fern Tempskya in the Bohemian Cretaceous Basin, Czech Republic]. Zpravy o geologickych vyzkumech 2002:129–131

Mikuláš R, Dvorák Z, Pek I (1998) Lamniporichnus vulgaris igen. et isp. nov.: traces of insect larvae in stone fruits of hackberry (Celtis) from the Miocene and Pleistocene of the Czech Republic. J Czech Geol Surv 43:277–280

Mikuláš R, Kadlecová E, Fejfar O, Dvořák Z (2006) Three new ichnogenera of biting and gnawing traces on reptilian and mammalian bones: a case study from the Miocene of the Czech Republic. Ichnos 13:113–127

Morningstar H (1922) Pottsville Fauna of Ohio. Bull Geol Surv Ohio 25:1–312

Morris J (1851) Palaeontological notes. Ann Mag Nat Hist (2nd series) 8:85–90

Müller J (1851) Monographie der Petrefacten der Aachener Kreideformation. Henry & Cohen, Bonn

Müller G (1968) Bohr-Röhren von unbekannten Anneliden und anderen Organismen in unterdevonischen Brachiopodenklappen aus der Eifel und dem Siegerland, Rheinisches Schiefergebirge. Dissertation, Universität zu Köln

Müller AH (1977) Zur Ichnologie der subherzynen Oberkreide (Campan). Z Geol Wiss Berlin 5:881–897

Muñiz F, de Gibert JM, Esperante R (2010) First trace-fossil evidence of bone eating worms in whale carcasses. Palaios 25:269–273

Murphy AE, Williams JD (2013) New records of two trypetesid burrowing barnacles (Crustacea: Cirripedia: Acrothoracica: Trypetesidae) and their predation on host hermit crab eggs. J Mar Biol Ass U K 93:107–133

Muszer J, Uglik M (2013) Palaeoenvironmental reconstruction of the upper Visean Paprotnia Beds (Bardo Unit, Polish Sudetes) using ichnological and palaeontological data. Geol Q 57:365–384

Nardo GD (1833) Spongiariorum classificatio. Isis—encyclopädische Zeitschrift, vorzüglich für Naturgeschichte, vergleichende Anatomie und Physiologie 1833:519–524

Nardo GD (1845) Alcune tracce d'animali parassiti delle Placune. Atti della sesta riunione degli scienziati Italiani tenuta in Milano nel Settembre del MDCCCXLIV. Pirola, Milano, pp 428–430

Neumann AC (1966) Observations on coastal erosion in Bermuda and measurements of the boring rate of the sponge Cliona lampa. Limnol Oceanogr 11:92–108

Neumann C, Wisshak M (2009) Gastropod parasitism on Late Cretaceous to early Paleocene holasteroid echinoids – evidence from Oichnus halo isp. n. Palaeogeogr Palaeoclimatol Palaeoecol 284:115–119

Neumann C, Wisshak M, Bromley RG (2008) Boring a mobile domicile: an alternative to the conchiculous life habit. In: Wisshak M, Tapanila L (eds) Current Developments in Bioerosion. Springer, Berlin Heidelberg, pp 307–328

Nielsen JK (2002) Borings formed by Late Cretaceous endobiontic foraminifers within larger benthic foraminifers. Acta Palaeontol Polonica 47:673–678

Nielsen JK, Görmüş M (2004) Ichnotaxonomy and ethology of borings in shallow-marine benthic foraminifers from the Maastrichtian and Eocene of northwestern and southwestern Turkey. Riv Italiana Paleontol Stratigr 110:493–501

Nielsen KSS, Nielsen JK (2001) Bioerosion in Pliocene to late Holocene tests of benthic and planktonic foraminiferans, with a revision of the ichnogenera Oichnus and Tremichnus. Ichnos 8:99–116

Nielsen KSS, Nielsen JK, Bromley RG (2003) Palaeoecological and ichnological significance of microborings in Quaternary Foraminifera. Palaeontologica Electronica 6:1–13

Norman AM (1897) Museum Normanianum, or A catalogue of the Invertebrata of Europe, and the Arctic and North Atlantic oceans, which are contained in the collection of the Rev. Canon A. M. Norman. No. 9, Morton, Houghton-Le-Spring

Norman AM (1903) New generic names for some Entomostraca and Cirripedia. Ann Mag Nat Hist (7th series) 11:367–369

Oekentorp K (1969) Kommensalismus bei Favosiden. Münstersche Forsch Geol Paläontol 12:165–217

Olempska E, Wacey D (2016) Ambient inclusion trails in Palaeozoic crustaceans (Phosphatocopina and Ostracoda). Palaeogeogr Palaeoclimatol Palaeoecol 441:949–958

Oliver WA Jr (1983) Symbioses of Devonian rugose corals. Mem Ass Australasian Palaeontol 1:261–274

Paes Neto VD, Parkinson AH, Pretto FA, Soares MB, Schwanke C, Schultz CL, Kellner AW (2016) Oldest evidence of osteophagic behavior by insects from the Triassic of Brazil. Palaeogeogr Palaeoclimatol Palaeoecol 453:30–41

Palmer TJ, Palmer CD (1977) Faunal distribution and colonization strategy in a Middle Ordovician hardground community. Lethaia 10:179–199

Palmer TJ, Plewes C (1993) Borings and bioerosion in fossils. Geol Today 9:138–142

Palmer TJ, Wilson MA (1988) Parasitism of Ordovician bryozoans and the origin of pseudoborings. Palaeontology 31:939–949

Parkinson AH (2016) Traces of Insect Activity at Cooper's D Fossil Site (Cradle of Humankind, South Africa). Ichnos 23:322–339

Pemberton SG, Jones B, Edgecombe G (1988) The influence ofTrypanites in the diagenesis of Devonian stromatopoids. J Paleontol 62:22–31

Peña LE (1971) Evidencia de insectos en maderas petrificadas halladas en lugares adyacentes al Estrecho de Magallanes. Annales del Museo de Historia Natural de Valparaíso 4:345–348

Pether J (1995) Belichnus new ichnogenus, a ballistic trace on mollusc shells from the Holocene of the Benguela region, South Africa. J Paleontol 69:171–181

Petrov AV (2013) New ichnotaxon Megascolytinus zherikhini (Coleoptera: Curculionidae: Scolytinae) from Upper Cretaceous deposits of Mongolia. Paleontol J 47:597–600

Philippi A (1843) Rhopalaea ein neues Genus der einfachen Ascidien. Archiv für Anatomie und Physiologie 1:45–47

Pickerill RK (1994) Nomenclature and taxonomy of invertebrate trace fossils. In: Donovan SK (ed) The Palaeobiology of Trace Fossils. Wiley, London, pp 3–42

Pickerill RK, Donovan SK, Portell RW (2001) Caulostrepsis spiralis isp. nov., Miocene Grand Bay Formation of Carriacou (Grenadines, Lesser Antilles). Ichnos 8:261–264

Pirrone CA, Buatois LA (2016) Bioeroded dinosaur bones: novel signatures of necrophagous activity in a Cretaceous continental environment. Ichnos 23:340–348

Pirrone CA, Buatois LA, Bromley RG (2014) Ichnotaxobases for bioerosion trace fossils in bones. J Paleontol 88:195–203

Plewes CR (1996) Ichnotaxonomic studies of Jurassic endoliths. Unpublished Dissertation, University of Wales, Aberystwyth

Plewes CR, Palmer T, Haynes J (1993) A boring foraminiferan from the Upper Jurassic of England and northern France. J Micropalaeontol 12:83–89

Pleydell SM, Jones B (1988) Boring of various faunal elements in the Oligocene-Miocene Bluff Formation of Grand Cayman, British West Indies. J Paleontol 62:348–367

Plusquellec Y (1968) Commensaux des tabulés et stromatoporoïdes du Dévonien armoricain. Annales de la Société Géologique du Nord 88:47–56

Pohowsky RA (1978) The boring ctenostomate Bryozoa: taxonomy and paleobiology based on cavities in calcareous substrata. Bull Am Paleontol 73:1–192

Pokorný R, Štofik M (2017) Evidence of bioerosive structures in Quaternary glaciomarine sediments from southwestern Iceland. Ichnos 24:204–221

Portlock JE (1843) Raport on the Geology of the County of Londonderry, and of Parts of Tyrone and Fermanagh. Milliken, Dublin

Pratje O (1922) Fossile kalkbohrende Algen (Chaetophorites gomontoides) in Liaskalken. Zentralblatt für Mineralogie, Geologie und Paläontologie [1922]:229–301

Price AW (1916) Notes on the Paleontology of Raleigh, Wyoming, McDowell and adjacent counties – Marine invertebrates from the Pottsville Series. In: Krebs CE, Teets DD, White IC (eds) Raleigh County and the Western Portions of Mercer and Summers Counties. West Virginia Geological Survey, Wheeling, pp 662–746

Quenstedt FA (1849) Petrefaktenkunde Deutschlands – Die Cephalopoden [text volume & atlas]. Ludwig Friedrich Fues, Tübingen

Quenstedt FA (1858) Der Jura. Laupp, Tübingen

Radtke G (1991) Die mikroendolithischen Spurenfossilien im Alt-Tertiär West-Europas und ihre palökologische Bedeutung. Courier Forschungsinstitut Senckenberg 138:1–185

Radtke G, Golubić S (2005) Microborings in mollusk shells, Bay of Safaga, Egypt: morphometry and ichnology. Facies 51:118–134

Radtke G, Glaub I, Vogel K, Golubić S (2010) A new dichotomous microboring, Abeliella bellafurca isp. nov., distribution, variability and biological origin. Ichnos 17:25–33

Radtke G, Campbell SE, Golubić S (2016) Conchocelichnus seilacheri igen. et isp. nov., a complex microboring trace of bangialean rhodophytes. Ichnos 23:228–236

Radwański A, Bałuk W (1997) A biogenic paradigm of shells of the clavatulid gastropods: the trace fossil Clavatulicola evaephilus ichnogen. et ichnosp. n. from the middle Miocene localities Korytnica (Holy Cross Mountains, Poland) and Grund (Vienna Basin, Austria). Acta Geol Polonica 47:199–210

Rasser MW, Vallon LH, Salvador RB (2016) Perforations of freshwater snail shells from the Miocene of Germany: Nihilichnus covichi n. isp. Ichnos 23:222–227

Rhumbler L (1909) Die Foraminiferen (Thalamophoren) der Plankton-Expedition. Lipsius & Tischer, Kiel

Rindsberg AK (2012) Ichnotaxonomy: finding patterns in a welter of information. In: Knaust D, Bromley RG (eds) Trace Fossils as Indicators of Sedimentary Environments. Developments in Sedimentology 64. Elsevier, Amsterdam, pp 45–78

Rinehart LF, Lucas SG, Spielmann JA (2006) Bite marks on tetrapod bones from the Upper Triassic Chinle Group representing a new ichnogenus. New Mexico Mus Nat Hist Sci Bull 37:160–163

Roberts EM, Rogers RR, Foreman BZ (2007) Continental insect borings in dinosaur bone: examples from the Late Cretaceous of Madagascar and Utah. J Paleontol 61:201–208

Robinson J, Lee D (2008) Brachiopod pedicle traces: recognition of three separate types of trace and redefinition of Podichnus centrifugalis Bromley & Surlyk, 1973. Fossils Strata 54:219–225

Rodríguez-Tovar FJ, Uchman A, Puga-Bernabéu A (2015) Borings in gneiss boulders in the Miocene (upper Tortonian) of the Sorbas Basin, SE Spain. Geol Mag 152:287–297

Rosso A (2008) Leptichnus tortus isp. nov., a new cheilostome etching and comments on other bryozoan-produced trace fossils. Studi Trentini di Scienze Naturali/Acta Geol 83:75–85

Roux W (1887) Über eine im Knochen lebende Gruppe von Fadenpilzen (Mycelites ossifragus). Zeitschrift für wissenschaftliche Zoologie 45:227–254

Rozhnov S (1989) New data about rhipidocystids (Eocrinoidea). In: Kaljo DL (ed) Fossil and recent echinoderm researches [In Russian]. Akademia Nauk Estonoskoi SSR, Tallinn, pp 38–57

Ruedemann R (1925) The Utica and Lorraine Formations of New York, Part 2. New York State Mus Bull 262:1–171

Ruggiero E, Raia P (2014) Oichnus taddeii, a new fossil trace produced by capulids on brachiopod shells. Spanish J Palaeontol 29:15–24

Sá AA, Gutiérrez-Marco JC (2015) Aroucaichnus igen. nov. y otros icnofósiles singulares del Ordovícico del Geoparque Arouca (Portugal). Boletín de la Sociedad Geológica del Perú 110:8–23

Santos A, Mayoral E (2006) Bioerosive structures of sclerozoan foraminifera from the lower Pliocene of southern Spain: a contribution to the palaeoecology of marine hard substrate communities. Palaeontology 49:719–732

Santos A, Mayoral E, Muñiz F (2003) New trace fossils produced by etching molluscs from the Upper Neogene of the southwestern Iberian Peninsula. Acta Geol Polonica 53:181–188

Santos A, Mayoral E, Muñiz F (2005) Bioerosion scars of acorn barnacles from the southwestern Iberian peninsula, Upper Neogene. Riv Italiana Paleontol Stratigr 111:181–189

Santos A, Mayoral E, Bromley RG (2011) Bioerosive structures from Miocene marine mobile-substrate communities in southern Spain, and description of a new sponge boring. Palaeontology 54:535–545

Santos A, Mayoral E, Baarli G, da Silva CM, Cacháo M, Johnson MD (2012) Symbiotic association of a pyrgomatid barnacle with a coral from a volcanic middle Miocene shoreline (Porto Santo, Madeira Archipelago, Portugal). Palaeontology 55:173–182

Santos A, Mayoral E, Villas E, Herrera Z, Ortega G (2014) First record of Podichnus in orthide brachiopods from the Lower Ordovician (Tremadocian) of NW Argentina and its relation to the early use of an ethological strategy. Palaeogeogr Palaeoclimatol Palaeoecol 399:67–77

Santos A, Mayoral E, Dumont CP, da Silva CM, Ávila SP, Baarli BG, Cachão M, Johnson ME, Ramalho RS (2015) Role of environmental change in rock-boring echinoid trace fossils. Palaeogeogr Palaeoclimatol Palaeoecol 432:1–14

Schindewolf OH (1962) Parasitäre Thallophyten in Ammoniten-Schalen. Paläontol Z 36:206–215

Schlaudt CM, Young K (1960) Acrothoracic barnacles from the Texas Permian and Cretaceous. J Paleontol 34:903–907

Schlirf M (2006) Linkichnus terebrans new ichnogenus et ichnospecies, an insect boring from the Late Triassic of the Germanic Basin, southern Germany. Ichnos 13:277–280

Schloz W (1972) Zur Bildungsgeschichte der Oolithenbank (Hettangium) in Baden-Württemberg. Arbeiten aus dem Institut für Geologie und Paläontologie der Universität Stuttgart 67:101–212

Schmidt H (1992) Mikrobohrspuren ausgewählter Faziesbereiche der tethyalen und germanischen Trias (Beschreibung, Vergleich und bathymetrische Interpretation). Frankfurter Geowissenschaftliche Arbeiten, A 12:1–228

Schönberg CHL, Tapanila L (2006) The bioeroding sponge Aka paratypica, a modern tracemaking analogue for the Paleozoic ichnogenus Entobia devonica. Ichnos 13:147–157

Schönberg CHL, Fang JKH, Carballo JL (2017) Bioeroding sponges and the future of coral reefs. In: Carballo J, Bell J (eds) Climate Change, Ocean Acidification and Sponges. Springer, Berlin Heidelberg, pp 179–372

Seguenza G (1879) Le formazioni Terziarie nella Provincia di Reggio (Calabria). Coi tipi del Salviucci, Rome

Seguenza G (1882) Paleontologia del Cretaceo Medio delle Provincie Meridionali d'Italia. Atti della Reale Accademia dei Lincei, Memorie della Classe di scienze fisiche, matematiche e naturali 12:101–214

Seilacher A (1968) Swimming habits of belemnites – recorded by boring barnacles. Palaeogeogr Palaeoclimatol Palaeoecol 4:279–285

Silén L (1946) On two new groups of Bryozoa living in shells of molluscs. Arkiv för Zoologi 38B:1–7

Sismonda E (1871) Matériaux pour servir à la Paléontologie du terrain tertiaire du Piémont. Memorie della Reale Accademia delle Scienze di Torino, Serie seconda 25:257–361

Smith J (1910) Carboniferous rocks of the Solway, Scotland. T Geol Soc Glasgow 14:30–59

Sokolov BS (1948) Kommensalizm i Favositid. Izvestija Imperatorskoj Akademii nauk, seria biologicheskaja 1:101–110

Solle G (1938) Die ersten Bohr-Spongien im europäischen Devon und einige andere Spuren. Senckenb Lethaea 20:154–178

Stafford ES, Dietl GP, Gingras MP, Leighton LR (2015) Caedichnus, a new ichnogenus representing predatory attack on the gastropod shell aperture. Ichnos 22:87–102

Stephenson LW (1941) The large invertebrate fossils of the Navarro Group of Texas. Publ Univ Texas 4101:1–641

Stephenson LW (1952) Larger invertebrate fossils of the Woodbine formation (Cenomanian) of Texas. U S Geol Surv, Prof Pap 242:1–226

Stiller F (2005) An Early Jurassic Talpina-dominated assemblage of borings in bivalve shells from southern Hunan, China, with remarks on the ichnogenus Talpina Hagenow, 1840. Acta Palaeontol Sinica 44:396–411

Süss H (1979) Durch Protophytobia cupressorum gen. nov., sp. nov. (Agromyzidae, Diptera) verursachte Markflecke in einem Holz von Juniperoxylon aus dem Tertiar von Süd-Limburg (Niederlande) und der Nachweis von Markflecken in einer rezenten Callitris- Art. Feddes Repertorium 90:165–172

Süss H, Müller-Stoll WR (1975) Durch Palaeophytobia platani n. g., n. sp. (Agromyzidae, Diptera) verursachte Markflecken im Holz fossiler Platanen aus dem ungarischen Miozän. Wissenschaftliche Zeitschrift der Humboldt-Universität Berlin, Mathematisch-Naturwissenschaftliche Reihe 24:515–519

Talent JA (1963) The Devonian of the Mitchell and Wentworth rivers. Geol Surv Victoria, Mem 24:1–118

Tapanila L (2005) Palaeoecology and diversity of endosymbionts in Palaeozoic marine invertebrates: trace fossil evidence. Lethaia 38:89–99

Tapanila L (2006) Devonian Entobia borings from Nevada, with a revision of Topsentopsis. J Paleontol 80:760–767

Tapanila L (2008) The medium is the message: imaging a complex microboring (Pyrodendrina cupra igen. n., isp. n.) from the early Paleozoic of Anticosti Island, Canada. In: Wisshak M, Tapanila L (eds) Current Developments in Bioerosion. Springer, Berlin Heidelberg, pp 123–145

Tapanila L, Ekdale A (2007) Early history of symbiosis in living substrates: trace-fossil evidence from the marine record. In: Miller W III (ed) Trace Fossils: Concepts, Problems, Prospects. Elsevier, Amsterdam, pp 345–355

Tapanila L, Holmer LE (2006) Endosymbiosis in Ordovician-Silurian corals and stromatoporoids: a new lingulid and its trace from eastern Canada. J Paleontol 80:750–759

Tapanila L, Roberts EM (2012) The earliest evidence of holometabolan insect pupation in conifer wood. PLoS ONE 7:e31668

Tavernier A, Golubić S (1993) Pliocene microboring assemblages in shells of the Purisima Formation (Capitola, California). Bollettino della Società Paleontologica Italiana, Special 1:405–414

Tavernier A, Campbell SE, Golubić S (1992) A complex marine shallow-water boring trace, Dendrorete balani n. ichnogen. et ichnospec. Lethaia 25:303–310

Taylor PD, Wilson MA, Bromley RG (1999) A new ichnogenus for etchings made by cheilostome bryozoans into calcareous substrates. Palaeontology 42:595–604

Taylor PD, Wilson MA, Bromley RG (2013) Finichnus, a new name for the ichnogenus Leptichnus Taylor, Wilson and Bromley 1999, preoccupied byLeptichnus Simroth, 1896 (Mollusca, Gastropoda). Palaeontology 56:456

Teichert C (1945) Parasitic worms in Permian brachiopod and pelecypod shells in Western Australia. Am J Sci 243:197–209

Terquem O (1855) Paléontologie de l'étage infèrieur de la formation liasique de la province de Luxembourg: Grand-Duché (Hollande), et de Hettange, du département de la Moselle. Mém Soc Géol France 2(série 5):219–343

Terquem O, Piette É (1865) Paléontologie du Lias Inférieur de l'Est de la France. Mém Soc Géol France, 2ème série 8:1–175

Thenius E (1979) Lebensspuren von Ephemeropteren-Larven aus dem Jung-Tertiär des Wiener Beckens. Ann Nat Mus Wien 82:177–188

Thenius E (1988) Lebensspuren von aquatischen Insektenlarven aus dem Jungtertiär Niederösterreichs. Beitr Paläontol Österr 14:1–17

Thomas AO (1911) A fossil burrowing sponge from the Iowa Devonian. Bull Lab Nat Hist State Univ Iowa 6:165–169

Thurmann J, Étallon A (1964) Lethea Bruntrutana ou études paléontologiques et stratigraphiques dur les terrains Jurassique supérieurs du Jura Bernois et en particulier des environs de Porrentruy. Nouveaux Mémoires de la Société Helvetique des Sciences Naturelles 20:355–500

Tomlinson JT (1953) A burrowing barnacle of the genus Trypetesa (order Acrothoracica). J Washington Acad Sci 43:373–381

Tomlinson JT (1963) Acrothoracican barnacles in Paleozoic myalinids. J Paleont 37:164–166

Tomlinson JT (1969) The burrowing barnacles (Cirripedia: Order Acrothoracica). U S Nat Mus Bull 296:1–162

Tribollet A, Radtke G, Golubić S (2011) Bioerosion. In: Reitner J, Thiel V (eds) Encyclopedia of Geobiology. Springer, Dordrecht, pp 117–134

Turquier Y (1967) Description d'un nouveau Trypetesa Norman (= Alcippe Hancock), cirripède acrothoracique des côtes françaises de la Manche. Cah Biol Mar 8:75–87

Turquier Y (1976) Etude de quelques cirripèdes acrothoraciques de Madagascar. II. Description de Trypetesa spinulosa n. sp. Bull Soc Zool France 101:559–574

Uchman A, Rattazzi B (2018) A new etching trace from Savignone Conglomerate (Oligocene), NW Italy, produced probably by limpet gastropods. Acta Geol Pol 68:651–662

Uchman A, Gaigalas A, Melesyte M, Kazakauska V (2007) The trace fossil Asthenopodichnium lithuanicum sp. nov. from Late Neogene brown-coal deposits. Lithuania. Geol Q 51:329–336

Uchman A, Stachacz M, Salamon K (2018a) Spirolites radwanskii igen. et isp. nov. - a vermetid gastropod etching trace from the middle Miocene rocky coast of the Paratethys. Poland. J Paleontol 92:883–895

Uchman A, Wisshak M, Rodríguez-Tovar FJ (2018b) The bivalve boringCuenulites amygdaloides nov. isp. in siliceous sponges from the Upper Cretaceous of Germany. Geobios 51:481–486

Ulrich EO (1879) Descriptions of new genera and species of fossils from the Lower Silurian about Cincinnati. J Cincinnati Soc Nat Hist 2:8–30

Ulrich EO (1890) New Lower Silurian Bryozoa. J Cincinnati Soc Nat Hist 12:173–198

Utinomi H (1962) Occurrence of a Trypetesa in Japan. Dohutsugaku Zasshi [Zoological Magazine, Tokyo] 71:399

Vaillant L (1909) Observations paléontologiques faites dans les sables Éocènes Landéniens aux environs d'Arras. Bull Soc Géol France 9:277–282

Vialov OS, Nessov LA (1974) Posmertnye povrezhdenija pancirej nekotorykh rannemelovykh cherepakh kosterazrushayushhimi organizmami [Postmortem injuries of shells of some early Cretaceous turtles by bone-damaging organisms]. Paleontologicheskij Sbornik 11:99–103

Vinn O, Wilson MA, Mõtus MA (2014) The earliest giant Osprioneides borings from the Sandbian (Late Ordovician) of Estonia. PLoS ONE 9:e99455

Vitális S (1961) Lebensspuren im Salgotarjaner Braunkohlenbecken. Annales Universitatis Scientiae Budapest Rolando Eötvös Nomintae, Sectio Geologica 1961:121–132

Vogel K, Golubić S, Brett CE (1987) Endolith associations and their relation to facies distribution in the Middle Devonian of New York State, USA. Lethaia 20:263–290

Voigt E (1959) Endosacculus moltkiae n. g. n. sp., ein vermutlicher fossiler Ascothoracide (Entomostr.) als Cystenbildner bei der Oktokoralle Moltkia minuta. Paläontol Z 33:211–223

Voigt E (1965) Über parasitische Polychaeten in Kreide-Austern sowie einige andere in Muschelschalen bohrende Würmer. Paläontol Z 39:193–211

Voigt E (1967) Über einen neuen acrothoraciden Cirripedier aus dem Essener Grünsand (Cenoman). Abh Nat Vereins Hamburg, N F 11:117–121

Voigt E (1970) Endolithische Wurm-Tunnelbauten (Lapispecus cuniculus n. g. n. sp. und Dodecaceria(?) sp.) in Brandungsgeröllen der oberen Kreide im nördlichen Harzvorlande. Geol Rundsch 60:355–380

Voigt E (1971) Fremdskulpturen an Steinkernen von Polychaeten-Bohrgängen aus der Maastrichter Tuffkreide. Paläontol Z 45:144–153

Voigt E (1972) Über Talpina ramosa v. Hagenow 1840, ein wahrscheinlich zu den Phoronidea gehöriger Bohrorganismus aus der Oberen Kreide, nebst Bemerkungen zu den übrigen bisher beschriebenen kretazischen "Talpina"-Arten. Nachrichten der Akademie der Wissenschaften II (Mathematisch-physikalische Klasse) [1972]:93–126

Voigt E (1973) lmmergentia cruciata (Mägdefrau) (Bryozoa, Ctenostomata) im Santon-Erz von Lengede-Broistedt bei Peine (BRD). Z Geol Wiss 1:991–1007

Voigt E (1975) Tunnelbaue rezenter und fossiler Phoronoidea. Paläontol Z 49:135–167

Voigt E (1977) On grazing traces produced by the radula of fossil and recent gastropods and chitons. Geol J, Spec Issue 9:335–346

Voigt E, Soule JD (1973) Cretaceous burrowing bryozoans. J Paleontol 47:21–33

von Hagenow F (1840) Monographie der Rügen'schen Kreide-Versteinerungen, II. Abtheilung: Radiarien und Annulaten. Nebst Nachträgen zur ersten Abtheilung. Neues Jahrbuch für Mineralogie, Geognosie, Geologie und Petrefakten-Kunde [1849]:630–672

Vosmaer GCJ (1887) Dr. H. G. Bronn's Klassen und Ordnungen der Spongien (Porifera) wissenschaftlich dargestellt in Wort und Bild. C. F. Winter, Leibzig

Walker MV (1938) Evidence of Triassic insects in the Petrified Forest National Monument, Arizona. Proc U S Nat Mus 85:137–141

Wanner J (1938) Balanocrinus sundaicus n. sp. und sein Epöke aus dem Altmiocän der Insel Madura. N Jb Mineral Geol Paläontol, B 79:385–402

Wetherell NT (1852) Note on a new species of Clionites. Ann Mag Nat Hist 10:354–355

Wilson MA, Palmer TJ (1988) Nomenclature of a bivalve boring from the Upper Ordovician of the midwestern United States. J Paleontol 62:306–308

Wilson MA, Palmer TJ (1998) The earliest Gastrochaenolites (Early Pennsylvanian, Arkansas, USA): an upper Paleozoic bivalve boring? J Paleontol 72:769–772

Wisshak M (2006) High-latitude Bioerosion: The Kosterfjord Experiment. Lecture Notes in Earth Sciences 109. Springer, Berlin Heidelberg

Wisshak M (2008) Two new dwarf Entobia ichnospecies in a diverse aphotic ichnocoenosis (Pleistocene/Rhodes, Greece). In: Wisshak M, Tapanila L (eds) Current Developments in Bioerosion. Springer, Berlin Heidelberg, pp 213–233

Wisshak M (2017) Taming an ichnotaxonomical Pandora's box: revision of dendritic and rosetted microborings (ichnofamily: Dendrinidae). Eur J Taxonomy 390:1–99

Wisshak M, Neumann C (2018) Large dendrinids meet giant clam: the bioerosion trace fossil Neodendrina carnelia igen. et isp. n. in a Tridacna shell from Pleistocene-Holocene coral reef deposits, Red Sea. Egypt. Fossil Record 21:1–9

Wisshak M, Porter D (2006) The new ichnogenus Flagrichnus—a palaeoenvironmental indicator for cold-water settings? Ichnos 13:135–145

Wisshak M, Tapanila L (2008) Current Developments in Bioerosion. Springer, Berlin Heidelberg

Wisshak M, Freiwald A, Lundälv T, Gektidis M (2005) The physical niche of bathyal Lophelia pertusa in a non-bathyal setting: environmental controls and palaeoecological implications. In: Freiwald A, Roberts JM (eds) Cold-Water Corals and Ecosystems. Springer, Berlin Heidelberg, pp 979–1001

Wisshak M, Seuß B, Nützel A (2008) Evolutionary implications of an exceptionally preserved Carboniferous microboring assemblage in the Buckhorn Asphalt lagerstätte (Oklahoma, USA). In: Wisshak M, Tapanila L (eds) Current Developments in Bioerosion. Springer, Berlin Heidelberg, pp 21–54

Wisshak M, Alexandrakis E, Hoppenrath M (2014) The diatom attachment scar Ophthalmichnus lyolithon igen. et isp. n. Ichnos 21:111–118

Wisshak M, Kroh A, Bertling M, Knaust D, Nielsen JK, Jagt JWM, Neumann C, Nielsen KSS (2015) In defence of an iconic ichnogenus – Oichnus Bromley, 1981. Ann Soc Geol Pol 85:445–451

Wisshak M, Titschack J, Kahl W-A, Girod P (2017) Classical and new bioerosion trace fossils in Cretaceous belemnite guards characterised via micro-CT. Fossil Record 20:173–199

Wisshak M, Meyer N, Radtke G, Golubić S (2018) Saccomorpha guttulata: a new marine fungal microbioerosion trace fossil from cool- to cold-water settings. Paläontol Z 92:525–533

Xing L, Parkinson A, Ran H, Pirrone C, Roberts E, Zhang J, Burns M, Wang T, Choiniere J (2015) The earliest fossil evidence of bone boring by terrestrial invertebrates, examples from China and South Africa. Hist Biol 28:1108–1117

Zamora S, Mayoral E, Esteve J, Gámez-Vintaned JA, Santos A (2011) Exoskeletal abnormalities in paradoxidid trilobites from the Cambrian of Spain, and a new type of bite trace. Bull Geosci 86:665–673

Zonneveld J-P, Bartels WS, Gunnell GF, McHugh LP (2015) Borings in early Eocene turtle shell from the Wasatch Formation, South Pass, Wyoming. J Paleontol 89:802–820
Acknowledgements
We gratefully acknowledge all colleagues from the bioerosion research community who brought overlooked ichnotaxa to our attention and discussed the validity of reputed ichnotaxa with us. These are Jorge Genise (Buenos Aires, Argentina), Kantimati Kulkarni (Agharkar, India), Eduardo Mayoral (Huelva, Spain), Matthew Riley (Cambridge, UK), Andrew Rindsberg (Livingston, USA), Ana Santos (Huelva, Spain), Ursula Toom (Tallinn, Estonia), Alfred Uchman (Krakow, Poland), Mark Wilson (Wooster, USA), and Li-Jun Zhang (Henan, China). We are particularly indebted to Christine Schönberg (Perth, Australia), who, during her ongoing revision of the bioeroding sponge genus Cliona, brought many actual bioerosion ichnospecies to light and to our notice. We thank Sebastian Teichert (Erlangen, Germany) for his valuable advice regarding the validity of Latin, latinized, or Greek spelling of various ichnotaxa and their combinations. Andrew Rindsberg (Livingston, USA) and Radek Mikuláš (Prague, Czech Republic) provided valuable reviews of this manuscript. Last but not least, we are indebted to our dear friend and mentor Richard G. Bromley (1939-2018) for his immense contribution to bioerosion research and ichnotaxonomy.
Additional information
This article is part of a Topical Collection in Facies on Bioerosion: An interdisciplinary approach, guest edited by Ricci, Uchman, and Wisshak.
About this article
Cite this article
Wisshak, M., Knaust, D. & Bertling, M. Bioerosion ichnotaxa: review and annotated list. Facies 65, 24 (2019). https://doi.org/10.1007/s10347-019-0561-8
Received:

Accepted:

Published:
Keywords
Trace fossil

Bioerosion

Ichnotaxonomy

Ichnofamily

Ichnogenus

Ichnospecies