Abstract
We document a remarkable abundance of the tubeworm Serpula vermicularis Linnaeus, 1767, in bathyal coral habitats from the Bari Canyon System in the southern Adriatic Sea. Here, the specimens of S. vermicularis grow from muddy substrate either as isolated individuals or as localized clusters of multiple individuals. Peculiar tube aggregations are also associated with Madrepora oculata build-ups and other stony corals including Desmophyllum dianthus. Three types of coral-serpulid (C–S) frameworks have been recognized based upon size and shape. The abundance of S. vermicularis increases with the size of C–S frameworks, which results from superimposition, overgrowth, and/or intergrowth of scleractinians and serpulids. Several generations of S. vermicularis contribute to the C–S frameworks, each most probably accounting for more than 8 years and presumably existing in the area for the last hundreds of years. At a meso-scale, the distribution pattern of serpulids seems to be mainly governed by currents and siltation. A further constraint is the co-occurring solitary coral D. dianthus within frameworks. The successful sea-bottom colonization by S. vermicularis and associated C–S frameworks is possibly related to a high oxygen content and food supply derived from the North Adriatic Dense Water (NAdDW). The flourishing populations of S. vermicularis as well as the peculiarity of C–S frameworks suggest that deep-sea canyons provide important benthic habitats in bathyal environments.
Access options
Buy single article
Instant access to the full article PDF.
USD 39.95
Price excludes VAT (USA)
Tax calculation will be finalised during checkout.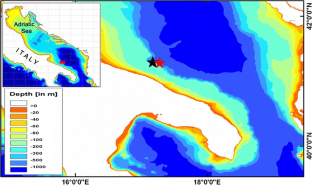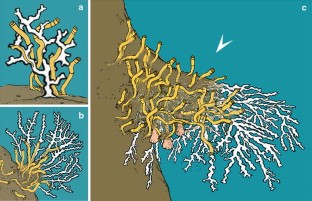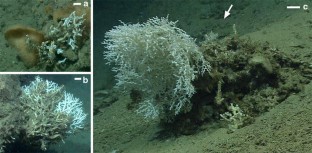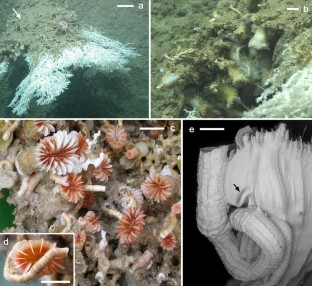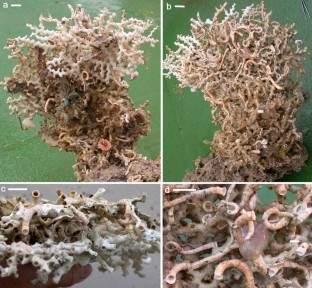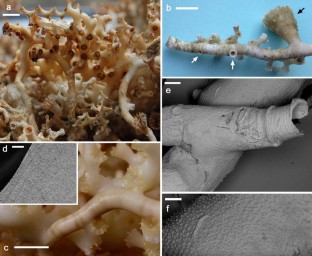 References
Bellan Santini D, Arnaud F, Arnaud P, Bellan G, Harmelin J-G, Le Campion-Alsumard T, Tak Kit L, Picard J, Pouliquen L, Zibrowius H (1969) Étude qualitative et quantitative des salissures biologiques de plaques expérimentales immergées en pleine eau. 1. Conditions de l'expérience. Tethys 1:709–714

Ben-Eliahu MN, Fiege D (1996) Serpulid tube-worms (Annelida Polychaeta) of the Central and Eastern Mediterranean with particular attention to the Levant basin. Senckenberg marit 28:1–51

Beuck L, Vertino A, Stepina E, Karolczak M, Pfannkuche O (2007) Skeletal response of Lophelia pertusa (Scleractinia) to bioeroding sponge infestation visualised with micro-computed tomography. Facies 53:157–176

Bo M, Bertolino M, Bavestrello G, Canese S, Giusti M, Angiolillo M, Pansini M, Taviani M (2012) Role of deep sponge grounds in the Mediterranean Sea: a case study in southern Italy. Hydrobiologia 687:163–177

Bosence DWJ (1979) The factors leading to aggregation and reef formation in Serpula vermicularis L. In: Larwood G, Rosen BR (eds) Biology and systematics of colonial organisms. Academic Press, London, pp 299–318

Bourcier M, Zibrowius H (1972) Les "Boues Rouges" déversées dans le Canyon de la Cassidaigne (region de Marseille). Observations en soucoupe plongeante SP 350 (juin 1971) et résultats de dragages. Téthys 4:811–842

Carniel S, Bergamasco A, Book JW, Hobbs RW, Sclavo M, Wood WT (2011) Tracking bottom waters in the Southern Adriatic Sea applying seismic oceanography techniques. Contin Shelf Res. doi:10.1016/j.csr.2011.09.004

Chapman ND, Moore CG, Harries DB, Lyndon AR (2007) Recruitment patterns of Serpula vermicularis L. (Polychaeta, Serpulidae) in Loch Creran, Scotland. Estuar Coast Shelf Sci 73:598–606

Darrel JG, Taylor PD (1993) Macrosymbiosis in corals: a review of fossil and potentially fossilizable examples. Cour Forschungstinst Senckenberg 164:185–198

Dodd J, Baxter L, Hughes DJ (2009) Mapping Serpula vermicularis (Polychaeta: Serpulidae) aggregations in Loch Teacuis, western Scotland, a new record. Mar Biol Res 5:200–205

Fagerstrom JA (1991) Reef-building guilds and a checklist for determining guild membership. A new approach for study of communities. Coral Reefs 10:47–52

Försterra G, Häussermann V (2003) First report on large scleractinian (Cnidaria: Anthozoa) accumulations in cold-temperate shallow water of south Chilean fjords. Zool Verh 345:117–128

Försterra G, Beuck L, Häussermann V, Freiwald A (2005) Shallow water Desmophyllum dianthus (Scleractinia) from Chile: characteristics of the biocoenoses, the bioeroding community, heterotrophic interactions and (palaeo)-bathymetrical implications. In: Freiwald A, Roberts JM (eds) Cold-water corals and ecosystems. Springer, Berlin Heidelberg New York, pp 937–977

Freiwald A, Wilson JB (1998) Taphonomy of modern deep, cold-temperate water coral reefs. Hist Biol 13:37–52

Freiwald A, Hühnerbach V, Lindberg B, Wilson JB, Campbell J (2002) The Sula Reef complex, Norwegian shelf. Facies 47:179–200

Freiwald A, Beuck L, Rüggeberg A, Taviani M, Hebbeln D, R/V Meteor Cruise M70-1 Participants (2009) The white coral community in the Central Mediterranean Sea revealed by ROV surveys. Oceanography 22:59–74

GEBCO (2012) GEBCO_08 Grid, version 20100927. http://www.gebco.net. Accessed 5 Nov 2012

Holt TJ, Rees EI, Hawkins SJ, Seed R (1998) Biogenic reefs (vol IX). An overview of dynamic and sensitivity characteristics for conservation management of marine SACs. Scottish Assoc Mar Sci (UK Marine SACs Project)

Hove ten HA (1970) Serpulinae (Polychaeta) from the Caribbean: I—the genus Spirobranchus. Stud Fauna Curacao Caribb Isl 32:1–57

Hove ten HA (1979) Different causes of mass occurrence in serpulids. In: Larwood G, Rosen BR (eds) Biology and systematics of colonial organisms. Syst Assoc 11:282–298

Hughes DJ, Poloczanska ES, Dodd J (2008) Survivorship and tube growth of reef-building Serpula vermicularis (Polychaeta: Serpulidae) in two Scottish sea lochs. Aquat Conserv Mar Freshw Ecosyst 18:117–129

Hunte W, Conlin BE, Marsden JR (1990) Habitat selection in the tropical polychaete Spirobranchus giganteus. I. Distribution on corals. Mar Biol 104:87–92

Jensen A, Frederiksen R (1992) The fauna associated with the bank-forming deepwater coral Lophelia pertusa Scleractinia on the Faroe shelf. Sarsia 77:53–69

Kupriyanova EK, Jirkov IA (1997) Serpulidae (Annelida, Polychaeta) of the Arctic Ocean. Sarsia 82:203–236

Lescinsky HL (1993) Taphonomy and palaeoecology of epibionts on the scallops Chlamys hastata (Sowerby 1843) and Chlamys rubida (Hinds 1845). Palaios 8:267–277

Mastrangelo PA, Passeri I (1975) Sedimenti calcareo-argillosi e biolititi a serpulidi nel Mar Piccolo di Taranto. Boll Soc Geol Ital 94:2019–2046

Mastrototaro F, D'Onghia G, Corriero G, Matarrese A, Maiorano P, Panetta P, Gherardi M, Longo C, Rosso A, Sciuto F, Sanfilippo R, Gravili C, Boero F, Taviani M, Tursi A (2010) Biodiversity of the white coral bank off Cape Santa Maria di Leuca (Mediterranean Sea): an update. Deep Sea Res II 57:412–430

McKinney FK (1995) Taphonomic effects and preserved overgrowth relationships among encrusting marine organisms. Palaios 10:279–282

Michel C, De Villez EJ (1978) Chapter 13: digestion. In: Mill PJ (ed) Physiology of annelids. Academic Press, London, pp 509–554

Minchin D (1987) Serpula vermicularis L. (Polychaeta: Serpulidae) reef communities from the west coast of Ireland. Irish Nat J 22:314–316

Nishi E, Nishihira M (1999) Use of the annual density banding to estimate longevity of infauna of massive corals. Fish Sci 65:48–56

Orejas C, Gori A, Lo Iacono C, Puig P, Gili J-M, Dale MRT (2009) Cold-water corals in the Cap de Creus canyon, northwestern Mediterranean: spatial distribution, density and anthropogenic impact. Mar Ecol Prog Ser 397:37–51

Orejas C, Ferrier-Pagès C, Reynaud S, Gori A, Beraud E, Tsounis G, Allemand D, Gili JM (2011) Long-term growth rates of four Mediterranean cold-water coral species maintained in aquaria. Mar Ecol Prog Ser 429:57–65

Remia A, Taviani M (2005) Shallow-buried Pleistocene Madrepora-dominated coral mounds on a muddy continental slope, Tuscan Archipelago, NE Tyrrhenian Sea. Facies 50:419–425

Ridente D, Minisini D, Trincardi F, Verdicchio G (2007) The onset of the Bari Canyon System on the South-Western Adriatic Margin, Central Mediterranean. Mar Geol 246:193–207

Rosso A, Sanfilippo R (2009) The contribution of bryozoans and serpuloideans to coralligenous concretions from SE Sicily. In: UNEP-MAP_RAC/SPA Proceedings of 1st symposium coralligenous and other calcareous bio-concretions of the Mediterranean Sea. Tabarka, 15–16 Jan 2009, pp 123–128

Rosso A, Vertino A, Di Geronimo I, Sanfilippo R, Sciuto F, Di Geronimo R, Violanti D, Corselli C, Taviani M, Mastrototaro F, Tursi A (2010) Hard and soft-bottom thanatofacies from the Santa Maria di Leuca deep-water coral province, Mediterranean. Deep Sea Res II 57:360–379

Sanfilippo R (2005) Serpulid tube-worms (Annelida Polychaeta) on deep coral mounds from the Ionian Sea (Eastern Mediterranean). In: Proceedings of 3rd international symposium on deep-sea corals, Miami 28 Nov-2, Dec 2005, p 182

Sanfilippo R (2009) New species of Hyalopomatus Marenzeller, 1878 (Annelida, Polychaeta, Serpulidae) from recent Mediterranean deep-water coral mounds and comments on some congeners. Zoosystema 31:147–161

Southward EC (1963) Some new and little-known serpulid polychaetes from the continental slope. J Mar Biol Assoc UK 43:573–587

Stolarski J, Vertino A (2007) First Mesozoic record of the scleractinian Madrepora from the Maastrichtian siliceous limestones of Poland. Facies 53:67–78

Taviani M, Angeletti L, Antolini B, Ceregato A, Froglia C, Lopez Correa M, Montagna P, Remia A, Trincardi F, Vertino A (2011) Geo-biology of Mediterranean deep-water coral ecosystems. In: Brugnoli E et al (eds) Marine Research at CNR Volume DTA, National Research Council of Italy, vol 6, pp 705–719

Taylor PD (1984) Adaptations for spatial competition and utilisation in Silurian encrusting bryozoans. Palaeontol Spec Pap 32:197–210

Taylor PD, Wilson MA (2002) A new terminology for marine organisms inhabiting hard substrates. Palaios 17:522–525

Taylor PD, Wilson MA (2003) Palaeoecology and evolution of marine hard substrate communities. Earth Sci Rev 62:1–102

ten Hove HA (1988) Serpulinae (Polychaeta) from the Caribbean: IV—Pseudovermilia mandracicola sp. n., a symbiont of corals. Studies in Honour of Dr. Pieter Wagenaar-Hummelinck. Publ Fnd Sci Res. Surinam Neth. Antilles 123:135–144

ten Hove HA, Van den Hurk P (1993) A review of Recent and fossil serpulid "reefs"; actuopalaeontology and the "Upper Malm" serpulid limestones in NW Germany. Geol Mijnbouw 72:23–67

Tesi T, Langone L, Goni MA, Turchetto M, Miserocchi S, Boldrin A (2008) Source and composition of organic matter in the Bari canyon (Italy): dense water cascading versus particulate export from the upper ocean. Deep Sea Res I 55:813–831

Trincardi F, Foglini F, Verdicchio G, Asioli A, Correggiari A, Minisini D, Piva A, Remia A, Ridente D, Taviani M (2007) The impact of cascading currents on the Bari Canyon System, SW Adriatic margin (Central Mediterranean). Mar Geol 246:208–230

Turchetto M, Boldrin A, Langone L, Miserocchi S, Tesi T, Foglini F (2007) Particle transport in the Bari Canyon (Southern Adriatic Sea). Mar Geol 246:231–247

Verdicchio G, Trincardi F (2006) Short-distance variability in abyssal bed-forms along the Southwestern Adriatic Margin (Central Mediterranean). Mar Geol 234:271–292

Verdicchio G, Trincardi E, Asioli A (2007) Mediterranean bottom-current deposits: an example from the southwestern Adriatic margin. Geol Soc Lond Spec Publ 276:199–224

Vertino A, Savini A, Rosso A, Di Geronimo I, Mastrototaro F, Sanfilippo R, Gay G, Etiope G (2010) Benthic habitat characterization and distribution from two representative sites from the deep-water SML Coral Province (Mediterranean). Deep Sea Res II 57:380–396

Vertino A, Rosso A, Sanfilippo R, Beuck L, Le Guilloux E, Basso D (submitted) Recruitment and transplantation of Mediterranean framework-building bathyal corals: a pilot study. Deep Sea Res II

Vilibic I, Supic N (2005) Dense water generation on a shelf: the case of the Adriatic Sea. Ocean Dyn 55:403–415

Zibrowius H, Taviani M (2005) Remarkable sessile fauna associated with deep coral and other calcareous substrates in the Strait of Sicily, Mediterranean Sea. In: Freiwald A, Roberts JM (eds) Deep-water corals and ecosystems. Springer, Berlin Heidelberg New York, pp 807–819
Acknowledgments
We are grateful to the captain, crew, and shipboard staff of R/V Meteor during cruise M70/1. Special thanks are due to the team of the QUEST ROV from MARUM, Bremen University, led by V. Ratmeyer, for their skilful operations during the M70/1 cruise and A. Viola for assistance with the SEM work. Moreover, we thank L. Kuprijanova (The Australian Museum, Sydney) for information on S. vermicularis genetics. This study was partly supported by the PRA grants of Catania University, the European Commission F.P.VI Project HERMES (contract no. GOCE-CT-2005-511234-1), the EU F.P. VII Project HERMIONE (contract no. 226354), COCONET (Grant agreement no: 287844); and the P.O FESR 2007/2013—ASSE IV. Linea 4.4 BIOMAP project of the Regione Puglia. This is ISMAR-CNR Bologna scientific contribution n. 1779, and Catania Palaeontological Group contribution n. 377.
About this article
Cite this article
Sanfilippo, R., Vertino, A., Rosso, A. et al. Serpula aggregates and their role in deep-sea coral communities in the southern Adriatic Sea. Facies 59, 663–677 (2013). https://doi.org/10.1007/s10347-012-0356-7
Received:

Accepted:

Published:

Issue Date:

DOI: https://doi.org/10.1007/s10347-012-0356-7
Keywords
Serpula vermicularis
Madrepora oculata

Bioconstruction

Cold-water corals

Bathyal serpulids

Mediterranean