Abstract
Landslides result in severe casualties every year in China. However, few historical fatal landslide databases are available for quantitatively assessing the temporal and spatial distribution and the impacts of landslides. Thus, this study constructed a database incorporating fatal landslides from 1940 to 2020 based on multiple data sources. A total of 1470 nonseismic-triggered landslides resulting in 14,394 fatalities in China were collected in the database. The incorporated landslides were classified into anthropogenic and natural landslides, which could also be categorized as the following types of displacements: fall, slide, flow, and other landslides. Spatial and temporal distributions demonstrated that the fatal landslides in China were mainly distributed in 13 provinces in Southwest China. Fifty-seven landslides and 1413 landslides before and after 2000 were incorporated into the database, respectively. Fatal landslides usually occurred during the Chinese rainy seasons, i.e., between April and September. Considering the impacts posed by various human activities, this study revealed for the first time the relationship between the gross domestic product growth rate/urbanization rate and anthropogenic landslides. Then, the affected populations in seven regions of China (Northwest China, North China, Northeast China, Central China, East China, South China, and Southwest China) from 2000 to 2020 were estimated using the geographical information system. The average number of fatalities caused by landslides per decade gradually decreased. Finally, the human vulnerability to landslides in China, which also showed a decreasing trend, was quantitatively assessed using the constructed database. These findings on human vulnerability are of critical importance in the elimination of landslide risks.
Access options
Buy single article
Instant access to the full article PDF.
USD 39.95
Price excludes VAT (USA)
Tax calculation will be finalised during checkout.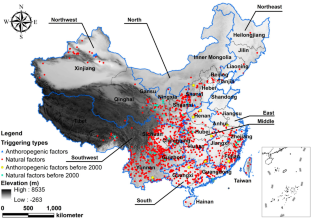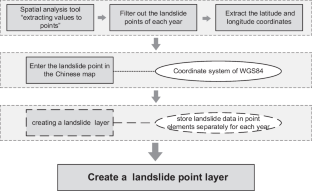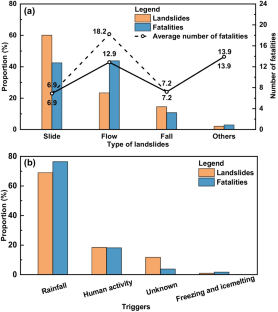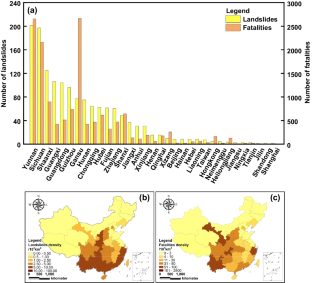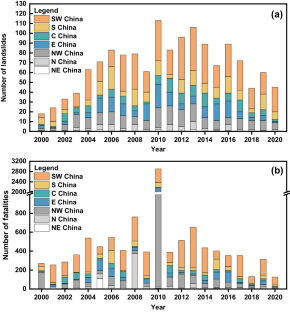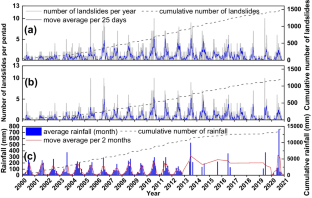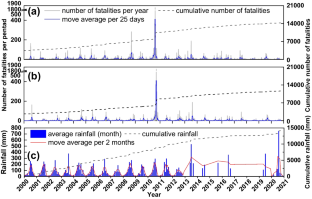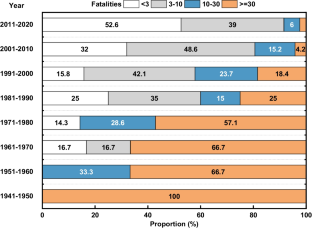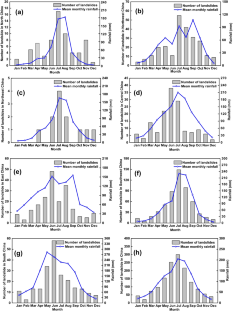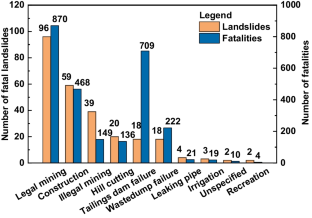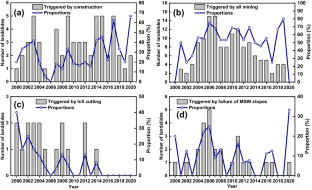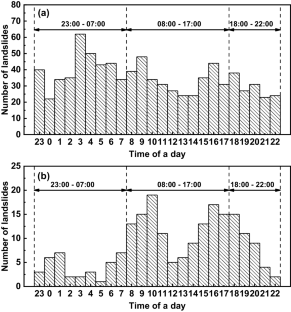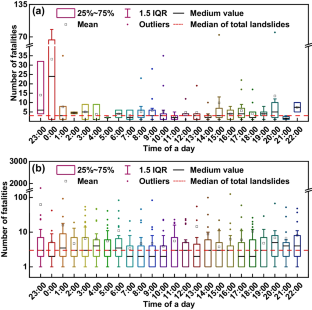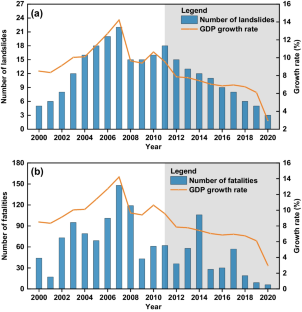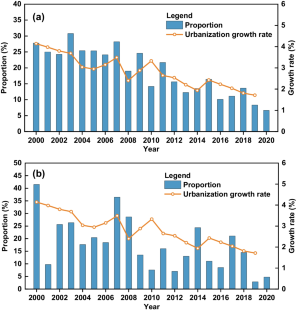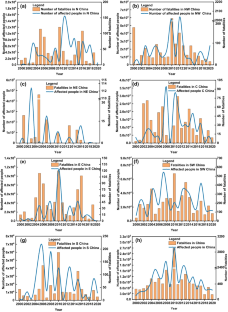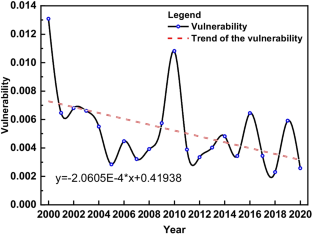 Data availability
The data that support the findings of this study are available from the corresponding author upon reasonable request.
References
Aristizábal E, Sánchez O (2020) Spatial and temporal patterns and the socioeconomic impacts of landslides in the tropical and mountainous Colombian Andes. Disasters 44(3). https://doi.org/10.1111/disa.12391

Blahut J, Balek J, Klimeš J, Rowberry M, Kalina J (2019) A comprehensive global database of giant landslides on volcanic islands. Landslides 16(10):2045–2052. https://doi.org/10.1007/s10346-019-01275-8

Chang M, Zhou Y, Zhou C, Tristram I, Hales C (2020) Co-seismic landslides induced by the 2018 Mw 6.6 Iburi, Japan, Earthquake: spatial distribution, key factors weight, and susceptibility regionalization. Landslides (1). https://doi.org/10.1007/s10346-020-01522-3

Corominas J, Westen CV, Frattini P, Cascini L, Smith JT (2014) Recommendations for the quantitative analysis of landslide risk. Bull Eng Geol Env 73(2):209–263. https://doi.org/10.1007/s10064-013-0538-8

Cruden DM, Varnes DJ (1996) Landslide types and processes. In: Turner AK, Schuster RL (eds) Landslides investigation and mitigation. Transp Res Board, Washington DC, Special Rep 247:36–75

Damm B, Klose M (2015) The landslide database for Germany: closing the gap at national level. Geomorphology 249(15):82–93. https://doi.org/10.1016/j.geomorph.2015.03.021

Devoli G, Strauch W, Chávez G, Høeg K (2007) A landslide database for Nicaragua: a tool for landslide-hazard management. Landslides 4(2):163–171. https://doi.org/10.1007/S10346-006-0074-8

Ding JH, Cheng C, Zhang WJ, Tian Y (2021) The ideological origins and geographical demarcation significance of Hu Huanyong Line. Acta Geographica Sinica 76(6):1317–1333. https://doi.org/10.11821/dlxb202106001

Díaz SR, Cadena E, Adame S, Dávila N (2020) Landslides in Mexico: their occurrence and social impact since 1935. Landslides 17:379–394. https://doi.org/10.1007/s10346-019-01285-6

European Commission (1994) The temporal occurrence and forecasting of landslides in the European community. Cordis. https://cordis.europa.eu/project/id/EPOC0025

Fan X, Westen C, Qiang X, Gorum T, Dai F (2012) Analysis of landslide dams induced by the 2008 Wenchuan earthquake. J Asian Earth Sci 57:25–37. https://doi.org/10.1016/j.jseaes.2012.06.002

Foster C, Pennington C, Culshaw MG, Lawrie K (2012) The national landslide database of Great Britain: development, evolution and applications. Environmental Earth Sciences 66(3):941–953. https://doi.org/10.1007/s12665-011-1304-5

Froude MJ., Petley DN (2018) Global fatal landslide occurrence 2004 to 2016. Nat Hazards Earth Sys Sci Discussions 1-44. https://doi.org/10.5194/nhess-18-2161-2018

Ghosh T, Bhowmik S, Jaiswal P, Ghosh S, Kumar D (2020) Generating substantially complete landslide inventory using multiple data sources: a case study in northwest Himalayas, India. J Geol Soc India 95(1):45–58. https://doi.org/10.1007/s12594-020-1385-4

Gorum T, Fidan S (2021) Spatiotemporal variations of fatal landslides in Turkey. Landslides (2). https://doi.org/10.1007/s10346-020-01580-7

Guzzetti F (2000) Landslide fatalities and the evaluation of landslide risk in Italy. Eng Geol 58(2):89–107. https://doi.org/10.1016/S0013-7952(00)00047-8

Harp EL, Jibson RW (1996) Landslides triggered by the 1994 Northridge, California, earthquake. Bull Seismol Soc Am 86(1B):S319–S332. https://doi.org/10.1016/S0013-7952(00)00047-8

Huang RQ (2009) Some catastrophic landslides since the twentieth century in the southwest of China. Landslides 6(1):69–81. https://doi.org/10.1007/s10346-009-0142-y

Hungr O, Leroueil S, Picarelli L (2014) The Varnes classification of landslide types, an update. Landslides 11(2):167–194. https://doi.org/10.1007/s10346-013-0436-y

Kirschbaum DB, Adler R, Hong Y, Hill S, Lerner-Lam A (2010) A global landslide catalog for hazard applications: method, results, and limitations. Nat Hazards 52(3):561–575. https://doi.org/10.1007/s11069-009-9401-4

Komac M, Hribernik K (2015) Slovenian national landslide database as a basis for statistical assessment of landslide phenomena in Slovenia. Geomorphology 249(15):94–102. https://doi.org/10.1016/j.geomorph.2015.02.005

Li G, Lei Y, Yao H, Wu S, Ge J (2017) The influence of land urbanization on landslides: an empirical estimation based on Chinese provincial panel data. Sci Total Environ 595:681–690. https://doi.org/10.1016/j.scitotenv.2017.03.258

Li W, Huang R, Tang C, Xu Q, Western C (2013) Co-seismic landslide inventory and susceptibility mapping in the 2008 Wenchuan earthquake disaster area, China. J Mt Sci 10:339–354. https://doi.org/10.1007/s11629-013-2471-5

Lin L, Lin Q, Wang Y (2017a) Landslide susceptibility mapping on a global scale using the method of logistic regression. Natural Hazards & Earth System Science 17:1411–1424. https://doi.org/10.5194/nhess-17-1411-2017

Lin Q, Wang Y (2018) Spatial and temporal analysis of a fatal landslide inventory in China from 1950 to 2016. Landslides 15:2357–2372. https://doi.org/10.1007/s10346-018-1037-6

Lin Q, Wang Y, Liu T, Zhu Y, Sui Q (2017b) The vulnerability of people to landslides: a case study on the relationship between the casualties and volume of landslides in China. International Journal of Environmental Research and Public 14:212. https://doi.org/10.3390/ijerph14020212

Marc O, Gosset M, Saito H, Uchida T, Malet J (2019) Spatial patterns of storm - induced landslides and their relation to rainfall anomaly maps. Geophys Res Lett 46(20). https://doi.org/10.1029/2019GL083173

Martha TR, Roy P, Jain N, Khanna K, Mrinalni K, Kumar KV, Rao PVN (2021) Geospatial landslide inventory of India—an insight into occurrence and exposure on a national scale. Landslides 18(6):2125–2141. https://doi.org/10.1007/s10346-021-01645-1

Michael-Leiba M, Baynes F, Scott G, Granger K (2005) Quantitative landslide risk assessment of Cairns, Australia. In T. Glade, M. Anderson, M. Crozier (Eds.), Landslide Hazard and Risk. John Wiley & Sons, West Sussex, pp 621–642. https://doi.org/10.1002/9780470012659.ch21

Nadim F, Kjekstad O, Peduzzi P, Herold C, Jaedicke C (2006) Global landslide and avalanche hotspots. Landslides 3:159–173. https://doi.org/10.1007/s10346-006-0036-1

Owen LA, Kamp U, Khattak GA, Harp EL, Keefer DK, Bauer MA (2008) Landslides triggered by the 8 October 2005 Kashmir earthquake. Geomorphology 94(1–2):1–9. https://doi.org/10.1016/j.geomorph.2007.04.007

Pascal L, Bilberto Z, Etienne B, Laurence A (2013) Supervised method of landslide inventory using panchromatic spot5 images and application to the earthquake-triggered landslides of pisco (Peru, 2007, Mw 8.0). Remote Sens 5(6):2590–2616. https://doi.org/10.3390/rs5062590

Peng JY, Zhang S, Han YY, Bate B, Ke H, Chen YM (2021) Soil heavy metal pollution of industrial legacies in China and health risk assessment. Sci Total Environ 151632. https://doi.org/10.1016/j.scitotenv.2021.151632

Petley DN (2012) Global patterns of loss of life from landslides. Geology 40:927–930. https://doi.org/10.1130/G33217.1

Pollock W, Wartman J (2020) Human vulnerability to landslides. GeoHealth 4(10):e2020GH000287. https://doi.org/10.1029/2020GH000287

Qi S, Xu Q, Lan H, Zhang B, Liu J (2011) Spatial distribution analysis of landslides triggered by 2008.5.12 Wenchuan Earthquake, China. Eng Geol 116(1–2):95–108. https://doi.org/10.1016/j.enggeo.2010.07.011

Rodrguez CE, Bommer JJ, Chandler RJ (1999) Earthquake-induced landslides: 1980–1997. Soil Dyn Earthq Eng 18(5):325–346. https://doi.org/10.1016/S0267-7261(99)00012-3

Rosser B, Dellow S, Haubrock S, Glassey P (2017) New Zealand's National Landslide Database Landslides 14(6):1949–1959. https://doi.org/10.1007/s10346-017-0843-6

Rupp S, Damm B (2020) A national rockfall dataset as a tool for analysing the spatial and temporal rockfall occurrence in Germany. Earth Surf Proc Landforms 45(7). https://doi.org/10.1002/esp.4827

Shen P, Zhang LM, Chen HX, Gao L (2017) Role of vegetation restoration in mitigating hillslope erosion and debris flows. Eng Geol 216:122–133. https://doi.org/10.1016/j.enggeo.2016.11.019

Tiwari B, Ajmera B, Dhital S, Sitoula NR (2017) Landslides Induced by the 2015 Gorkha Earthquake. Workshop on World Landslide Forum. Springer, Cham, pp 819–827

Valenzuela P, Domínguez-Cuesta MJ, García MAM, Jiménez-Sánchez M (2017) A spatio-temporal landslide inventory for the NW of Spain: BAPA database. Geomorphology 293:11–23. https://doi.org/10.1016/j.geomorph.2017.05.010

WorldPop, Center for International Earth Science Information Network (CIESIN), Columbia University (2018) Global High Resolution Population Denominators Project - Funded by The Bill and Melinda Gates Foundation (OPP1134076). https://doi.org/10.5258/SOTON/WP00670

Xu C, Shyu J, Xu X (2014a) Landslides triggered by the 12 January 2010 Port-au-Prince, Haiti, Mw=7.0 earthquake: visual interpretation, inventory compiling, and spatial distribution statistical analysis. Nat Hazards Earth Sys Sci 14(7):1789-1818. https://doi.org/10.5194/nhess-14-1789-2014a

Xu C, Tian Y, Shen L, Ma S, Chen X (2018) Database of landslides triggered by 2015 Gurkha (Nepal) Mw 7.8 earthquake. Seismol Egol 40(5):1115. https://doi.org/10.5194/nhess-14-1789-2014

Xu C, Xu X, Shyu J (2015) Database and spatial distribution of landslides triggered by the Lushan, China Mw 6.6 earthquake of 20 April 2013. Geomorphology 248(1):77–92. https://doi.org/10.1016/j.geomorph.2015.07.002

Xu C, Xu X, Shyu J, Zheng W, Wei M (2014b) Landslides triggered by the 22 July 2013 Minxian-Zhangxian, China, Mw 5.9 earthquake: inventory compiling and spatial distribution analysis. J Asian Earth Sci 92:125–142. https://doi.org/10.1016/j.jseaes.2014.06.014

Zhang S, Li C, Zhang LM, Peng M, Zhan LT, Xu Q (2020) Quantification of human vulnerability to earthquake-induced landslides using Bayesian network. Eng Geol 265:105436. https://doi.org/10.1016/j.enggeo.2019.105436

Zhang S, Liu Y, Bate B, Peng DL, Li C, Zhan LT (2021b) Quantitative human risk analysis of 2015 Shenzhen dump failure considering influence of urbanization. J Mt Sci-Engl 18:1439–1457. https://doi.org/10.1007/s11629-020-6260-7

Zhang S, Lv YH, Yang HB, Han YY, Peng JY, Lan JW, Zhan LT, Chen YM, Bate B (2021c) Monitoring and quantitative human risk assessment of municipal solid waste landfill using integrated satellite–UAV–ground survey approach. Remote Sens 13. https://doi.org/10.3390/rs13224496

Zhang S, Zhang LM (2014) Human vulnerability to rapid shallow landslides: fleeing process and modelling. Landslides 11(6):1115–1129. https://doi.org/10.1007/s10346-014-0468-y

Zhang S, Zhang LM, Li XY, Xu Q (2018) Physical vulnerability models for assessing building damage by debris flows. Eng Geol 247:145–158. https://doi.org/10.1016/j.enggeo.2018.10.017
Funding
This study was funded by National Natural Science Foundation of China (Grant No. 51988101, Grant No. 52278376), the National Key R&D Program of China (Grant No. 2019YFC1806001, Grant No.2018YFC1802301).
Ethics declarations
Conflict of interest
The authors declare no competing interests.
Rights and permissions
Springer Nature or its licensor (e.g. a society or other partner) holds exclusive rights to this article under a publishing agreement with the author(s) or other rightsholder(s); author self-archiving of the accepted manuscript version of this article is solely governed by the terms of such publishing agreement and applicable law.
About this article
Cite this article
Zhang, S., Li, C., Peng, J. et al. Fatal landslides in China from 1940 to 2020: occurrences and vulnerabilities. Landslides (2023). https://doi.org/10.1007/s10346-023-02034-6
Received:

Accepted:

Published:

DOI: https://doi.org/10.1007/s10346-023-02034-6
Keywords
Database

Fatal landslide

Rainfall

Risk

Vulnerability