Abstract
Landslides are one of the devastating geohazards that cause extensive socio-economic and environmental damages on local, regional, and global scales. Previous studies based on digital media sources have attracted attention to the high fatal landslide rate in Turkey, at a continental or global scale; however, the preparation of a comprehensive and long-term database for Turkey has been neglected until today. To examine this data gap, we present a new database of fatal landslide events resulting in fatalities from 1929 to 2019, which has been compiled using Turkish national and local printed and digital media reports, academic papers, disaster, and city annual reports. The fatal database of Turkey (FATALDOT) shows that, in total, 1343 people were killed in 389 fatal landslide events. The spatiotemporal distribution of the fatal landslides highlighted increasing trends with reference to two distinct hotspot zones throughout the Eastern Black Sea and Marmara Region, mostly around Istanbul megacity. Our results show that there has been a significant uniformity between the number of fatalities and fatal landslides triggered by anthropogenic and natural factors over the past decade, indicating an increasing dominance of human activities in fatality rates. Our findings also, for the first time, remarked the potential signatures of the economic crisis and political steadiness on fatal landslide trends. Nevertheless, we conclude that the increasing rate of anthropogenic disturbances in urban and mountainous areas, together with regional variances in topography and climatic setting, is essential in governing the pattern of fatal landslides.
Access options
Buy single article
Instant access to the full article PDF.
USD 39.95
Price excludes VAT (USA)
Tax calculation will be finalised during checkout.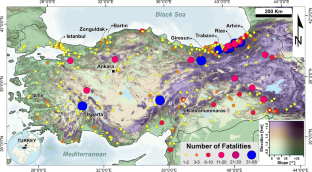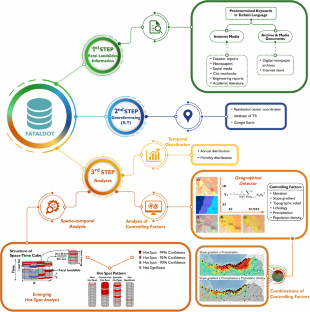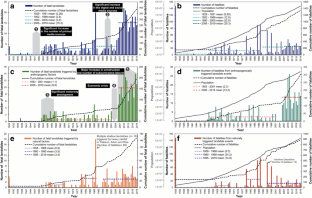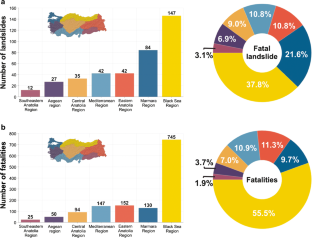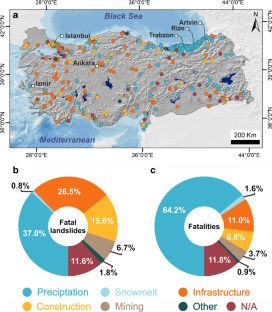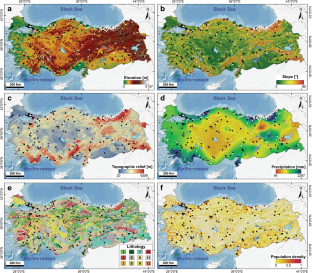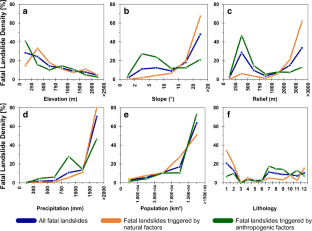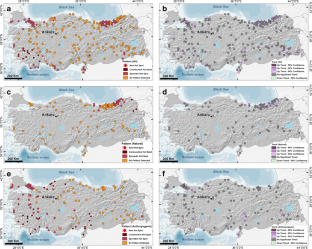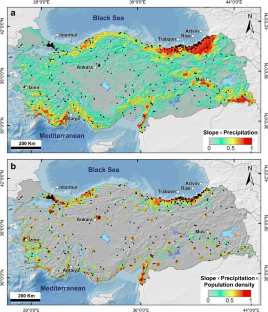 References
Akin GG, Aysan AF, Yildiran L (2009) Transformation of the Turkish financial sector in the aftermath of the 2001 crisis. In: Onis Z, Senses F (eds) Turkey and the global economy: neoliberal restructuring and integration in the post-crisis era. Routledge, London, and NY, pp 73–100

Alexander DE (2005) Vulnerability to landslides. In: Glade T, Anderson MG, Crozier MJ (eds) In landslide hazard and risk. Wiley, Chichester, pp 175–198

Althuwaynee OF, Asikoglu O, Eris E (2018) Threshold contour production of rainfall intensity that induces landslides in susceptible regions of northern Turkey. Landslides 15:1541–1560. https://doi.org/10.1007/s10346-018-0968-2

Ari M, Engin F (2018) Türkiye'de Yeni Istihdam Bicimi Olarak Taseron Uygulaması (2000-2016). Fiscaoeconomia 2(2):141–157. https://doi.org/10.25295/fsecon.2018.02.008

Bozkurt D, Sen OL (2011) Precipitation in the Anatolian Peninsula: sensitivity to increased SSTs in the surrounding seas. Clim Dyn 36(3-4):711–726. https://doi.org/10.1007/s00382-009-0651-3

Crozier MJ (1981) Landslides in the urban environment. In: Geomechanics in urban planning: proceedings of a symposium held in Palmerston North, New Zealand, April 29-May 1st 1981. Wellington. Institution of Professional Engineers New Zealand, pp 231-239

Damm B, Klose M (2015) The landslide database for Germany: closing the gap at national level. Geomorphology 249:82–93. https://doi.org/10.1016/j.geomorph.2015.03.021

ESRI (2016) How Emerging Hot Spot Analysis Works. https://desktop.arcgis.com /en/arcmap/10.3/tools/space-time-pattern-mining-toolbox/learnmoreemerging.htm Accessed 09 May 2020

Evans SG (1997) Fatal landslides and landslide risk in Canada, in Landslide risk assessment. In: Cruden D, Fell R (eds) . Balkema, Rotterdam, pp 185–196

Fidan S. (2019) Türkiye'deki ölume sebep olan heyelanlarin cografi bilgi sistemleri (CBS) ile değerlendirilmesi. Yayinlanmamis Yuksek Lisans Tezi, Istanbul Universitesi, Sosyal Bilimler Enstitüsü, 122 s., Istanbul, Turkey, (in Turkish)

Froude MJ, Petley D (2018) Global fatal landslide occurrence from 2004 to 2016. Nat Hazards Earth Syst Sci 18:2161–2181. https://doi.org/10.5194/nhess-18-2161-2018

Gezgin S (2007) Türkiye'de Yerel Basın. İstanbul Üniversitesi İletisim Fakültesi Yayınları, Istanbul, Turkey (In Turkish), pp.177-196

Gokceoglu C, Sonmez H, Nefeslioglu HA, Duman TY, Can T (2005) The 17 March 2005 Kuzulu landslide (Sivas, Turkey) and landslide-susceptibility map of its near vicinity. Eng Geol 81(1):65–83. https://doi.org/10.1016/j.enggeo.2005.07.011

Gorum T, Carranza EJM (2015) Control of style-of-faulting on spatial pattern of earthquake-triggered landslides. Int J Environ Sci Technol 12:3189–3212. https://doi.org/10.1007/s13762-015-0752-y

Gorum T, Fan X, van Westen CJ, Huang RQ, Xu Q, Tang C, Wang G (2011) Distribution pattern of earthquake-induced landslides triggered by the 12 May 2008 Wenchuan earthquake. Geomorphology 133(3–4):152–167. https://doi.org/10.1016/j.geomorph.2010.12.030

Guha-Sapir D, Below R, Hoyois Ph (2015) EM-DAT: International Disaster Database. Université Catholique de Louvain, Brussels, Belgium. www.emdat.be Accessed 21 Aug 2020

Guns M, Vanacker V (2014) Shifts in landslide frequency–area distribution after forest conversion in the tropical Andes. Anthropocene 6:75–85. https://doi.org/10.1016/j.ancene.2014.08.001

Guzzetti F, Tonelli G (2004) Information system on hydrological and geomorphological catastrophes in Italy (SICI): a tool for managing landslide and flood hazards. Nat Hazards Earth Syst Sci 4:213–232. https://doi.org/10.5194/nhess-4-213-2004

Guzzetti F, Mondini AC, Cardinali M, Fiorucci F, Santangelo M, Chang KT (2012) Landslide inventory maps: new tools for an old problem. Earth Sci Rev 112(1-2):42–66. https://doi.org/10.1016/j.earscirev.2012.02.001

Haque U, Blum P, da Silva PF, Andersen P, Pilz J, Chalov SR, Malet JP, Auflič MJ, Andres N, Poyiadji E, Lamas PC, Zhang W, Peshevski I, Pétursson HG, Kurt T, Dobrev N, García-Davalillo JC, Halkia M, Ferri S, Gaprindashvili G, Engström J, Keellings D (2016) Fatal landslides in Europe. Landslides 13:1545–1554. https://doi.org/10.1007/s10346-016-0689-3

Haque U, da Silva PF, Devoli G, Pilz J, Zhao BX, Khaloua A, Wilopo W, Andersen P, Lu P, Lee J, Yamamoto T, Keellings D, Wu JH, Glass GE (2019) The human cost of global warming: deadly landslides and their triggers (1995-2014). Sci Total Environ 682:673–684. https://doi.org/10.1016/j.scitotenv.2019.03.415

Harris NL, Goldman E, Gabris C, Nordling J, Minnemeyer S, Ansari S, Lippmann M, Bennett L, Raad M, Hansen M, Potapov P (2017) Using spatial statistics to identify emerging hot spots of forest loss. Environ Res Lett 12(2):024012. https://doi.org/10.1088/1748-9326/aa5a2f

Hartmann J, Moosdorf N (2012) The new global lithological map database GLiM: a representation of rock properties at the Earth surface. Geochem Geophys Geosyst 13:Q12004. https://doi.org/10.1029/2012GC004370

Hu Y, Wang JF, Li XH, Zhu J (2011) Geographical detectors-based risk assessment of the under-five mortality in the 2008 Wenchuan earthquake, China. PLoS One 6(6):e21427. https://doi.org/10.1371/journal.pone.0021427

Huggett R (2016) Fundamentals of geomorphology. Abingdon, Oxon: Routledge. 516 p

Jaboyedoff M, Michoud C, Derron MH, Voumard J, Leibundgut G, Sudmeier-Rieux K, Nadim F, Leroi E (2016) Human-induced landslides: toward the analysis of anthropogenic changes of the slope environment. In: Landslides and engineered slopes. Experience, theory, and practice. CRC Press, pp 217–232

Karsli F, Atasoy M, Yalcin A, Reis S, Demir O, Gokceoglu C (2009) Effects of land-use changes on landslides in a landslide-prone area (Ardesen, Rize, NE Turkey). Environ Monit Assess 156(1):241–255. https://doi.org/10.1007/s10661-008-0481-5

Kaya V, Yalcinkaya O, Huseyni I (2013) Ekonomik Büyümede Insaat Sektörünün Rolu: Türkiye Ornegi (1987-2010). Atatürk Universitesi Iktisadi ve Idari Bilimler Dergisi 27(4):148–167

Kirschbaum D, Adler R, Adler D, Peters-Lidard C, Huffman G (2012) Global distribution of extreme precipitation and high-impact landslides in 2010 relative to previous years. J Hydrometeorol 13(5):1536–1551. https://doi.org/10.1175/JHM-D-12-02.1

Kirschbaum D, Stanley T, Zhou YP (2015) Spatial and temporal analysis of a global landslide catalog. Geomorphology 249:4–15. https://doi.org/10.1016/j.geomorph.2015.03.016

Klose M, Maurischat P, Damm B (2015) Landslide impacts in Germany: a historical and socio-economic perspective. Landslides 13(1):183–199. https://doi.org/10.1007/s10346-015-0643-9

LandScan (2018) http://web.ornl.gov/sci/landscan/ Accessed 12 Apr 2018

Lepers E, Lambin E, Janetos A, DeFries R, Achard F, Ramankutty N, Scholes R (2005) A synthesis of information on rapid land-cover change for the period 1981–2000. BioScience 55:115–124. https://doi.org/10.1641/0006-3568(2005)055[0115:ASOIOR]2.0.CO;2

Lin Q, Wang Y (2018) Spatial and temporal analysis of a fatal landslide inventory in China from 1950 to 2016. Landslides 15(12):2357–2372. https://doi.org/10.1007/s10346-018-1037-6

Lin L, Lin Q, Wang Y (2017) Landslide susceptibility mapping on a global scale using the method of logistic regression. Nat Hazards Earth Syst Sci 17:1411–1424. https://doi.org/10.5194/nhess-17-1411-2017

Luo W, Jasiewicz J, Stepinski T, Wang J, Xu C, Cang X (2016) Spatial association between dissection density and environmental factors over the entire conterminous United States. Geophys Res Lett 43:692–700. https://doi.org/10.1002/2015GL066941

MAPEG, Maden ve Petrol Isleri Genel Mudurlugu. http://www.mapeg.gov.tr/maden_istatistik.aspx Accessed 16 May 2020

MGM (2019) Illere ait genel meterolojik istatistikler. https://www.mgm.gov.tr/veridegerlendirme/il-ve-ilceler-istatistik.aspx?k=A Accessed 12 Apr 2020

Nefeslioglu HA, Gokceoglu C, Sonmez H, Gorum T (2011) Medium-scale hazard mapping for shallow landslide initiation: the Buyukkoy catchment area (Cayeli, Rize, Turkey). Landslides 8(4):459–483. https://doi.org/10.1007/s10346-011-0267-7

Onis Z (2009) Beyond the 2001 financial crisis: The political economy of the new phase of neo-liberal restructuring in Turkey. Rev Int Polit Econ 16(3):409–432. https://doi.org/10.1080/09692290802408642

Onol B, Bozkurt D, Turuncoglu UU, Sen OL, Dalfes HN (2014) Evaluation of the twenty-first century RCM simulations driven by multiple GCMs over the Eastern Mediterranean–Black Sea region. Clim Dyn 42(7-8):1949–1965. https://doi.org/10.1007/s00382-013-1966-7

Ozbay A, Cabalar AF (2015) FEM and LEM stability analyses of the fatal landslides at Çöllolar open-cast lignite mine in Elbistan, Turkey. Landslides 12:155–163. https://doi.org/10.1007/s10346-014-0537-2

Petley D (2012) Global patterns of loss of life from landslides. Geology 40(10):927–930. https://doi.org/10.1130/G33217.1

Petley DN, Dunning SA, Rosser NJ, Hungr O (2005) The analysis of global landslide risk through the creation of a database of worldwide landslide fatalities. In: Hungr O, Fell R, Couture R, Eberhardt E (eds) Landslide risk management. Balkema, Amsterdam, pp 367–374

Reichenbach P, Rossi M, Malamud BD, Mihir M, Guzzetti F (2018) A review of statistically-based landslide susceptibility models. Earth Sci Rev 180:60–91. https://doi.org/10.1016/j.earscirev.2018.03.001

Rossi M, Guzzetti F, Salvati P, Donnini M, Napolitano E, Bianchi C (2019) A predictive model of societal landslide risk in Italy. Earth Sci Rev 196:102849. https://doi.org/10.1016/j.earscirev.2019.04.021

Saris F, Hannah DM, Eastwood WJ (2010) Spatial variability of precipitation regimes over Turkey. Hydrol Sci J–J Sci Hydrol 55(2):234–249. https://doi.org/10.1080/02626660903546142

Scheip CM, Wegmann KW (2020) HazMapper: a global open-source natural hazard mapping application in Google Earth Engine. Nat Hazards Earth Syst Sci Discuss. https://doi.org/10.5194/nhess-2020-108

Sepúlveda SA, Petley DN (2015) Regional trends and controlling factors of fatal landslides in Latin America and the Caribbean. Nat Hazards Earth Syst Sci 15:1821–1833. https://doi.org/10.5194/nhess-15-1821-2015

Tanyas H, Gorum T, Kirschbaum D, Lombardo L (2020) Could road constructions be more disastrous than an earthquake in terms of landsliding? Earth's Future. https://doi.org/10.1002/essoar.10503922.1

Turkes M, Turp MT, An N, Ozturk T, Kurnaz ML (2020) Impacts of climate change on precipitation climatology and variability in Turkey. In: Harmancioglu N, Altinbilek D (eds) Water Resources of Turkey. World Water Resources, vol 2. Springer, Cham. https://doi.org/10.1007/978-3-030-11729-0_14

Uyeturk CE, Huvaj N, Bayraktaroglu H, Huseyinpasaoglu M (2020) Geotechnical characteristics of residual soils in rainfall-triggered landslides in Rize, Turkey. Eng Geol 264:105318. https://doi.org/10.1016/j.enggeo.2019.105318

Wang JF, Li XH, Christakos G, Liao YL, Zhang T, Gu X, Zheng XY (2010) Geographical detectors-based health risk assessment and its application in the neural tube defects study of the Heshun Region, China. Int J Geogr Inf Sci 24:107–127. https://doi.org/10.1080/13658810802443457

Yilmaz K, Yilmaz DO (2019) Insaat sektörünün istahdam ve büyüme baglamında karsılastırmali bir analizi, 1923-2015. Calısma ve Toplum 2:1287–1320 (In Turkish)
Acknowledgements
The authors thank Oktay Gökce from the Ministry of Interior Disaster and Emergency Management Presidency for providing some incident reports and fruitful discussions and Dr. Attila Ciner for proof-reading the final version of the mansuscript. This study was supported by the Turkish Academy of Sciences within the framework of the Distinguished Young Scientist Award Program (TÜBA-GEBIP-2016). Fatal Landslide Database of Turkey (FATALDOT) data is available as a supplementary file for this paper.
Supplementary Information
About this article
Cite this article
Görüm, T., Fidan, S. Spatiotemporal variations of fatal landslides in Turkey. Landslides 18, 1691–1705 (2021). https://doi.org/10.1007/s10346-020-01580-7
Received:

Accepted:

Published:

Issue Date:

DOI: https://doi.org/10.1007/s10346-020-01580-7
Keywords
Landslide

Fatality, Fatal landslide

Hotspot

Turkey