Abstract
Runout prediction and deposit characteristics investigation for the long runout rock landslides are challenging and interesting problems nowadays. On a practical level, the landslide is a critical issue around the world which could lead to catastrophic consequences. One of the current typical instances is the successive Baige landslides in Tibet, China, where massive damages to infrastructure constructions led to evacuation of more than 86,000 people. The work is specially aimed at investigating the dynamic behaviors of the long runout rock landslides and predicting the potential impact region by numerical simulations. The focus is on the representation of the interaction between the constituent blocks and macro-scale response of landslides. In this case, the distance potential-based discrete element method is adopted to solve the above problems and reproduce the sliding process of the Baige landslides. Before applied in modeling the Baige landslides, performances of this method are firstly validated by two well-known benchmark experiments. The simulation results agree well with the existing experimental measurements and reported observations. It is proved that the method could predict a quantitative accumulation area of related landslides and provide a reference of hazard mitigation.
This is a preview of subscription content, log in to check access.
Access options
Buy single article
Instant access to the full article PDF.
US$ 39.95
Price includes VAT for USA
Subscribe to journal
Immediate online access to all issues from 2019. Subscription will auto renew annually.
US$ 99
This is the net price. Taxes to be calculated in checkout.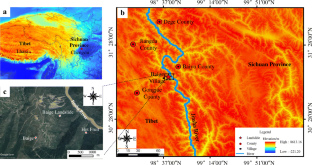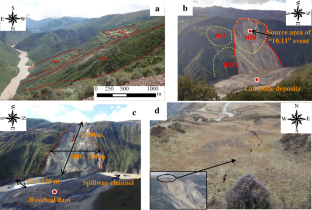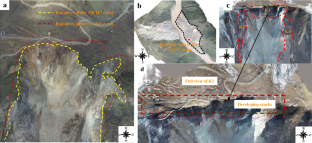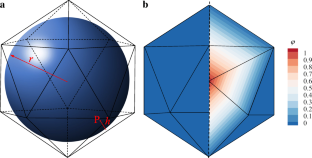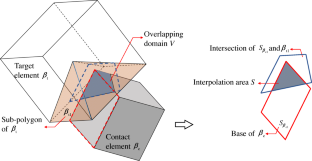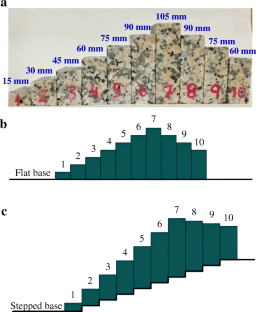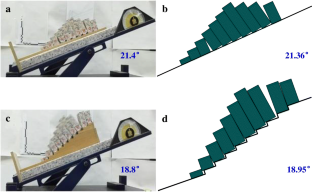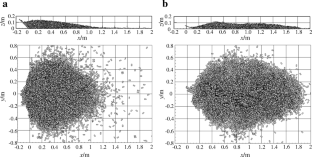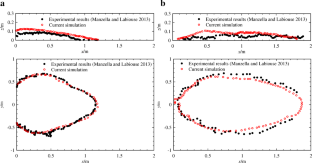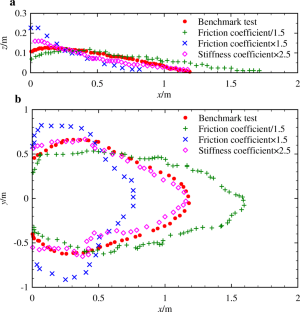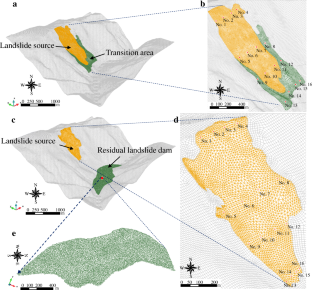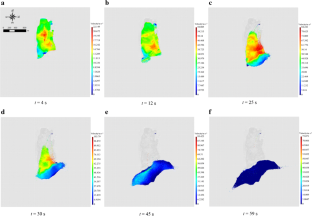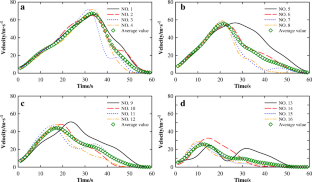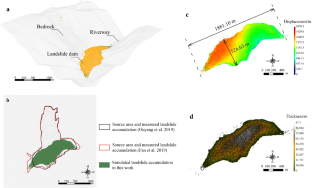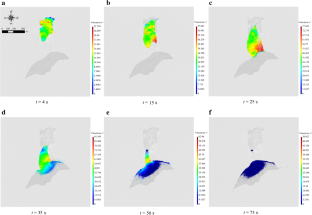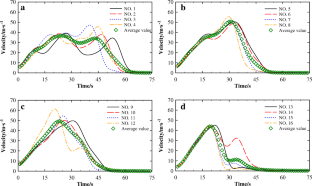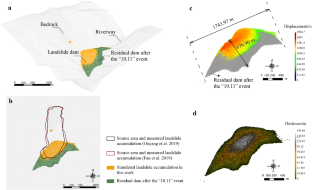 References
Alejano LR, Gonzalez J, Muralha J (2012) Response by the authors to S. R. Hencher's discussion of the paper comparison of different techniques of tilt testing and basic friction angle variability assessment. Rock Mech Rock Eng 45:1141–1143

Alejano LR, Sanchez-Alonso C, Perez-Rey I et al (2018) Block toppling stability in the case of rock blocks with rounded edges. Eng Geol 234:192–203

Bandara S, Soga K (2015) Coupling of soil deformation and pore fluid flow using material point method. Comput Geotech 63:199–214

Bao HR, Zhao ZY (2012) The vertex-to-vertex contact analysis in the two-dimensional discontinuous deformation analysis. Adv Eng Softw 45:1–10

Chen K-T, Wu J-H (2018) Simulating the failure process of the Xinmo landslide using discontinuous deformation analysis. Eng Geol 239:269–281

Crosta GB, Imposimato S, Roddeman D (2009) Numerical modelling of entrainment/deposition in rock and debris-avalanches. Eng Geol 109:135–145

Cundall PA (1988) Formulation of a three-dimensional distinct element model - part i. A scheme to detect and represent contacts in a system composed of many polyhedral blocks. Int J Rock Mech Min Sci Geomech Abstr 25:107–116

Cundall PA, Owen DRJ (1979) A discrete numerical model for granular assemblies. Geotechnique 29:47–65

Fan XM, Xu Q, Alonso-Rodriguez A, Subramanian SS, Li W, Zheng G, Dong X, Huang R (2019) Successive landsliding and damming of the Jinsha River in eastern Tibet, China: prime investigation, early warning, and emergency response. Landslides 16:1003–1020

Hart R, Cundall PA, Lemos J (1988) Formulation of a three-dimensional distinct element model - part ii. Mechanical calculations for motion and interaction of a system composed of many polyhedral blocks. Int J Rock Mech Min Sci Geomech Abstr 25:117–125

Hirt CW, Amsden AA, Cook JL (1997) An arbitrary Lagrangian-Eulerian computing method for all flow speeds. J Comput Phys 135:203–216

Hoek E, Bray JW (1977) Rock slope engineering. The Institution of Mining and Metallurgy, London

Li H-b, Qi S-c, Chen H et al (2019) Mass movement and formation process analysis of the two sequential landslide dam events in Jinsha River, Southwest China. Landslides 16:2247–2258

Llano-Serna MA, Farias MM, Pedroso DM (2016) An assessment of the material point method for modelling large scale run-out processes in landslides. Landslides 13:1057–1066

Longo A, Pastor M, Sanavia L, Manzanal D, Martin Stickle M, Lin C, Yague A, Tayyebi SM (2019) A depth average SPH model including mu(I) rheology and crushing for rock avalanches. Int J Numer Anal Methods Geomech 43:833–857

Lucy LB (1977) A numerical approach to the testing of the fission hypothesis. Astron J 82:1013–1024

Mahabadi OK, Lisjak A, Munjiza A, Grasselli G (2012) Y-geo: new combined finite-discrete element numerical code for geomechanical applications. Int J Geomech 12:676–688

Manzella I, Labiouse V (2013) Empirical and analytical analyses of laboratory granular flows to investigate rock avalanche propagation. Landslides 10:23–36

Mao J, Zhao LH, Di YT et al (2020a) A resolved CFD-DEM approach for the simulation of landslides and impulse waves. Comput Methods Appl Mech Eng:359

Mao J, Zhao LH, Liu XN, Avital E (2020b) A resolved CFDEM method for the interaction between the fluid and the discontinuous solids with large movement. Int J Numer Methods Eng 121:1738–1761

Munjiza A (2004) The combined finite-discrete element method. Wiley & Sons, England

Munjiza A, Owen DRJ, Bicanic N (1995) A combined finite-discrete element method in transient dynamics of fracturing solids. Eng Comput 12:145–174

Ng CWW, Choi CE, Koo RCH, Goodwin GR, Song D, Kwan JSH (2018) Dry granular flow interaction with dual-barrier systems. Geotechnique 68:386–399

Onate E, Idelsohn SR, Del Pin F et al (2004) The particle finite element method—an overview. International Journal of Computational Methods 1:267–307

Ouyang CJ, An HC, Zhou S, Wang Z, Su P, Wang D, Cheng D, She J (2019) Insights from the failure and dynamic characteristics of two sequential landslides at Baige village along the Jinsha River, China. Landslides 16:1397–1414

Pastor M, Blanc T, Haddad B, Petrone S, Sanchez Morles M, Drempetic V, Issler D, Crosta GB, Cascini L, Sorbino G, Cuomo S (2014) Application of a SPH depth-integrated model to landslide run-out analysis. Landslides 11:793–812

Pastor M, Blanc T, Haddad B, Drempetic V, Morles MS, Dutto P, Stickle MM, Mira P, Merodo JAF (2015) Depth averaged models for fast landslide propagation: mathematical, rheological and numerical aspects. Archives of Computational Methods in Engineering 22:67–104

Shi GH (1991) Manifold method of material analysis. Transaction of the 9th Army conference on applied mathematics and computing, U.S. Army Research Office, Minneapolis, Minnesota, pp 57-76

Shi GH (2001) Three-dimensional discontinuous deformation analysis. The forth International Conference on Analysis of Discontinuous Deformation, Glasgow, Scotland, UK, pp 1-21

Shi GH, Goodman RE (1985) Two dimensional discontinuous deformation analysis. Int J Numer Anal Methods Geomech 9:541–556

Smoljanovic H, Zivaljic N, Nikolic Z et al (2018) Numerical analysis of 3D dry-stone masonry structures by combined finite-discrete element method. Int J Solids Struct 136:150–167

Sulsky D, Chen Z, Schreyer HL (1994) A particle method for history-dependent materials. Comput Methods Appl Mech Eng 118:179–196

Trong Nhan D, Wu J-H (2020) Simulating a mining-triggered rock avalanche using DDA: a case study in Nattai North, Australia. Eng Geol:264

Vyazmensky A, Stead D, Elmo D, Moss A (2010) Numerical analysis of block caving-induced instability in large open pit slopes: a finite element/discrete element approach. Rock Mech Rock Eng 43:21–39

Wang SN, Xu WY, Shi C, Chen HJ (2017) Run-out prediction and failure mechanism analysis of the Zhenggang deposit in southwestern China. Landslides 14:719–726

Wu J-H, Lin W-K, Hu H-T (2017) Assessing the impacts of a large slope failure using 3DEC: the Chiu-fen-erh-shan residual slope. Comput Geotech 88:32–45

Wu J-H, Lin W-K, Hu H-T (2018) Post-failure simulations of a large slope failure using 3DEC: the Hsien-du-shan slope. Eng Geol 242:92–107

Yan CZ, Zheng H (2017) A new potential function for the calculation of contact forces in the combined finite-discrete element method. Int J Numer Anal Methods Geomech 41:265–283

Zhang Z, He SM, Liu W, Liang H, Yan S, Deng Y, Bai X, Chen Z (2019a) Source characteristics and dynamics of the October 2018 Baige landslide revealed by broadband seismograms. Landslides 16:777–785

Zhang LM, Xiao T, He J, Chen C (2019b) Erosion-based analysis of breaching of Baige landslide dams on the Jinsha River, China, in 2018. Landslides 16:1965–1979

Zhao LH, Liu XN, Mao J, Xu D, Munjiza A, Avital E (2018a) A novel discrete element method based on the distance potential for arbitrary 2D convex elements. Int J Numer Methods Eng 115:238–267

Zhao LH, Liu XN, Mao J, Xu D, Munjiza A, Avital E (2018b) A novel contact algorithm based on a distance potential function for the 3D discrete-element method. Rock Mech Rock Eng 51:3737–3769
Acknowledgments
This work is supported by the National Key R&D Program of China (Grant 2018YFC0406705), China Postdoctoral Science Foundation Funded Project (Grant 2019M651677), the 15th Fok Ying-Tong Education Foundation for Young Teachers in the Higher Education Institutions of China (Grant 151073), the Priority Academic Program Development of Jiangsu Higher Education Institutions (Grant YS11001), the 111 Project, and Qing Lan Project.
About this article
Cite this article
Mao, J., Liu, X., Zhang, C. et al. Runout prediction and deposit characteristics investigation by the distance potential-based discrete element method: the 2018 Baige landslides, Jinsha River, China. Landslides (2020). https://doi.org/10.1007/s10346-020-01501-8
Received:

Accepted:

Published:
Keywords
Landslides

Numerical simulation

Distance potential-based DEM

Runout displacement

Deposit characteristics